Hilton 5th Night Free Benefit
Obtain great value out of your Hilton Honors Points when you use Hilton's 5th night free benefit. Get the details on how to use and access this perk.
---
The Hilton 5th Night Free benefit allows you to book a 5-night consecutive award stay for the cost of 4. This not only saves you a day worth of Hilton Honors Points, but it increases the value of the points you're redeeming.
How To Qualify For The Benefits
Hilton's 5th Night Free benefit is not open to everyone. In order to use this benefit, you will need to have Hilton Honors Elite Status. This means you'll have to obtain Hilton Silver, Hilton Gold, or Hilton Diamond status by earning stays, nights or base points staying at Hilton brand hotels.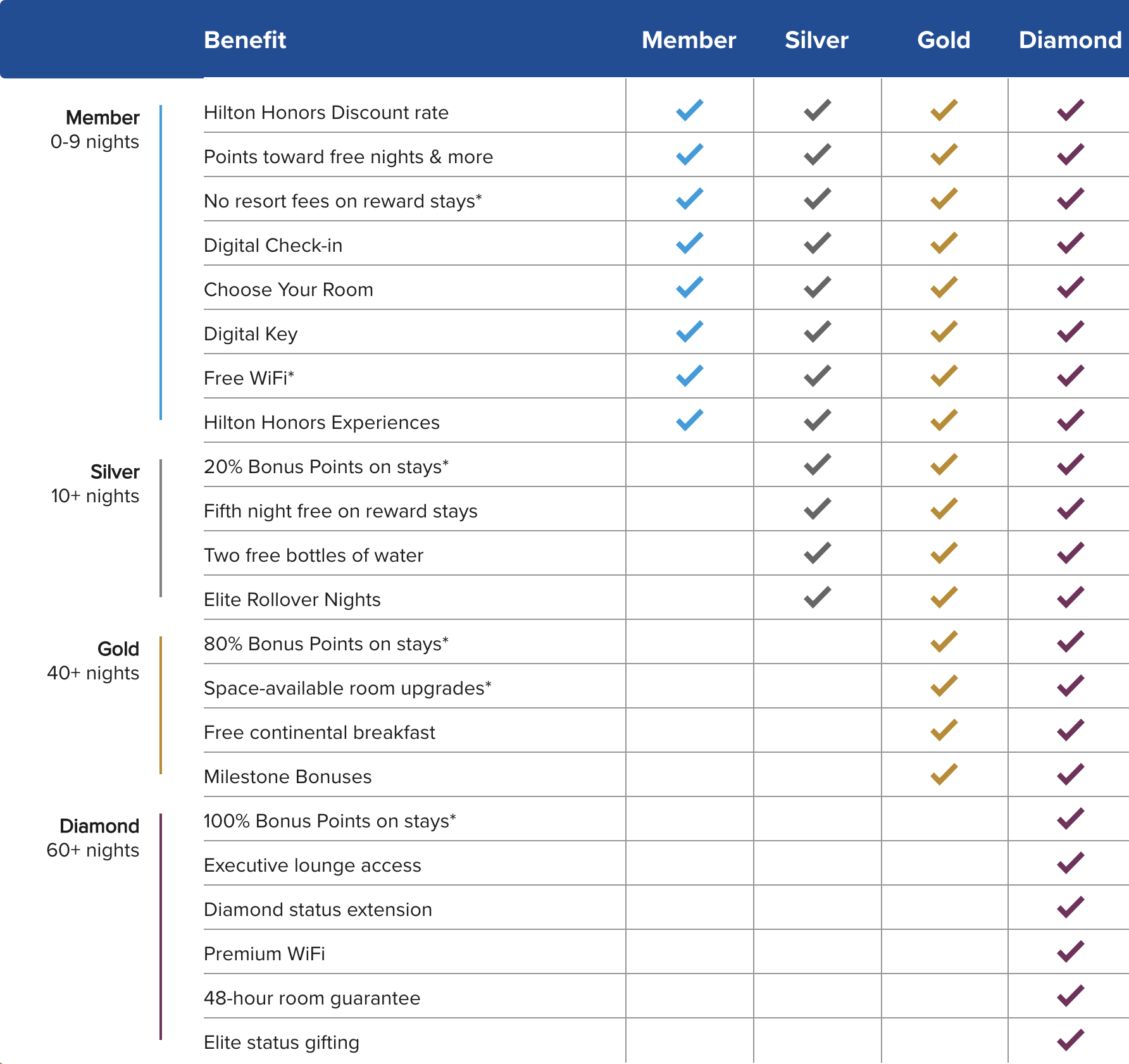 Stays At Hilton Properties
The most straightforward way of obtaining Hilton Honors Status is by staying at Hilton hotels. You can obtain Hilton Honors Silver Status by meeting one of the following requirements during the calendar year:
4 Stays at Hilton Hotels
10 Nights at Hilton Hotels
4 stays means you've checked in and checked out of Hilton 4 times during the calendar year while 10 nights means you've spend 10 night-to-day cycles at a Hilton Hotel. If you frequent Hilton's, this should be an easy way to obtain stays though it will not be the fastest.
Do note that Hilton Honors Status earned through stays must be booked direct. You will not earn credit for your stay if you book your Hilton hotel through a third party such as Expedia or Hotels.com. You'll need to book direct on Hilton.com, use the Hilton mobile app, or book over the phone with Hilton reservations.
AMEX Platinum Credit Cards
The American Express Platinum Card grants complimentary Hilton Honors Gold Status. It offers a bunch of premium travel benefits including extensive lounge access, elite status with several programs, annual credits, travel and purchase protections/insurance, and much more.
How To Use Hilton's 5th Night Free Benefit
In order to use the 5th night free benefit, you will:
Need Hilton Honors Status
Need to have enough points to book 4 consecutive nights
Need to book at least a 5 night consecutive stay
If you miss any of the above qualifications, the option to use the 5th night free benefit will not show up for you when booking your stay.
If you've successfully met all the qualification listed above, you'll see the benefit in action when you start your reservation for a 5-night consecutive award stay. The benefit will trigger automatically and you will see one of the days listed as '0 points' when you look at the cost breakdown.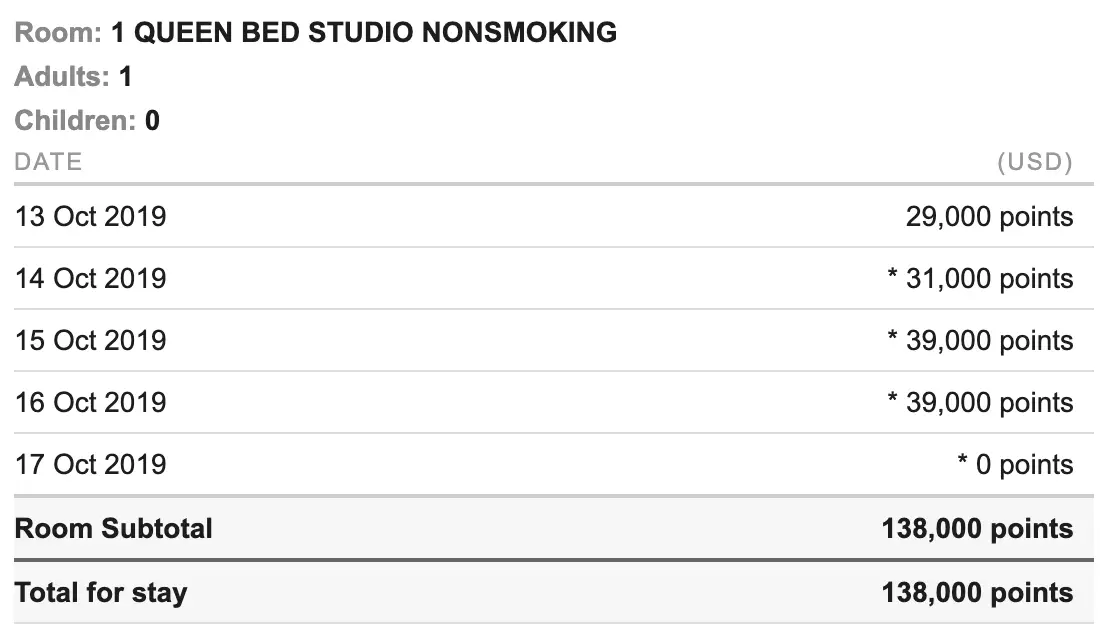 Do note that the 5th Night Free perk will actually apply to the 5th night of the consecutive stay. Hilton tends to have rate changes (as seen in the picture above) for weekends, holidays, and busy/peak seasons. So if you can, you should try to aim for your 5th consecutive day to fall on the day with the highest rate.
You can also use the 5th night free benefit at Hilton's all-inclusive properties for even more value.
Finding The Best Rates
Hilton allows you to search for hotels using flexible dates. This gives you an idea of where cheaper rates may lie at a particular hotel. If you're flexible with the days you can stay at a Hilton hotel, you can end up saving thousands of Hilton Honors Points by booking with respect to the lower rates.
As an example, lets say you want to take a 5-day trip around October 14th. Select the day and set the duration of the trip to 5 days. Checkmark the 'My dates are flexible' option and hit 'Find a Hotel'.
You'll then get a list of hotels in the area you specified. Once you find the hotel you're looking for in the list, click on 'View Available Dates'. You will now have a list of dates and the starting cost in Hilton Points of each 5-day span.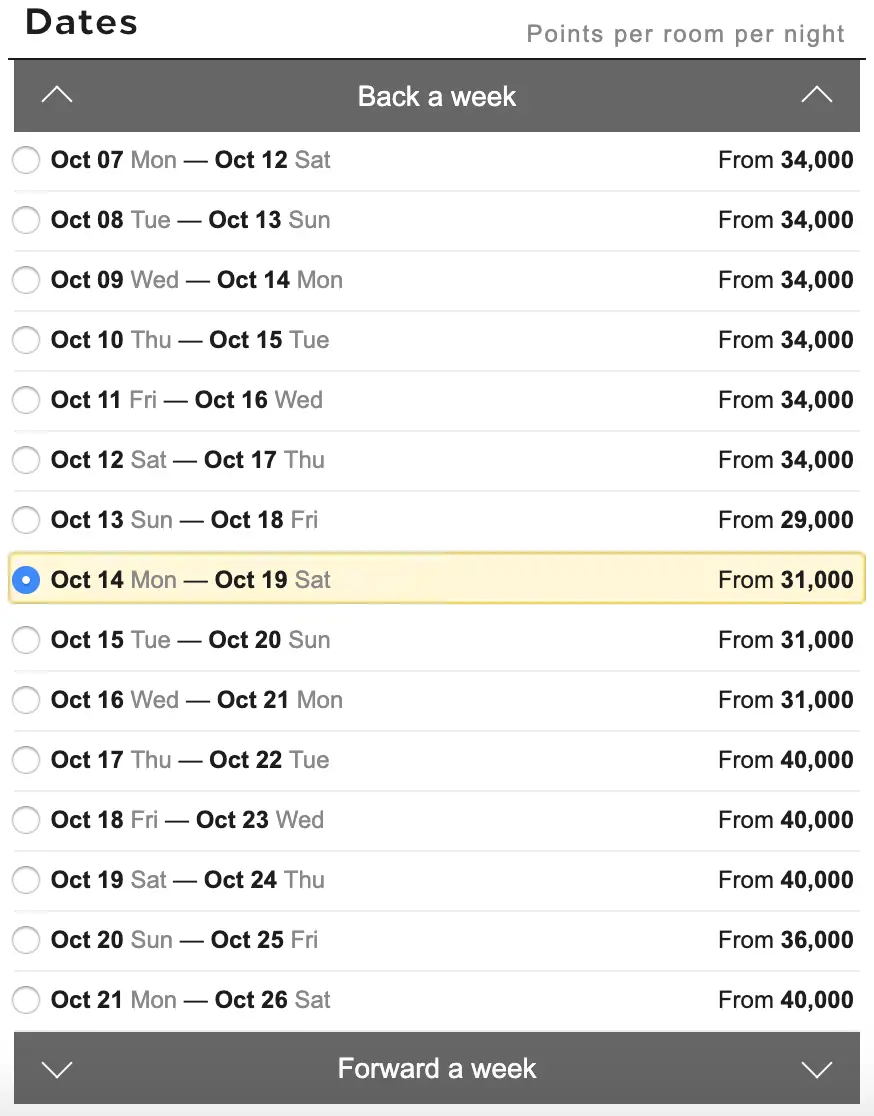 It will not always be possible to immediately determine which rate is the best off the results. For example, you may think that October 13-18 would be the winner here due to the 'From 29,000 Points' being displayed. It is not. The best week in this list is actually October 11-16. Sometimes you can kind of get a feel on which dates might offer a better overall rate by adding up the points to see which weeks have the lowest total of points.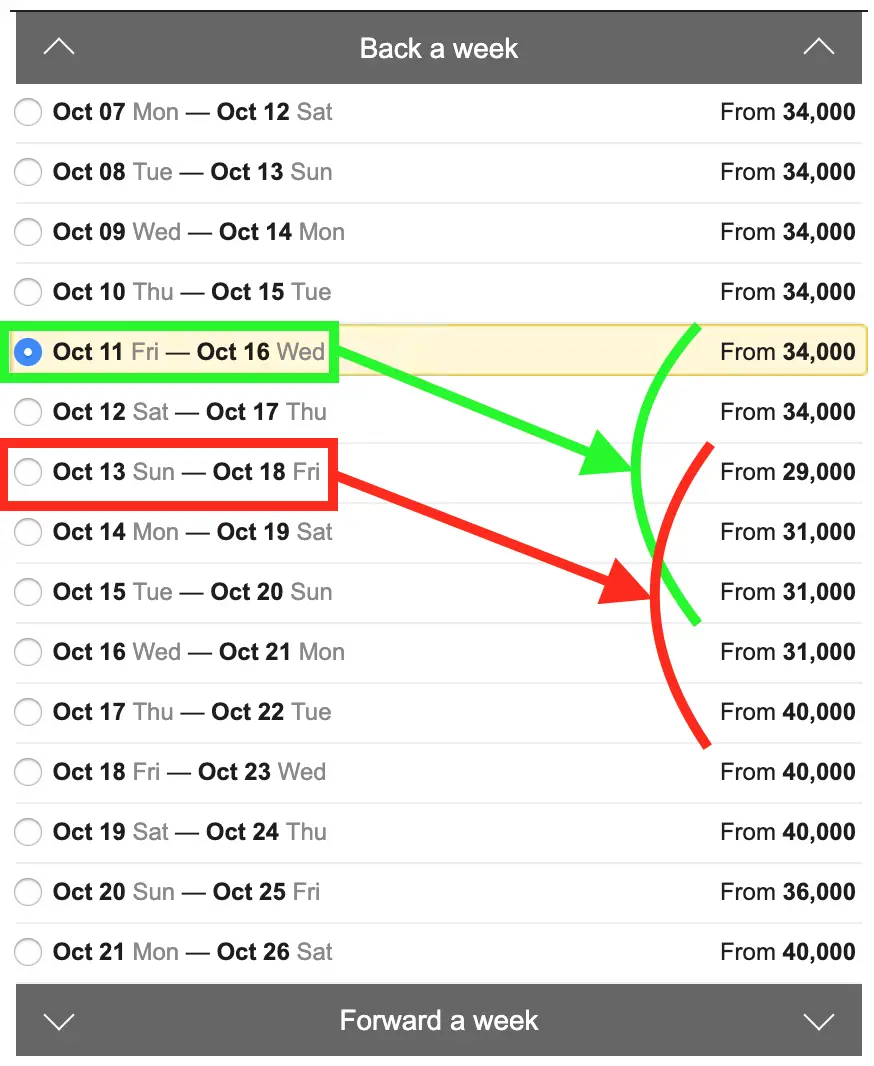 For example, the dates consisting of October 13-18 comes out to be 159,000 whereas the week of October 11-16 has a slightly higher total of 162,000. This will not always be the case since Hilton's may fluctuate on some dates, but it definitely helps to slim down the choices.
That's all there is to using Hilton's 5th Night Free Perk. It's as easy as obtaining Hilton Elite Status and booking a 5-night consecutive stay with your Hilton Honors Points.
Summary
The Hilton 5th Night Free benefit gives your Hilton Honors Points the best value and it is one of the best ways you can redeem your points. On top of that, you'll be able to keep a significant amount of points in your account thanks to only having to pay for four nights.
If you're looking for ways to earn Hilton Honors Points, the best option will be using the American Express Membership Rewards program which allows you to transfer your earned points to the Hilton Honors program. You can check out the full details on earning and redeeming on our Hilton Honors Points Calculator page.
FAQs
Does Hilton have a 5th night free perk?
Yes. This perk is automatically applied when you have Hilton elite status and book a 5-night consecutive award stay.
How do I use my Hilton 5th night for free?
If you have Hilton elite status, all you have to do is book a 5-night consecutive award stay to trigger the free 5th night.
Do you get free nights with Hilton Honors?
Yes. You can get free nights with Hilton Honors by earning points and redeeming them through the Hilton website.
How many Hilton Points does it cost for a free night?
Free nights at Hilton can be booked for as little as 10,000 points, but most hotels will hover in the 18,000 to 32,000 point range.
---