Asia Miles are valued at an average of around CAD 1.5 cents when used for award flights, but can be worth more or less depending on the cabin class and distance of the flight. Outside of flight awards, miles can also be used for hotels, car rentals, entertainment, and more. This page will cover all the ways you can redeem your Asia Miles and the average cash value you will get out of each redemption.
Asia Miles Value Calculator
Use the Asia Miles Value Calculator to calculate the average cash value of Cathay Pacific Asia Miles based on redemption options. Enter any amount of Asia Miles in the calculator below to calculate the average cash value of your Asia Miles based on redemption.
Award Flights
Asia Miles can be redeemed for award flights at an average value of 1.5 cents (CAD) per mile. Of course, you can get a higher value redeeming your points for business and first class flights due to the high price of those tickets. Instead of looking at it from a cash standpoint, it's best to look at how many award flights your points can earn you. You can use the Asia Miles Award Charts to see the required miles to fly on Cathay Pacific based on cabin class and distance zone. To give you an idea about flight distance, below are a few distances between big cities.
San Francisco (SFO) to Hong Kong (HKG) - 6,910 miles
New York (NYC) to London Heathrow (LHR) - 3,446 miles
Detroit (DTW) to Japan (NRT) - 6,414 miles

Choice & Tailored Awards
Asia Miles can be used for Choice Awards and Tailored Awards. These awards give you a better chance at booking a seat on Cathay Pacific and Cathay Dragon flights, but will cost you additional points. This includes a good chance on popular routes and during peak season as well.

Cabin Class Upgrade
You can use Asia Miles for a/ cabin class upgrade. The cost of this upgrade will depend on the class you're upgrading to and the distance of the flight. Long haul flights are going to run you between 22,000 to 55,000 Asia Miles for upgrades between various cabins. This can be a cheaper way to experience a better class after finding a good price on a booked ticket.
Companion Ticket
Asia Miles can be redeemed for a Companion Ticket. This only applies to Cathay Pacific and Cathay Dragon flights in which the member purchased a first or business class ticket for travel. The companion ticket has to be on the same flight, date, and class of service. Do note that they tickets only apply to round-trip flights. Valid classes consist of F and A for First Class and J, C, D, and I for Business Class. This can save you a great deal of miles considering Companion Passes are offered at a pretty noticeable reduced rate.

Redeem For Hotels & Cars
Asia Miles can be redeemed for hotel stays using the Asia Miles Travel Portal which will give your miles an average value of 0.9 cents each. I found hotels that offered as much as 1.1 cents in value and some that offered as low as 0.8 cents each in value, so you'll really need to compare the prices to find the true value.

When booking your hotel with Asia Miles, you'll have access to all room types which will typically cost more miles as you move up to 'better & bigger' rooms. This isn't the best use of Asia Miles considering the big difference in value from airfare redemptions, but it can be useful if you're looking to avoid paying for a room.
You can also use Asia Miles to book car rentals using the same portal. This will also give your Asia Miles around a value of 0.9 cents with the chance to get a slightly higher or lower value depending on the redemption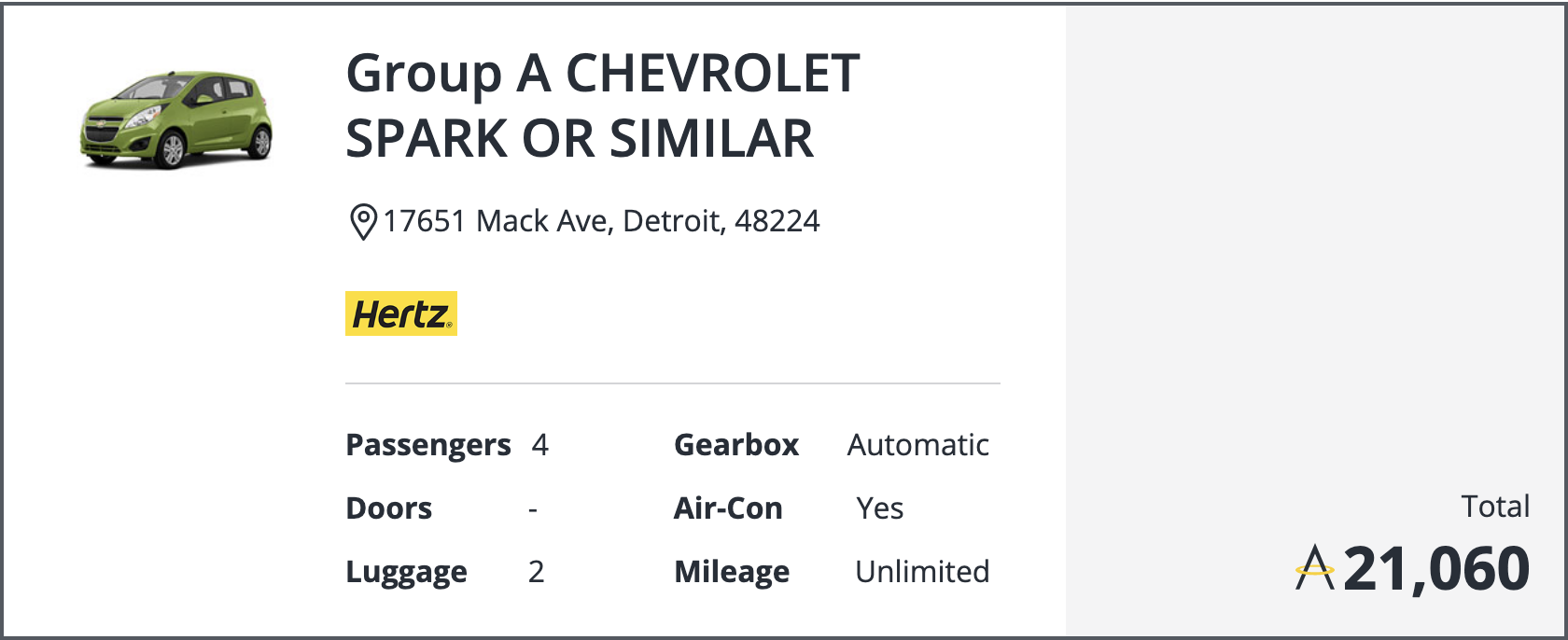 If you want to calculate the exact value of your hotel or car rental, you can use the Points & Miles Cash Value Calculator. It will calculate the value of your points based on the total cost in cash and the total cost in Asia Miles along with any taxes/fees.
Redeem For Types Of Awards
Asia Miles can be redeemed for several different types of 'awards': Experience Awards, Lifestyle Awards, and Entertainment Awards.
Experience Awards
Asia Miles can be used for experiences. The value of these redemptions will heavily vary on the actual experience. These options range from sightseeing tours to airport transfers to admission to parks and museums. If you know the cash value and the cost in Asia Miles you can use the Points and Miles Cash Value Calculator to calculate the value of your miles and see if it's worth it to you.
Lifestyle Awards
Asia Miles can be used to purchases electronics, beauty products, sports and outdoor equipment, and more. The value of your Asia Miles when used for these items will depend on what you're redeeming. Most of the items I priced came out to being around 0.5 to 0.6 cents per Asia Mile. Most of the stuff offered will usually not be worth using your Asia Miles for as you will get a ridiculously low value.

Entertainment Awards
Entertainment awards primarily focus on concerts and events going on around Hong Kong and surrounding areas. This is accessible through Lifestyle Awards under 'Entertainment and Events'. As with the lifestyle awards, the value of this redemption will depend on the event and how much you value the entertainment being provided.
Donate Asia Miles
Asia Miles can be donated to several programs and charities. This includes UNICEF, Red Cross, and C.A.R.E Society. You can also donate your points to social goods to help with things like medicines, speech therapy, and more.
Transfer Asia Miles To Partners
Asia Miles can be transferred to Esso (gas) and Singapore's PLUS! program. You can convert rewards earned with either program to your Asia Miles account to help you build up your miles.
500 Asia Miles For 375 Esso Smiles Points
800 Asia Miles For 600 LinkPoints