United Miles Value Calculator
United Miles are worth around USD 1.2 cents on average when used for flights. Miles can also be redeemed for hotels, car rentals, cruises, and much more.
---
United Miles can be redeemed for award travel on United and partnering airlines. They can also be used for hotels, car rentals, gift cards, and much more. Redeeming United Miles for airfare will give you the best value of around USD 1.2 cents on average with the possibility to get a higher or lower value. The worst usage of United Miles in terms of value will typically come from gift card redemptions which gives you around USD 0.64 cents per mile.
United Miles Value Calculator
The United Miles Value Calculator will calculate the average cash value of United Miles based on each redemption. You can enter any reasonable amount of United Miles in the field below.
United Miles Value Calculator
United Flights
USD $

0

Hertz [Standard and Lower]
USD $

0

Hertz [Interm SUV and Higher]
USD $

0

Thrifty
USD $

0

Cruises
USD $

0

Hotels
USD $

0

All Gift Cards
USD $

0
United Award Travel
The best value of United Miles will come from redeeming your miles for airfare on United, Star Alliance, and other partner airlines. You can use United's Interactive Travel Destination Awards Chart to get an idea of how many miles you'll need to travel between two destinations.
You can use redeem your United Miles with the airlines listed below.
Star Alliance Airline Partners
Aegean
Air China
Air India
Air New Zealand
ANA (All Nippon Airways)
Asiana Airlines
Austrian
Avianca
Brussels Airlines
CopaAirlines
Croatia Airlines
Egyptair
Ethiopian
Eva Air
LOT Polish Airlines
Lufthansa
Scandinavian Airlines
Shenzhen Airlines
Singapore Airlines
South African Airways
Swiss
TAP Portugal
Thai Airways
Turkish Airlines
Other Partners
Aeromar
Air Dolomiti
Azul
Boutique Air
Cape Air
Edelweiss
Eurowings
Hawaiian Airlines
Olympic Air
Silver Airways
Vistara
On average, you should be able to squeeze 1.2 cents per mile out of your rewards at minimum without too much effort. For example, let's look at this flight from Atlanta to Denver.

The cheapest round-trip tickets for Economy is $185 and the cheapest for First Class is $543. Looking at the same departure dates for award redemptions, a round-trip cost in Economy goes for around 12,000 miles plus 11.20 in taxes and fees. First class is going for as low as 53,000 miles plus 11.20 in taxes and fees.

The Economy redemption would give your United Miles a value of 1.4 cents each ($185 cash cost minus the $11.20 taxes/fees all divided by 12,000 United Miles). The first class redemption would only give your United Miles a value of 1 cent each ($543 cash cost minus $11.20 taxes/fees all divided by 53,000 United Miles). In this example, I would consider the economy flight redemption to be fantastic and the first class redemption not so much.
International Travel
Redeeming United Miles on international travel will usually always give you great value since this type of travel is priced significantly higher than domestic travel. This can give your United Miles very high value, but you have to think in terms of how much you would actually spend on a first/business class ticket.
Let's say I wanted to fly to Rome in July from Atlanta and that dates did not matter. Searching the month of July, I was able to find some roundtrip tickets in Economy for $1,513. If I wanted to fly business class, it would cost me $3,473 roundtrip.

Searching through July for award redemption, Economy redemptions are going for 30,000 United Miles one-way, 60,000 roundtrip while Business Class redemptions are hovering around 155,000 United Miles one-way, 310,000 roundtrip. The taxes and fees for going to Rome is only $5.60 while the taxes and fees coming back are significantly higher at $66.95 for a total of $72.55 in fees roundtrip.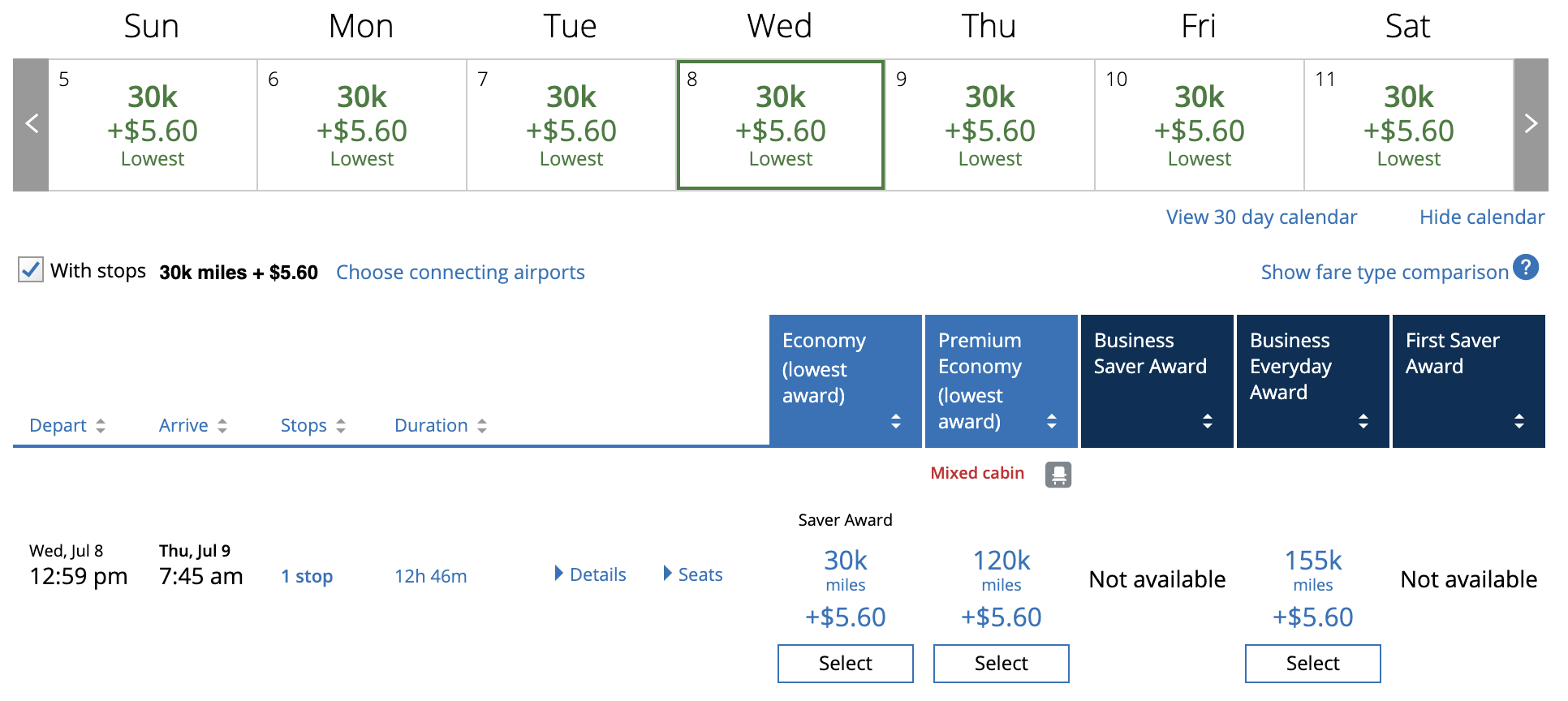 With this example, redeeming your United Miles for an Economy flight to Rome would give your United Miles a value of 2.4 cents each which is fantastic. With the Business Class redemption, you would get a little less than 1.1 cents per mile which is okay, but not the best.
Another Example
What if you had to go on a specific day of the week and didn't have any flexibility? What if you had to attend an event in mid-July and did not have any wiggle room? Prices from Atlanta to Rome in mid-July hover around $3,376 for a roundtrip in Economy and $4,466. The cost in miles? It's still 60,000 in Economy and 310,000 in Business Class with the same $72.55 in fees roundtrip.
So for this redemption, you're looking at 5.5 cents per United Mile for Economy and 1.4 cents for Business Class. If you had to go this weekend then you're getting a real value out of your miles.
Note:
International flights does not have to cost you thousands of dollars. Get email alerts about cheap flights departing from your favorite airports using
Scott's Cheap Flights
.
United Hotels
United Miles can be used to book hotels through the United Airlines portal which will give you an average of about 0.68 cent per mile. That's about half the average value of redeeming your United Miles for airfare.
If you're looking to obtain free nights at hotels, your best bet would be to consider earning Hotel Rewards Points. If you have a favorite chain, check to see if they have a rewards credit card as hotel credit cards can generally give you returns of 10% to 20% depending on the chain. Most cards also offer complimentary free nights annually which can help shave some of the cost off your travel. If you're not loyal to any specific hotel brand, consider earning Expedia Rewards Points booking through Expedia.com or earn a free night after 10 nights when booking with Hotels.com.
If possible, I would try to avoid using United Miles for booking hotels through their portal.
United Car Rentals
United Miles can be used to rent cars with Hertz, Dollar, and Thrifty. This will give your United Miles a value of around 0.7 to 1.1 cents per mile which isn't bad, but still less than what you would get with redemptions towards airfare.
The higher redemption values for car rentals will come from booking the smaller vehicles with Hertz. You'll also receive additional benefits booking with Hertz as they are partnered with United.
All three car rental companies have their own rewards programs which offers many benefits including free rentals, complimentary upgrades, and speedy access to your rental. They're free to sign up for.
United Cruises
United Miles can be used to book cruises through the United Cruises portal. Booking a cruse with United Miles will give you a value of around 0.78 cents per mile. I was able to find a few of the high-end rooms (Suites) going for 1 cent per point. Don't forget that you can also earn United Miles booking cruises through the United Cruises portal.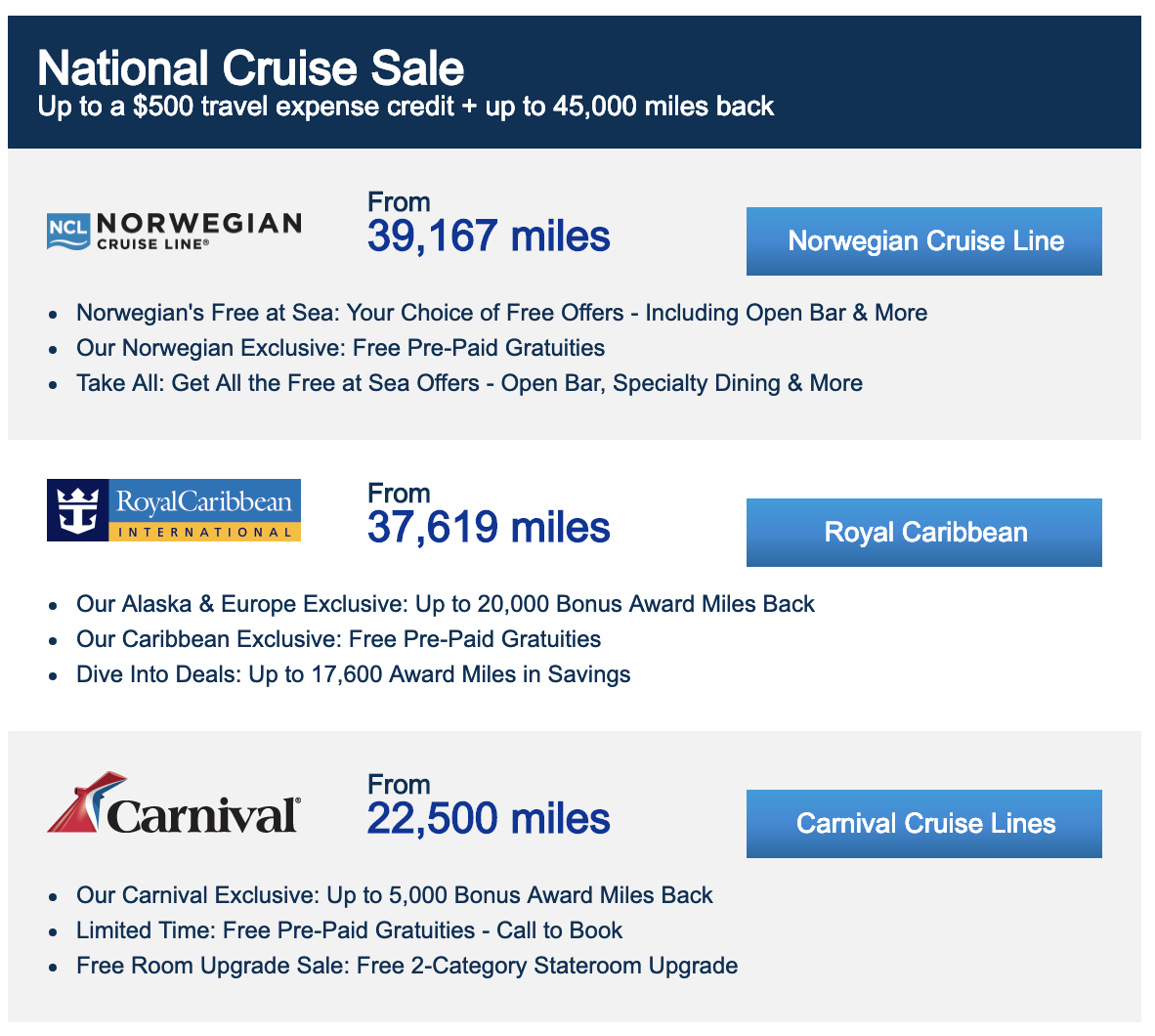 United Gift Cards
You can redeem United Miles for Gift Cards for a rate of 0.64 cents each. This means it will cost 15,625 United Miles to purchase a $100 gift card. This takes away half the value of United Miles when compared to redeeming them for airfare. United has over 250 eGift Cards you can choose from. Below is a partial lis of gift cards that United offers.
App Store & iTunes Gift Card
Baby Gap
Banana Republic
Barnes & Noble
Bed Bath and Beyond
Bubba Gump's Shrimp Co.
Buca di Beppo
Buffalo Wild Wings
Build A Bear
buybuy Baby
California Pizza Kitchen
Caribou Coffee
Chipotle
Dave and Buster's
Disney
Domino's Pizza
eBay
Facebook
Gap
Guess
Guitar Center
Hello Fresh
Hollister
HomeGoods
Hot Topic
IHOP
J.Crew
JCPenney
Kmart
Kohl's
Krispy Kreme
Lowe's
Macy's
Marshalls
McCormick and Schmick's Seafood and Steaks
Nintendo eShop
Nordstrom
O'Charley's
Office Depot Office Max
Papa John's
QVC
Red Robin
Sears
Sephora
Spafinder 365 Wellness
T.J. Maxx
The Cheesecake Factory
The Home Depot
Topgolf
Uno Chicago Grill
Walmart
Xbox
Merchandise Awards & Apple
United Miles can be used to redeem electronics, housewares, jewelery, and more through their MileagePlus Awards Shop. The value of these redemptions will vary, but you can search by how many miles you're willing to spend. If you have a low amount of United Miles sitting in the dark corners of your account, awards look to start at 3,000 United Miles.
United Miles can also be used to purchase Apple products such as a Macbook, iPad, iPhone, or iWatch. To give you an idea of the cost, a 64GB iPhone XS Max costs 146,600 United Miles. The phone itself costs $1099 plus tax so you're looking at a value of around 0.75 cents per mile.
United Subscriptions
United's Subscription feature allows you to tie certain perks to your United Mileage Plus account number for the duration of a year. These are perks such as United Club membership, economy plus seats, baggage check, and WiFi. Signing up for any of these subscriptions will allow you to receive that perk for you and up to a certain amount of companions traveling with you.
United Club Membership
You can use your United Miles to pay for United Club Membership. This gives you access to 45+ United Club locations worldwide as well as access to visit select partner lounges around the world. United Club access will cost you some serious money, but if you make use of visiting the Clubs, it's worth it.
United Club Membership
Membership (You)
85,000 United Miles ($650)
0.764 Cents
Membership (You + Spouse)
170,000 United Miles ($1,300)
0.764 Cents
United Wi-Fi Subscription
You can use your United Miles to pay for a Wi-Fi subscription that you can use during your flights. The cost will depend on the duration you select. Do note that this type of Wi-Fi is for sending emails and messages, catching up on social media, and browsing internet sites. Streaming services and video clips will not apply (i.e. Hulu, Netflix, YouTube, etc.).
Redeeming your United Miles for Wi-Fi subscriptions will give you around an average value of 0.65 to 0.68 cents per United Mile.
United Wifi Subscription
North/Central America Monthly
7,500 United Miles ($49)
0.65 Cents
North/Central America Annual
80,000 United Miles ($539)
0.67 Cents
Global Monthly
10,500 United Miles ($69)
0.65 Cents
Global Annual
100,000 United Miles ($689)
0.68 Cents
TSA PreCheck
United Miles can be used to pay for TSA PreCheck. This allows you to speed through (most times) TSA PreCheck checkpoints and can be useful for those who travel often. Using your United Miles for TSA PreCheck will give you a value of 0.85 cents per mile.
TSA PreCheck
10,000 United Miles ($85)
0.85 Cents

Transfer Miles To United Members
United Miles can be transferred to other United Mileage Plus members for a cost through their Buy, Transfer, or Reinstate Miles page. This will cost you $7.50 USD per 500 United Miles which is rate of 1.5 cents per mile transfered. It will also cost you a processing fee of $30 per transaction. This means transferring something as small as 1,000 United Miles would cost you $45. This particular method will only come in handy if someone you know is a few miles short of an award flight and needs that small boost in points. Just make sure you're transferring enough to make the cost worth it otherwise it's a slight chance that buying United Miles might end up the better option.
Summary
Overall, you'll get the best value from your United Miles when you redeem them on the United website for award travel with United and partner airlines which is the primary reason for earning them. Several other options also provide a decent value and can be useful if you're looking to burn up some of your miles.
If you're in need of additional miles, United has a great deal of travel partners. You can earn United Miles on just about anything including hotels, car rentals, dining out, shopping online, cruising, and much more. You can also earn United Miles by transferring points to your United MileagePlus account using United 10+ partners.
Lastly, if you're a few miles short and don't have the ability to use United's transfer partners, buying United Miles is the next option. You can buy as little as 2,000 miles and can be a good way to top off your account if you have your eye on a redemption.
---