How To Calculate Hilton Honors Points
Get the details on how to earn Hilton Honors Points staying at Hilton brand hotels. Calculate how many points you can earn based on your Hilton spend.
---
When it comes to earning points, Hilton makes it very easy. They offer a great amount of points per USD $1 spent on stays and offers significant bonuses for having Hilton Honors status. This gives Hilton Honors members the capability to earn a good amount of points per hotel stay.
Getting Started & Things To Note
While there are many ways to earn Hilton Honors Points, the primary method of earning points will be staying at Hilton brand hotels. Before I dive into how to calculate Hilton Honors Points, I'll cover the steps you need to take to ensure you're able to earn them.
Sign Up For A Hilton Honors Account
You will not be able to earn Hilton Honors Points from any source without a Hilton Honors account. You can sign up for a free Hilton Honors account in a few easy steps and it only requires a few pieces of information from you.
Go to Hilton.com.
Click Join in the top upper-right corner of the page.
Enter your name, phone number, email, and address.
Create a password to use for your account.
Click Join.
After you join, you'll be given your Hilton Honors membership number in which you will want to make note of. You'll need this number for signing into your account, signing up for promos, and much more.
Book Direct With Hilton
Booking hotels through online travel agencies (OTAs) such as Expedia or Hotels.com will not earn you Hilton Honors Points. You will also not receive credit towards elite status with Hilton and your benefits will generally not be honored if you do have status. In order to earn points and to ensure that you receive benefits when staying at Hilton, you will need to book directly through Hilton. This means using the Hilton.com website, booking their mobile app(s), or booking your stay over the phone.

Hilton Brand Hotels
In order to book earn Hilton Honors Points on hotel bookings, you will have to book stays (direct) at Hilton brand hotels. Hilton's flagship brand is 'Hilton Hotels & Resorts', but they do own many other brands. You can stay at any of the following Hilton Brand to earn Hilton Honors Points:
Waldorf Astoria Hotels & Resorts
LXR Hotels & Resorts
Conrad Hotels & Resorts
Canopy by Hilton
Hilton Hotels & Resorts
Curio Collection by Hilton
Embassy Suites by Hilton
DoubleTree by Hilton
Tapestry Collection by Hilton
Hilton Garden Inn
Homewood Suites by Hilton
Motto by Hilton
Hampton by Hilton
Home2 Suites by Hilton
Tru by Hilton
Hilton Grand Vacations
Do note that some of Hilton's brands may have their own website outside of Hilton.com. These website are branches of Hilton and you'll still be able to earn Hilton Honors Points when booking through them.
How To Calculate Hilton Honors Points
Hilton Honors Points earned on stays at Hilton brand hotels are based on spend. Points earned will consist of base points, bonus points from elite status, and points earned using Hilton credit cards.
Hilton Honors Base Points
Hilton Honors members earn points at a base rate of 10 points per USD $1 spent at a Hilton brand hotel. You will earn these points on the base rate of the hotel and any other eligible room charges made to the hotel including room service and telephone calls. You will not earn base points for taxes, fees, or surcharges.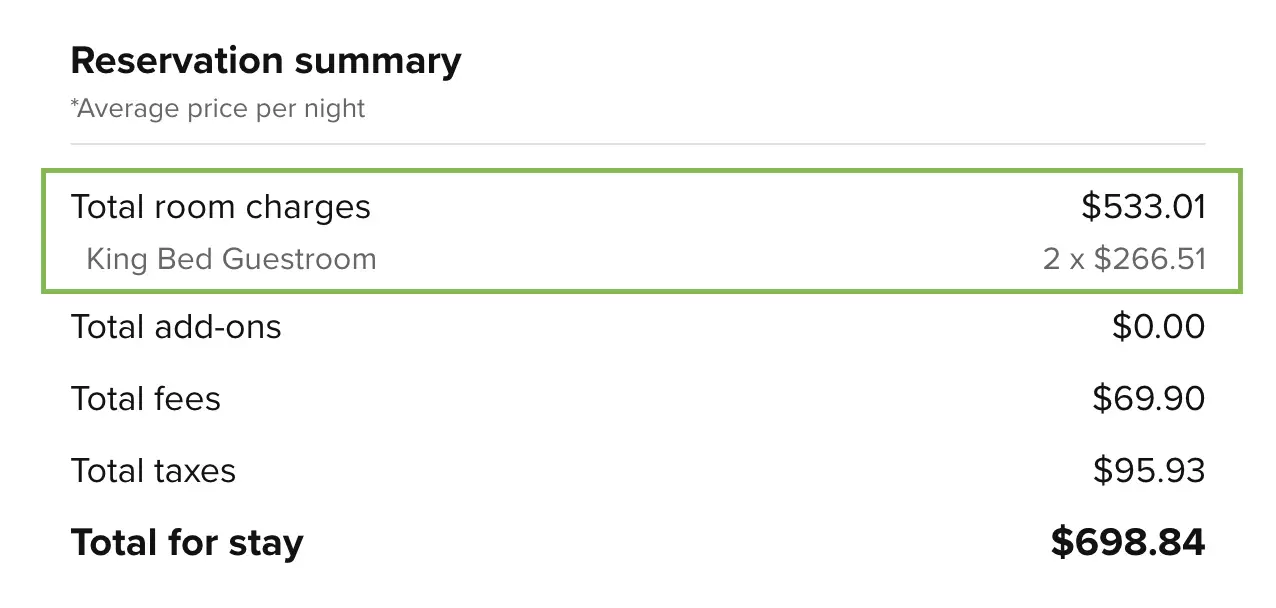 When booking a hotel room through Hilton, they will break it down into Total Room Charge, Total Taxes, and Total For Stay. You will earn base points on the Total Room Charge. So if the total room charge for your stay is USD $179.38 (see picture above), you would earn 1,794 Hilton Honors Points. This is calculated by multiplying the total room charge by the base rate of 10 points per USD $1 spent (and rounding to the nearest point). Below are a few more examples based on cost per night.
How To Calculate Base Rate
Cost Per Night
Nights Stayed
Points Earned
USD $80
3 Nights
2,400 Points
USD $150
5 Nights
7,500 Points
USD $235
4 Nights
9,400 Points
As with just about every hotel loyalty program, note that you will only earn Hilton Honors Points on paid hotel stays. You will not earn points on award/free nights since the base rate for the stay would be $0. You will still earn points on any other eligible room charges though.
Hilton Honors Elite Points
Earning Hilton Honors elite status will give you the ability to earn more points on paid stays at Hilton brand hotels. Elite status with Hilton is based on the number of nights, stay, or base points you earn per calendar year at Hilton brand hotels. The table below lists the requirements for earning Hilton Honors status on stays at Hilton hotels.
Hilton Honors Elite Status Requirements
Elite Tier
Requirements
Bonus Points
Member
Signing Up
No Bonus
Hilton Silver
4 Stays or 10 Nights
20% Bonus
Hilton Gold
20 Stays, 40 Nights, or 75,000 Base Points
80% Bonus
Hilton Diamond
30 Stays, 60 Nights, or 120,000 Base Points
100% Bonus
For those who want to experience Hilton Honors elite status perks that can't acquire status based off those requirements, you can shortcut your way to Hilton Honors Gold using the American Express Platinum Card which comes loaded with premium travel perks and benefits along with elite status for several other hotel brands.
Hilton Honors Complimentary Status
Credit Card
Status Offered
Point Calculator
American Express Platinum Card
Gold Status
Calculate Points
Now that you're aware of how to obtain Hilton Honors Status and know the bonus points you'll earn, lets take a look at how it factors into earning you more points on your Hilton stays. Hilton elite bonuses are based on the base rate and are in addition to your base points earned.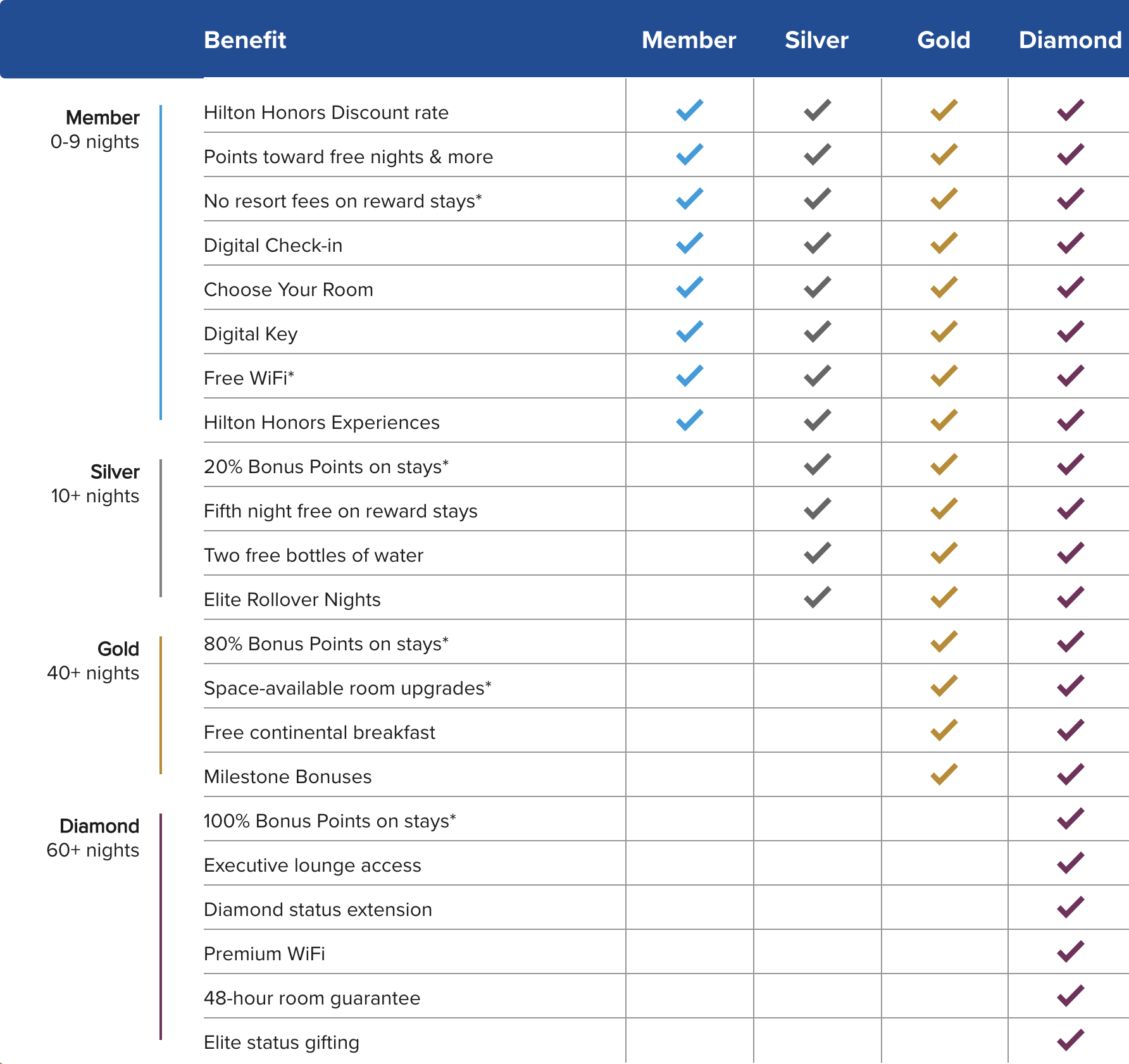 In this example, lets use a total room cost of USD $150 for the stay. Remember that all Hilton Honors members receive 10 points per USD $1 as the base rate. So all members will receive at least 1,500 Hilton Honors Points for this stay. Based on your elite status, you will earn a certain percentage of bonus points on top of your base points.
Hilton Elite Status Points
Elite Tier
Elite Points
Points Earned
Member
0 Elite
1,500 Points
Silver
+300 Elite
1,800 Points
Gold
+1,200 Elite
2,700 Points
Diamond
+1,500 Elite
3,000 Points
With higher elite status, you'll start to really rake in the points. Just based on status alone, you'll see that Diamond members earn double the points of regular members. This means you'll be earning rewards such as free nights twice as fast.
Summary
Hilton gives it's members the ability to earn a good amount of points through stays and elite status. Building up your Hilton Honors Points to use for solid redemptions as well as reaping the benefits that comes with Hilton Honors status can usually be worth the couple extra dollars saved from booking through a third party portal. If you're a frequent traveler you'll want to run the calculations and make sure you're getting the most out of your hotel stays.
If you're looking for more ways to earn Hilton Honors Points outside of Hilton credit cards, you can earn Hilton Points renting cars, booking ride with Lyft, and by transferring rewards to your account from other programs. You can also purchase Hilton Honors Points if you need to top off your account.
---