Find The Best Credit Cards For You
Cash back is the most flexible of the rewards types when compared to points and miles. It can be redeemed for just about anything and will generally be the best option if you want to use your rewards for more than just travel.
Cash back is worth face value which means you'll always know the value of your rewards. There's no looking for the best redemptions or need to transfer rewards for maximum value. It's just straightforward cash back.
When it comes to earning cash back using UK credit cards, you don't have many options. If you're looking to earn easy cash back, American Express offers the best cards in the UK.
Cash back can also be earned using online shopping portals such as TopCashback and Quidco. These are two of the best ways to earn cash back when shopping online.
American Express Cash Back
American Express offers two cash back credit cards that earns at a flat-rate across all purchases based on how much you have spent on average within a rolling 12-month period. You can earn up to 1.25% cash back on all purchases with AMEX credit cards.
Barclaycard Cash Back
Barclaycard offers one cash back credit card that earns 0.25% cashback on all purchases. While the cash back rate is rather low, the plus side is that there are no fees on purchases abroad when using the card.
If you're big on international travel and you want to save on international fees, the Barclaycard Rewards card is a solid option.
NatWest Rewards & RBS Rewards
NatWest Rewards and RBS Rewards offer credit cards that earn 1% back in Rewards on purchases at supermarkets and up to 0.5% back in Rewards on all other purchases. You can also earn up to 15% back shopping with popular partner retailers in the UK.
Rewards can be deposited directly into your back account, converted into gift cards with popular retailers, be donated to charity, or be transferred to airline partners. If you're big on international travel, the Black Reward credit cards both have a 0% foreign transaction fee which is great for worldwide purchases.
Cash Back Portals
There's not many options when it comes to earning cash back on everyday spend using UK credit cards. Luckily, you can use cash back portals to earn cash back rewards shopping online.
Cash back portals are free-to-use websites that partner with different retailers in the UK and across the globe. When you visit their website, it's filled with coupons, deals, and referral links.
When you click on these referral links, you're taken to the retailers website to shop as normal. Once you make a purchase, the cash back portal makes a commission off of that purchase and they pay you, the user, part of that commission.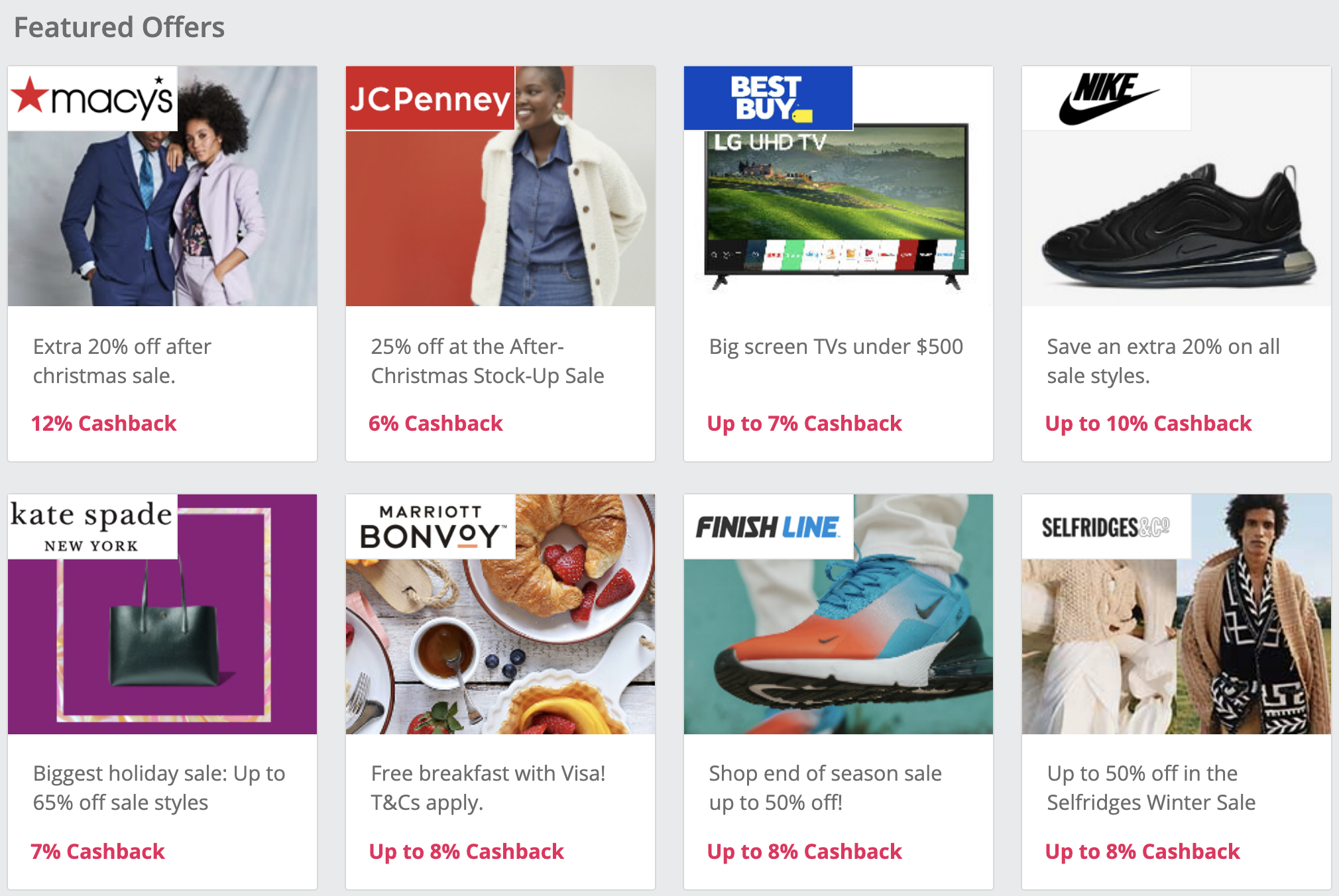 That's pretty much why there's no cost to using cash back portals since they're making money and sharing a portion of it with you. That makes cash back portals a win-win option.
You'll earn cash back from the portal, rewards with the retailer if they have a reward program and rewards if you use a rewards credit card to pay for your purchase. That's an easy triple dip on rewards at no cost to you!
There's two popular cash back portals in the UK: TopCashback and Quidco. I recommend signing up for both and when making purchases online, you can find out which portal is offering the most and use that portal to start your online shopping session.
As a note for TopCashback UK, you can opt in to earn British Airways Avios instead of cash back. This is a big plus if you're looking to build rewards towards free airfare.
If you sign up for either portal through The Point Calculator, you'll earn bonus cash back on your first shopping session.
Earn cash back or British Airways Avios shopping online. Sign up through this link and earn bonus rewards on your first shopping session.
Earn cash back shopping online. Sign up through this link and earn bonus cash back on your first shopping session.