The best value of Accor Points will come from redeeming them towards free nights at Accor brand hotels. Points can also be used for free nights at onefinestay properties, dining credits, experiences, charity donations, and be transferred to partners.
All values on this page are in Euros (€) unless otherwise stated.
Pay for your hotel with points
Every 2,000 Accor Points you redeem towards your room bill is worth 40 Euros off which makes your points worth €0.02 each. This is the best consistent value you can obtain out of Accor points.
If you're staying at an Accor Hotel in Europe in which the currency is in Euros, this is a relatively simple redemption. If you're staying at an Accor Hotel in which the currency is not in Euros, you'll be at the mercy of the local currency exchange rate.
This will not make a big difference in value, but it's something you'll want to be aware of.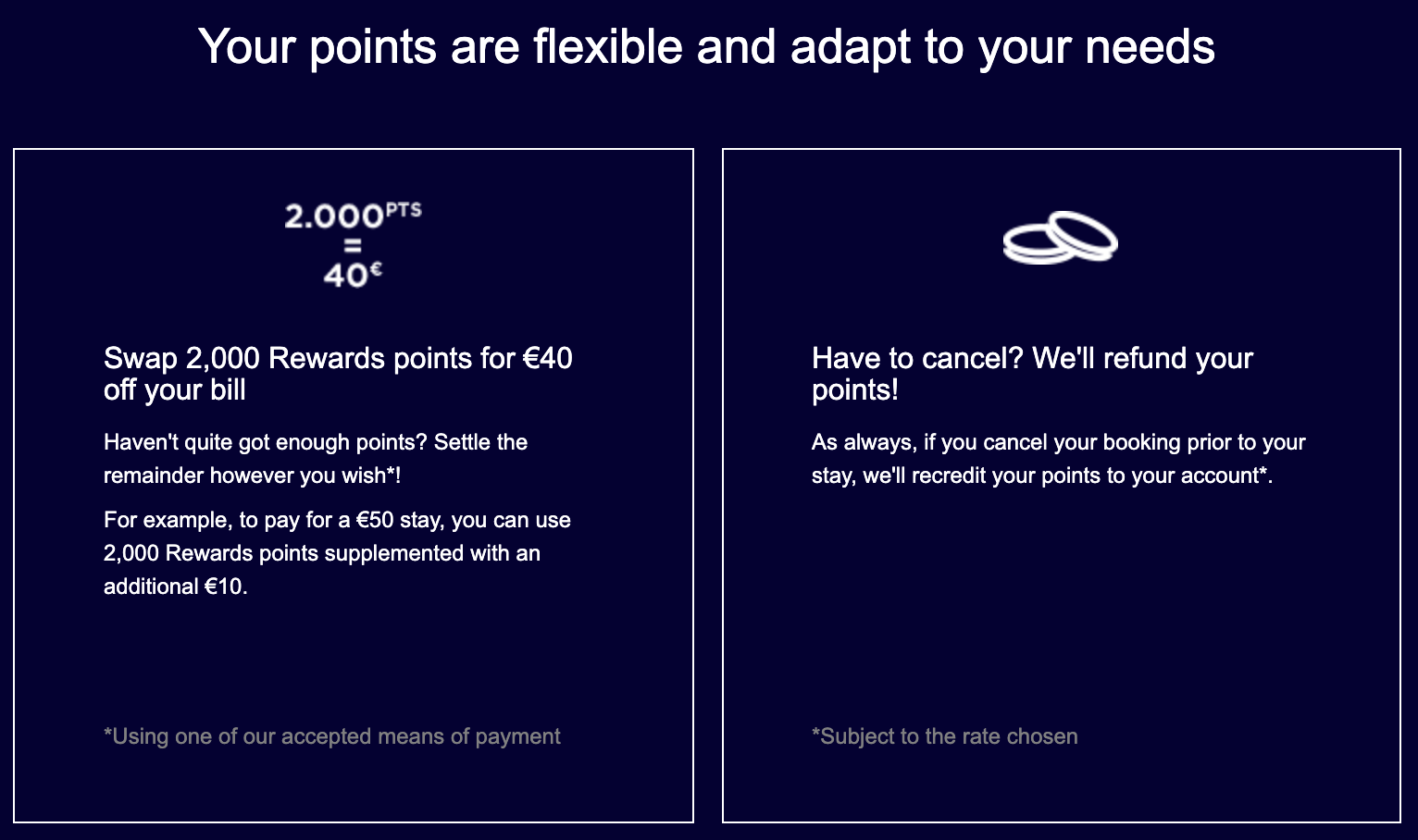 Another good thing about using your Accor Points for stays is that your points will be refunded if you cancel your booking prior to your stay. This is not something that many rewards programs allow.
Usually booking with rewards is final or have penalties under most conditions, so this is a nice benefit.
Other Accor Points Redemptions
Accor Points can be used for free nights at Onefinestay properties, dining out, and experiences. Points can also be donated to charity.
These redemptions will give you less than the 2 cents each in value you would obtain redeeming them towards the bill at Accor brand hotels.
Onefinestay
Outside of staying at Accor brand hotels, you can also use Accor Points towards stays at luxury private homes and villas through OneFineStay.
Redemptions for OneFineStay will be in the form of a OneFineStay gift card which will give your points a value of 1.38 cents each (€). Redemptions for OneFineStay starts at 7,200 Accor Points for a €100 gift card.

Dining Out
Accor Points can be used a participating restaurants and bars around the world for a value of 1 cent per point. You can apply Accor Points to your bill using the Accor All app.
Every 1,000 Accor Points you use will give you a €10 credit towards your bill. If you don't have enough points to settle the full amount, you can still earn rewards points using the app at the rate of 1 Accor Point per €1 spent.
Accor Limitless Experiences
Accor Points can be used towards experiences and merchandise through the Accor Limitless Experiences Portal. In this portal you will find vibes, travel, sports, and shopping/merchandise.
Vibes
Vibes will consist of experiences that you can enjoy using your Accor Points. This will be things like concerts, dinner + shows, and other events. The value of your points will more depend on you for these type of redemptions.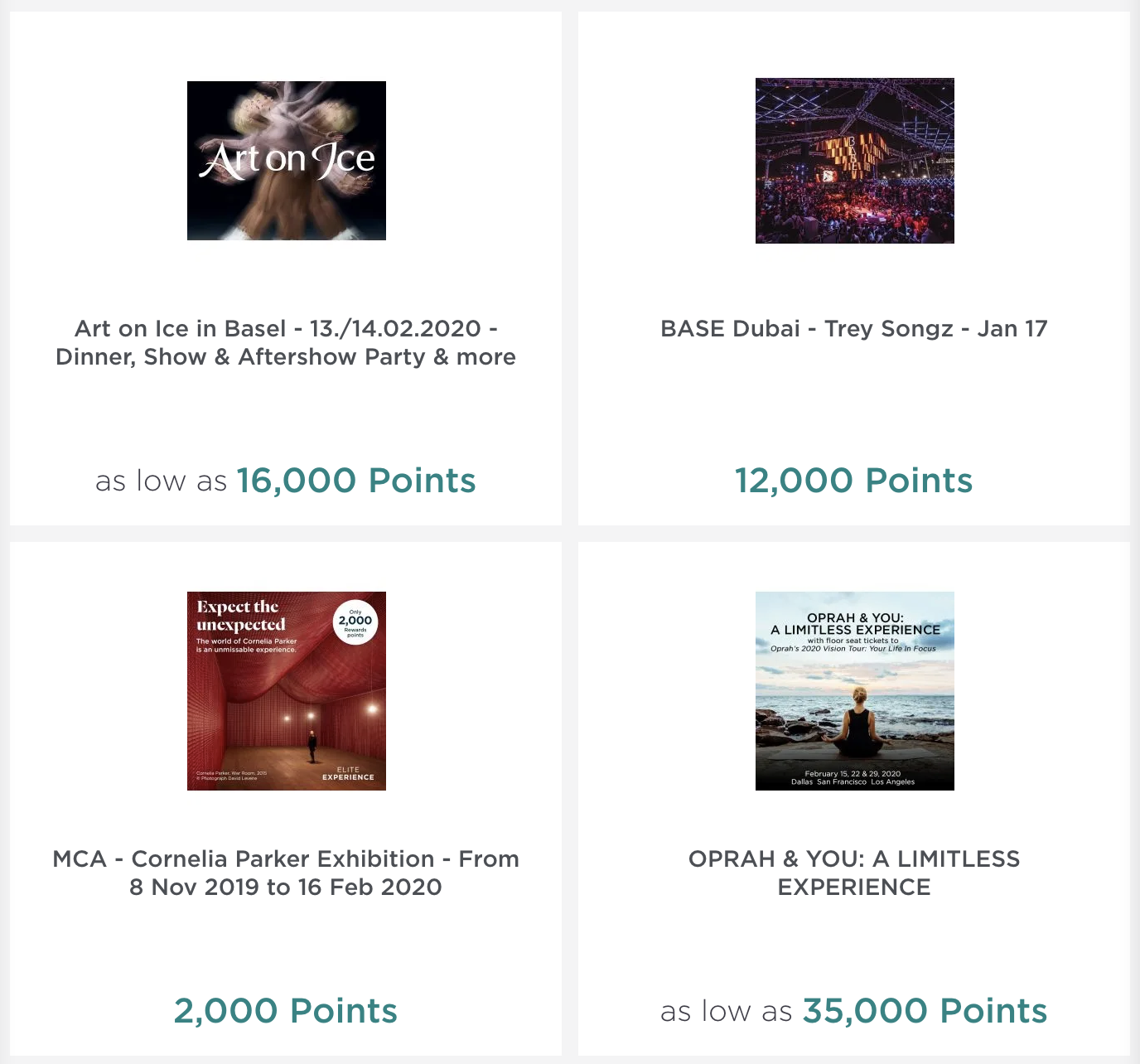 Travel (Dream Stays)
Under travel you will find experiences that has to do with enjoying very nice hotel packages. This includes multi-night stays at high-end hotels that comes with food, drinks, and other various perks.
The experiences listed under travel changes time to time, so you'll want to take a peak at what they have available. Typically, you'll get superb value when it comes to redeeming your points for these packages. I've found some of these redemptions to offer as much as 3 to 4 cent per point at times.
Sports
Under sports you will find experience that has to do with attending sporting events. This includes hockey, basketball, football, and just about everything else that ties to sports.
If you've been wanting to attend a certain sporting event, this could be an easy way to do such. The value you get out of your points for these kind of redemptions will vary, but if it's for an event you enjoy then it may be worth it regardless.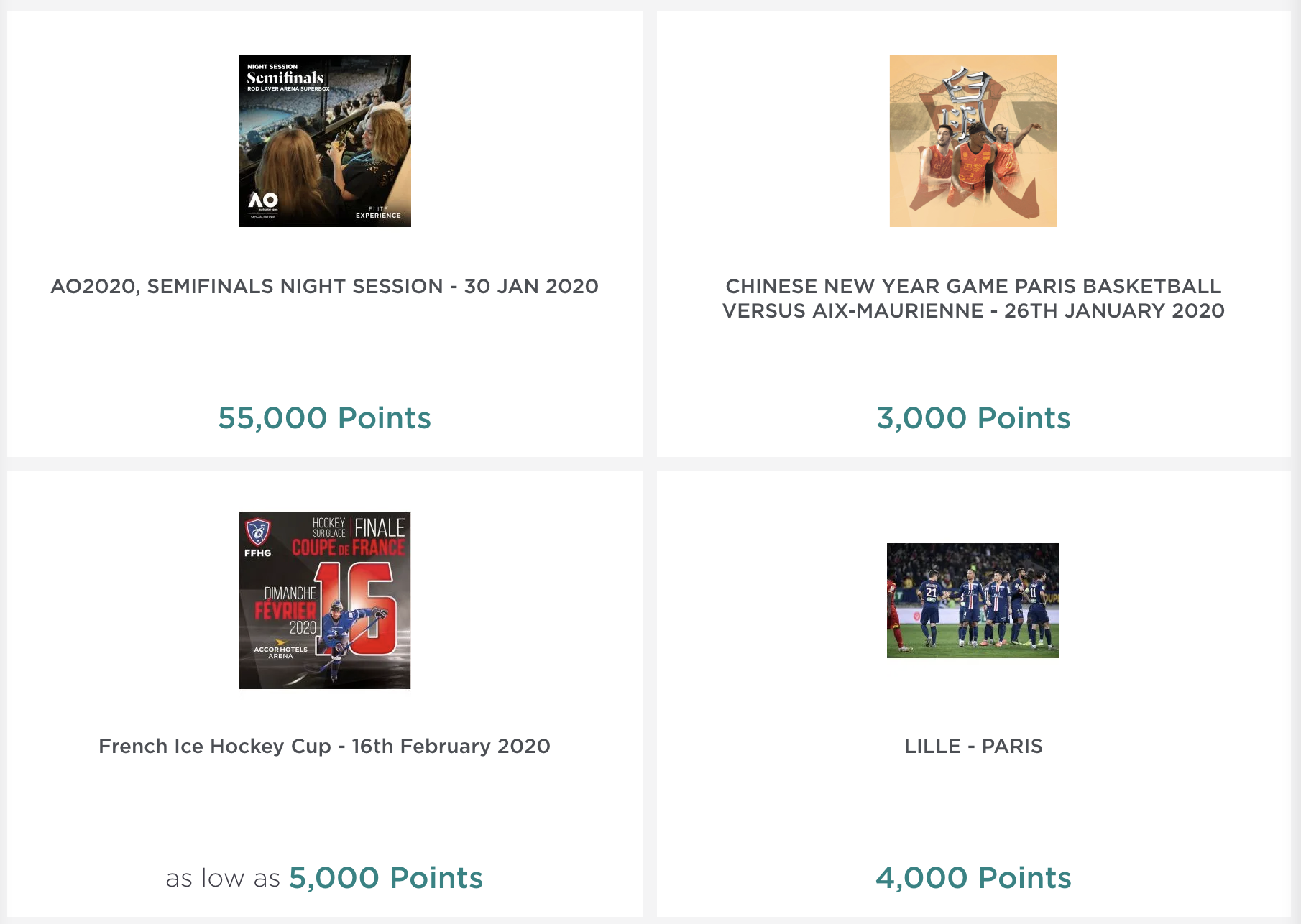 Shopping
If you're looking to buy merchandise with your Accor Points, you'll find that under Shopping within the Limitless Experiences portal. There's over 1,000 different items available for you to use your points on in the portal.
This includes electronics, healthy & beauty, fashion, home & garden, and leisure & entertainment. Most of these redemptions produced a value of 0.4 to 0.6 cents per point, though I'm sure it's possible to get both lower and slightly higher values.
This portal also allows you to use your points to purchase bedding and spa merchandise from the Thalassa Sea & Spa and Sofitel Boutique brands. This will still give your points a relatively low value, but it can be worth it if you're more willing to throw points at it versus cash.
Donate Points
Accor Points can be donated towards a good cause which includes AccorHotels Solidarity and Plant for the Planet.
Accor Solidarity Endowment Fund is involved in the fight against the economic and social exclusion of people at risk of poverty by improving their employability. Every 2,000 points contributed will equal out to €40 in donations.
Plant for the Planet plants trees on cocoa production sites and support small fair-trade and organic farmers who live by the Huayabamba river. Every 2,000 points contributed will equal 8 tress planted.
Other Ways To Redeem
Outside of the redemptions listed above, you can redeem Accor Points in the following ways:
Europcar Car Rentals (2,000 Points = €20)
Delsey (2,000 Points = €20)
Paris Saint-Germain Football Club
Skinjay Paris
Thalassa Sea & Spa - Aquascience (2,000 Points = €19)
Barbara Rihl (2,000 Points = €20)
Letestu (2,000 Points = €20)
Sofitel (2,000 Points = €20)
Transfer Accor points to partners
Accor Points can be transferred to more than 30 transfer partners which consists of airlines and transportation partners. Most transfers are at a 2:1 ratio which allows you to transfer 4,000 Accor Points for 2,000 miles/points with their partners.
This can be a useful route to take if you need to top off an airline or transportation account due to being a few points shy of travel.
List of Accor transfer partners
Loading...
Convert Accor Points To Cash
Use the Accor Points Value Calculator to determine the cash value of Accor Points when used towards hotel stays, dining out, and merchandise. This will give you an idea of how much your points are worth on average.
Remember that all values are in Euros.
Enter any amount of Accor Hotel points to calculate the average cash value.
Redemption
Average value
Paying with points at Accor properties
€

0

Redeeming points for onefinestay gift cards
€

0

Redeeming points to dine out with partners
€

0

Redeeming points for merchandise
€

0

- €

0
Calculate
Total Rewards & Card Value
For U.K. Credit Cards
Search Results Display Here
Maximize your credit card rewards!
Our Credit Card Rewards calculator can help you find the credit cards that will earn you the most points, miles and cash back based on your monthly and yearly spending habits. Simply enter your spend amounts into our tool and let our tool do the work for you!