Marriott Bonvoy Points can be transferred to 40 airline partners. Those partners are:
Aegan Airlines Miles+Bonus (3:1)
Aeroflot Bonus (3:1)
Aeromexico Club Premier (3:1)
Air Canada Aeroplan (3:1)
Air China PhoenixMiles (3:1)
Air France-KLM Flying Blue (3:1)
Air New Zealand Airpoints (200:1)
Alaska Airlines MileagePlan (3:1)
Alitalia MilleMiglia (3:1)
All Nippon Airways Mileage Club (3:1)
American Airlines AAdvantage (3:1)
Asiana Airlines Asiana Club (3:1)
Avianca Lifemiles (3:1)
China Eastern Airlines Eastern Miles (3:1)
China Southern Airlines Sky Pearl Club (3:1)
Copa Airlines ConnectMiles (3:1)
Delta Airlines SkyMiles (3:1)
Emirates Skywards (3:1)
Etihad Guest (3:1)
Frontier Airlines FRONTIER Miles (3:1)
Hainan Air Fortune Wings Club (3:1)
Hawaiian Airlines HawaiianMiles (3:1)
Iberia Plus (3:1)
Japan Airlines HAK Mileage Bank (3:1)
JetBlue TrueBlue (6:1)
Korean Air SKYPASS (3:1)
LATAM Pass (3:1)
Qantas Frequent Flyer (3:1)
Qatar Airways Privilege Club (3:1)
Saudi Arabian Airlines Alfursan (3:1)
Singapore KrisFlyer (3:1)
South African Air SAA Voyager (3:1)
Southwest Airlines Rapid Rewards (3:1)
Tap Air Portugal Miles&Go (3:1)
Thai Air Royal Orchid Plus (3:1)
Turkish Air Miles and Smiles (3:1)
United Airlines (3:1.1)
The majority of Marriott's transfer partners feature a 3:1 ratio. This means that 3 Marriott Bonvoy Points will be equal to 1 airline mile when transferred. When compared to other hotel loyalty programs, this is one of the best transfer rates due to the base earning rates being 10 points per $1 spent at Marriott brand properties. When transferred, those 10 base points are equal to 3.3 airline miles and no other hotel chain can match that level of earning at the base rate.
Marriott Points Transfer Bonus
Marriott offers 15,000 bonus Marriott Bonvoy Points for every 60,000 Marriott Bonvoy Points you transfer. This will equal a bonus 5,000 airline miles with most partners based on the 3:1 transfer ratio. If you plan on transferring large sums of points from Marriott to airline partners, I highly recommend doing it in 60,000-point blocks.
How To Transfer Marriott Bonvoy Points
Transferring Marriott Bonvoy Points is fairly easy to do and only requires a few steps. Here's the steps on how to transfer your points to Marriott's partners:
Go to Marriott's Transfer Points To Miles page.
Click Transfer Points. Log into your Bonvoy Account if prompted.
Select the frequent flyer program and enter the frequent flyer number of that program.
Enter how many points you want to transfer and click Continue.
Click Convert.
The points will be deposited into the specified account and you'll be a step closer to your redemption with the frequent flyer program you transfered your points to.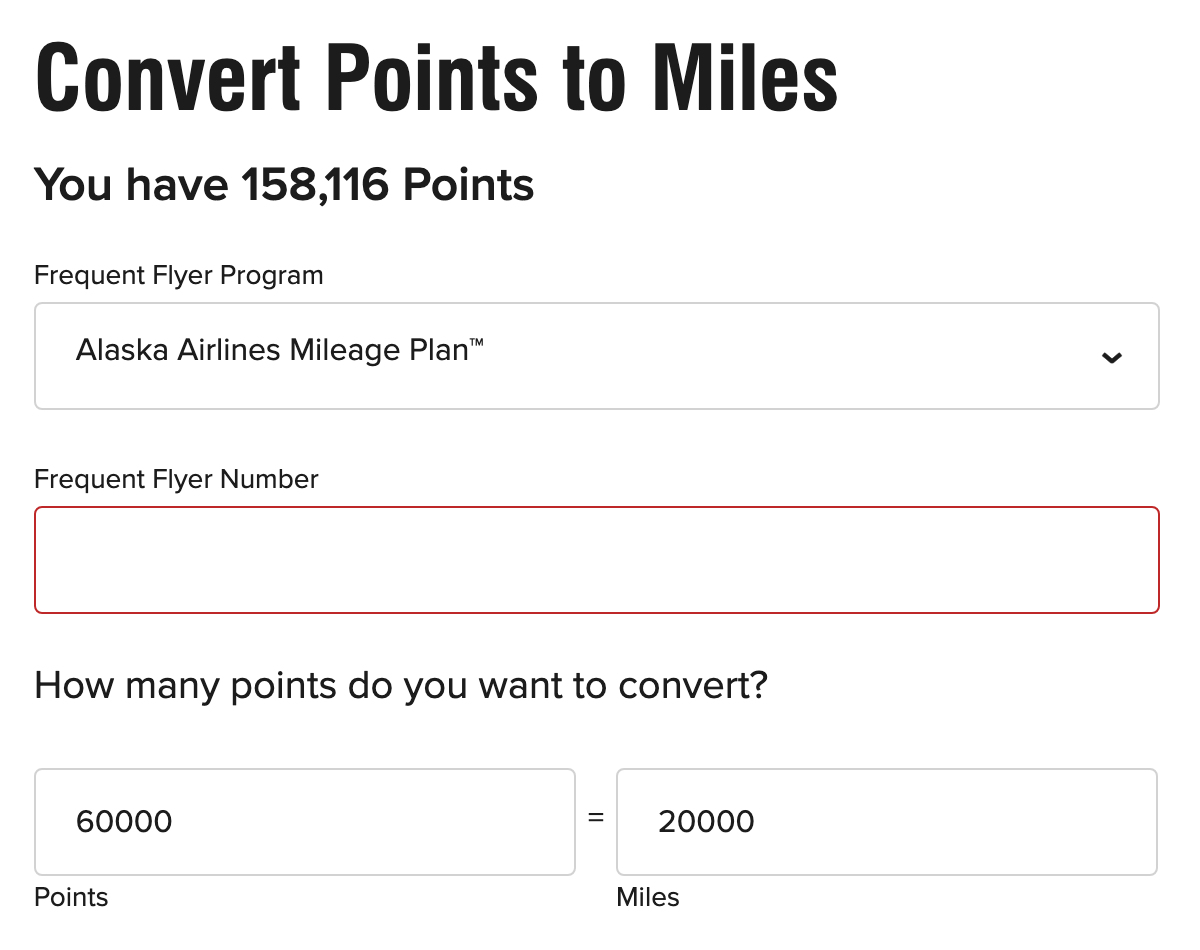 Are Transferring Points Worth It?
In my opinion, Marriott is one of the only hotel rewards program in which transferring Marriott Bonvoy Points can still bring you great value without totally nuking the value. This is due to the excellent 3:1 ratio along with the bonus you earn from transferring 60,000 points at a time.
The Point Calculator values Marriott Bonvoy Points to be worth around 0.7 cents (USD) on average. This means that 3 Marriott Bonvoy Points is worth about 2.1 cents in value. It is very possible to transfer 3 points and get 2.1 cents from a single airline mile depending on the redemption. Other hotel rewards programs usually lose significant value due to either sub-par to terrible transfer ratios (e.g. Hilton) or because the value of the hotel points is significantly higher (e.g. Hyatt).
Marriott Transfer Partners Calculator
Use the Marriott Transfer Partners Calculator to calculate the transfer of Marriott Bonvoy Points to Marriott's airline partners. You can enter any amount of Marriott Bonvoy Points to see how many airline miles you will end up with when transferred. Do note that this calculator factors in the Marriott Transfer Bonus.
Summary
Marriott Bonvoy Points are one of the top hotel currencies due to the massive amount of airline transfer partners and the nice transfer bonus they offer for every 60,000 points transferred. On top of that, it's pretty easy to build Marriott Bonvoy Points when staying at Marriott hotels thanks to the 10 base points you earn per US$1 spent, the bonus points from Marriott Bonvoy Status, and the Marriott Bonvoy American Express Card.
FAQ
How many transfer partners does Marriott Bonvoy have?
Marriott has 40 transfer partners.
What is the transfer ratio for transferring Marriott Bonvoy Points?
Most of Marriott's transfer partners feature a ratio of 3:1 meaning every 3,000 Marriott Bonvoy Points you transfer will give you 1,000 airline miles.
Does Marriott offer a bonus when transferring points?
Yes. For every 60,000 Marriott Bonvoy Points you transfer, Marriott will give you a bonus 15,000 points which is equal to an additional 5,000 airline miles (3:1) with most of their partners.
How do you use the Marriott Transfer Partners Calculator?
Enter the amount of Marriott Points you have and the calculator will output how many miles you'll end up with in each partnering programs.
How do you transfer Marriott Bonvoy Points to partners?