Rewards calculator for the Boots Advantage Card. Calculate total points earned on purchases and the cash value of your Boots Points.
Program Details
Boots is a British health and beauty retailer and pharmacy chain based out of Beeston, Nottinghamshire, England. Boots falls under the Walgreens Boots Alliance which also owns Walgreens, the second-largest pharmacy store chain in the United States.
Redeeming Rewards & Cash Value
Boots Points are worth 1p each meaning that 100 Boots Points are worth £1. Since you have the ability to earn 4 points per £1 spent on most purchases in the Boots Advantage scheme, you're looking at a pretty nice 4% return on your spend. This makes the program worth signing up for if you frequently shop at Boots.
Redeeming Boots Points
Boots Points are pretty easy to redeem. When in-store, you can let the cashier know that you want to pay with points. If you're purchasing items online, you can select the Boots Advantage Card option when checking out assuming the card is connected to your account.
One thing to note about redeeming Boots Points is that you cannot part-pay. This means that if something you're buying costs £5 and you have 450 Boots Points, you cannot redeem those points towards that purchase. You would need the full 500 Boots Points to pay for the item. So be sure to note this when trying to redeem your points.
Boots Points Value Calculator
You can use the Boots Points Calculator to calculate the cash value of your Boots Points. This will give you an idea of how much your points are worth when you redeem them towards purchases with Boots.
Earning Rewards
There's a few key things you'll want to know about the Boots Advantage Scheme. This includes how to earn points and how to benefit from using the Boots App as well as signing up for their promotions.
Earning Boots Points
When you sign up for the Boots Advantage Scheme, you'll be able to earn Boots Points on your purchases. You'll earn 4 Boots Points per £1 spent on most purchases. These purchases can be made in-store or online. When in-store, you'll need to show your Boots Advantage card to the cashier who will need to scan it in order for you to receive points for your purchase. When you're shopping online, you'll want to link your Boots Advantage Card to your account so that it will automatically give you credit when you make your online purchase. You can enter it manually every time if you wish, but it's easier to just sign into your account and have everything set up and ready to go.
Additional Points & Promos
If you're looking to maximize your earnings in the Boots Advantage Scheme, you'll want to use the Boots App and keep your eye out on their many promotions.
Boots App
Most loyalty schemes have an app now-a-days and Boots is no different. Boots allows you to sign up for deals and promos through the app that you can use in store. It's worth going through the app to see what sales or promotions are going on before you actually shop at Boots. This way you can load the offer to your card, use your card in-store or online for the offer, and be rewarded properly.

Boots Events
Boots has events from time to time that can earn you additional points or net you some great value on your purchases. These events are typically the best time to make purchases since you can earn significantly higher than the normal 4% return you would normally get. Again, you'll want to focus your attention on the Boots App or sign up for the Boots Advantage newsletter which will keep you informed!
Boots Clubs
The Boots Advantage Scheme offers two clubs called the Parenting Club and the Over-60s Rewards club.
Boots Parenting Club
The Boots Parenting Club is exclusive to Boots Advantage Cardholders that have a newborn child on the way and for any child up until the day they turn five years of age. The club offers:
8 Boots Points Per £1 spend on baby products
Free gifts at key stages of your baby's development
Personalized special offers
Expert parenting advice
Parenting Club offers via the Boots app
This is a great way to get the baby products you need while getting a superb return on your purchases.
Over 60 Rewards
The Over 60 Rewards program offers additional points for being 60 years or older. This scheme offers:
8 Boots Points Per £1 spend on Boots brands & selected exclusives
Exclusive club benefits and shopper points benefits
The ability to collect 200 points when you take a Boots Hearing Health Check
The bonus points alone makes this program worth signing up for since you'll earn a high 8% return on select purchases.
Earning Boots Points Calculator
The calculator below will calculate how many Boots Points you can earn based on your spend. This is based on the standard 4 points per £1 spent.
Don't Forget To Use Cash Back Portals!
If you're looking to really maximize your cash back, be sure to use a cash back portal when buying stuff from Boots. Cash back portals are free to sign up for and free to use. Here's the quick summary of how they work:
Start at the cash back portal's website
Find your store and click Shop to start a new session
You'll be dropped off on that store's home page to shop as normal
Once you checkout, the cash back site will be notified
Cash back will be credited to your account
Cash back portals easily allow you to double and triple dip on earned rewards. This is because you will earn the following:
Cash back through the Portal
Rewards from the credit card you used to pay
Rewards with the store you're buying from (in this case Boots Points)
Since cash back portals drop you off on the retailers site, it will still be considered booking direct. I highly recommend using cash back portals if you're shopping or booking travel online.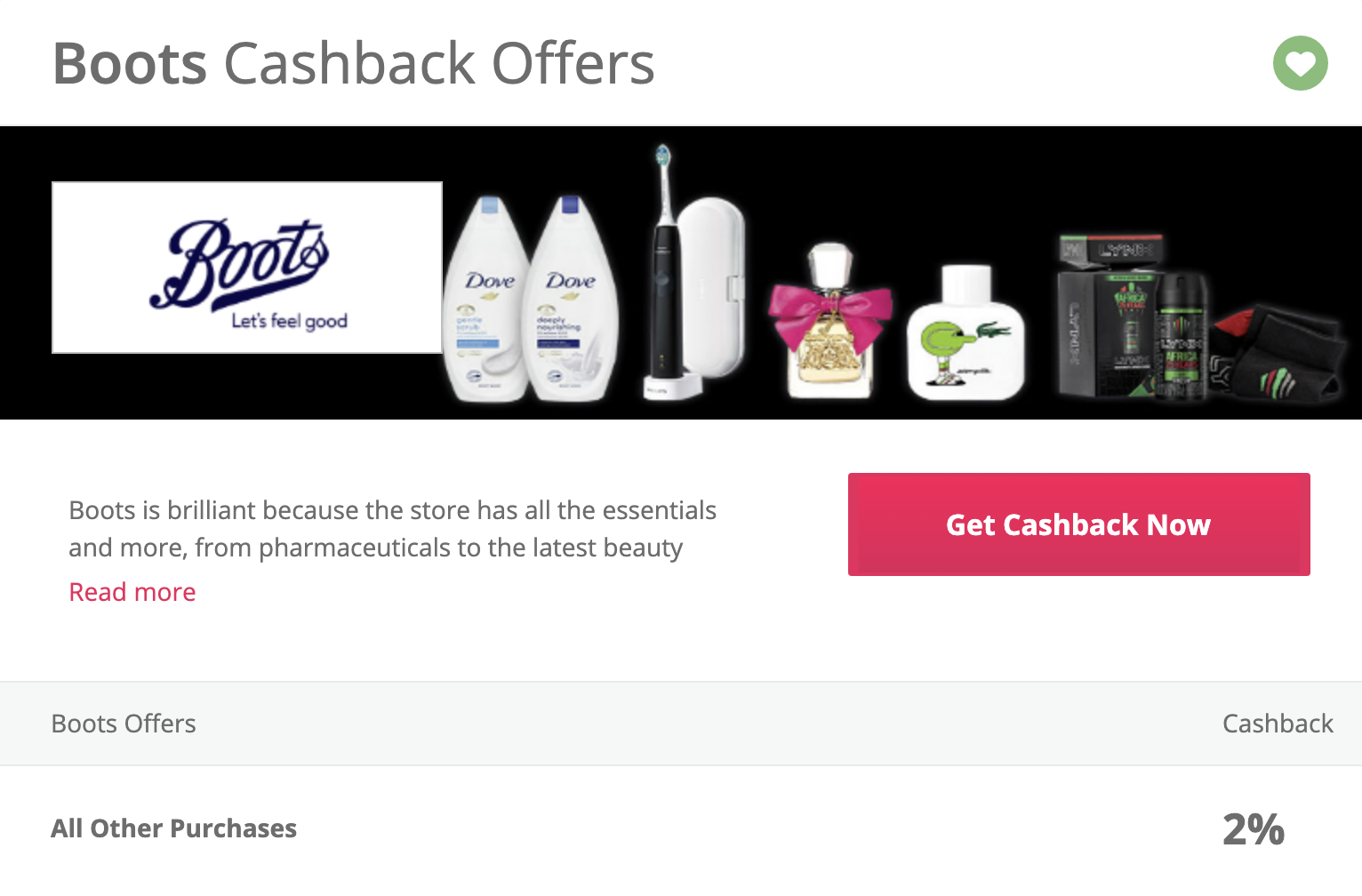 Listed below are some of the top cash back portals in the United Kingdom. You can sign up for any of the programs below through The Point Calculator to help out the site and earn yourself some additional cash back after your first purchase.
There's no portal that's always better than another since the cash back (or other rewards) rate that you can earn changes from time to time. Anytime you're shopping online, I recommend scanning across each portal to find out who's offering the best cash back.
Other Articles
Additional news, articles, calculators, or other information that you may want to know about.
Outside Links
---