John Lewis Points Calculators
John Lewis Points Calculators for calculating total points earned with the Partnership Card and the cash value of points based on redemption.
Program Details
John Lewis & Partners is a brand of department stores headquartered out of London, England, United Kingdom. They offer a single credit card for those looking to earn points spending at John Lewis and Waitrose (supermarkets).
Credit Card Rewards Calculators
The John Lewis Credit Card Calculators will calculate how many points you can earn based on your monthly/yearly spend across categories. Each calculator will also output the cash value of the card based on your spend, how much you value the benefits of each card, and any annual fees the card may have.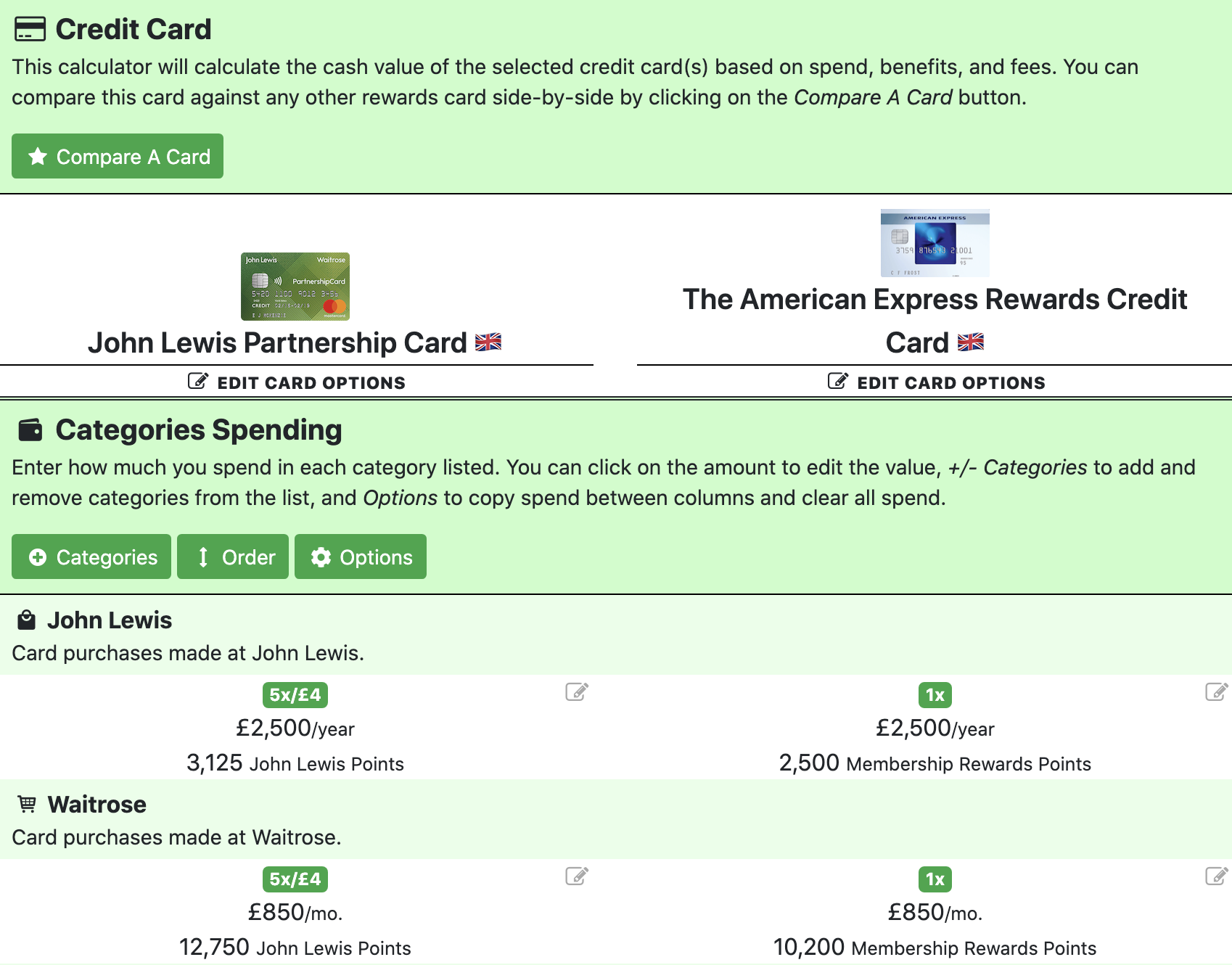 You can compare the results side by side any credit cards featured on the site to find out which earns you the most rewards and the best return. All spend entered (primary/first column only) will carry over to all credit card calculators on the website.
John Lewis Credit Card Calculators
John Lewis & Partners offers one credit card called the Partnership Card. It offers 5 points per £4 spent in John Lewis and Waitrose and 1 point per £4 spent everywhere else. The card comes with exclusive benefits such as bonus points, ticket exclusives and luxury travel offers. It's a great choice for anyone who frequents either retailer.
Redeeming Rewards & Cash Value
John Lewis Points are worth 1p each. Every 500 points you earn is worth £5 in vouchers that you can spend in John Lewis and Waitrose. The calculator below will give you the cash value of your points based on 1p per point.
The table below lists the cash value of John Lewis Points based on the value of 1p per point.
John Lewis Points Value

| John Lewis Points | Cash Value |
| --- | --- |
| 1 Point | 1p |
| 100 Points | £1 |
| 500 Points | £5 |
| 1,000 Points | £10 |
| 2,500 Points | £25 |
| 5,000 Points | £50 |
| 10,000 Points | £100 |
Don't Forget To Use Cash Back Portals!
If you're looking to really maximize your cash back, be sure to use a cash back portal when purchasing from John Lewis and Partners. Cash back portals are free to sign up for and free to use. Here's the quick summary of how they work:
Start at the cash back portal's website
Find your store and click Shop to start a new session
You'll be dropped off on that store's home page to shop as normal
Once you checkout, the cash back site will be notified
Cash back will be credited to your account
Cash back portals easily allow you to double and triple dip on earned rewards. This is because you will earn the following:
Cash back through the Portal
Rewards from the credit card you used to pay
Rewards with the store you're buying from
Since cash back portals drop you off on the retailers site, it will still be considered booking direct. I highly recommend using cash back portals if you're shopping or booking travel online.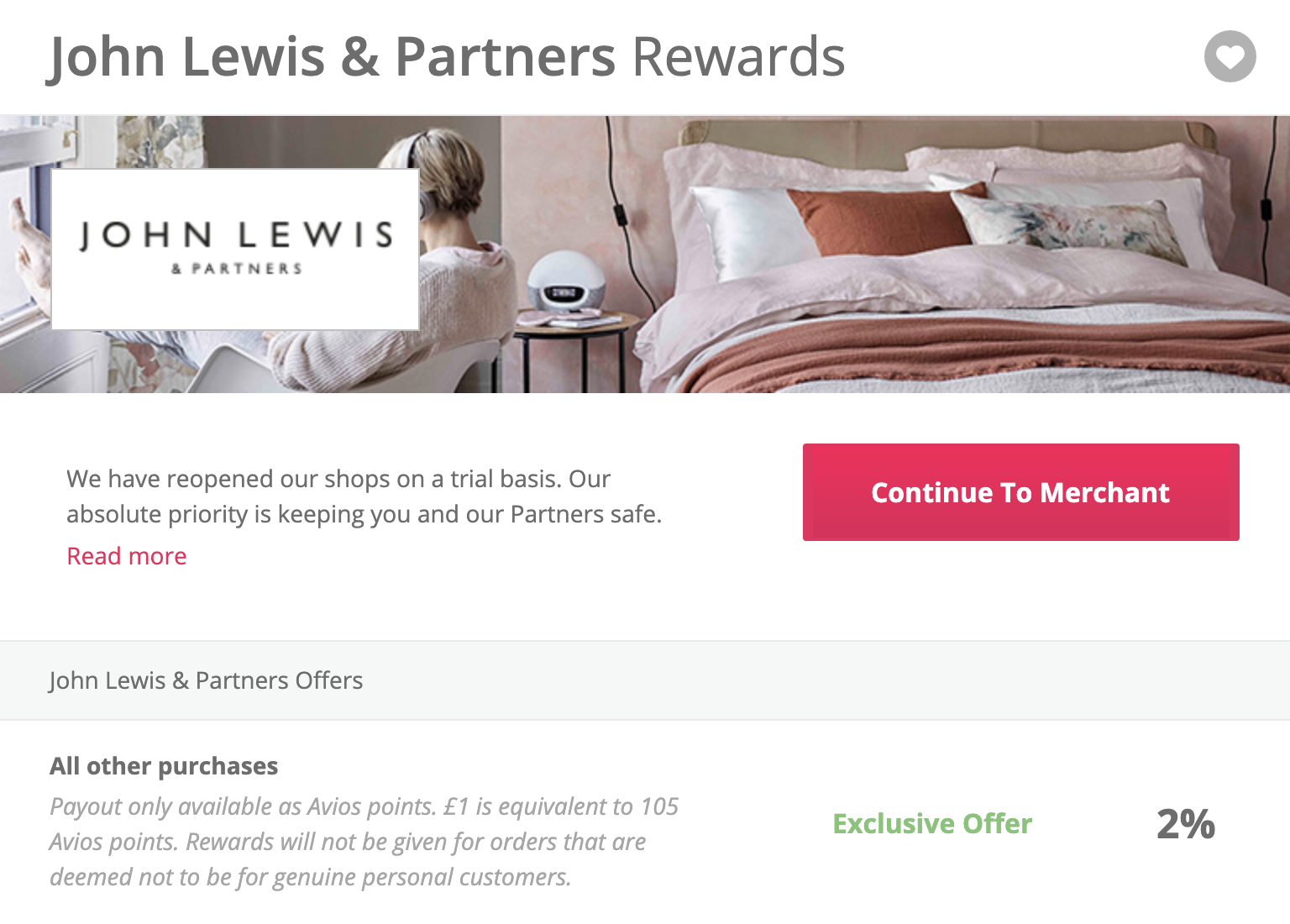 Listed below are some of the top cash back portals in the United Kingdom. You can sign up for any of the programs below through The Point Calculator to help out the site and earn yourself some additional cash back after your first purchase.
There's no portal that's always better than another since the cash back (or other rewards) rate that you can earn changes from time to time. Anytime you're shopping online, I recommend scanning across each portal to find out who's offering the best cash back.
Other Articles
Additional news, articles, calculators, or other information that you may want to know about.
Outside Links
---