Our Most Popular Calculators
The average value of Delta SkyMiles is about 1.2 cents per point when redeemed with Delta, SkyTeam, and other partner airlines. Outside of flights, SkyMiles can also be used for hotels, car rentals, cruises, gift cards, and more.
Delta SkyMiles Value
Delta SkyMiles will have the best value when redeemed towards flights with Delta and their airline partners. This will give your miles and average value of around 1.2 cents per point.
You can also redeem Delta SkyMiles in the Delta SkyMiles Marketplace for gift cards, car rentals, hotels, and much more. These redemptions will give your miles significantly less value when compared to using them for airfare.
Delta SkyMiles Value

| Redemption | Average Point Value |
| --- | --- |
| Delta Flights | 1.2 Cents |
| Pay With Miles | 1.0 Cent |
| Car Rentals | 0.84 Cents |
| Delta Gift Cards | 0.69 Cents |
| Merchandise | 0.55 Cents |
| Cruises | 0.47 Cents |
| Hotels | 0.42 Cents |
| Other Gift Cards | 0.41 Cents |
Convert Delta Miles To Dollars
Use the Delta SkyMiles Point Value Calculator to determine the cash value of Delta SkyMiles for flights, gift cards, and more. This will help give you an idea of how much your miles are worth when redeemed.
Enter any amount of Delta Miles to calculate the dollar value.
Redemption
Estimated Value
Award Flights
$

0

Pay with Miles
$

0

Car Rentals
$

0

Hotels
$

0

Cruises
$

0

- $

0

Delta Gift Cards
$

0

Merchandise Purchases
$

0

- $

0

Other Gift Cards Amounts
$

0

- $

0
Delta Flights
Redeeming your SkyMiles for flights directly through Delta Airlines will give you an average value of 1.2 cents per SkyMiles. This is the easiest value you can obtain without doing any kind of research.
Delta Airlines has a handful of sweet spots when it comes to redeeming your SkyMiles for solid value.
Short-haul Flights In The U.S.
Short-haul flights in the United States is one of the best uses of Delta SkyMiles. It's easy way to get from point A to point B for a small amount of SkyMiles. You can find round-trip flights ranging from 10,000 to 15,000 Delta SkyMiles on average between many cities.

Long-haul Economy Flights In The U.S.
You can get some bang out of your Delta SkyMiles when it comes to booking long-haul flights in Economy with Delta. This can typically give you average to high-than-average value on your bookings.
For a round-trip flight from New York (JFK) to San Francisco in October, the cost in SkyMiles start for as low as 26,000 to 27,000 SkyMiles plus $12 in taxes. The lowest cost in cash for most of the flights between these two cities are $357. This gives Delta SkyMiles a cash value of around 1.3 cents each which is great value.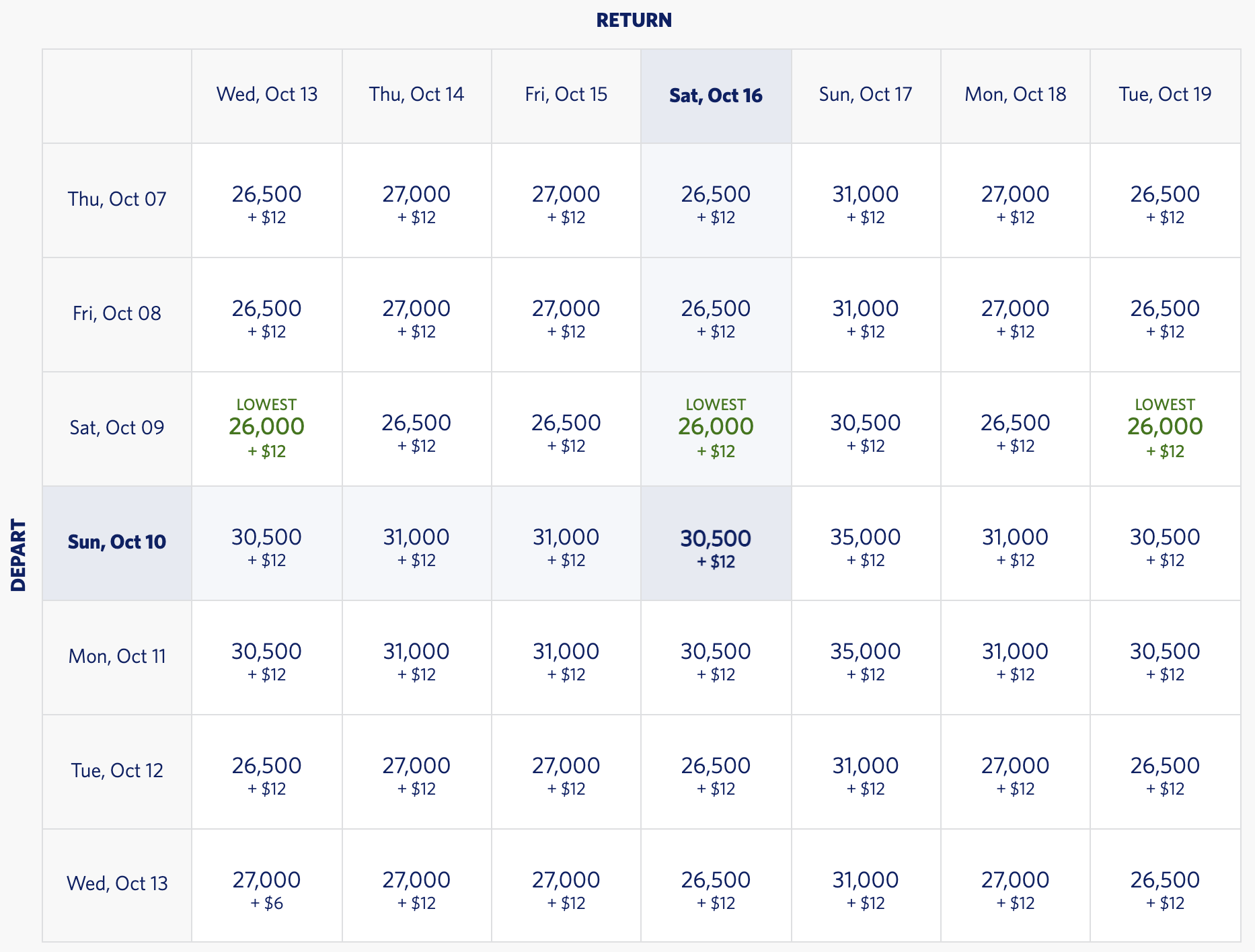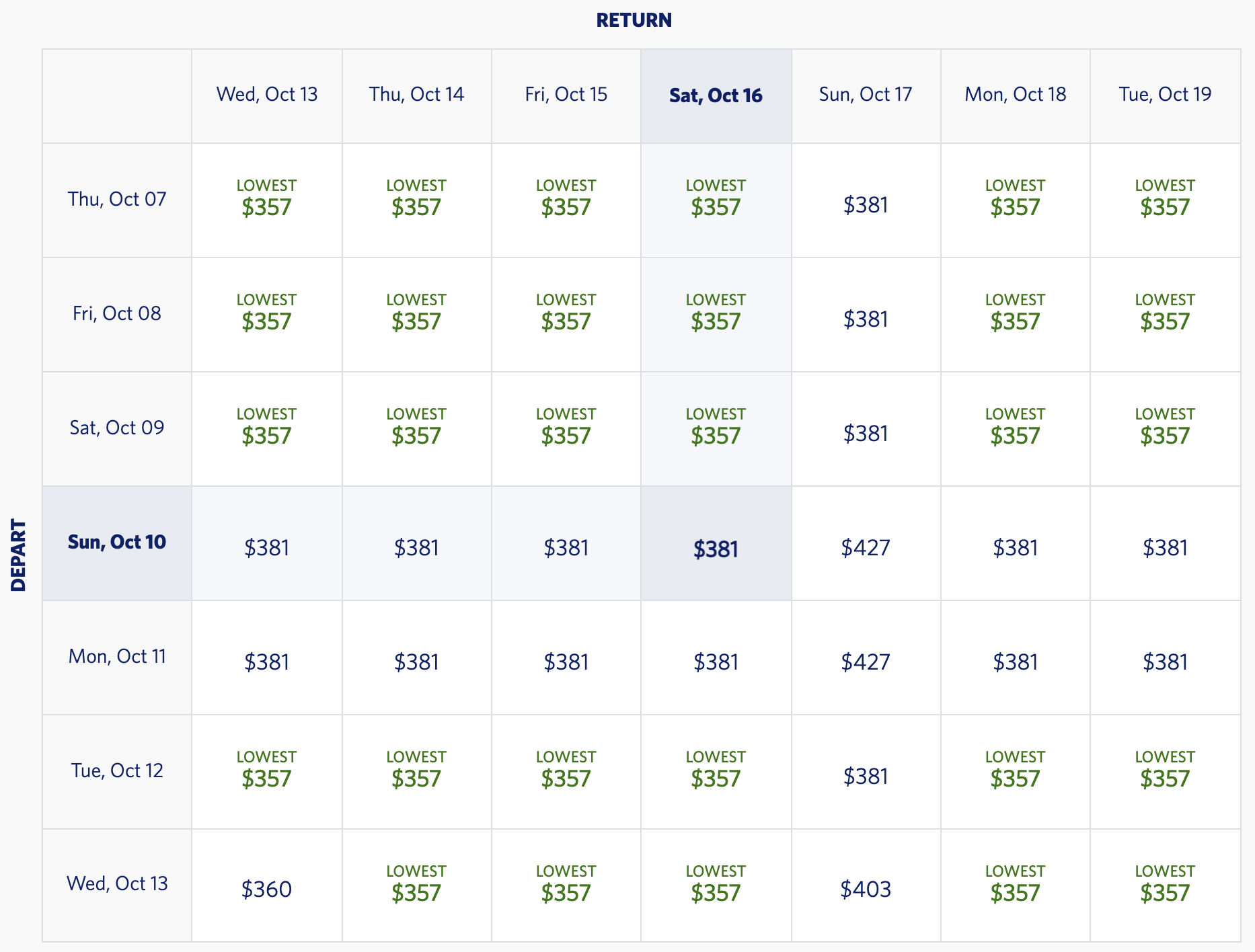 International Redemptions
Delta has a handful of redemptions to international destinations that can net you some solid value. This includes:
Flights to Brazil on LATAM
Flights to the U.K. on Virgin Atlantic
Flights with Korean Airlines
Flights from the U.S. to Canada
Flights from the U.S. to Middle East
These will mainly be for First, Business, and Delta One flights, but there's some sweet spots for economy as well for these particular flights and destinations.
All partner award bookings can be booked directly though the Delta website by entering your destination, dates, and selecting 'Shop with Miles'. Results for both Delta and airline partners will appear in the results.
I recommend using the 'My dates are flexible' option so that you can find the best value across multiple dates.
Delta Flash Sales & Weekend Getaways
Delta has weekend getaway deals to several destinations around the globe for anyone who wants to plan a quick weekend trip. These deals are usually heavily reduced and can save you some serious SkyMiles.
Along with weekend getaways, Delta also has consistent Flash Sales. These are random deals that pop up to excellent destinations for great value.
Both of these add to the reasons why I recommend keeping a stash of SkyMiles handy so you can be ready for that next deal to a place on your bucket list or to a favorite travel destination.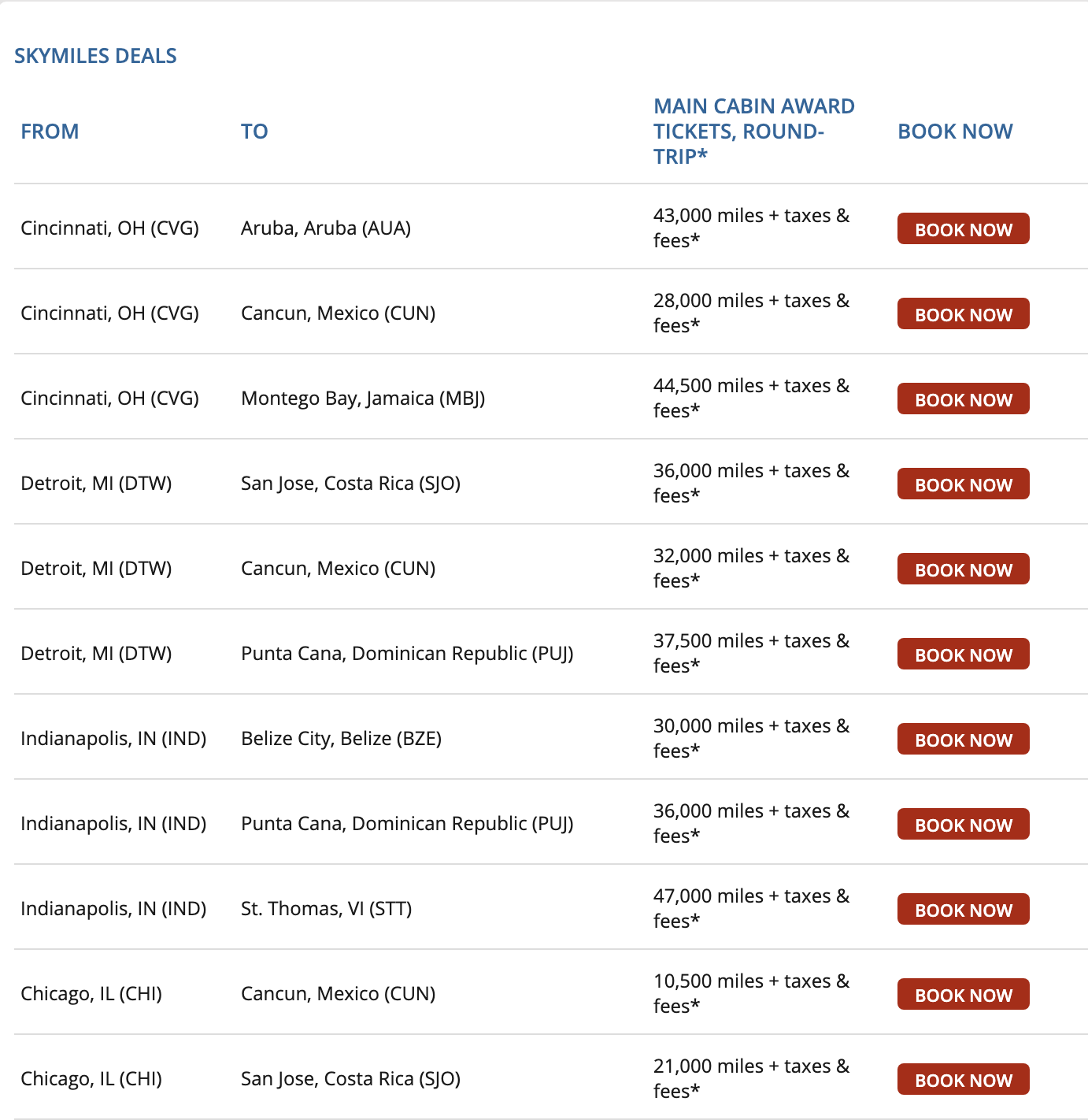 Finding Other Great Redemptions
The Delta SkyMiles program has a handful of sweet spots when it comes to redemptions. If you're looking for flights outside of the sweet spots mentioned, your best bet is to use Advanced Search and select the My Dates Are Flexible option when searching flights.
This allows you to easily toggle between seeing the cost of flights in SkyMiles and the cost of flights in cash. From there, you can easily calculate which flights offer you great value.
Below are a few examples of how to use Advance Search to find some solid redemptions.
Detroit to Orlando
For a round-trip flight from Detroit to Orlando in mid-August, I was able to find several great redemptions starting at 13,000 SkyMiles plus $12 in taxes/fees. Cash prices for the same flights started as low as $197 meaning these redemptions offer a value of 1.42 cents per SkyMile which is great.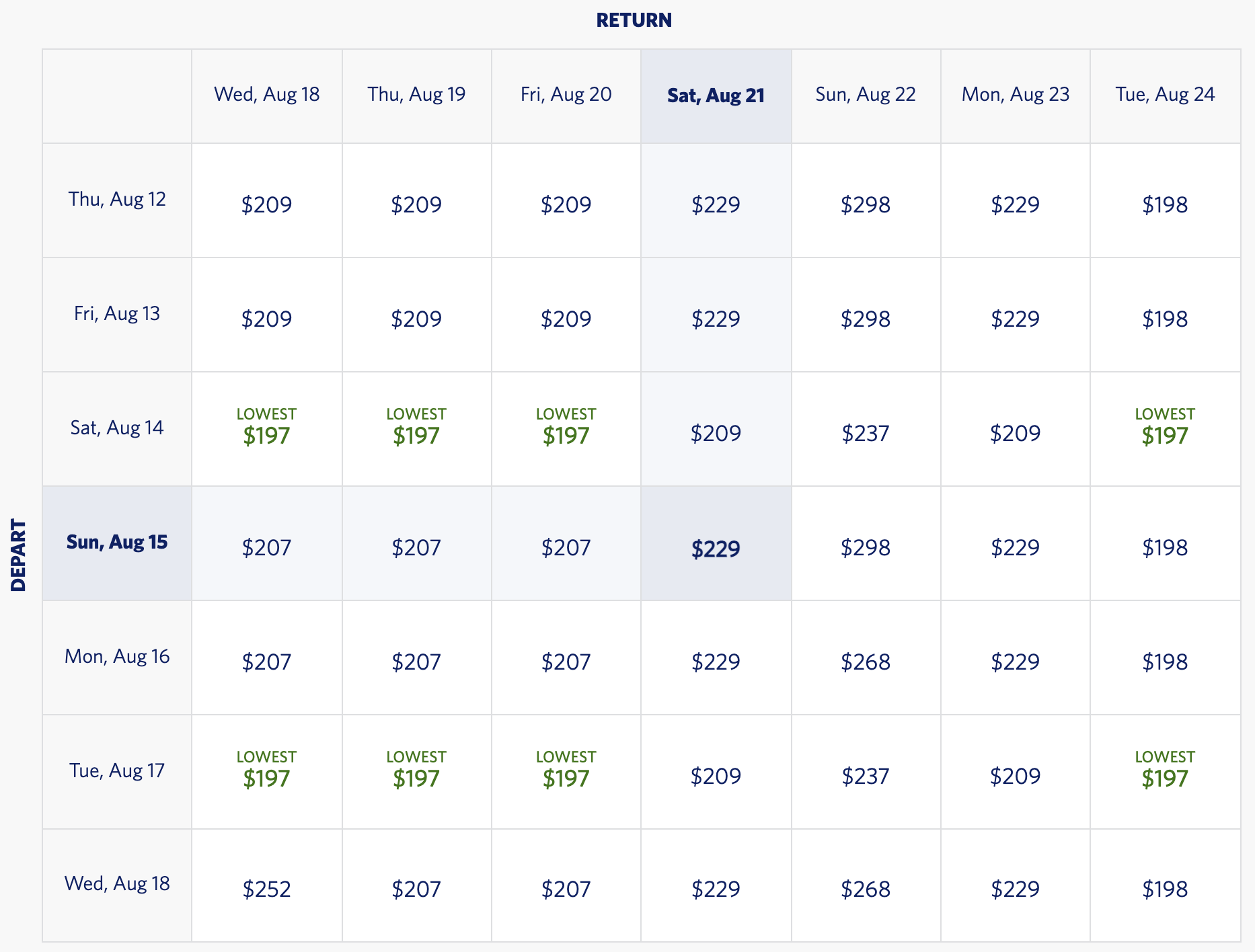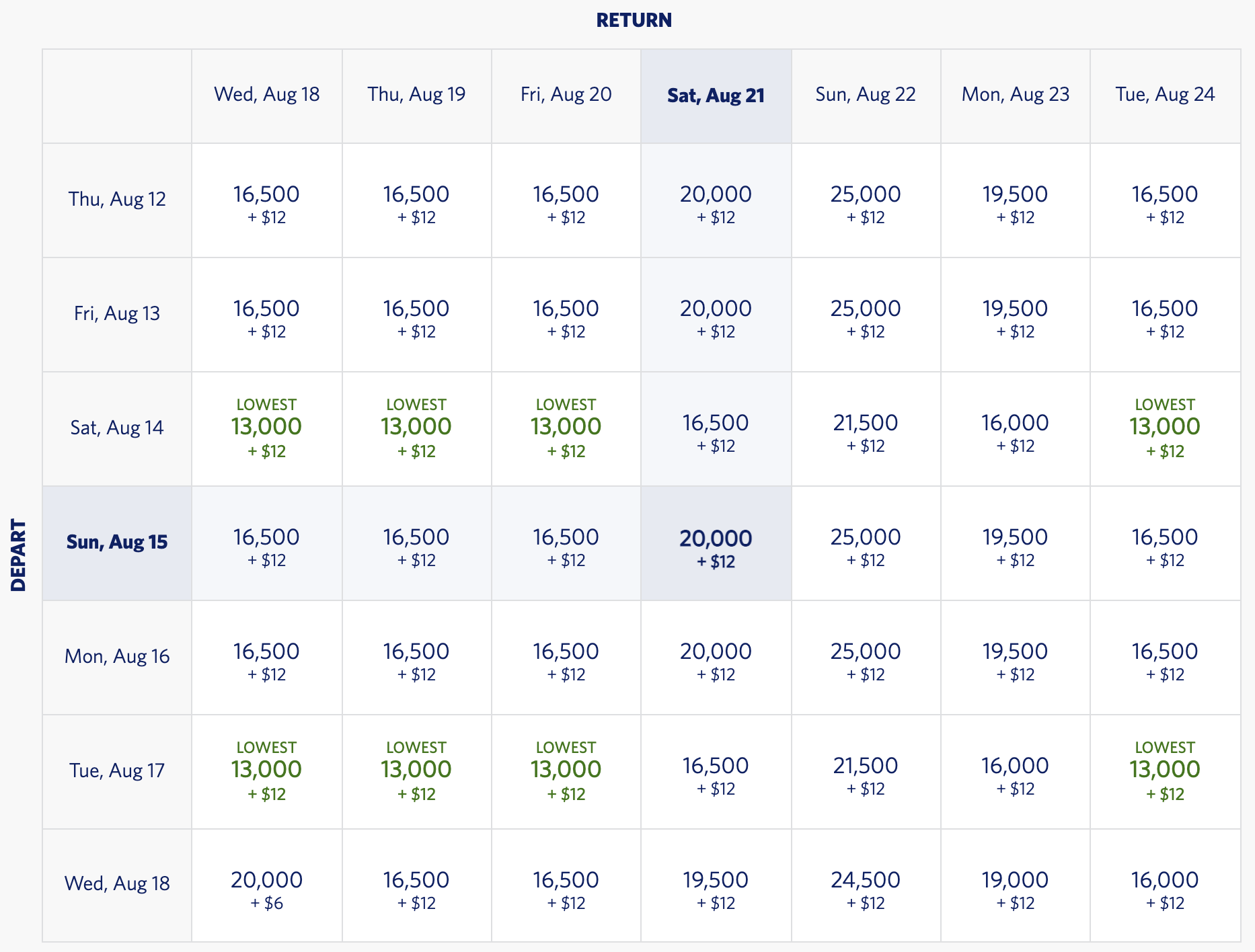 Redemption Types
You can use your Delta SkyMiles to pay for a portion of your flight using either Miles + Cash or using Pay with Miles.
Miles + Cash Redemptions
Along with booking award flights with all miles, you can also book using Miles + Cash. This allows you to flexibility to pay for a flight using a combination of miles and dollars.
While that's a nice benefit to have, do note that you will not receive Medallion Qualification Segments (MQSs), Medallion Qualification Miles (MQMs) or Medallion Qualification Dollars (MQDs) for Miles + Cash redemptions. They are treated just like normal award tickets.
If you want to use your miles and still earn progress towards Medallion Status, you can consider the Pay with Miles option explained below.
Pay with Miles
Pay with Miles allows Delta Airlines cardholders to use their miles at checkout to reduce the cost of the ticket price.
Redemptions start at 5,000 SkyMiles for $50 off and goes up in increments of 5,000 SkyMiles. This will give your SkyMiles a value of 1 cent each. This isn't the best redemption option, but it is a great choice if you want to shave a few dollars off airfare while still earning MQSs, MQMs, and MQDs towards Delta Medallion Status.
Seat Upgrades
Delta SkyMiles can be used to upgrade your seat. This can be done at checkout while booking your trip or you can use your SkyMiles to a upgrade your seat on a trip you've already booked.
If you're reservation is eligible and you have enough Skymiles, you will see the options you have for upgrading your trip in the Trip Summary section when booking your trip and in the 'Select Seats' for money or miles section when in My Trips for a trip you have already booked.
Hotels
Skymiles can be used to book Hotels through the Delta SkyMiles Marketplace. These redemptions hover around an average of around 0.42 cents each.
You must have at least half of the miles required to reserve the room. You can pay cash for the remainder of the balance if you do not have enough SkyMiles.
Car Rentals
Skymiles can be used for car rentals through the Delta SkyMiles Marketplace. Car rentals will give you SkyMiles an average value of about 0.8 cents, but can be higher or lower depending on how far out you making your booking (along with other factors).
Bookings can be made with top car rental agencies such as Alamo, Dollar, Enterprise, and Hertz.
Cruises
Skymiles can be used to book cruises through the Delta SkyMiles Marketplace. The value of redemptions ranged from 0.4 cents to 0.55 cents per mile. While the value isn't the best, being able to book a full cruise starting at 78,000 SkyMiles isn't too shabby for anyone who loves cruising.
Standard interior rooms ranged between 78,000 to 227,000 depending on the brand and length of cruise. The value of your SkyMiles will heavily depend on the brand.
Gift Cards
Delta SkyMiles can be redeemed for a large variety of gift card options. This includes the categories of dining, entertainment, gas, retail, and travel.
The value of these gift card vary depending on the retailer and the denomination. Most of these options will give you value between 0.39 and 0.42 cents per SkyMiles which is only a third of their average value.
Merchandise
You can purchase merchandise with your SkyMiles through the Delta SkyMiles Marketplace. This include suitcases, electronics, kitchen appliances, Apple electronics, and much more.
The prices of these will vary, but I found that most of these redemptions range between 0.5 cents to 0.6 cents per mile. There could be some hidden gems mixed in, so it may be worth scanning through if you're thinking about making a purchases.
Experiences
Delta SkyMiles can be used to bid on once-in-a-lifetime experiences. Skymiles Experiences includes experiences such as VIP tickets to the Grammy's, Wine and Food tasting with well-known chefs, suite tickets to sporting events, and more. The value of these experience will depend solely on how much you value the event itself.
Boost Your Miles
If you're looking to boost your Delta SkyMiles balance, it's pretty easy to do with the intro bonuses offered across Delta's credit cards.
In addition to earning a great bonus, you'll also receive fantastic benefits as a cardholder such as a free checked bag, annual companion pass, priority boarding, and much more.
American Express Membership Rewards
If you're really looking to maximize your earnings in the Delta SkyMiles program, you can pick up American Express Membership Rewards credit cards.
Membership Rewards Points can be transferred to Delta SkyMiles at a rate of 1:1. This opens up a total of 10 additional credit cards that you can use to significantly boost your Delta SkyMiles balance through intro bonuses and everyday spending.
Both the The Platinum Card® from American Express and The Business Platinum Card® from American Express offer extensive lounge access, which includes complimentary Delta SkyClub for yourself and all additional Platinum cardholders!
FAQ
How much are Delta SkyMiles Worth?
The Point Calculator values Delta SkyMiles at an average of 1.2 cents each.
How do you calculate Delta Skymiles?
Delta SkyMiles are earned per $1 spent and are based on the base fare of the Delta flight, the fare class you're flying in, and your Delta Medallion status.
How many miles do you need for a free flight on Delta?
One way tickets can be as low as 10,000 miles during sales, but you will generally find that most flights are around 25,000 miles for round-trip.
How much is 60,000 Delta SkyMiles worth?
60,000 SkyMiles can be worth as little as $234 and as high as $1,200 or more depending on the redemption. On average, you should be able to get at least $720 in value for most flights.