Etihad Guest Miles can be redeemed for flights on Etihad along with 22 partnering airlines. In additional to flight redemptions, miles can be put towards gift cards, raffles, hotels, car rentals, lounge access, and even used for spa treatments. Etihad Guest Miles have an average value of around 1 cent for basic redemptions, but you can obtain higher value when using your miles to book award flights with partner airlines.
Etihad Miles Value Calculator
Use the Etihad Miles Value Calculator to calculate the average cash value based on the redemption options available in the table. Average values (denoted by '~') are based on how much The Point Calculator values that redemption based on research and number crunching. You can enter any amount of miles in the field below.
Redeeming Miles On Flights
Etihad Guest Miles can be redeemed for flights on Etihad which will give you a roughly around 0.8 to 1 cents per mile. You can obtain higher values when booking award flights on partner airlines. This requires you to do some research and find the sweet spots when it comes to redeeming Etihad Guest Miles such as redeeming them for short-haul trips around Australia/New Zealand on Virgin Australia.
You can redeem Etihad Guest Miles with more than 20 partner airlines. The amount of miles required for these redemptions depends on the airline. Each airline has their own redemption table on the Etihad website. The majority of the airlines have their redemption table broken down by distance traveled and class of travel.
You can redeem your Etihad Guest Miles on the following airlines:
Air New Zealand
Air Serbia
Air Europa
Air Seychelles
Alitalia
All Nippon Airways (ANA)
American Airlines
Asiana Airlines
Bangkok Airways
Brussels Airlines
Czech Airlines
Flybe
Garuda Indonesia
GOL
Hainan Airlines
Korean Air
Malaysia Airlines
Oman Air
Royal Air Maroc
Scandinavian Airlines
SriLankan Airlines
Virgin Australia
Seat Upgrades
In addition to booking flights, you can also use Etihad Guest Miles for seat upgrades. You can use Etihad Guest Miles to bid on an upgrade or use cash. You'll be charged the bid amount if you're successful in obtaining an upgrade. For upgrades on partner airlines, several airlines allow you to use Etihad Guest Miles without the need for bidding.
Etihad Reward Shop Redemptions
Etihad Guest Miles can be redeemed on the Etihad Rewards Shop Portal which will give your miles a value of 0.3 to 0.6 cents per mile. The portal features more than 2,000 items that you can shop for using your Etihad Miles.
Gift Cards
Etihad Guest Miles can redeemed for gift cards on the Etihad Rewards Shop Portal which will give you a value of 0.5 to 0.6 cents per mile. Gift cards available on the portal include, but are not limited to:
Bloomingdale's
Pottery Barn
Bass Pro Shops
Brinker (Chili's, On The Boarder, Macaroni Grill, Maggiano's)
Fairmont Hotels & Resorts
Sears
Macy's
CVS Pharmacy
Groupon
TJMaxx, Marshalls, HomeGoods, Sierra Trading Post
Pandora
Gap Inc (Gap, Old Navy, Banana Republic, Piperlime, Athleta)
Domino's
Brown Thomas
Global Hotel Card
Lovephotobooks
Etihad Holidays Voucher
Sovereign Worldwide Chauffeur
Studio by TCS
Inspira Holiday Voucher
Belk
Celebrity Cruises
Kohl's
Sephora
Target
The Cheesecake Factory
The Home Depot
Whole Foods Stores
Sleep Discounts Travel Voucher
Rewards Visa Card
Etihad gives you the ability to load your Etihad Guest Miles on a Visa Rewards Card through the Etihad Reward Shop. This can be a physical or digital Visa card that you can use to shop anywhere Visa is accepted or with their online merchants. Etihad's online merchants include:
Inkfarm
1-800-Contacts
Ashford
Anthropologie
Bare Necessities
Bed Bath & Beyond
Booking.com
Brooks Brothers
eBags
Express
FragranceX
Groupon
Harrods
Hotels.com
Interflora
Joules
Kohl's
Land's End
Lightinthebox.com
Lonely Planet
Lucky Brand
Natural Healthy Concepts
Neiman Marcus
New Balance
Old Navy
Rosetta Stone
Saks Fifth Avenue
Sears
Shop Disney
StrawberryNET.com
The Container Store
The Home Depot
White House Black Market
Etihad Raffles
You can use your Etihad Miles to bid on various raffles that Etihad offers throughout the year through the Etihad Reward Shop. This includes things such as free trips and electronics. Depending on the raffle and if you were to win, it could be worthwhile to dump a few miles into the drawing as most of them offer some pretty solid prizes.

Experiences
Etihad allows you to use your Etihad Guest Miles on various experiences listed on the Etihad Reward Shop. This includes helicopter tours, studio tours, dinner cruises, bungee jumping, and much more. Most of these experiences are scattered around the globe and the value you get out of these will depend on the experience itself. Some of the listed prices aren't too bad, so it's worth looking at if you're looking for something to do while traveling.
Donations
Etihad Guest Miles can be donated to several causes. There are no restrictions on donations and you can donate any amount of miles. You can donate Etihad Guest Miles to the following causes:
Medecins Sans Frontieres
Emirates Red Crescent
Magic Bus
Children's Health Fund
The Choice To Change Foundation
The Fred Hollows Foundation
Born Free
Climate Care
Zakat Fund
Etihad Aviation Group
Hotels & Car Rental Redemptions
Etihad Guest Miles can be redeemed (and earned) for hotels and car rentals through the Etihad Travel Rewards Portal on their website. It's an easy to use portal that's powered by Points.com. Booking through the portal also allows you to use a mix of miles+cash for hotels and car rentals.
Hotels
When booking hotels through the Travel Rewards Portal, I was able to get 0.9 cents to 1.2 cents per Etihad Guest Mile. There's some solid options for those looking to spend their miles on a hotel stay rather than a flight. The portal also features a great deal of promos/savings in which I was able to even find two bookings at a value of 1.4 cents per mile. The hotel side of the portal is pretty easy to use. You can sort by price, miles, star ratings, and guest rating (provided by TripAdvisor). There's also many filters available such as price, stars, amenities and more.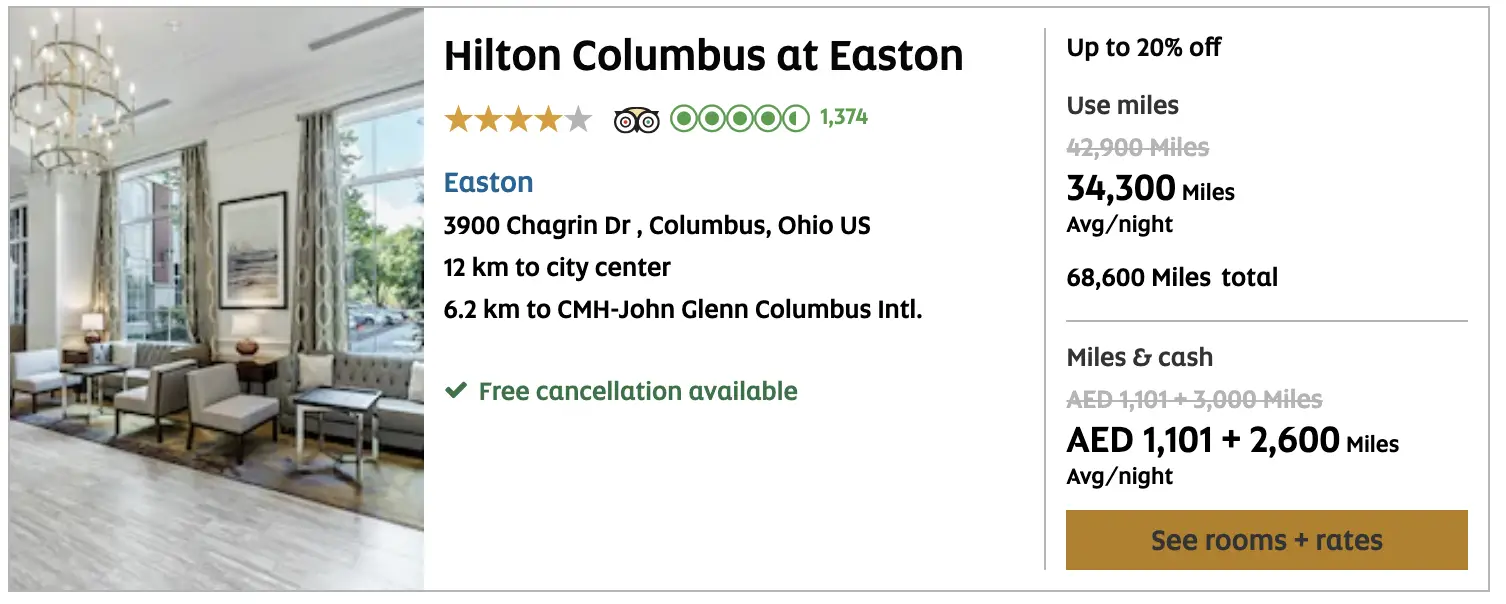 Car Rentals
Booking car rentals through the Etihad Travel Rewards Portal is lot more limited than booking hotels. I was able to easily get results for car rental bookings in Abu Dhabi (UAE), but other destinations usually provided no results. Car rentals seems to give an average value of 0.7 to 0.9 cents per Etihad Guest Miles. You will not get as good of a value compared to booking flights or hotels, but it's not a bad option. When booking though the portal, your car rental options are Avis and Budget.
Lounge and Spa Redemptions
Etihad Guest Miles can be redeemed for Etihad lounge access and for access to Six Senses Spa.
Abu Dhabi Airport Lounges
Etihad Guest Miles can be used to access the Etihad First Class Lounge & Spa in Terminal 3, Business Class Lounge Lounge in Terminal 3, and Business Class Lounge in Terminal 1. The cost in miles to get into the First and Business Class Lounges ranges from as low as 14,100 Miles to as high as 63,100 Miles while the costs in cash range from US$100/AED 367 to US$450/AED 1652. Using Etihad Guest Miles for lounge access at Abu Dhabi Airport will give you an average value of around 0.7 cents per mile.
Six Senses Spa
Etihad Guest Miles can be used for a wide range of treatments to relax and rejuvenate while traveling. They offer back/foot/head massages, warm stone and holistic massages, deep tissue massages and more. Most of their messages offer a value of 0.7 to 0.8 cents per Etihad Guest Mile since their basic massages are US$26 for 15 minutes and US$39 for 25 minutes. If you're looking for some relaxation at a top notch spa, using your Etihad Guest Miles could be worth it.
Etihad Worldwide Lounges
Etihad has several worldwide lounges located around the world. The cost to enter these lounges depend on the lounge itself and whether the guest is an adult or child. Locations of Etihad Worldwide Lounges include:
Los Angeles
New York
Paris
Washington (D.C.)


Etihad Holidays
Etihad Holidays allows you to book full packages using your Etihad Guest Miles. You can book flights, hotels, activities, and car rentals. They have featured destinations as well as occasional promotions that can get you some great bang for your miles. The value you'll get from booking through this travel portal will vary as there's lots of different variables and combinations. If you're planning on booking a trip, you can run it through this portal and see if the cost in miles is worth it. Do note that you can also pay for trips in cash or in miles+cash when booking through the Etihad Holidays portal.
Summary
Redeeming your Etihad Miles for flights on Etihad will yield you some decent results, but you'll want to consider researching the redemptions that will yield you the best bang for your mile. This will typically come from using your points on partner airlines.
FAQ
How much are Etihad Guest Miles worth?
Etihad Miles are worth around 1 to 1.4 cents each when used for flights depending on the redemption.
What can I use my Etihad Guest Miles for?
Etihad Miles can be used for flights, hotels, car rentals, lounge access, spa, and shopping.
Can I redeem my Etihad Guest Miles on other airlines?
You can redeem your Etihad Guest Miles on more than 20 partner airlines. This includes Air New Zealand, Asiana, Garuda Indonesia, and Korean Air to name a few.
What is the Etihad Reward Shop?
The Etihad Rewards Shop is a portal that allows you to redeem your points for gift cards, raffles, experiences, and donations.
What's the best use of Etihad Guest Miles in order to get great value?
The best use of Etihad Miles in this case would be redeeming them for award flights on Etihad and partner airlines. Redeeming your miles for hotels also gives some great value.