---
Frontier Miles are worth around 1 cent each on average when used for free flights, but can be worth more or less. Miles can also be used for magazines, gift cards, and be exchanged to other rewards programs. While there are a bunch of ways you can go about earning Frontier Miles, redeeming them is a different story.
Frontier Miles Value Calculator
Use the Frontier Miles Value Calculator to calclate the average cash value of your Frontier Miles based on the average redemption values listed below. Average values (denoted by '~') are based on how much The Point Calculator values that redemption based on research and number crunching. You can put any value in the field below.
Redeem For Frontier Award Flights
You'll get the best value out of your Frontier Miles when you redeem them for free flights with Frontier Airline. This gives you around 1 cent in value on average, but you can easily get a higher value with very minimal research.




When it comes to getting the best value out of your points, there's no real trick to doing such. Frontier allows you to easily swap between looking at the cost of your flight in cash and in Frontier Miles at the press of a button.
I recommend trying to redeem your Frontier Miles for at least 1 cent in value. So if a flight costs 20,000 Frontier Miles and would cost you $200 or more if you paid cash, that would be a good time to redeem.
Frontier Redemption Levels
Free flights with Frontier start as low as 10,000 Frontier Miles for a one-way ticket or 20,000 Frontier Miles for a round-trip flight. These award redemptions are broken up into three levels which are: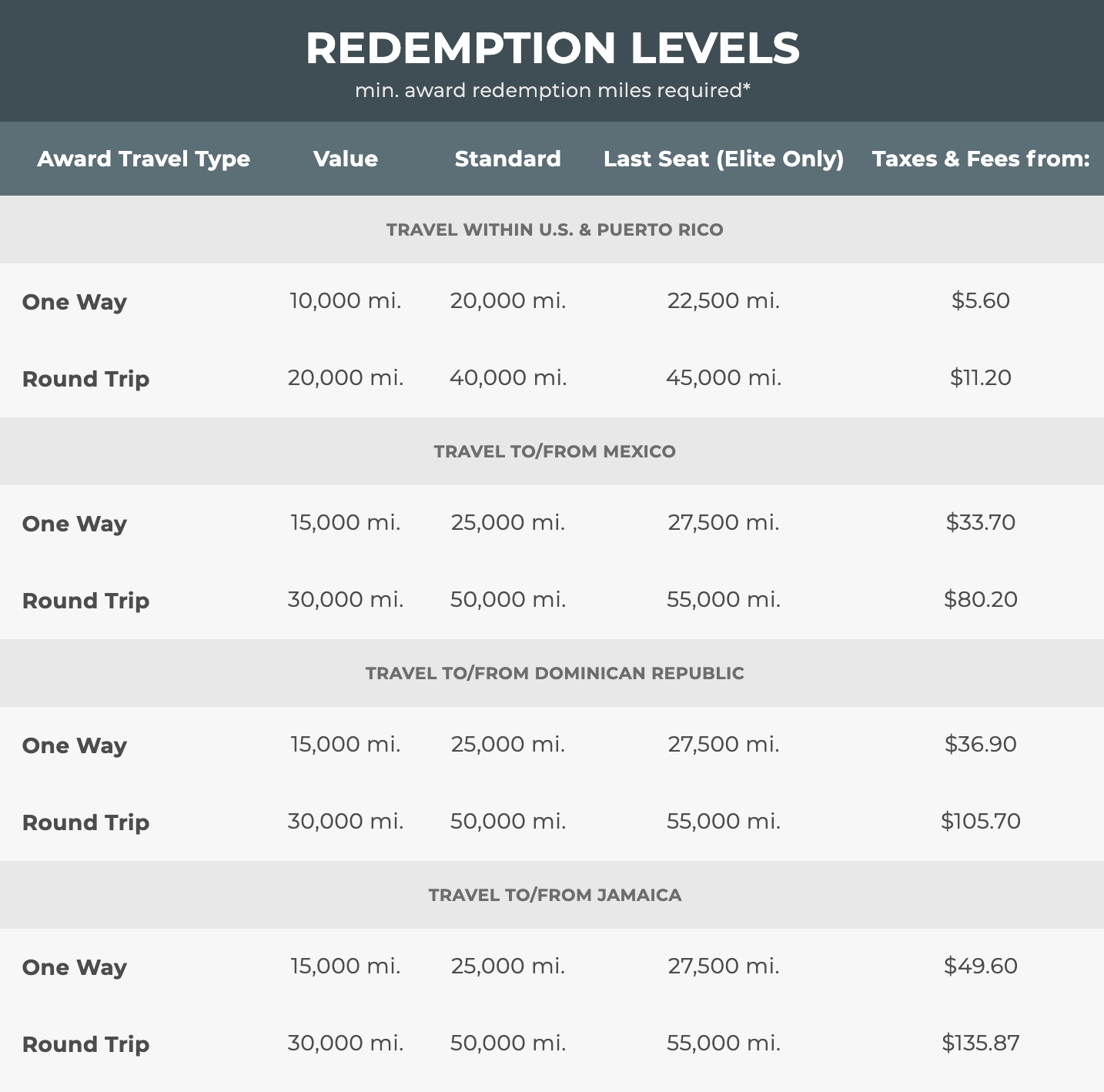 Frontier Value Redemption
Value redemptions are cheap fares that grant you all the benefits of the standard fare. These are the tickets to keep your eye out for.
Frontier Standard Redemption
Standard redemptions are your basic flights and typically have a lot more availability than the value award flights.
Frontier Last Seat Redemption
Last Seat awards allow you to book any flight that still has an available seat. This can be useful on packed flights that have run out of award space for non-elite members.
Redemption Fees
In addition to paying taxes and fees on your award flights, you will also be charged a Redemption Fee when booking award travel. The amount that you're charged depends on how far in advance you book your award travel. The breakdown of the Frontier Redemption Fee is as followed:
180+ Days Before Travel: Free
21-179 Days Before Travel: $15
7-20 Days Before Travel: $50
0-6 Days Before Travel: $75
There's several ways you can avoid these fees and have them waived:
Book 180 days or more in advance
Travel on the same reservation with someone that has the Frontier Mastercard or Frontier Elite Status
If you're booking award travel, make sure you're booking it in advance. If you fly Frontier Airlines regularly and you love earning Frontier Miles, I recommend grabbing up the Frontier Mastercard as it offers a good amount of benefits and great earnings on Frontier flights.
Ticket Cancellation
When you cancel a Frontier award ticket you will be charged $75. This will deposit the points you used to book the award ticket back into your Frontier account. Frontier redeposit fees are non-refundable and you must cancel your ticket prior to departure in order to retain it's value.
Frontier members with elite status will have this fee waived.
Redeem For Magazines
Frontier Miles can be redeemed for magazine subscriptions starting at 200 Frontier Miles using MagsForMiles. This will typically include a full year subscription which ranges across a bunch of different categories.

Redeeming Frontier Miles for magazines will actually give you superb value. This is because magazine subscriptions don't cost much and the cost to use Frontier Miles is also relatively low. For example, you can get 10 issues of GQ Magazine for 200 Frontier Miles. The cash equivalent price for the subscription is $11.25 which means you'll get 5 cents per Frontier Mile for this redemption. If you have Frontier Miles laying around or you have a small amount of miles you want to clear out, this is a good option if you like magazines.
Summary
You don't have many options when it comes to redeeming Frontier Miles, but you can at least get a solid value of 1 cent or more without too much effort. In order to maximize your rewards with the program, you'll want to make sure you're utalizing Frontier's travel partners. You might also want to consider picking up the Barclays Frontier Mastercard or another credit card that's great for airline purchases.
FAQ
How much are Frontier miles worth?
Frontier Miles are worth around 1 cent each on average, but you can get as high as 1.6+ cents or as low as 0.3 cents depending on the flight.
How many Frontier miles for a free ticket?
Free flights with Frontier start as low as 10,000 miles for a one-way domestic flight and 20,000 miles for a domestic round-trip flight.
How long does it take for Frontier miles to expire?
Frontier miles will expire if there is no accrual activity at least once every 180 days.
What can I use my Frontier Miles for?
You can redeem your Frontier miles for free flights on Frontier and magazines.
Can I use Frontier miles for hotel bookings?
No. Frontier miles can only be used for Frontier flights and magazine subscriptions.