| | |
| --- | --- |
| Average Value of 1 Spirit Point | $0.01 |
When it comes to redeeming Spirit Points, you can redeem them for award flights on Spirit or towards Spirit's partners. The Point Calculator values Spirit Points to be worth around 1 cent per point for free flights, though it's not hard to squeeze higher value out of them.
Boost Your Spirit Points
If you're looking to add to your balance of Free Spirit Points, your best option will be using Spirit's co-branded credit cards offered by Bank of America. If you fly Spirit often, either card can be worth picking up just for the benefits alone.
Other Credit Card Options
There are several other rewards cards that can use to maximize your spending with Spirit. These credit cards earn rewards that you can redeem for 1 cent each towards any kind of travel purchase made to the card meaning you can redeem your points towards flights with any airline.
Redeem Spirit Points For Award Flights
Free Spirit Points can be redeemed towards award flights for an average value of 1 cent each. The value will depend on the flight you're booking, but it's not hard to get slightly higher value at times with a little research.
Short-Haul Flights
Before the program was re-done in January 2021, you had to have the Spirit Mastercard in order to have access to the 2,500-mile off-peak award flights which could then easily get you 1.2 to 1.5 cent in value for Region 1 and Region 2 awards.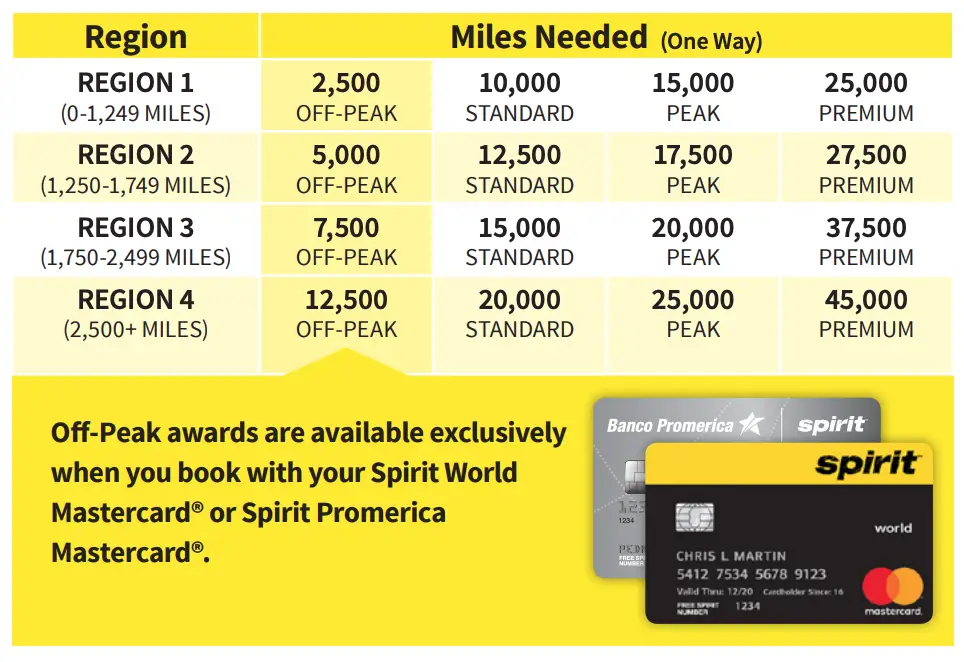 In the new program, reward bookings start as low as 2,500 points (they switched from 'miles') for everyone regardless of whether or not you're a cardholder.
Does this mean that you can still get great value out of shorter flights? Let's take a look at a flight that would be consider a Region 1 flight. I was able to easily find 2,500-point flights between Tampa and Atlanta.


The final cost of a round-trip flight between these destinations with no add-ons is 5,000 points plus $11.20 in taxes.
Looking at cash, flights start at $30.09 per direction for both destinations.

The final cost of this, with no add-ons, would be $60.18. If you take out the $11.20 in taxes from the award flight, you're looking at $48.98 versus 5,000 points. This means that redeeming your Spirit Points for the base cost of the flight would give your points a value of 0.97 cents per point which is close to the average.
I found this to be the same case with short flights out of Las Vegas, San Diego, Denver, and New Orleans. Some of these destinations gave a little over 1 cent in some instances.
For example, 2,500-mile flights from Denver to New Orleans had a cash cost of $39.99 which gave a value of 1.37 cents per Spirit Point.


So overall, short haul flights can still get you some great value but it might take a little bit of searching around.
It's great that you no longer "need" the Spirit Mastercard in order to partake in 2,500-point/mile redemptions. Even with that being said, I still do recommend picking up one of the available Spirit Mastercards as they now grant significantly better benefits than the old Mastercard.
Medium/Long-Haul Flights
Outside Region 1 and Region 2 booking, Spirit Points have always been worth around 0.3 to 0.4 cents per mile. With the revamped program, Spirit Points are worth a little more than usual. For example, lets look at one-way flights between Detroit and Las Vegas.


All of these flights offer 0.9 to 1.38 cent in value which is great.
Here's another flight example between Nashville and Cancun, Mexico.


These flights provide some exceptional value offering up to 1.9 cents per point.
Testing several other destinations usually gave me values of around 0.9 to 1.1 cent on average with some values pushing higher. It's safe to say that you should easily be able to get at least 1 cent per point in the program without too much effort.
Just be aware that you'll still need to chalk up cash (or points) for add-ons. This is where having Spirit Elite Status or signing up for the Saver$ Club may be useful depending on how frequent you fly Spirit.
Spirit Saver$ Club Fares
You may note that some of the prices listed in the previous example shows the 'Saver$ Club Fares' in which you have to be a member to take advantage of.
Joining Saver$ Club costs is the same as the old $9 Fare Club in which you can pay for a 12-, 18-, or 24-month membership and receive discounts on fares and options that you're usually charged A La Carte for such as bags, seats, and more.
It can be great if you frequently fly Spirit and you find yourself being nickel-and-dimed by Spirit's add-on options.
Magazines
Outside of award flights, Free Spirit Points can be redeemed for magazines with Mags For Points. This is a great way to burn through your points if you're trying to empty your Free Spirit Points balance or you just really want a certain magazine subscription at a good value.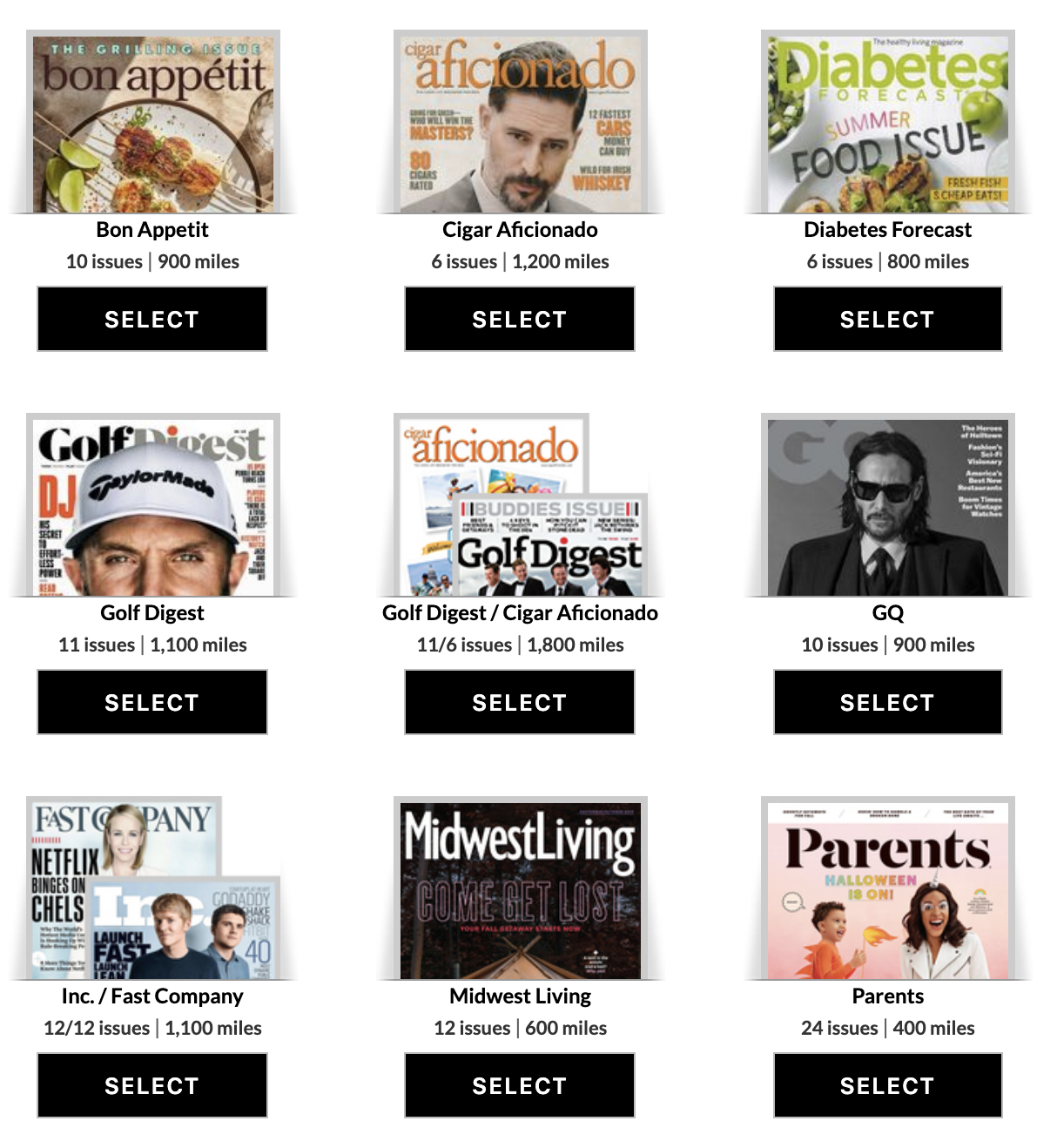 Redeeming your points for magazines will give you great value. This is because most magazine subscriptions have a cash price of $15-$25 but only require on average around 600 to 1,200 points. So you'll easily get 1 to 2 cents (or more) out of your points going this route.
Spirit Points Value Calculator
Use the FREE Spirit Points Value Calculator to calculate the cash value of Spirit Points based on our average value for each of the listed redemptions. You can enter any amount of FREE Spirit Points in the calculator below.