---
Alliant Credit Union is known for the earning potential of it's one cash back credit card. Do note that you will need to be a member of the Alliant Credit Union to apply for this card. There are several requirements, but the most common ones are:
Working for or being retired from one of the credit union's select organizations
Being a relative of a member
Living or working in a qualifying Chicago-area community
Supporting Alliant's partner charity, Foster Care to Success
Alliant Cash Back Credit Card Calculators
Learn about the earning rates, benefits, sign up bonus, and annual fees of Alliant cash back credit cards. Calculate how much cash back you can earn with Alliant based on your spend and compare the results side by side any cards featured on the site.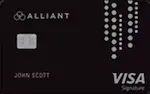 Earns 2.5% cash back on all purchases on up to $10,000 in qualifying purchases per billing cycle.
About Alliant Cash Back
Cash back earned with Alliant Credit Union can be either credited to your Alliant Credit Card via a credit card statement credit (appearing within one billing cycle) or as a deposit into your Alliant checking or savings. Alliant Credit Union does require you to be a member in order to qualify for any of their banking services including credit cards. You can check your eligibility on the Alliant Credit Union site or donate to their charity to become a member as well.