If you're looking to earn Hilton Honors Points dining out at restaurants around town, you're in luck because Hilton Honors Dining allows you to do just that. You'll register your debit or credit card with the program, use the registered card(s) to pay for your meal, and earn bonus points.
How Much Will I Earn With Hilton Dining?
The most important question here is how many Hilton Honors Points can you earn in the Hilton Dining program. The answer to this question is based on your tier in the Hilton Honors Dining program. There's three tiers to this program and each are explained below.

Tier 1
When you sign up for Hilton Honors Dining account and choose to opt out of email notifications, you will earn 2 bonus Hilton Honors Points per $1 spent at participating restaurants. If you're looking to maximize your earnings with Hilton Dining, this is not the way to go.
Tier 2
You'll hit the second tier in the Hilton Dining program just by signing up and opting in to receive email notifications from Hilton Honors Dining. This tier will earn you 5 bonus Hilton Honors Points per $1 spent at participating restaurants.
Tier 3
Tier three requires you do dine at 11 participating restaurants during the year and to be opted in for email notifications. If any of your favorite restaurants are part of the program, this can be fairly easy to hit. You'll earn the maximum of 8 bonus Hilton Honors Points per $1 spent which is pretty great considering you'll earn additional rewards on top of that if you use a rewards credit card to pay.
Hilton Honors Dining Email Notifications
Hilton Honors Dining doesn't spam you with emails everyday. They send an email or two per week and some of them can be quite useful such as recommendations and new restaurants that have joined the program.
What Restaurants Are Part of Hilton Dining?
There are thousands of restaurants that participate in the Hilton Dining program. If you're looking for program, you can use the search function on their website which allows you to search by zip, city, state, or restaurant name. You can also do an advanced search and break it down even further by entering an address, intersection, landmark, and more.

Once you run a search, you'll get a list of participating restaurants. It will display the name and address, neighborhood, member rating, reviews and average price per entrée. The results will also show you on which day each restaurant is available for rewards.
Signing Up For Hilton Honors Dining
Signing up for Hilton Honors Dining is free. When signing up, you will be required to enter your name, zip code, and email address.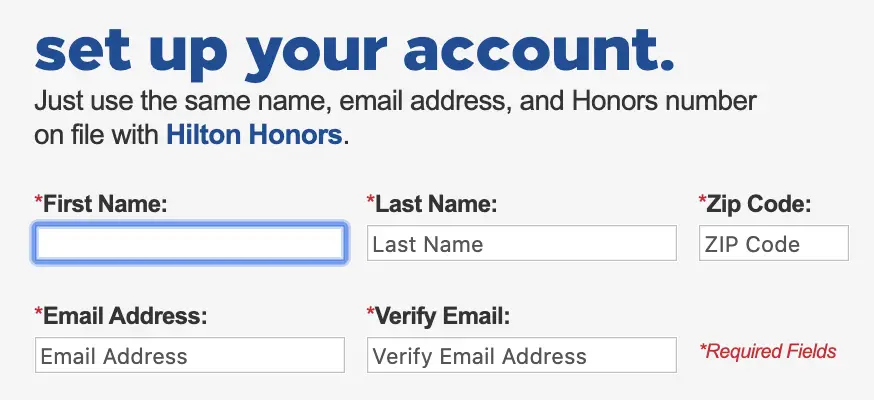 Next, you will then need to come up with a username and password. You'll also need your Hilton Honors number and you'll need to input your address information. I recommend setting your Hilton Dining username as the same email address you use with your Hilton Honors profile to make things easier.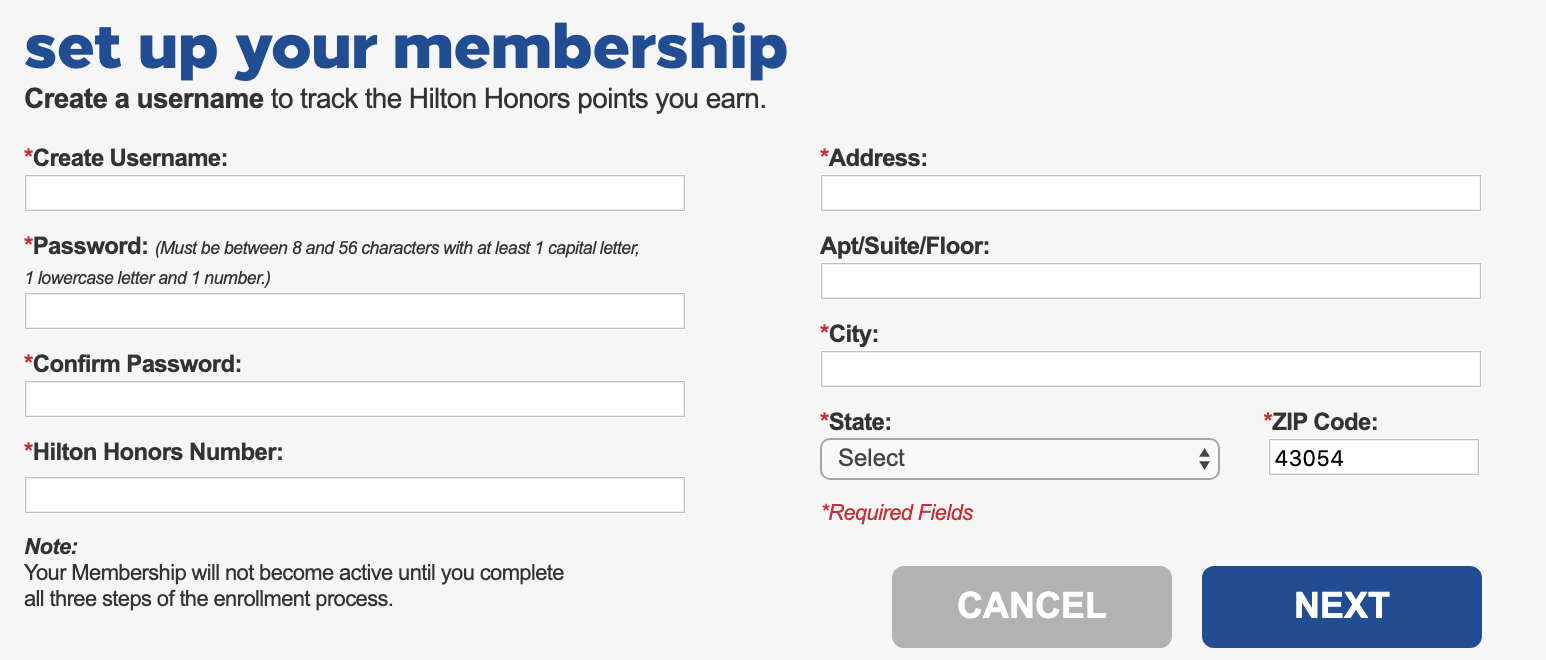 Lastly, you'll need to link a credit card to your Hilton Dining profile. The VISA, Mastercard, AMEX and Discover networks are all accepted. You'll just need to select the proper network and enter the credit card number.

Once that last step is finished, you're ready to start earning Hilton Honors Points dining out!
Which Cards Should You Link?
If you're looking to maximize your earnings on Hilton Honors Points, the best credit cards to add would be one of the Hilton Honors credit cards. All of them earn bonus points on restaurants spend which means you'll earn Hilton Honors Points with the Hilton Dining Program and Hilton Honors Points from credit card spend. This will earn you much as 15 Hilton Honors Points per $1 spent dining out at participating restaurants!
You'll earn the following additional points based on the card:
If you're trying to figure out which card is the best, you can use the Hilton Credit Card Comparison Calculator and compare all four cards based on your spend, how much each card benefit is worth to you, and the annual fees to see which cards earn you the most points and give you the best return which will help you maximize your earnings with Hilton Dining and when earning Hilton Points.

If you have another card that earns you a high return on dining, feel free to use that as well. There's nothing wrong with earning a mix of Hilton Honors Points and reward points from another program. If you don't have a great dining card, find you one by using the Best Credit Cards For Dining Purchases tool to find the best card based on your monthly, quarterly, or yearly spend at restaurants.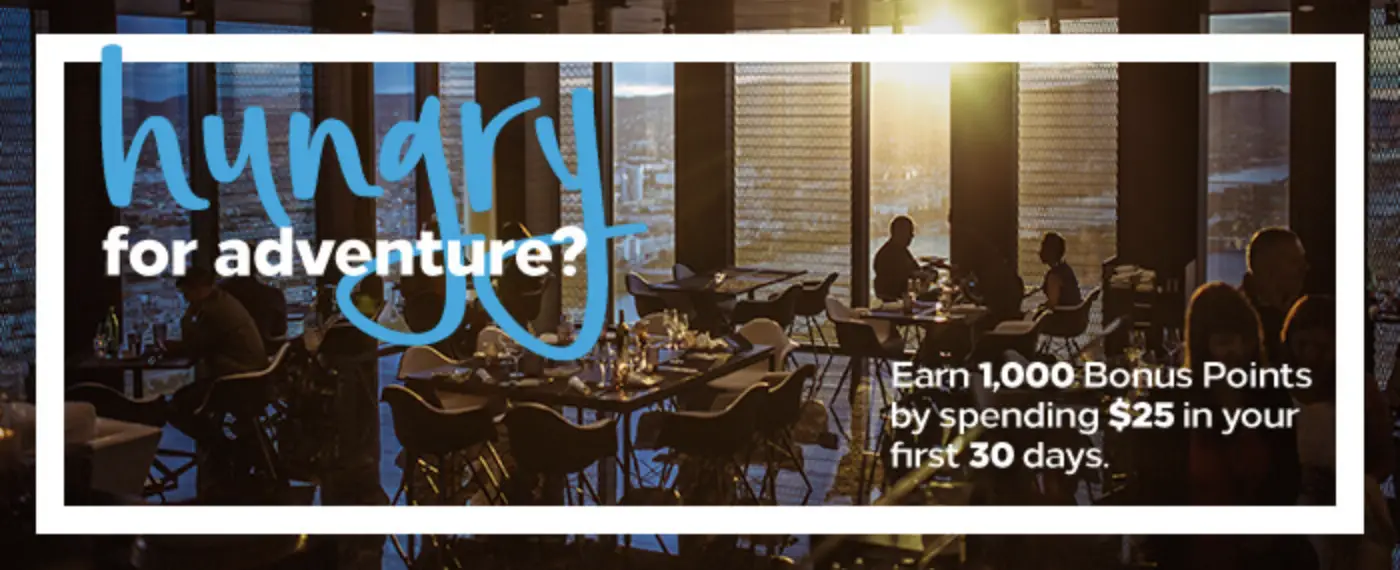 Hilton Dining New Member Bonus
When you first sign up for a Hilton Dining account, you will be eligible to receive a new member bonus. You'll earn 1,000 Bonus Points when you spend $25 at participating restaurants within the first 30 days. It is for this reason I recommend signing up for the Hilton Dining program when you know you're about to eat out at a participating restaurants. This gives you the maximum amount of time to earn the extra point bonus.
Multiple Dining Programs
Do note that it is not possible to sign up with multiple dining rewards programs. Usually when you sign up for one program, you'll be kicked out of any other dining program you're signed up to use. For example, you can't sign up for Marriott's Dining and then join the Hilton Dining program to earn points with both rewards programs. This will usually terminate your Marriott Dining account and you'll start to earn rewards with just Hilton.
Summary
If you want to earn Hilton Honors Points dining out, joining the Hilton Dining program is the way to go. You can easily earn as many as 8 Hilton Honors Points per $1 on top of your credit card rewards which allows you to easily double dip.
Looking for more ways to earn Hilton Honors Points? The best way will be by using Hilton Credit Cards but you can also earn points using Hilton Transfer Partners and by spending money with rideshare partner Lyft.
Lastly, you can always consider buying Hilton Honors Points if you're a few points shy of a redemption.