American Express is currently offering an additional $200 welcome bonus for spending at a Furniture Store when applying for cards via a referral link. In addition to that, there is also a bonus for the referrer which is an extra 4x/4% at Select U.S. Furniture Stores.
Extra $200 Welcome Offer
If you use a referral link to apply for an American Express Card, you'll see the standard welcome bonus along with an additional statement credit of up to $200 towards spending at select U.S. furniture stores. Do note that the actual welcome bonus the card normally offers will vary, but you'll get the additional $200 alongside whatever that bonus may be for you. For example, here's the sign up bonus I received when going through a referral link for the American Express® Gold Card: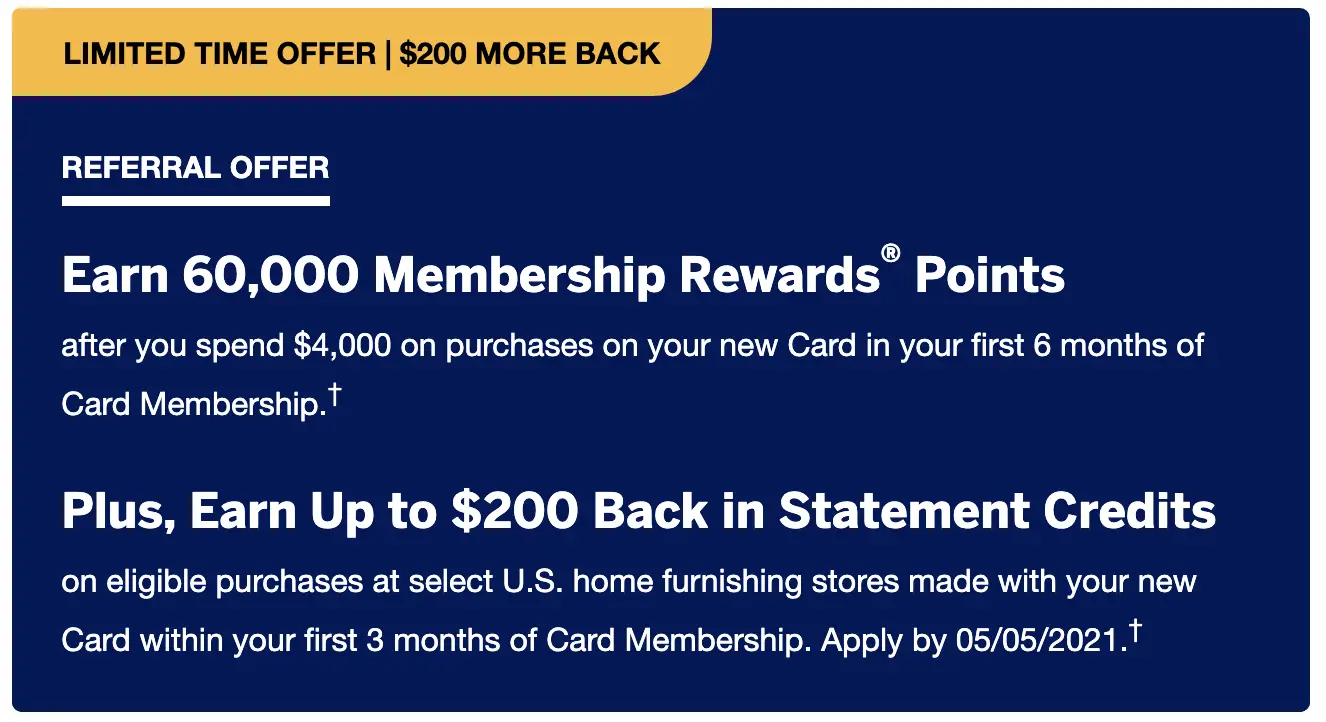 Eligible Merchants
The $200 in statement credits towards U.S. home furnishing stores can be used at:
The Home Depot
Lowe's
The Container Store
Bed Bath & Beyond
CB2
Crate and Barrel
Crate and Kids
Anthropologie
Terrain
Places like Lowe's and Home Depot also sale gift cards which makes using the $200 easy to do if you're wondering how to max out the bonus.
Extra 4x/4% at Furniture Stores
American Express has an offer displaying on some cards that offer an additional 4x/4% bonus for referring an Amex credit card. This offer can be found in the AMEX Offers section when you're signed in and looking at your American Express account. The offer reads:
Refer A Friend to apply for a new American Express card by May 5th; once they're approved, you can earn 4x/4% extra bonus per dollar on your eligible purchases at select U.S. home furnishing stores, on up to $25,000 in combined purchases for three months.
The 4x/4% applies to the same stores that are eligible for the $200 statement credit which are:
The Home Depot
Lowe's
The Container Store
Bed Bath & Beyond
CB2
Crate and Barrel
Crate and Kids
Anthropologie
Terrain
Most AMEX credit cards earn at the non-category rate of 1x/1% for these stores which means you'll be able to earn 5x/5% back with you add on the additional bonus. If you're able to max out this bonus, you'll end up earning a bonus 100,000 points, 100,000 miles, or $1,000 depending on which card has the offer.
AMEX Cards With Increased Referrals
The extra $200 welcome offer for use at select U.S. home furnishing stores seems to be visible on the following groups of personal credit cards that AMEX offers:
Applying
If you're applying for a card and approved, you'll have immediate access to the $200 in statment credits and receive the welcome bonus once you satisfy the spend requirements.
Referring
If you're the one referring the card, you'll want to check your AMEX Offers first to see if you have the 4x/4% offer available. If you find the offer on one of your AMEX cards, that will be the card you'll want to refer and the link you'll want to use. The person using the referral link can apply for that card or use the View all Cards with a Referral Offer option to choose another card offering the $200 statement credit. They do not have to apply for the exact card that you refer them to.

If you don't have the 4x/4% offer on any of your AMEX credit cards, you can still use the refer-a-friend option. You will get your standard referral bonus while your friend gets their welcome bonus along with the additional $200.
Summary
If you plan on picking up an American Express credit card, this is a great time to do so if you're looking for an easy $200 on top of the standard welcome bonus. Remember to look for the statement that says you'll be earning additional statements. It should read: 'Plus, Earn Up to $200 Back in Statement Credits'.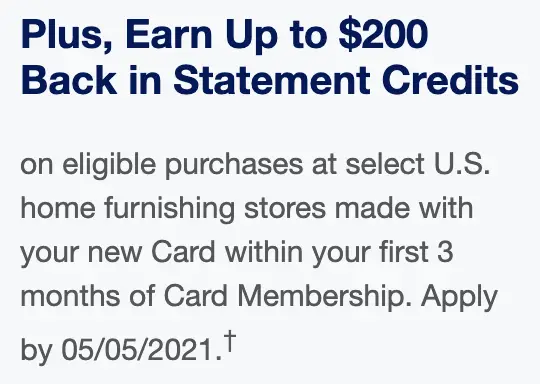 If you're an American Express cardholder with the option to refer-a-friend and earn an extra 4x/4% at select Furniture Stores, now is the time to try and get your family and friends on board with picking up a card that fits them. If you're a frequent shopper at any of the eligible merchants, earning that extra bonus can be very worthwhile.
No Referral Link?
Below is the list of credit cards that apply to these promotions. You can click on a card to calculate total points, miles, or cash back based on your spend. You'll then be able to compare results side by side hundreds of other top credit cards covered on this side.
The option to use a referral link for any of the listed cards will be at the top of the calculators page as well as in the rewards calculator itself. Remember that I will receive bonus points, miles, or cash back if you're approved. It's much appreciated if you use any of my links to apply. This offer is slated to end May 5, 2021.