Understanding Credit Cards
Credit cards have a bad reputation. This is because credit cards are usually associated with debt, fees, and trouble. The thing is, debt, fees, and trouble is more-times-than-not the fault of the person holding the credit card. How good or bad a credit card is, depends on how responsible you are with your credit. Here are a few things that you should be aware of before you start picking up credit cards and earning rewards.
Always Pay In Full
Interest earned from having money in your checking and savings account is great. Interest earned from having a balance on your credit card? Not so great.
If you're going to be earning rewards you will need to pay off your statement balance in full, because interest will merely eat away at what you've earned which makes it pointless in the long run. If you're earning $20 in cash back every month but you're paying out $20+ in interest, you're defeating the point.
It doesn't matter if you pay for each of your charges immediately after they post or if you wait until the statement cuts and you get your bill, be sure to pay in full.
Don't Fear Annual Fees
Some cards require you to pay n-amount of dollars per year to keep in your wallet. Why would you pay a bank to have their card in your wallet? Because you'll usually earn more rewards and perks with the card that has an annual fee.
In the world of credit cards, their are cards that have no annual fee and cards that have an annual fee of $10,000 per year. For the most part, the basic and more popular cards with annual fees hover between $95 and $550 per year. The thing about annual fees is that you have to run the numbers to see if it's worth picking up. You cannot immediately see a fee and say 'nope... not for me'. Listed below is are two examples that I like to use.

Cutting Lawns
Let's say your neighbor lets you borrow their riding mower for $95. You've done the research and you know that you have at least 12 solid customers that will be happy to pay you to cut their lawn, so you pay your neighbor $95. Throughout the summer, you cut 12 lawns at $30 each and you make a total of $360. You give your neighbor his riding mower back before the cold season and you've made a $265 profit.
You could have done this with your own push mower for free, but the ease and speed of the riding mower meant you could cut more lawns and do it much faster.
Now let's say that you didn't do any research before hand but still opted to borrow your neighbors riding mower because you have a good feeling that you can get some customers. Well it happens that only 2 neighbors said yes to your services and you only make $60. You now have a net loss of $35. You would have been better off using your own mower and you would have came out $60 in the positive.
This is exactly how annual fees on credit cards work.
Grocery Spend
The American Express Blue Cash Everyday Card (BCE) earns 3% cash back on groceries and has no annual fee. The American Express Blue Cash Preferred Card (BCP) earns 6% cash back on groceries but has an annual fee of $95.
Let's say that you 100% know that you spend at least $500 per month on grocery. This means you spend $6,000 per year. Now let's do the math. The image below lays it out for you.

When you run the math, you'll see that you would earn $85 more with the BCP card even with the annual fee. If you were to pick up the BCE just because it has no annual fee, you would be cheating yourself out of easy money.
Now if you didn't do any research beforehand and you picked up the annual fee version, this could hurt you in the long run. Let's say that you only spent an average of $200 per month and ended up with a total of $2,400 in grocery spend for the year.

This example shows that you didn't spend enough to cover the cost of the annual fee. You will make more with the annual fee card in terms of rewards, but you have to factor in the fact that you dished out $95 to have the card. So with only $200 in spend per month, you would have been better off with the no-annual fee BCE card.
This shows why it's important to run the numbers and make sure that you're selecting the best card for your spend. That, in a nutshell, is why this website was created. To help you run the numbers before you apply for credit cards.

Number of Credit Cards
I know some people that have 1 credit card and some people that have 30+ credit cards. Do you need that many cards? No. Will having that many cards hurt your credit score? No.
When it comes to rewards, it's up to you to choose how many credit cards you want to deal with. Some people are perfectly fine dealing with 20-30 cards, while others stick to 4-5, and some even stick to one card. I always say to go with what you can handle.
Generally, about 3-5 cards is all most people need to max out their rewards on everyday spend. For example, you may use Card A for grocery and restaurants, Card B for airfare and hotels, and Card C for all other purchases. This is because each card may earn a certain percentage of bonus points that the other card doesn't.
Going back to the AMEX Blue Cash Cards, lets say you spend $300 per month at restaurants which is $3,600 per year. Both the BCP and BCE cards only earn 1% cash back per $1 spent fore restaurants meaning you'll earn a total of $36 cash back. That's a pretty low return for the amount of money you spend on dining out.
Instead of running that spend through a card to earn 1% cash back, you'd want to find a card that fits the bill. Cards like the PNC Cash Rewards Card and Capital One SavorOne Card earns 3% cash back on dining purchases. Running that same $3,600 in yearly spend across either of these cards would earn you $108 in cash back. On top of that, both cards have no annual fee meaning you'll get the entire $108 in pure profit. If you spend more than that in grocery, you may even consider picking up a higher earning dining card that has an annual fee like the Capital One Savor Card. It all comes down to running the numbers and making sure you have the best cards in your wallet.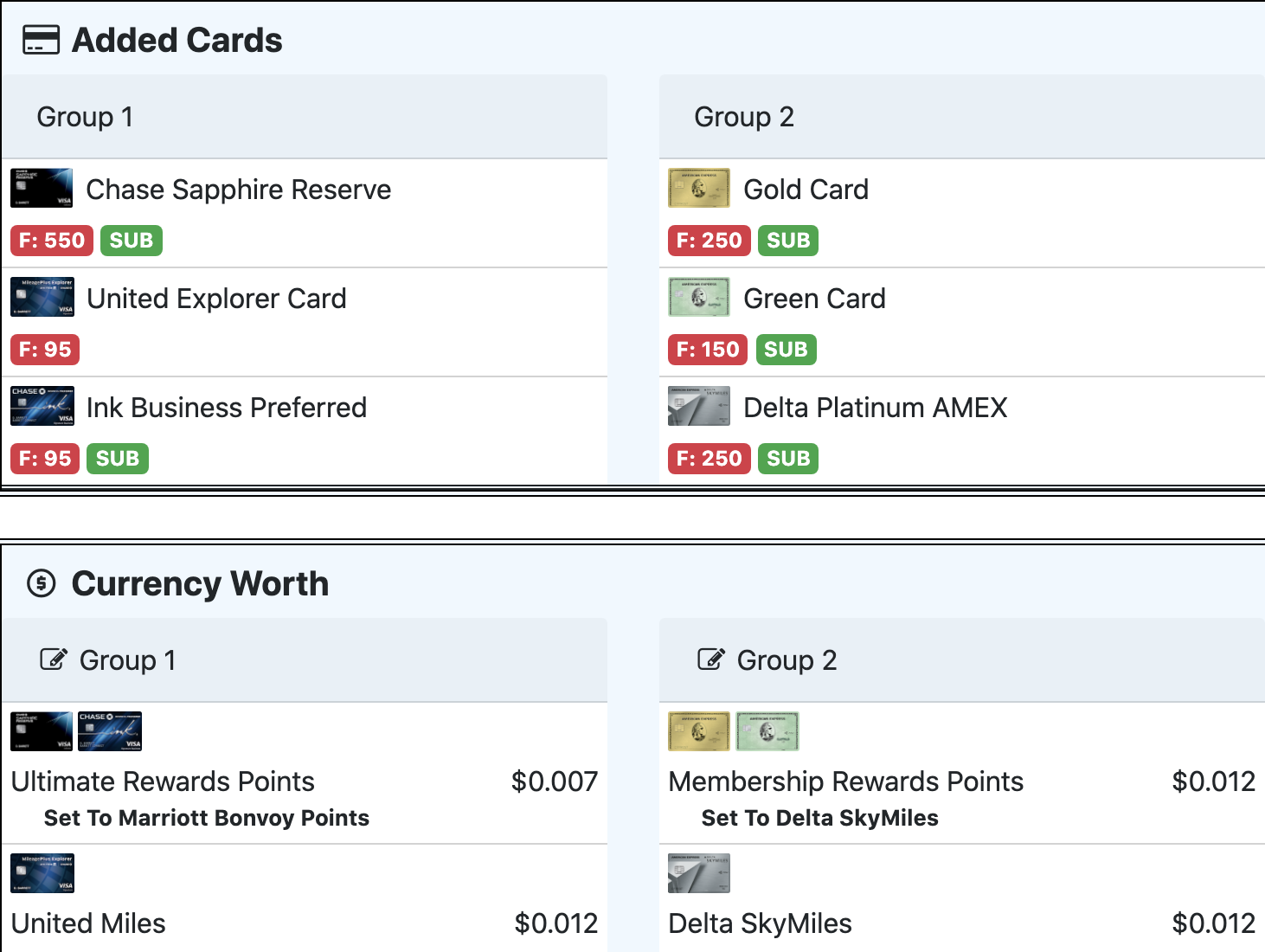 Now this doesn't mean that you need a credit card for every single category that you spend in. If you spend $25 a month between Hulu and Disney+, you don't need to go find a card that earns bonus rewards on streaming services spend. Now if you happen to have a card that features that category, then that's great! For example, you may be spend $2,000 a year on travel between airfare, hotels, and car rentals. The Wells Fargo Propel AMEX earns 3x points on travel, gas, dining, and streaming services. The main reason to pick up the card would be because of the travel, gas, and/or dining. Most people don't spend hundreds on streaming services per month, so the fact that it's on the card is a plus for people who dish out a few dollars per month in that category.
Embrace Credit Limit Increases
As explained in my write up on Understanding Your Credit Score, credit limits are important. If you plan on earning rewards and running spend through credit cards, you will need your credit limit to support your spend. You want to always make sure that you are using 30% or less of your cards available credit. This means that you should openly embrace credit limit increases that are given to you by banks and lenders. Just remember that a higher limit doesn't mean you should kick up your spending. An increase in your credit limit should not be the direct cause of you spending more money than you normally would.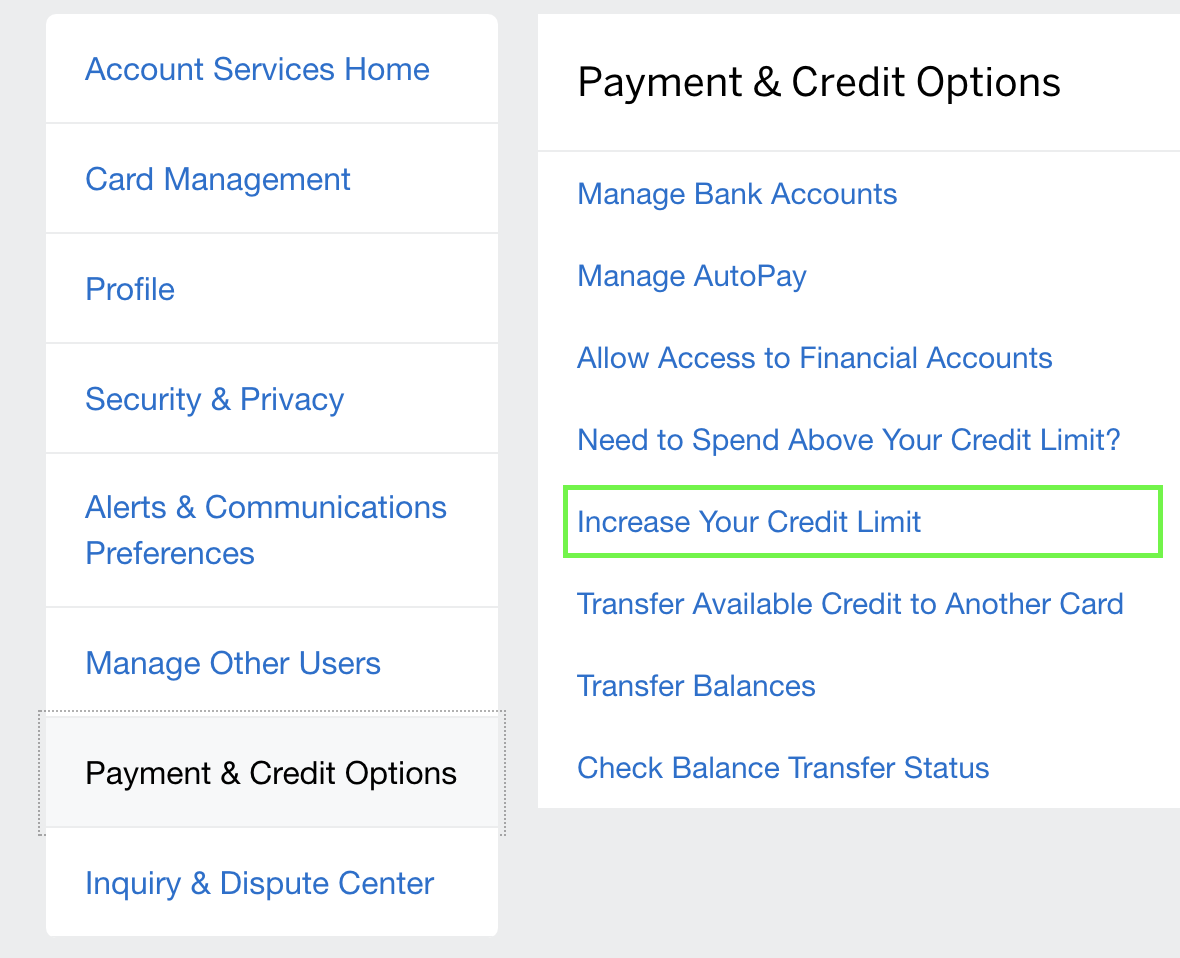 When it comes to increasing your credit, each bank/lender has different rules as to when and how you will receive a credit limit increase (CLI). There are generally two types of CLIs:
Auto CLIs
Auto CLIs are given by banks automatically usually every 180 days or once a year for those who are in good standing and/or running lots of spend through their credit card. This type of CLI is not always a guarantee, but it's known to happen with most banks.
Manual CLIs
A manual CLI is initiated by you, the customer. These are usually done directly from inside your online banking account. You will typically have to answer a few financial questions and then once you request the CLI, you will either be approved or declined. The amount of times you can request a manual CLI depends on the bank. Most banks allow you to request a CLI every 180 days while others many allow it once a year or even every 90 days.
Do note that some banks will pull your credit report thus giving you an inquiry. I don't recommend using a credit pull for a credit limit increase unless you really want that increase and you feel that it's a high change you'll be approved for such.
Credit Card Rewards
Rewards are earned by running spend across rewards credit cards. As you continue to run spend through cards, your rewards will build up. Once you reach a certain threshold, you'll be able to redeem your rewards for free or discounted awards. This includes:
Flights
Hotels
Car Rentals
Magazines
Gift Cards
Statement Credits
Cruises
Much More
Their are three different types of rewards that you can earn. Those rewards are:
Cash Back
Cash back is easiest to understand of the three and is the most straightforward when it comes to rewards. Cash back credit cards gives you a certain amount of cash... back to you. So every transaction on your card will net you a little bit of your money back. This is usually based on a percentage.
For example a 2% cash back credit card would give you 2% of your money back for every $1 you run through the card. This means you will earn 2 cent in cash back per $1 spent. So if you make a $100 purchase on a 2% cash back card, you will receive $2 back ($100 * 0.02). As you continue to spend money across your card, you will earn more and more cash back.
The good thing about cash back is that it has a set value. If you earn $20 in cash back, that means you have $20 in cash back. There's no complicated point/mile values or any kind of research required.

Cash back can be redeemed for just about anything. This could be flights, gift cards, cruises, or even actual cash in most cases. The easiest way to use cash back (in my opinion) is to use it as a statement credit. So let's say you have earned $300 in cash back over the year. You can use your credit card to pay for a $300 airline ticket and then apply your cash back to your credit cards statement and wipe out the full cost of the flight. This is what makes cash back the most flexible in terms of redemption.
Points and Miles
Everything that isn't cash back is usually in the form of either points or miles. Credit cards will offer a certain amount of points/miles per $1 spent. For example the AMEX Everyday Preferred Card can earn up to 4.5 Membership Rewards Points per $1 spent on supermarket purchases. So if you spend $500 per month, you would earn a total of 27,000 Membership Rewards Points for the year. How much is that worth? Depends on the redemption. 27,000 Membership Rewards Points could be worth:
$270-$416 when redeemed for a flight directly through American Express
$270-$540+ when transferred to airline or hotel partners and redeemed for flights/hotels
$189 in car rentals, cruises, or vacation packages
$162 in statement credits made to your card
$135-$270 worth of gift cards
As you can see, redeeming your rewards for travel (specifically airfare and hotels in this case) will get you some great value. If you remember the AMEX Blue Cash Preferred Card example from the cash back section, you would earn a profit of $265 cash back for the year after you factor in the fee. So while the Membership Rewards Points you earn will be better for flights and transferring to partners, you'll get a better value using cash back for all of the other redemptions such as car rentals, statement credits, and gift cards.

Unlike cash back, points/miles do not have a set value and can be worth as little as 0.1 cents and as high as 10+ cents depending on the program and the redemption. The number one thing to remember about points/miles is that how much you value points may not be the same as how others value points.
For example, Currency A could be worth 3 cents each to me because I enjoy big 125,000-point first class flight redemptions whereas Currency A might be worth 1.2 cents each for you because you'd rather use your points for five 25,000-point round trip flights in main cabin. I get a lot more value out of my points, but you use your points to get more flights.
While many websites, including this one, will give you an idea of the average value of your rewards, but it's up to you to see how much value you can get out of your points and miles. Your needs and preferences will not necessarily be the same as mine or the same as others.
Another thing worth noting is that many points and miles programs feature the ability to transfer rewards to partners. This allows you to transfer your rewards between programs that partner together. For example, Membership Rewards Points can be transferred to more than 20 different airlines and hotel programs. So you can take your 27,000 Membership Rewards Points and turn them into 27,000 Delta Skymiles which can possibly net you a free short-haul flight on Delta or you can turn them into 27,000 Marriott Bonvoy Points and get 1-2 free nights at a Marriott hotel. This is another plus to earning points/miles.
Sign Up Bonuses
99% of the rewards cards you sign up for will more than likely feature a sign up bonus (commonly referred to as SUBs). These are offered as an incentive to pick up the card and run money through it. They usually are worded 'Spend x-dollars withing the first n-months and earn y-rewards'.

You should always strive to earn your sign up bonus. This is easy points, miles, and cash back that you can earn within the first few months of using the card. Some cards only allow you to get a sign up bonus once per lifetime such as AMEX. If you were to close an AMEX Card and re-open it a few years down the line, you would be ineligible to try for the bonus again. So not only do you want to make sure you earn the bonus, you want to make sure it's a good bonus.
The AMEX Platinum Card image listed above shows a sign up bonus of 70,000 points which is worth an easy $700, but it has had sign up bonuses as high as 100,000 Membership Rewards Points. That's worth an easy $1,000 in airfare and can be worth upwards of $1,500 to $2,000 if transferred and redeemed for airfare/hotels. So if you don't need the card immediately, you might wait to see if you're offered that bonus.
If you apply for multiple cards, make sure that you have a plan as you don't want to miss out on a great sign up bonus. This may even mean incurring a few extra fees. For example, my apartment complex charges a $30 fee for using your credit card to pay rent. I paid rent three times in order to meet the sign up bonus which was worth $800 in travel. I was fine eating $90 in fees to earn a $800 sign up bonus and get a $710 profit.
Where To Start
The hardest part of getting started is finding out which credit cards are the best fit for you. You can use the Search For Credit Cards By Spend tool to find credit cards based on the rewards you're looking for and how much you spend across various categories. You can also check out these lists for the top credit cards by card issuer:
You can also check out the best credit cards by category from our partners to get a full breakdown on rates & fees, benefits, and more. Plus, you'll be able to apply for the card securely through the bank's website.