---
The Kroger Prepaid Visa (or Kroger Prepaid Mastercard) is a reloadable rewards debit card. Instead of receiving a line of credit like you would with the Kroger REWARDS Mastercard, you'll have to load money onto the card to use it. The plus to this is that after loading the card with funds, you'll be able to use the card to earn Kroger Points and save at Kroger Brand Fuel Centers. Since the Kroger Prepaid Visa is a debit card that uses your own money, it does not require a credit check. While the Kroger Prepaid Visa is a decent card, it has lots of small fees that will quickly eat away the rewards earned.
Quick Details
Issuing Bank
Card Network
Rewards Earned
Annual Fee
Authorized User Fee
Foreign Transaction Fee
Bonus Categories
The Kroger Prepaid Visa has two bonus categories that earn bonus Kroger Points with spend and those two categories are Kroger Family of Companies and Kroger Family of Companies Own Brand Products. There is no limit to the amount of Kroger Points you can earn spending across these bonus categories and no limit to the amount of Kroger Points you can earn with the card in general.
3x Kroger Family of Companies Own Brand Products

These are brands that are produced by stores that fall under Kroger Family Brands including:

Simple Truth
Private Selection
Kroger (brand)
HemisFares
Comforts
Abound
Luvsome
Bloom Haus
Murray's Cheese
Bakery Fresh Goodness
Dip
Home Chef
Pet Pride
OfficeWorks
HD Designs
Everyday Living

2x Kroger Family of Companies

Applies to purchases you make at Kroger Family stores that are not Kroger Brand Products which includes:

Baker's
City Market
Dillons
Food 4 Less
Foods Co
Fred Meyer
Fry's
Gerbes
Harris Teeter
King Soopers
Jay C Food Store
Kroger
Owens Market
Pay-Less Super Markets
QFC
Ralphs
Smith's Food and Drug

1x Non-Category
Do note that neither bonus category applies to Kroger Fuel Centers.
Perks & Benefits
The Kroger Prepaid Visa isn't stacked with benefits, but it can save you money when spending at the pump.
Kroger Fuel Discount

Save an additional 5 cents per gallon on fuel at Kroger Family of Companies Fuel Center.

Prepaid Visa Benefits

No Overdraft Fees
Direct Deposit Available
International Usage
Reloadable
Mobile App To Add/Transfer Funds
Sign Up Bonus
The Kroger Prepaid Visa card offers a $10 sign up bonus when you use direct deposit to fund your card. The Kroger Rewards Mastercard offers more value with a big discount at Kroger Fuel Centers for the first year when redeeming rewards.
Fees
Annual Fee
The Kroger Prepaid Visa has a bunch of fees associated with maintaining and reloading the card. You'll have to dish out a $4.95 maintenance fee along with the cost to reload the card. You'll also be charged for ATM withdraws, ATM balance inquires, and card replacements.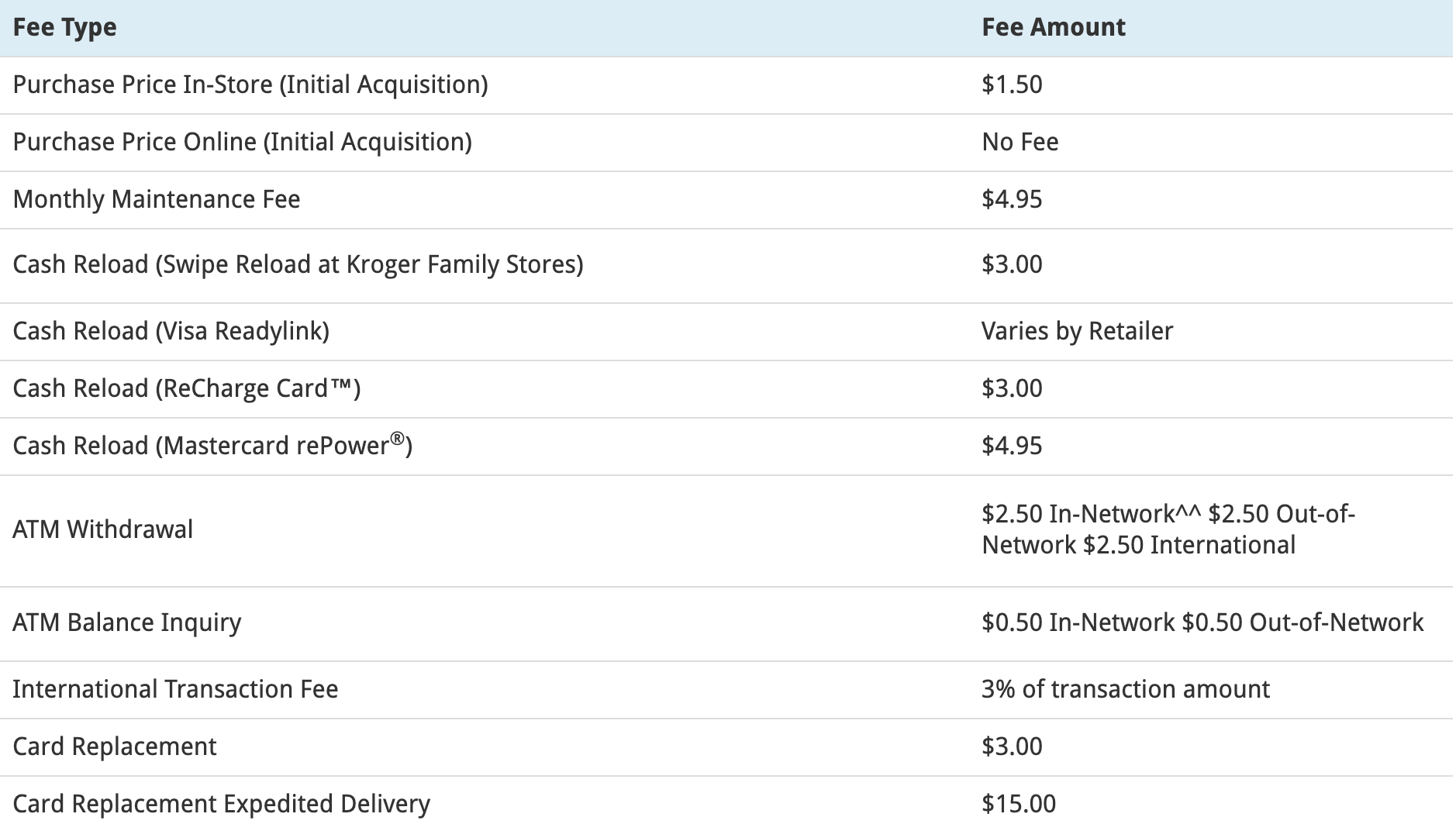 Authorized User Fee
Not Applicable.
Foreign Transaction Fee
The Kroger Prepaid Visa Card has a 3% foreign transaction fee which makes it a terrible choice for international spending and travel. Even without the fee, this card would not earn you much in rewards as it offers a 0.5% return on non-category spend.
Rewards Calculator
You can use the rewards calculator to calculate how many points, miles, or cash back you can earn based on your spend per category. This calculator will also give you the dollar value of the card based on the value of the rewards earned and how much each benefit is worth to you, minus the annual fees. You can click the Compare A Card button to compare this card side by side any other card featured on the site within the same calculator.
Note! All category spend entered in the primary card's column (first column when comparing cards) will carry over to all credit card calculators on the site. This means you will not have to re-enter the same information again and again when browsing during the session.
Credit Card
This calculator will calculate the cash value of the selected credit card(s) based on spend, benefits, and fees. You can compare this card against any other rewards card side-by-side by clicking on the Compare A Card button.
Category Spending
Enter how much you spend in each category listed. You can click on the amount to edit the value, +/- Categories to add and remove categories from the list, and Options to copy spend between columns and clear all spend.
Total Earnings
The sum of all rewards earned from Category Spending and Reward Bonuses, along with the cash value of it all based on Currency Worth.
Cash Value
Cash value of Total Earnings based on Currency Worth.
Rakuten Rewards
$25 Bonus
Monetary Bonuses & Fees
Cash bonuses, annual fees, authorized user fees, and any other listed fees.
Grand Total
The total estimated value you can get out of this card and the amount of return for your spend.