Find The Best Credit Cards For You
MSC Cruises is a Switzerland based cruise line out of Geneva. They are currently the world's largest privately held cruise company and fourth largest cruise company in the world. MSC has destinations worldwide and provides many types of ships based on how you wish to cruise. If you have booked a trip with MSC Cruises in the past or have recently booked a trip, I recommend signing up for their Voyagers Club program which can save you a great tons of money and offers several benefits.
Types of Cruises
MSC Cruises offers a ton of different options when it comes to booking a cruise. This ranges from your standard day-to-week long cruise up to cruises around the world that are up to 115+ days long. Below are some of the different options you have when booking with MSC.
Standard MSC Cruise
MSC Cruises touches just about every destination you can think of around the world. This includes:
Asia
Caribbean
Dubai, Abu Dhabi, and India
Mediterranean
South Africa
South America
United States & Canada
Ocean Cay MSC Marine Reserve
Northern Europe
These destinations can be booked in the standard cruise format of selecting the months you wish to cruise, the port(s) you wish to depart from, number of nights you're looking for, and the cruise ship & room type you want.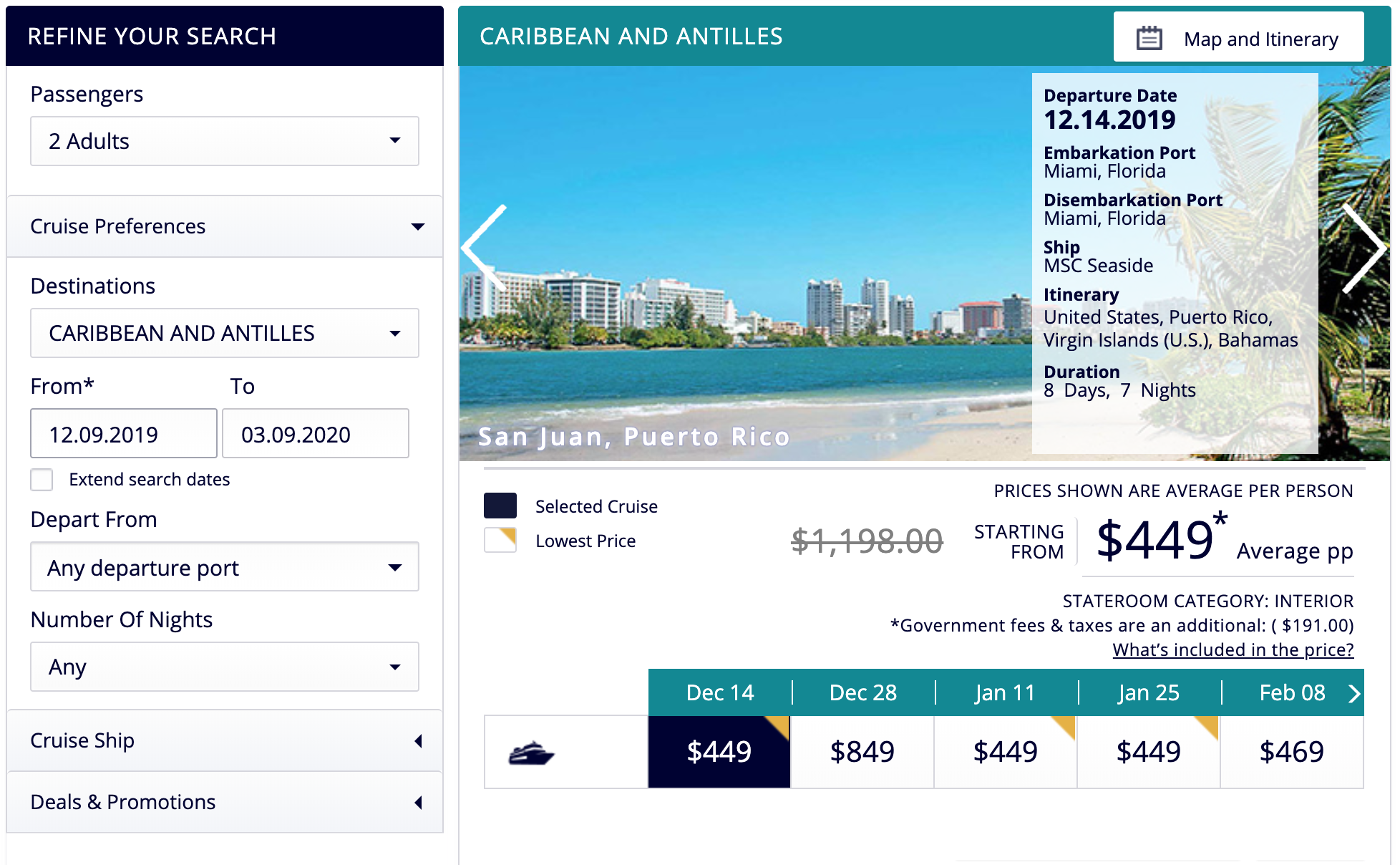 MSC Voyages Select
Voyager Club members will receive members-only additional savings on specific Voyages selection departures. These are specific cruises in which a member can earn between a 5% and 15% discount combinable with the 5% club discount for up to 20% off. Members who book a Voyages Selection departure will be credited double membership points for the type of Experience chosen. This is a great way to save money and earn some bonus points while doing so!
MSC Grand Tour Mediterranean
MSC Cruises offers it's MSC Grand Tour for anyone looking to explore the Mediterranean in its entirety. MSC Grand Tour cruises last anywhere from 15 to 22 days and is a combination of up to four cruises that can stretch across four different ships. Within this 2-4 weeks of time, you will hit between 10 and 21 cities. Booking a MSC Grand Tour comes with the benefits of up to three excursions, a 30% discount on laundry services, and port-to-port transfers.

MSC Grand Voyages
MSC Grand Voyages are transatlantic voyages that touch multiple continents and can last as long as 17-18 days. These voyages are usually one-way meaning the Embarkation Port and the Disembarkation Port will be different locations. If you're looking for a way to visit multiple cities across the world, this is a great way to do it.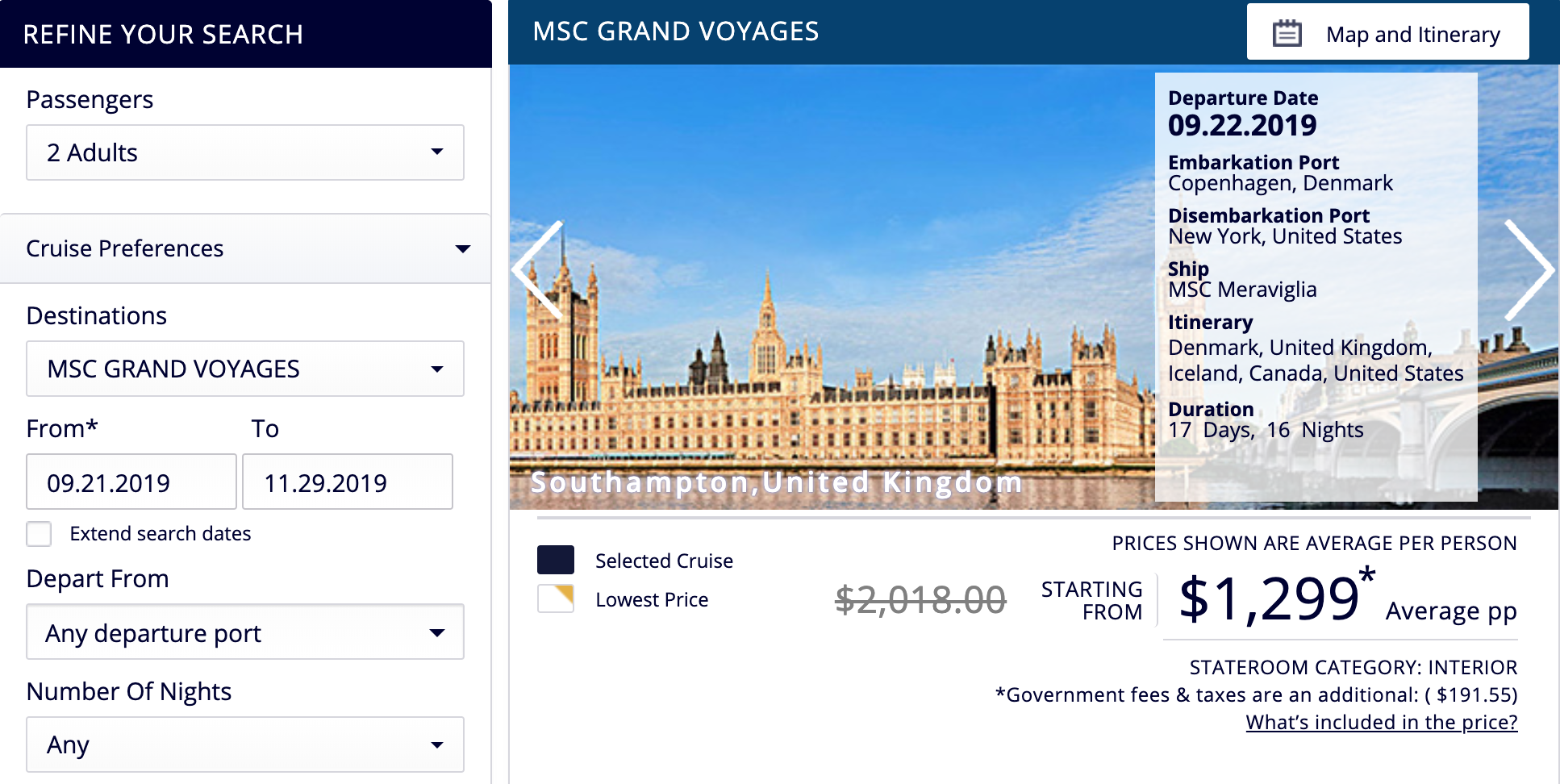 MSC World Cruise
Looking for the biggest and longest cruise of all? The MSC World Cruise is a voyage across the world. MSC has world cruises for 2020 and 2021 planned out. The upcoming 2020 cruise is a 117-night cruise hitting 43 destinations in 23 countries and the 2021 cruise is a 118-night cruise visiting 53 destinations in 33 countries. MSC World Cruises come with 15 complimentary shore excursions, mealtime drink packages, and 30% off all laundry services. To top it off, Voyager Club members will be credited triple membership points for the type of experience chosen at the time of booking, thus granting benefits of having status with MSC while enjoying the MSC World Cruise.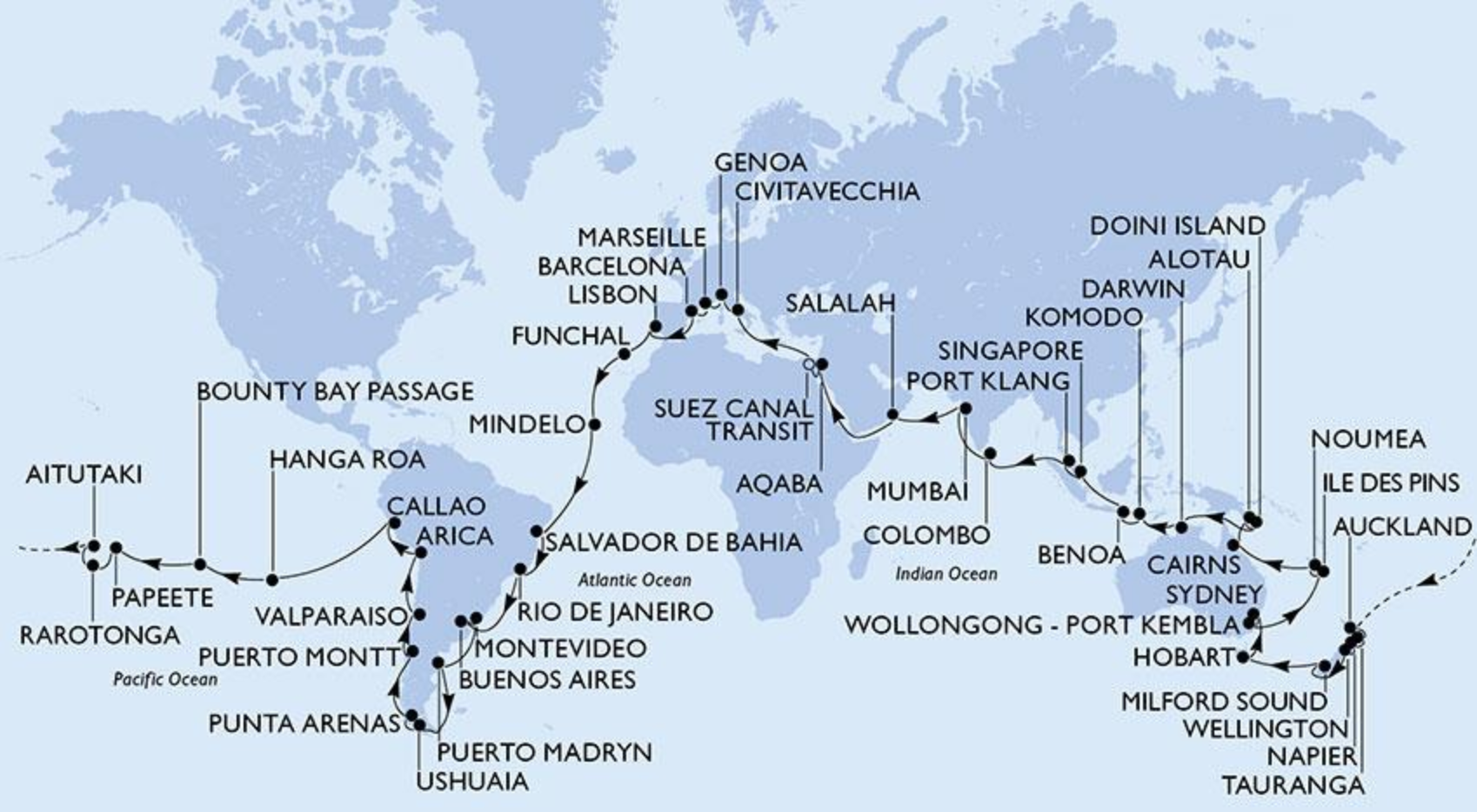 MSC Yacht Club
If you're looking for an all-inclusive luxury cruise experience, then the MSC Yacht Club is your calling. This experience comes with 24-hour butler service, a dedicated concierge, all-inclusive meals, and unlimited drinks in all MSC Yacht Club areas, all bars and restaurants throughout the ship, and from your mini-bar. Access to exclusive areas also come with booking an MSC Yacht Club voyage.
MSC Ships
MSC Cruises has 16 active ships with 3 more being built to be released before 2021. Their ships are split up by class which is based on the size of the ship.
MSC Lirica Class
MSC Cruises has four ships in their Lirica class. These are MSC's smallest ships. They sport 9 decks and are 824ft in length. They consist of:
MSC Armonia
MSC Sinfonia
MSC Lirica
MSC Opera
MSC Musica Class
The next size up is MSC Musica Class. These ships feature 13 decks and are about 964ft in length. These ships consist of:
MSC Musica
MSC Orchestra
MSC Poesia
MSC Magnifica
MSC Fantasia Class
The next class up is the MSC Fantasia Class. These ships are about 1,093ft in length and feature 18 decks. The ships that fall in this class are:
MSC Fantasia
MSC Splendida
MSC Divina
MSC Preziosa
MSC Seaside Class
The MSC Seaside Class features 2 active ships and one currently being build. This class features ships that are 1,060-1,112ft in length and have 18-19 decks. The ships in this class consist of:
MSC Seaside
MSC Seaview
MSC Seashore (future)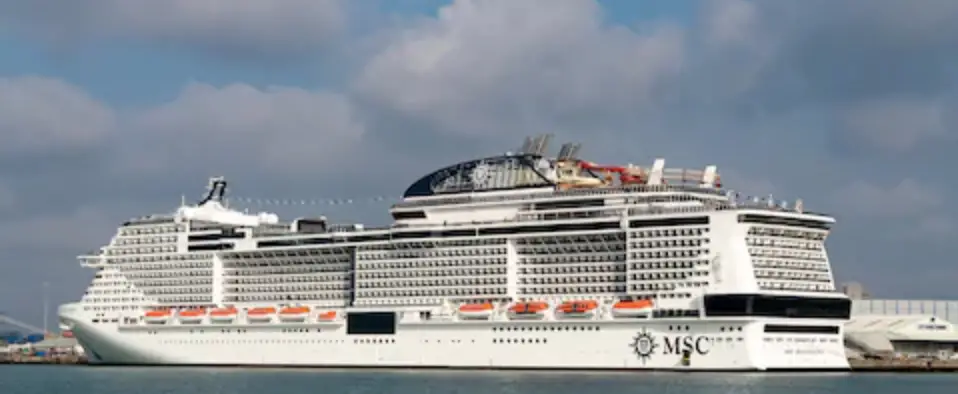 MSC Meraviglia Class
The biggest class of ships for MSC is the MSC Meraviglia Class. These ships are 1,036 in length and feature the following ships:
MSC Meraviglia
MSC Bellissima
The MSC Meraviglia and MSC Bellissima are the 6th largest cruise ships in the world. The biggest ships are held by 4 Royal Caribbean International ships and one AIDA Cruises ship.
MSC Experiences
When booking an MSC Cruise, you will be able to select from 4 different experiences that goes with each stateroom booked. Each of these experiences offers various perks and benefits.
Bella Experience
The MSC Bella Experience is an à la carte experience that comes with the lower priced staterooms which includes Balcony, Ocean View, Outside with Partial View, Interior and Interior Studio. Those who opt for the Bella Experience still receive all the benefits of an MSC cruise and can request either an early dining option or a late one and a dining time within that range will be assigned.
Fantastica Experience
The MSC Fantastica Experience comes with additional benefits and is for the preferred staterooms which consists of Suite, Balcony, Ocean View, Interior and Staterooms for Families. Those who choose this experience will receive ideally located staterooms and views, including the upper decks with easy access to main areas. 24-hour room services is also offered with this experience which includes free continental breakfast. Those with Fantastica Experience will have priority over Bella Experience members when it comes to assigned dining options.
Auera Experience
The MSC Auera Experience is for those who want it all. This experience is available to the premium staterooms which are Suite, Duplex Suite, Grand Suite, Suite with Whirlpool and Balcony. Auera Experience comes with the benefits of Fantastica Experience along with:
Unlimited Easy Drink Package
My Choice Dining
Spa Package
Access To Private Sun Deck
Priority Boarding
Bathrobe, Slippers, and other room amenities
MSC Voyager Club
When you're out on the sea cruising the waters, being showered in additional benefits can make a cruise that much better. The MSC Voyager Club grants these benefits when you cruise and offers discounts, complimentary gifts, priority disembarkation, and more. The Voyager Club is split up into 5 different membership levels which consist of: Welcome, Classic, Silver, Gold, and Black. These membership levels are based on points in which you earn when you cruise with MSC. You will need to cruise with MSC at least once every three years to maintain membership.
How To Earn Points
MSC Voyager Club members have the opportunity to earn MSC Voyager points in several ways. This includes booking MSC Cruises, paying for on-board services & expenses, and updating contact details before the cruise.
Booking MSC Cruises
The amount of points you earn booking cruises with MSC depends on the MSC Experience you select and the length of the cruise. The Bella Experience earns the least amount of points per cruise while the most points is given to those who book the MSC Yacht Club Experience. Points are given at the end of the cruise with the exception of those who book a MSC World Cruise. Those who book the MSC World Cruise will receive triple points prior to the cruise and thus be able to partake in having status within the Voyager Club program.

On-Board Services and Expenses
You will earn 100 MSC points per 150 €/$ on expenses made before the cruise on MSC packages and services included in the cruise booked. This is for on-board services prepaid before the cruise and on-board expenses during the cruise. Do note that casino expenses does not earn MSC points.
Bonus Points
Members can earn 100 bonus points for updating or confirming their contact details (email, phone, mobile, address) up to 72 hours before sailing.
MSC Membership Levels
Earning status with MSC comes with many benefits. Below are some of the benefits offered at each tier of members. You can jump to the MSC Cruises website to see a full list of benefits.
MSC Welcome Membership
This membership is offered on your first confirmed booking. This tier is pretty much tied to informational benefits such as newsletters and cruise info. The real benefits will not kick in until your second cruise.
MSC Classic Membership
MSC Classic Membership is earned after earning your first point with the MSC Voyager Club program. This is guaranteed to happen after your first booking through your Voyager account. MSC members who reach classic membership will receive benefits such as:
Personalized Luggage Tags
Welcome Back Cocktail
Onboard Offers
5% Discount (stacks with Voyages Selection)
Voyages Selection Discounts of up to 15% off
MSC Silver Membership
MSC Silver Membership is earned after reaching 2,200 MSC Points in the Voyager Club program. Silver membership comes with the perks of Classic along with benefits such as:
Milestone Reward
Complimentary Fresh Fruit Basket
$50 On-Board Credit for Voyages Selection
MSC Gold Membership
MSC Gold Membership is earned after reaching 4,300 MSC Points in the Voyager Club program. Gold membership comes with the perks of Silver along with the following additional benefits:
Complimentary Gift
Complimentary One-Hour Thermal Area Session
Priority Disembarkation
Complimentary Photo
Complimentary Birthday Cake
MSC Black Membership
The highest membership in the program is MSC Black Membership and it is obtained after reaching 10,000 MSC points in the Voyager Club program. Black membership comes all the benefits of Gold along with the following:
Priority Boarding on Embarkation Day
Complimentary Specialty Restaurant "Tasting Menu" Dinner for Two
Complimentary Spumante with Chocolate-Dipped Fruit
Priority Disembarkation at End of Cruise
MSC Voyagers Club Exclusive Black Card Party
Late Stateroom Check-Out at Disembarkation
Calculate
Total Rewards & Card Value
Per $1 Spent For 200+ U.S. Credit Cards
Search Results Display Here