The Credit Card Comparison Tool is a calculator that lets you compare cards side-by-side based on spend, how much you value card benefits, and annual fees. This tool features a long list of options such as:
Compare groups of credit cards side by side
Edit the value of points and miles
Toggle & change annual fees
Input number of authorized users
Enter sign-up and intro bonuses
Factor in point transfers to partners
Add & remove spending categories
Specify spending by per month, per quarter, per year or by a certain number of months.
If you're trying to come up with the best combination of cards or you want to see how much value you're getting out of the cards in your wallet, this credit card comparison tool will do the job.
How To Use
The directions on how to use this tool is at the far bottom of this page. You can click here to jump to that section.
Requests
If there's a card missing from the calculator that you want added, send the name of the card(s) to [email protected] or via Facebook or Twitter.
If it's a simple structured card, I should easily be able to add it to the database. Cards with complicated structures or rotating categories don't make for the easiest calculations, so keep in mind that some cards cannot be added.
The Credit Card Comparison Tool is specific to the United States, United Kingdom, Canada, and Australia. I'm open to requests for cards that earn United States Dollar (USD), Canadian Dollar (CAD), Australian Dollar (AUD), Euro (EUR), and Pound Sterling (GBP).
Report A Problem
If you're having issues trying to get something to work or you find a calculation is off, feel free to reach out to me via social media (Facebook & Twitter) or shoot me an email at [email protected].
Happy Calculating!
The Credit Card Comparison Tool
Build your best groups of credit cards and calculate away. If you find the calculator useful, help out the site by sharing this calculator with others who may need to compare some cards.
How To Use The Tool
There's lots of working pieces to the Credit Card Comparison Tool which makes it great for determining whether or not a group of cards is worth picking up. The tool is broken down into multiple parts, so each part of the tool is explained below.
Calculator Options
There's two options listed under Calculator Options which is Add Categories On Card Change and Column 2 Visible.
Add Categories On Card Change
When you add a credit card to any of the calculators on the site, the bonus categories featured on the newly added credit card are added to the Categories section by default. This allows you to easily calculate rewards with the newly added card. Toggling this option Off will stop categories from being added automatically. This allows you to add categories manually.
Column 2 Visible
If you want to just deal with one group of credit cards, you can hide Column 2 altogether which gives you more space to work with.
Select A Credit Card
This is where you will enter in the card(s) you want to add. You'll have to have an idea of which cards you want to add to the calculator. You can type in the name of the card, the rewards program the card is associated with, or the rewards the card earns. You'll get a list of credit cards that match what you type in.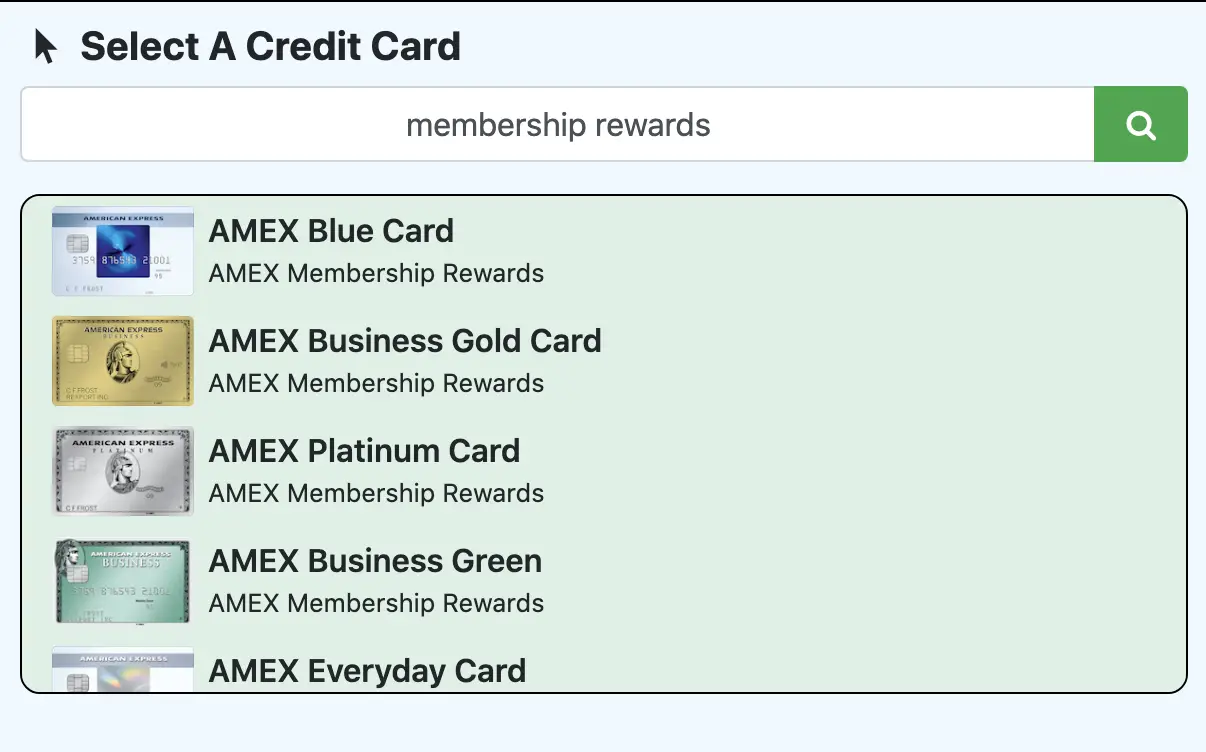 Once you click on the card you're looking for, details of the card will pop up with the options to customize the card before you add it. You'll be able to enter/change:
Annual Fee
Authorized Users
Sign Up Bonus
Extra Value
The Annual Fee of the card will be listed by default unless the card is FYF (First Year Free/Waived Fee). You can enter any value for the fee as it's an open number field.
The Auth(orized) Fee box will allow you to enter the number of authorized users if the card has an authorized user fee. Based on the fee and number of users you specify, the cost of adding the users will updated on the right. Adding authorized users is commonly referred to as adding supplementary cards to the account.
The Sign Up Bonus is automatically filled with the standard bonus. Sign up bonuses do change, so if you know the bonus isn't what's listed, you can change it to reflect the current bonus. You can also zero it out altogether if you do not want to include a sign up bonus in the calculations. Also note that sign up bonuses do not calculate automatically based on the requirements to earn the bonus. It's up to you to make sure you've entered enough spend in the calculator to earn the bonus that's entered.
The Extra Cash Value box is just an extra field if you want to give the card some extra value. Maybe the price protection that the card offers is worth $100 to you or you want to enter $200 for that airline card that saves you $50 per round-trip on bags. It's an open number field, so enter any value you want.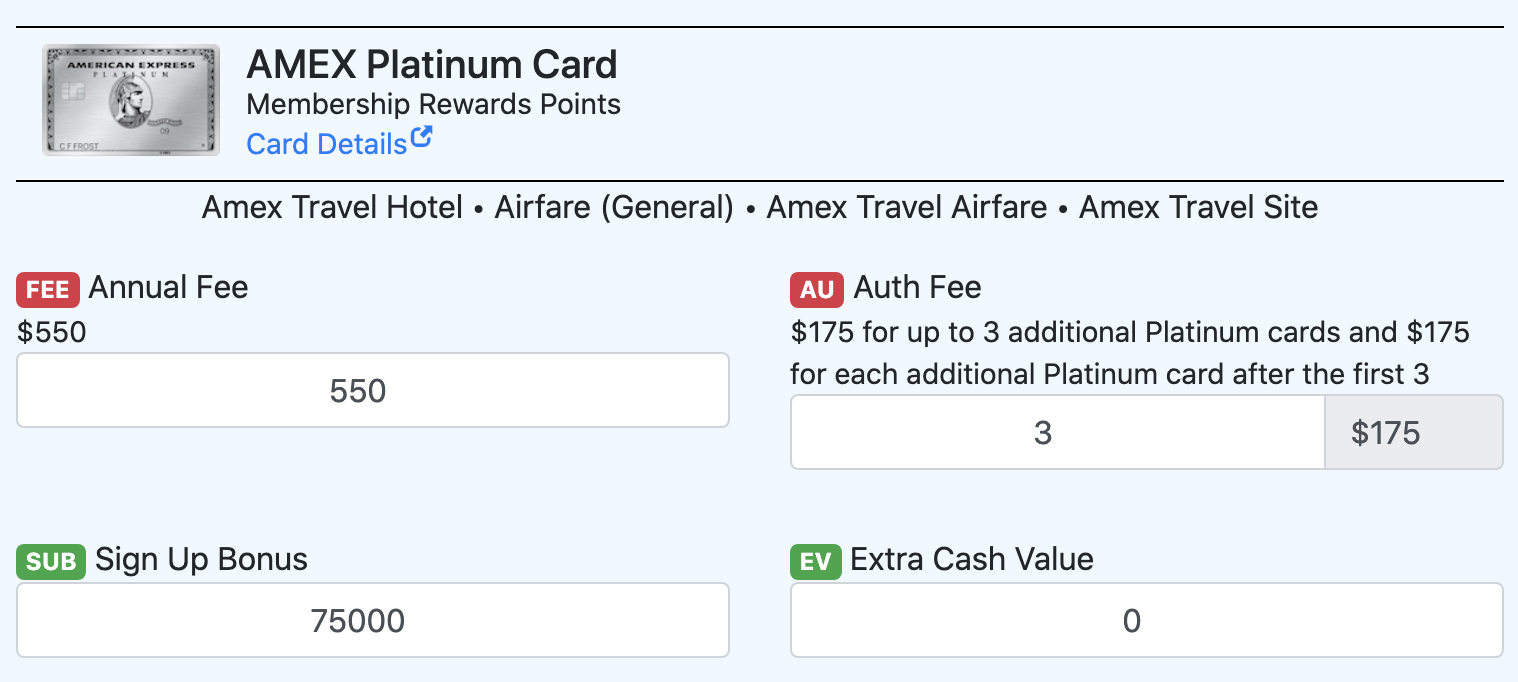 Once you've edited the details of the card to your liking, you'll be able to add the card to Group 1 and/or Group 2. You can add the card to whichever group as many times as you want. If you and Player 2 both have Card A or plan on picking up Card A, add Card A to group 1 twice. Duplicate cards are now allowed in the Credit Card Comparison Tool.
Added Cards
The Added Cards section will list all of the cards you've added to Group 1 and Group 2. It will also display several "badges" based on the options you entered before adding the card.
F: 200

- This is the annual fee for the added card. So "F: 200" means an annual fee of $200. If the fee is 0, it will show

NO FEE

AU: 175

- This is the authorizes user fee for the card based on the number of authorized users you entered. So "AU: 175" means an authorized user fee of $175.

SUB

- This means that a sign up bonus was entered for the card.

EV

- This means that extra cash value was entered for the card.

You can click on any of the cards to edit the annual fee, authorized user fee, sign up bonus, or extra value you entered. You can then hit update or cancel if you decide you don't want to change anything. The option to remove the card will also be listed. This will take the card out of the calculator for that group and anything assigned to the card in later parts of the calculator will be cleared.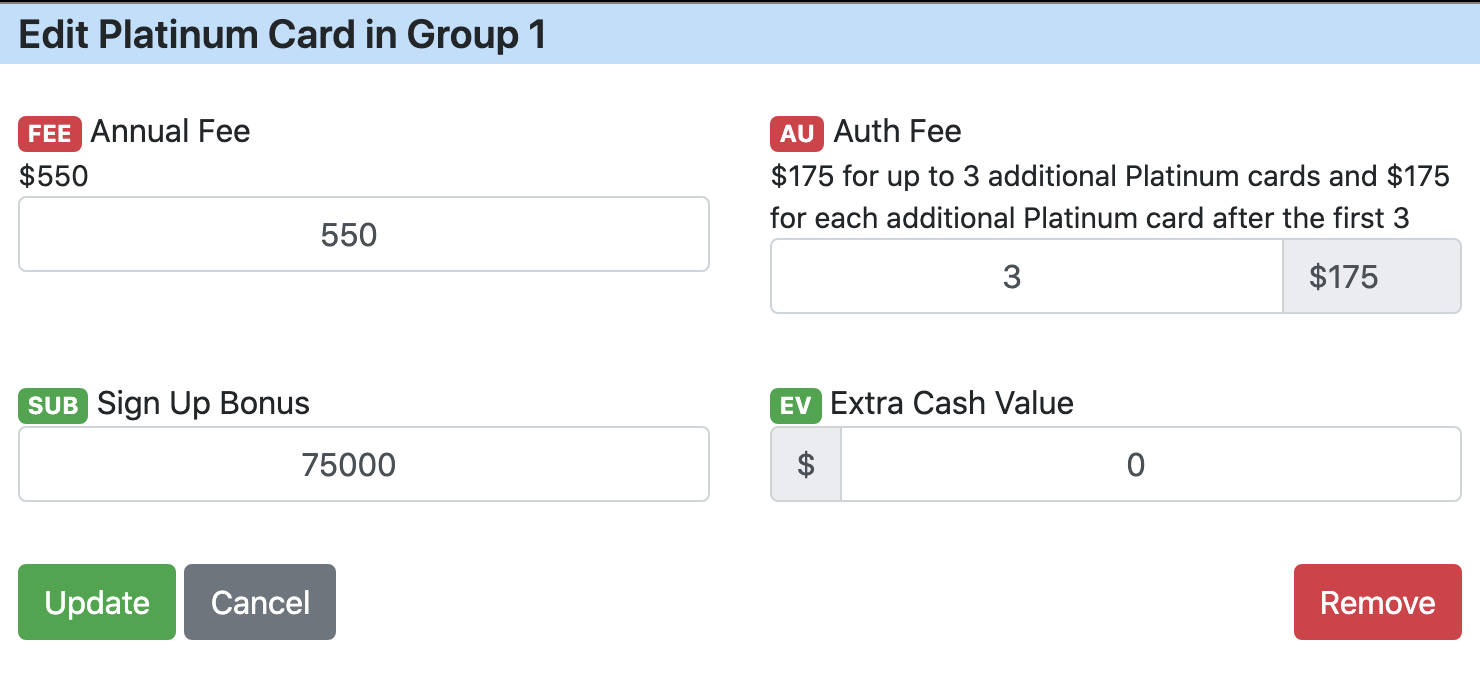 If you have the same card entered multiple times in the same group, it will be displayed with a number behind it. For example, if you added two AMEX Gold Card's you would see:
AMEX Gold Card
AMEX Gold Card (2)
This is to help you keep track of which cards you're editing and selecting in the calculator.
Currency Worth
This section will list all of the involved rewards currencies (points, miles, and cash back) and an image of the cards associated with each currency. Removing all of the cards associated with a currency will remove that currency from the group.

When you click on rewards currency, you'll have two options: View Rewards As... and Cash Value.
View Rewards As...
There are several rewards currencies that allow you to transfer your rewards to other programs. View Rewards As allows you to view a rewards currency as if you transferred it to the selected partner. This is great if you're focused on a specific program and you want to use other cards to help you build your points with that specific program.

When you change the View Rewards As option, that currency will change to the selected option throughout the whole category and the values will update. So if I were looking at American Express Membership Rewards Points and changes the View Rewards As option to Hilton Honors Points, it would show all of the Membership Rewards Points credit cards I've added to the group as Hilton Honors Points. Since Membership Rewards Points (U.S.) transfer at a 1:2 ratio, it would also double the values in all the calculations to match the transfer ratio.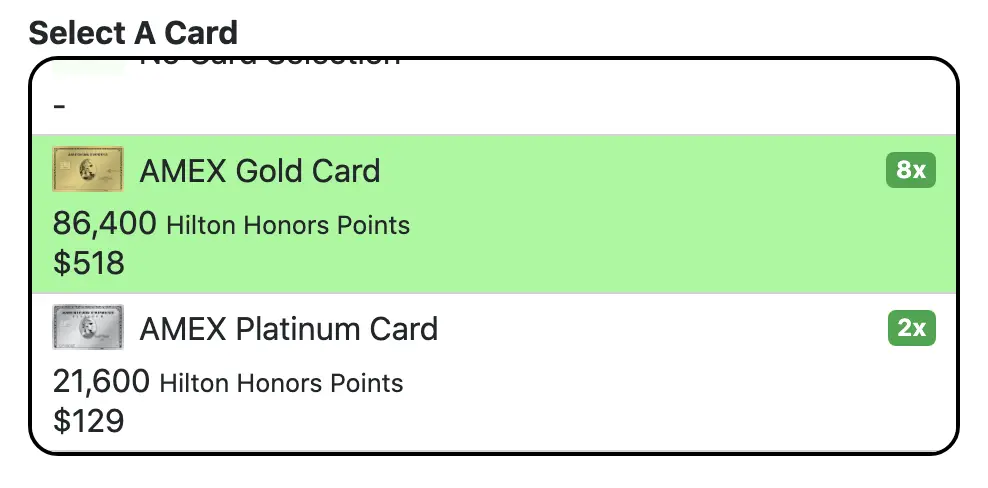 Cash Value
This is where you enter the cash value of the currency. This is automatically filled with how much The Point Calculator values the currency (based on USD and converted to EUR/GBP/AUS/CAD as needed). You can change this value to however much you value the currency. Do note that if you change the View Rewards As option, the value box will be updated with how much I value the selected currency.
Do note that I do not have the average values for all currencies. You'll want to double check the value field since some values may display 0 cents.
Loyalty & Memberships
The Loyalty & Memberships section holds... loyalty and memberships!
Loyalty
If you have elite status with a hotel rewards program and you want the points you earn from status to be included in the calculations, you can add Loyalty to Group 1 (G1) or Group 2 (G2). This allows you to compare cards that offer elite status as a benefit to find out if paying the extra annual fee is worth the bonus points you'll receive.
If the hotel rewards program is available, it will be added automatically for co-branded hotel credit cards. For example, if you add a Marriott credit card, the Marriott Bonvoy Loyalty Box will be added automatically. It will also select the appropriate status based on the card you selected if it offers complimentary elite status and it will add the proper category to the categories list.

The value displayed for loyalty is based on how much spend you enter for the proper categories. For example, loyalty for Marriott Bonvoy will display zero until you enter spend for a Marriott hotel brand. You do not have to select a card in order for loyalty to calculate. This is because points earned from elite status can be earned paying credit, debit, cash, gift cards, and etc. so I see no point in having to be tied to credit card spend.
Loyalty displays the Base Points along with any bonus points you'll earn based on status. Do Note that some chains have brands that do not earn the same amount of base points. The calculator will take this into account.

For example, most Marriott hotels earn at a base rate of 10 points per $1 spent, but a few earn at 5x and 2.5x per $1 spent. This will be reflected in the calculations.
Another thing to note is that when loyalty is added to a group, it is reflected in the currency worth section is [LOY]. The currency will not delete itself until all cards and loyalty have been removed.

Loyalty will be factored into a cards return under the Grand Total section only if that card is selected as the card used to earn the loyalty rewards.
Memberships
For any cards that require you to make a selection of some sort, that option will be listed under Memberships. The Membership section is automatic so if there's nothing listed, then there's nothing for you to do.
Category Spending
Category spending is the bread and butter of the calculator. There's multiple parts to this section so I'll go through them one by one.
Entering Spend & Selecting Cards
The Category Spending section will list all of the categories that have been added to the calculator either by adding cards or using the Add Categories button. Under each category, the earnings for Group 1 and Group 2 will be displayed. It will show the cash value of earned rewards, the total cash back, points, or miles the selected card earns, how much you're spending on the card per month, quarter, or year, and the card you selected for the category.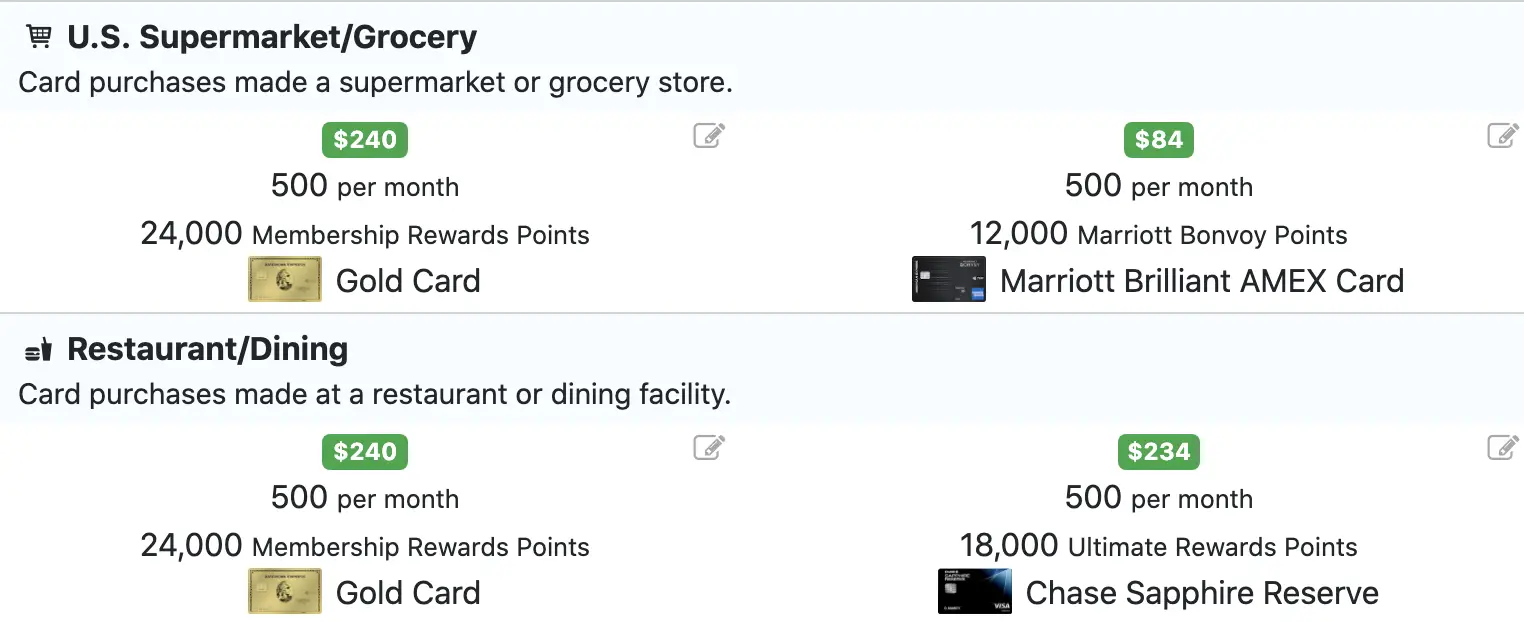 When you click on a Group 1 or Group 2 box under a specific category, you'll be able to:
Enter your monthly, quarterly, or yearly spend for the category (see more on this below)
Copy spend () from one group to the other
Toggle on/off the mobile pay option.
Select which credit card you will use for that category based on the cards you added to the group.
The values that each listed card earns is updated in real time so you'll see how many rewards you'll earn for a card before you choose one. Once you click on Update, your options will push out to the main calculator.
Changing Spend - timeSelect
The drop down that defines how often the spend occurs (I call this timeSelect) has several options:
-- Full Year --

Month - Monthly spend for a full duration of a year split into months.
Qtr - Quarterly spend for a full duration of a year split into quarters.
Year - Yearly spend for a full duration of a year.

By Month, Per Month

N-months - Monthly spend for a duration of n-months split into months.

So a spend of $500 set to 'By Month, Per Month: 4-Mnth' would translate into '$500 per month for 4 months' which comes out to a total of $2,000 in spend.

By Month, Full Time

N-months - Total spend for a duration of n-months for the entire period.

So a spend of $500 set to 'By Month, Full Time: 4-Mnth' would translate into '$500 total spend in a 4-month period' which comes out to a total of $500 in spend (or $125 per month for 4 months).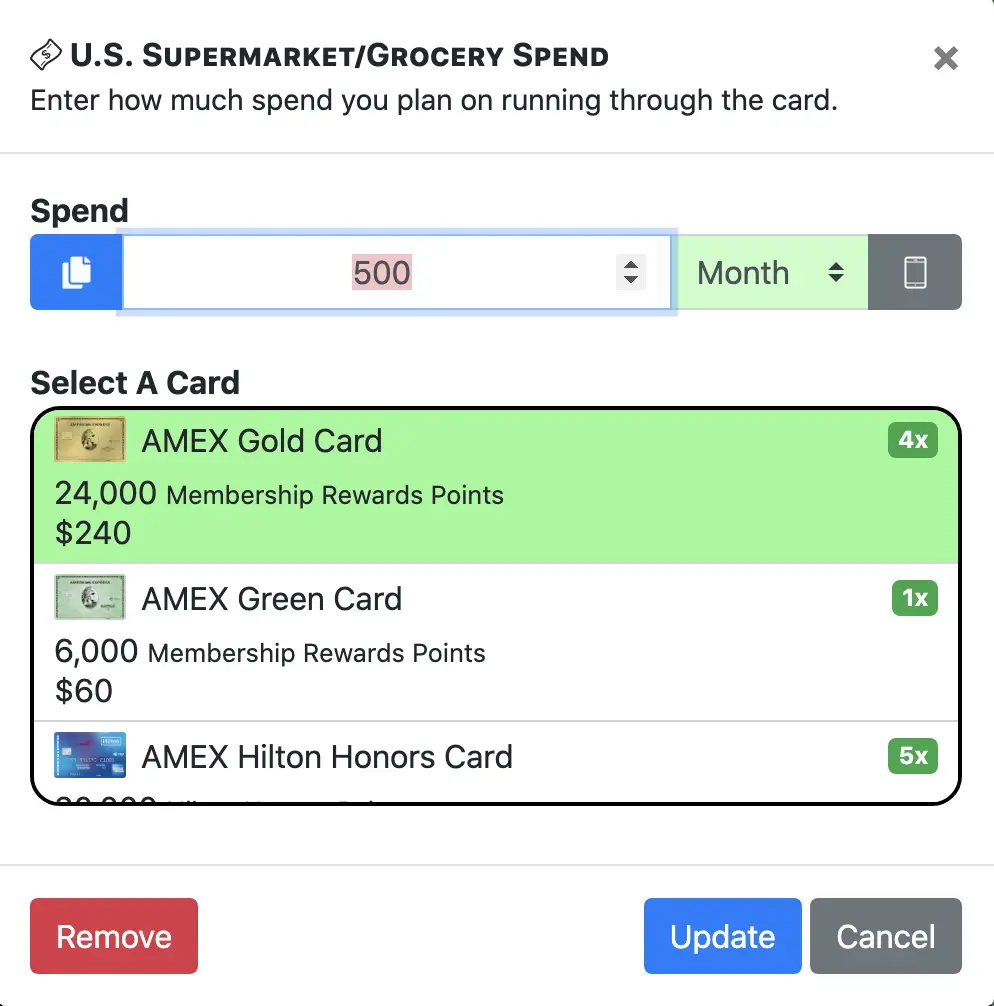 Delete Categories
You'll also be able to delete categories from the calculator by clicking on the Remove button. This will delete the category entirely for both Groups. You can always re-add categories using the Add Categories option.
Add Categories
You can click on the Categories button to add new categories to the calculator. You can search for categories by entering either the exact category you're looking for or by entering keywords. For example you can enter 'Delta Airlines' to find Delta Airlines in the list or you can enter airlines if you want a list of all airline categories available. Once you select a category, it will display in the Currently Selected field. You'll also be able to toggle the Mobile Pay option in which you can always change when editing the spend or changing the selected card.
As a side note, how specific you want to be when adding categories is up to you. If a card earns on airline spend, you can find the exact airline(s) you spend with or you can select 'Airfare (General)' if you just want to enter general monthly/quarterly/yearly airline spend.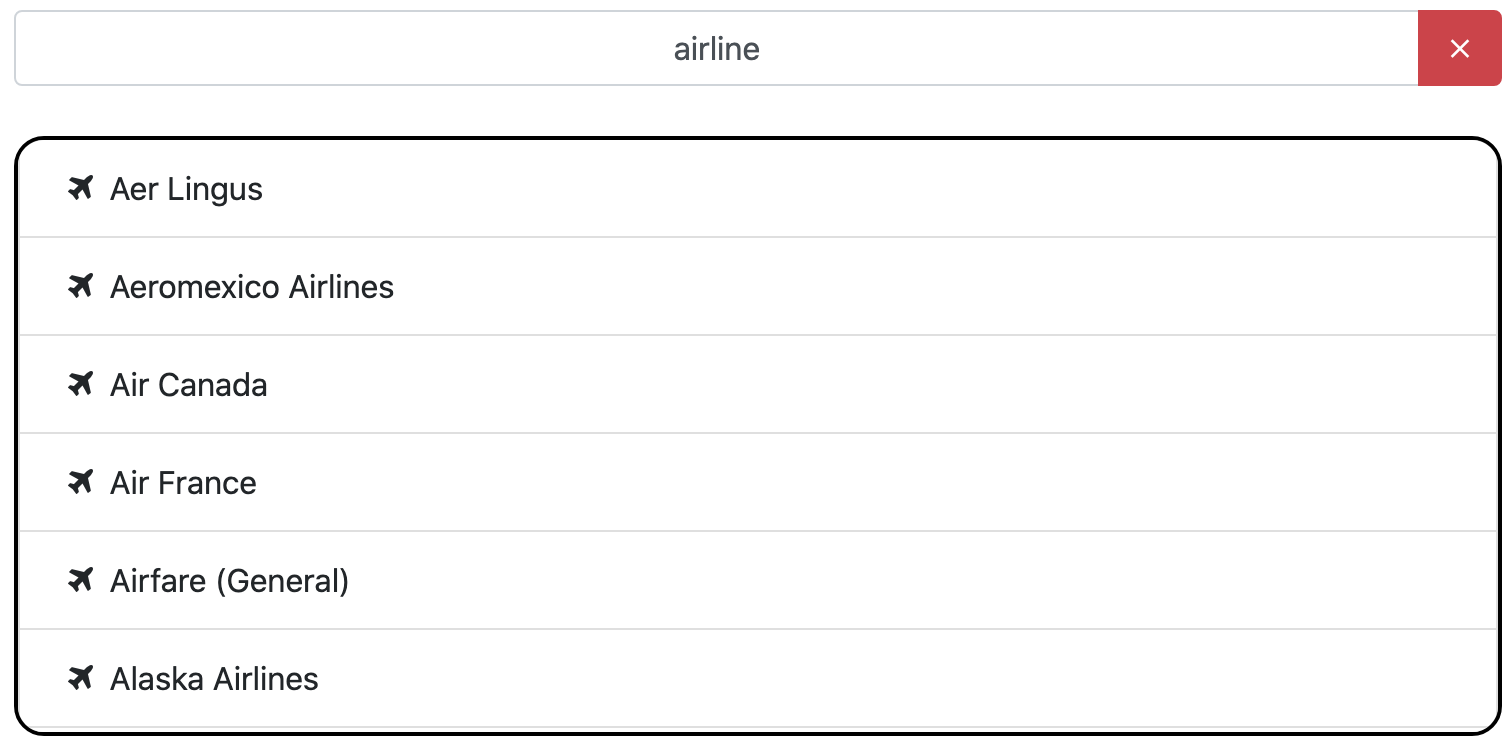 When selecting a category, you can make it specific to International or Domestic purchases. Some credit cards only offer rewards when spending in the home country while others only grant rewards when spending internationally. If you want to be real specific when it comes to calculating your rewards for domestic and international spend, you can use these options. The General option doesn't take domestic or international into consideration and will display the appropriate multiplier/earnings based on the category alone.
Once you click on Add Category, the category will be added to the list of categories for the calculator.
Order
The order of categories for all the calculators on the site play a role when it comes to calculating total rewards for credit cards that have shared spend caps. For example, if a card earns rewards on up to $5,000 in spend across multiple categories, the category that's listed first will start to deduct from the cap per month followed by the second category and so on. Once you hit the cap, the earning rates across all involved categories may change. This will be reflected by showing a double (and sometimes triple) multiplier options when selecting a card.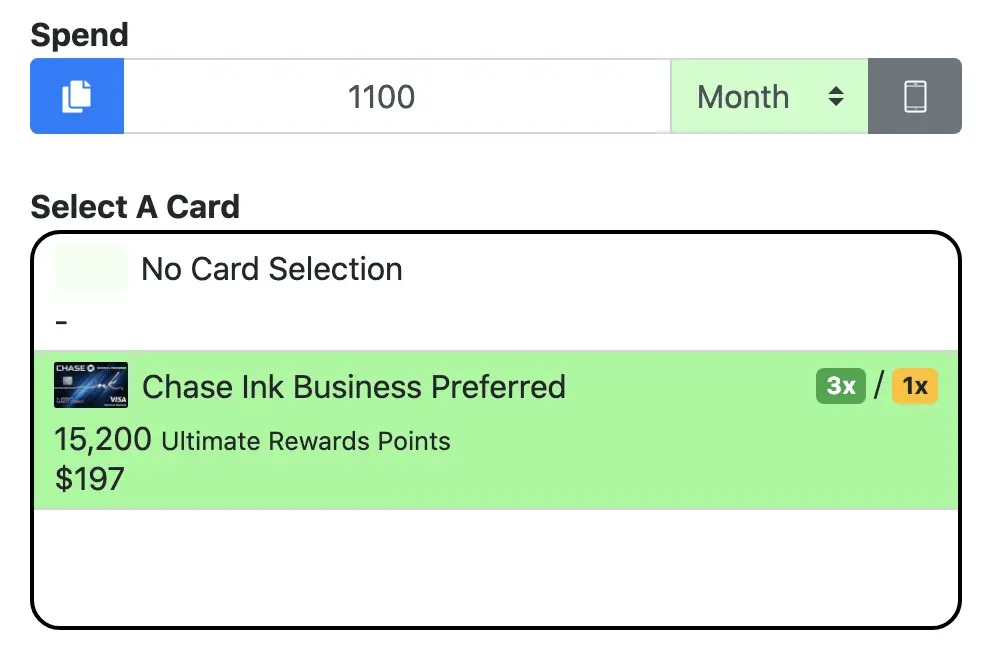 With the Order option, you'll be able to change the order of the categories. This is done by selecting a category and clicking on the Up or Down arrows on the side of the selected category field. If there's calculations that deal with spend caps, moving the categories around will change the earnings in the calculator based on the order.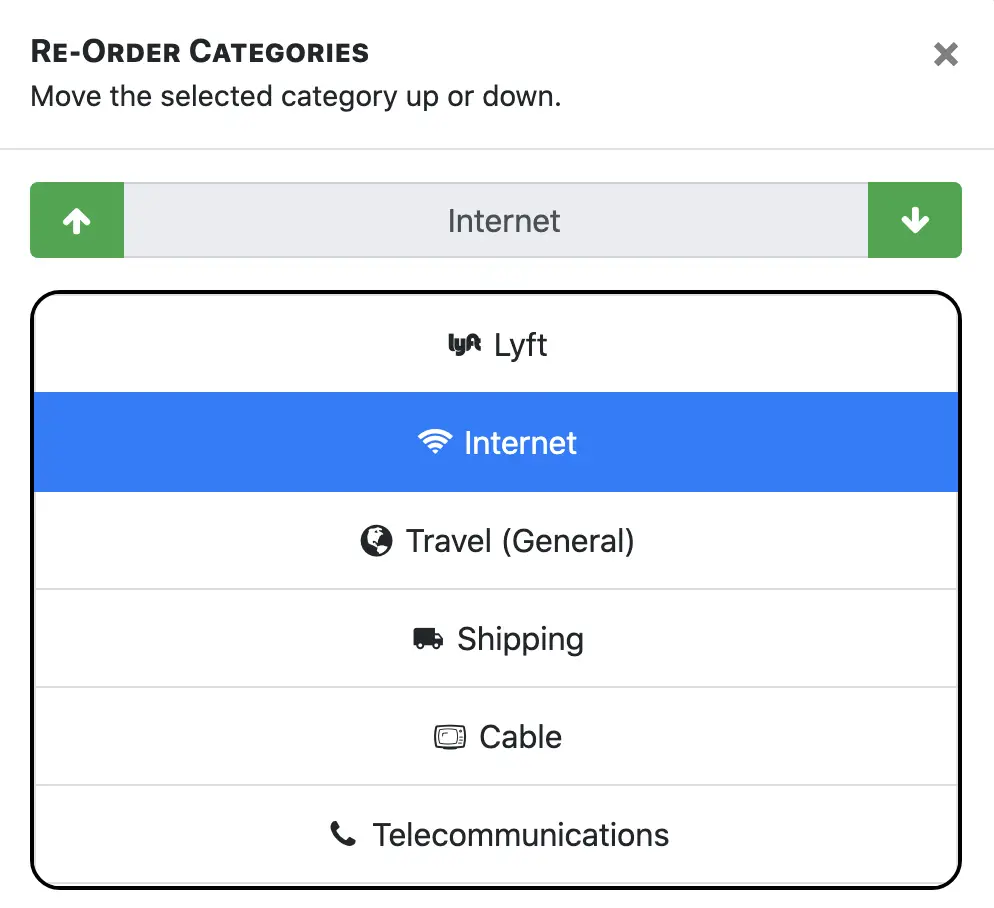 Options
The Options section features a few useful options:
Clear All Spend - This will clear all spend from every category in Group 1 and Group 2.
Clear Mobile - This will clear the mobile pay indicator off of all categories in Group 1 and Group 2. Do note this will not clear the mobile pay indicator for the mobile pay category.
Copy Right/Left - This will copy spend from one Group to the other. The spend amount and the unit of time (month/quarter/year) will be copied over. The mobile pay indicator will not be copied.
Reward Bonuses
Reward Bonuses will list any point/mile bonuses that have to do with the selected cards in a group. Most of these bonuses will be automatically calculated based off of spend entered in the calculator, but some of bonuses will allow you to toggle them on/off as well as edit them. Bonuses that can be toggled will show a check mark box while bonuses that accept other values will show an edit icon (). Only cards that have rewards bonuses or cards in which you've given a Sign Up Bonus will be listed in this section.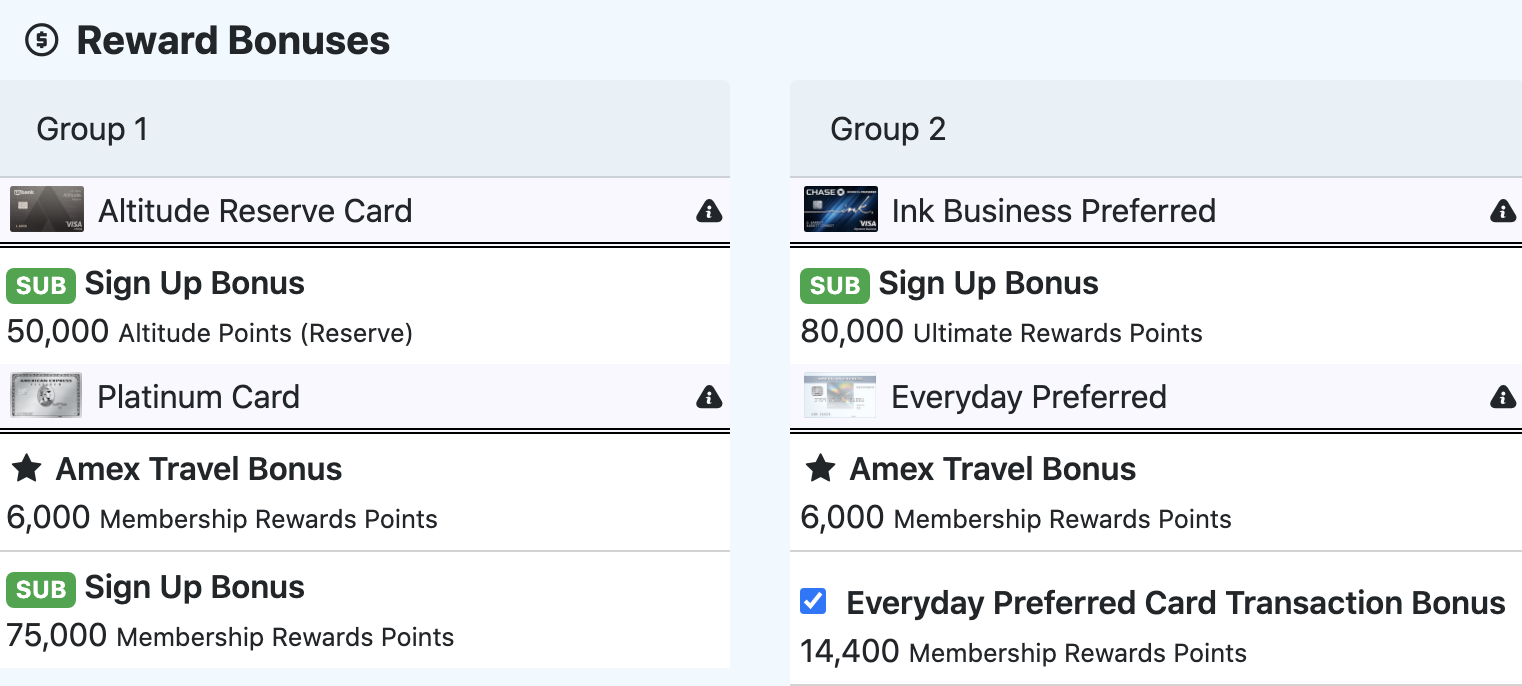 Subtotal
The Subtotal section will list all of the points, miles, or cash back earned for the entire Group. It will be separated by currency/rewards earned with a list of contributing cards under each section. It will also show the cash value of those rewards based on the value of the rewards entered in the Currency Worth section.
Do note that cash back cards will be grouped together in this section under the generic label of 'Cash Back' and not separated like they are in the Currency Worth section.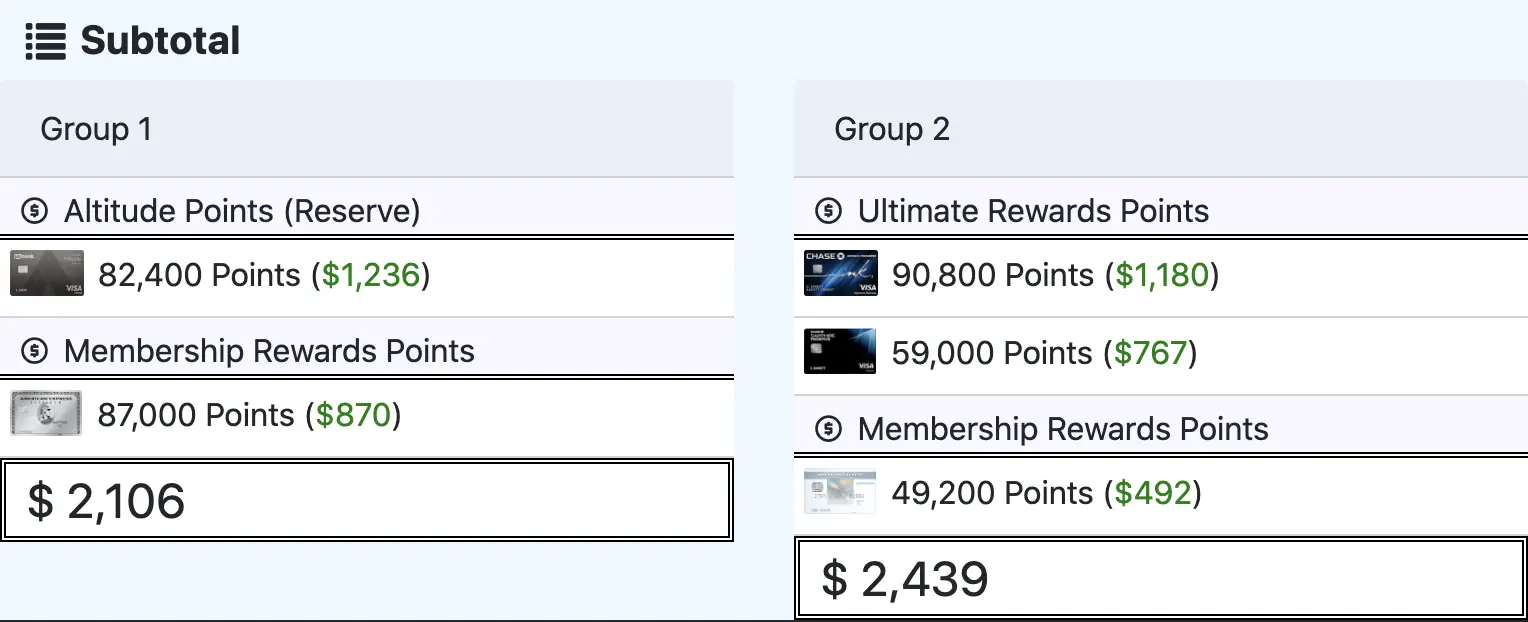 Another thing to note is that the calculator doesn't show decimals/cents/change, but they're included in the calculations. This means that the subtotal value may be off +/- $1.
Monetary Bonuses
Monetary Bonuses lists all cash bonuses associated with the cards in each group. The majority of these options will display the edit symbol () for you to change if need be. This allows you to enter how much you value the perks and benefits offered on cards.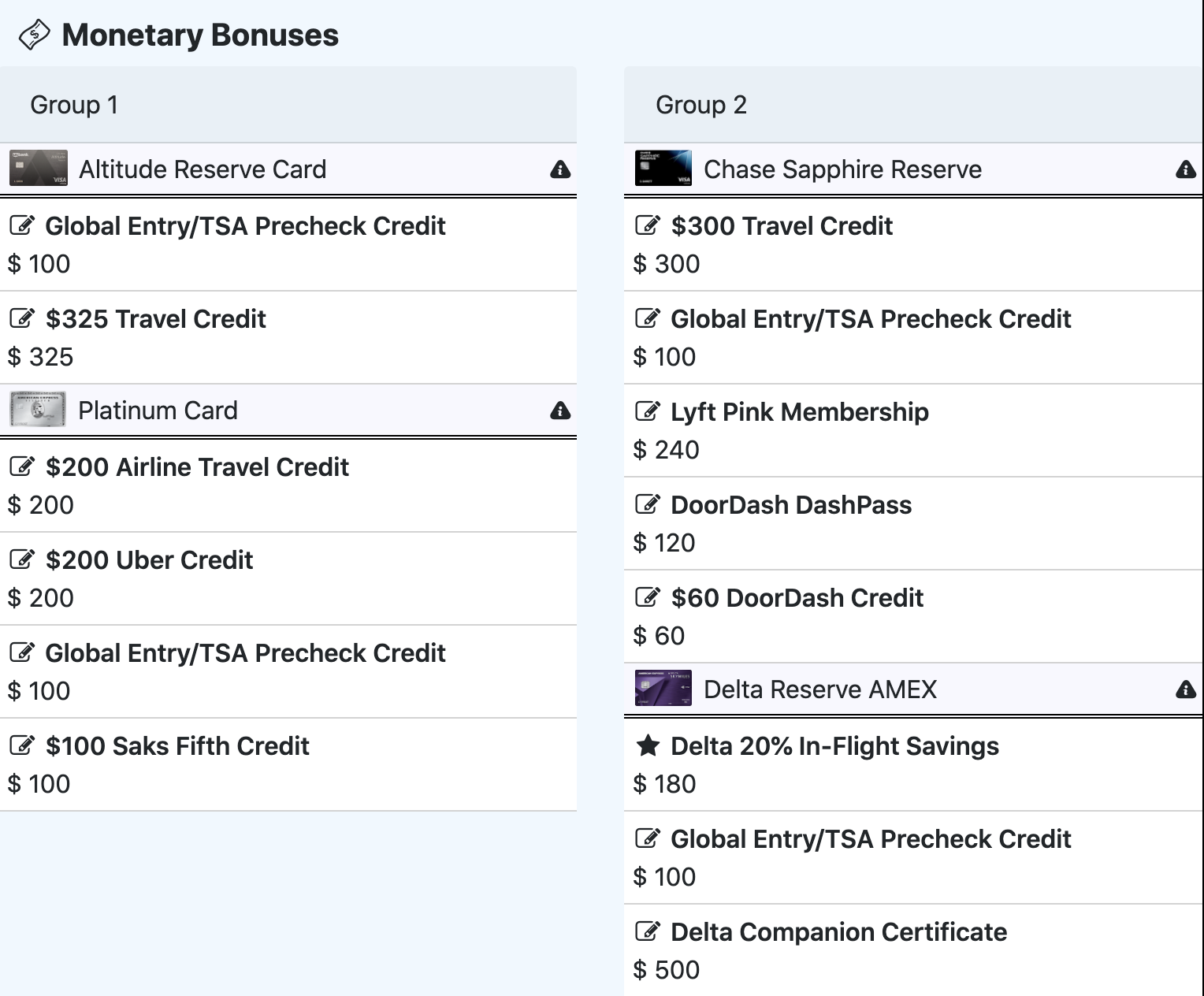 Bonuses that are not editable will be things such as cash back earned from in-flight purchases. These type of bonuses are based on the spend you entered in the Category Spending section of the calculator.
Annual Fees
The Annual Fees section will list the total fees for each card as entered when you added the card to the calculator. This will include the Annual Fee of the card along with any Authorized User Fee (Supplementary Cards Fee). Nothing in this section can be edited directly. You can change the Annual Fee details in the Added Cards section by clicking on the individual card you want to edit.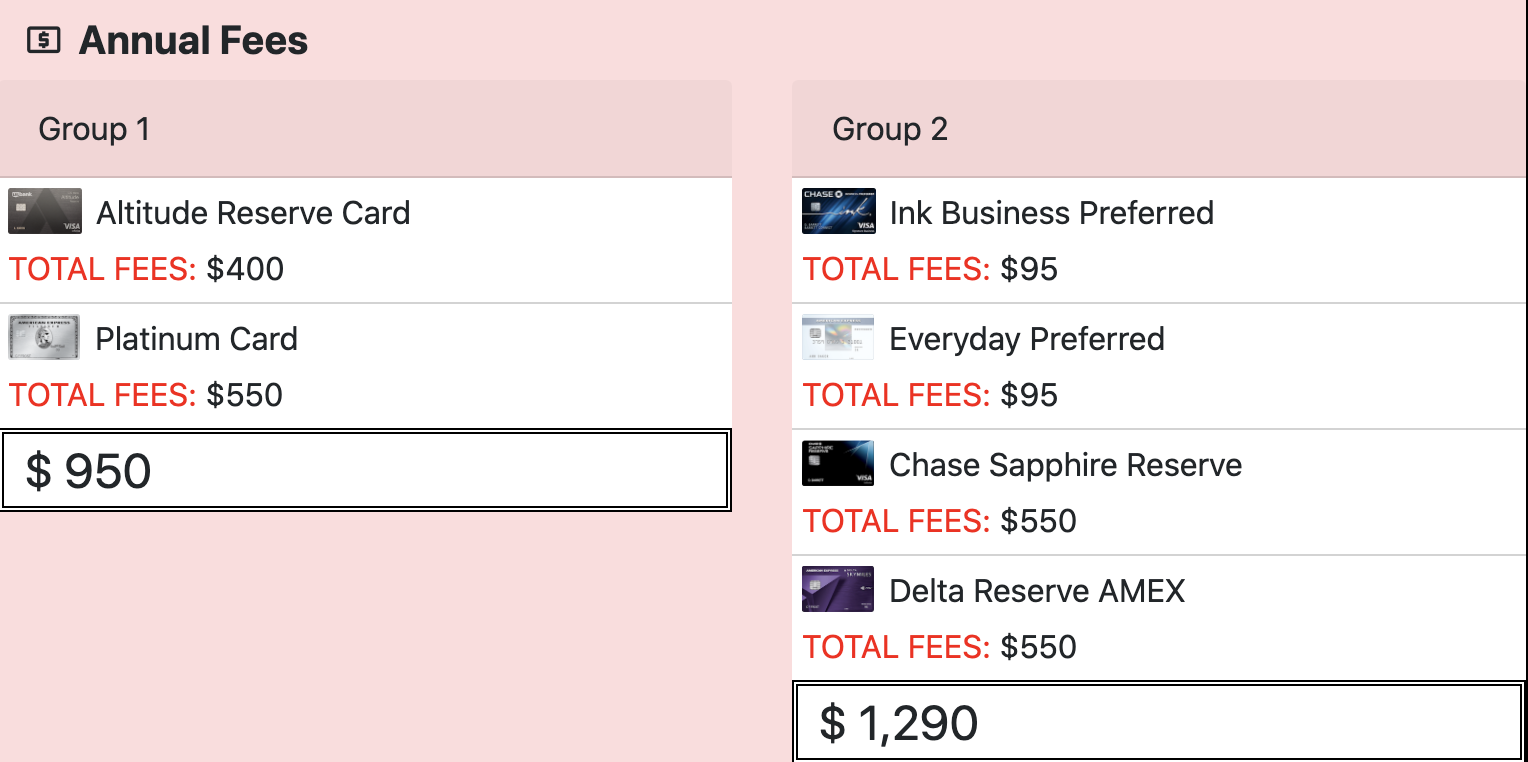 Grand Total
The Grand Total section lists the cash earnings of each card (earnings minus the fees), the return based on spend for each card, and the total cash value of rewards earned across all cards for the group.
Do note that the Return on Spend is based on how much you spent on the card and the rewards you earned based on that spend. Sign up bonuses are included in the calculation, so do note that when looking at the return. Points earned from the Loyalty section are also included if the card is selected as being used to earn the loyalty rewards points.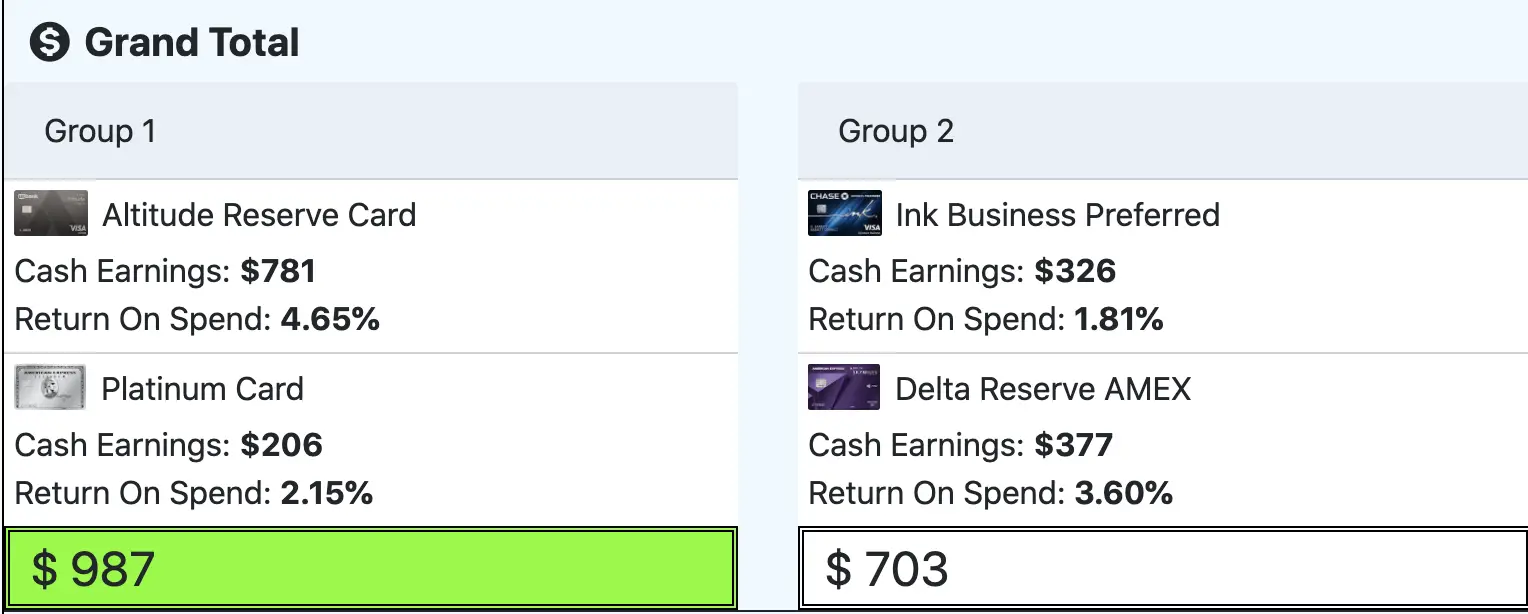 Credit Card Comparison Tool FAQ
What are the features of this comparison tool?
You can compare credit cards side by side based on your monthly/yearly spend, how much you value card benefits, and annual fees. You can toggle transfer partners, add authorized users, select hotel elite status, and much more.
How many cards can you compare at once?
You can compare any amount of cards side by side. You can compare 1 card versus another, 3 cards versus 5 cards or, even 10 cards versus 10 other cards. Theres no limits.
Can I calculate the cash value of the cards in my wallet?
Yes. You can enter your current credit cards, enter your spend, and how much the card benefit are worth to you to see which cards are offering you a good and bad return.
Which credit cards can I compare?
The site has over 250 U.S. credit cards for you to compare. We include credit cards no matter how good or bad they are. No biasness here. If it earns rewards, it's included.
A credit card that I want to compare is missing. How do I get it added?
What types of cards can I compare?
Any type. Cash back cards, cruise line cards, airline credit cards, bank rewards cards, hotel cards, gas station cards... you can mix and match and compare any combination of credit cards you wish.
Can I add the same card to the same group more than once?
Yes! The calculator now supports the ability to add duplicate cards as well as duplicate categories for even more customization.
Can you apply for the card directly from the calculator?
After you calculate your rewards and find the best card combinations for you, the application link for all cards will be listed at the bottom of the calculator.
Can I calculate rewards based on transfer partners?
Yes you can. If you're going to be transferring rewards to partners, calculate the rewards as if you transferred them based on the transfer ratio. For example, you can set AMEX Membership Rewards Cards to Hilton Honors Points to reflect the 1:2 ratio.