Tesco Clubcard Points Calculators
Program Details
Tesco Clubcard is the loyalty card of the British Supermarket Tesco and operates in the United Kingdom as well as in several other countries.
Credit Card Rewards Calculators
The Tesco Credit Card Calculators will calculate how many Tesco Clubcard Points you can earn based on your monthly/yearly spend across categories. Each calculator will also output the cash value of the card based on your spend, how much you value the benefits of each card, and any annual fees the card may have.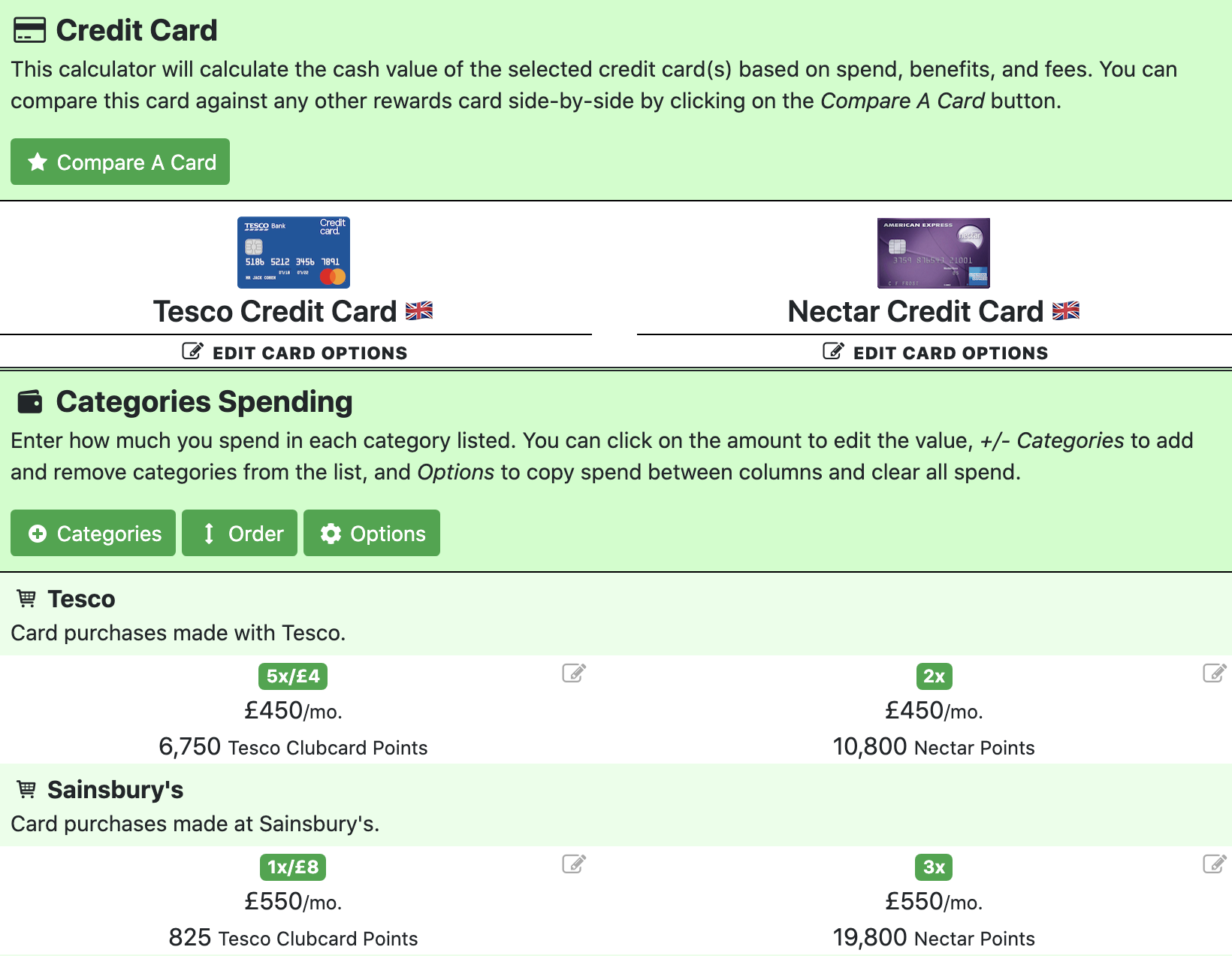 You can compare the results side by side any credit cards featured on the site to find out which earns you the most rewards and the best return. All spend entered (primary/first column only) will carry over to all credit card calculators on the website.
Tesco Credit Card Calculators
The Tesco Credit Card offers 1 additional Clubcard Point per £4 spent shopping in Tesco and 3 additional Clubcard Points per £4 spent when spending at Tesco Fuel/Petrol Stations. This is on top of the points you would normally receive for being a Clubcard Rewards member. You can use the Tesco Credit Card Calculator to compare the earnings against other top cards.
Redeeming Rewards & Cash Value
Tesco Clubcard Points have a base value of 1p each meaning that 100 points are worth £1. Points can be redeemed directly with Tesco or with their partners for increased value.
Tesco Points Value Calculator
Use the Tesco Clubcard Points Value Calculator to calculate the cash value of your points based on redeeming them with Tesco or with their reward partners.
Clubcard Voucher
Tesco Clubcard Points can be cashed in for Clubcard Vouchers which will give your points a value of 1p each. Vouchers can be used in Tesco to save money in-store, online, or at the pump.
Tesco Clubcard Rewards Partners
If you want to maximize your value in the Tesco Clubcard Rewards Program, you'll want to redeem your points with Tesco's Reward Partners. These redemptions will give your points up to triple the value meaning that your Clubcard Points can be worth as much as 3p each which is quite fantastic considering how easy you can earn them. You can get the full list of partners on the Tesco Rewards Partner Page.
Earning Rewards
As a Tesco Clubcard member, you'll earn Clubcard Points at a base rate of 1 point per £1 spent in Tesco and 1 point per £2 spent as Tesco Fuel/Petro Stations. Every three months, your earned Clubcard points are turned into Clubcard vouchers. These vouchers can be used for money off your Tescho shop or you can apply them towards Clubcard Rewards Partners and choose from days out, travel, restaurants, and more for up to triple the value.
Earning Tesco Clubcard Points Calculator
The calculator below will calculate how many Tesco Clubcard Points you can earn based on your spend in Tesco and at Tesco Fuel/Petrol stations. You can calculate total rewards based on whether or not you own the Tesco Credit Card.
If you want to compare the Tesco Credit Card against other top credit cards including cards from Nectar Rewards, M&S, John Lewis and more, you'll want to use the Tesco Credit Card Calculator.
Other Articles
Additional news, articles, calculators, or other information that you may want to know about.
Outside Links
---