If you're someone that enjoys earnings points and miles with loyalty programs, you probably also enjoy great redemptions. One of the best perks of earning rewards is knowing that you scored a redemption that's higher than the average cash value.
It can be hard to know when to use points, miles, or cash when booking travel. These calculators will help you determine if you're getting a great deal on a redemption. This includes redeeming your rewards for free nights and flights as well as redeeming your rewards for other things such as gift cards, merchandise, and more.
Points and Miles Cash Value Calculator
Use the Points and Miles Cash Value Calculator to calculate the cash value of your rewards based on the cost in rewards and the cost in cash. You can calculate the cash value of up to three different redemptions. For this calculator you will need:
The cost of the redemption in cash
The cost of the redemption in points/miles
Any taxes/fees/costs assoicated with the cost in points/miles (optional)
As an example, we will use Delta Airlines. Delta gives you three options to pay for your flight:
All Cash
All Delta SkyMiles
Cash + Delta SkyMiles
Looking at a flight from Columbus Airport to Los Angeles, here are the costs:
All Cash: $345
All Delta SkyMiles: 22,000 Miles plus $11.20 taxes/fees
Cash + Miles: 12,000 Miles plus $191.20
Knowing those values, you can calculate the cash value of paying all Delta SkyMiles and paying Cash + Miles.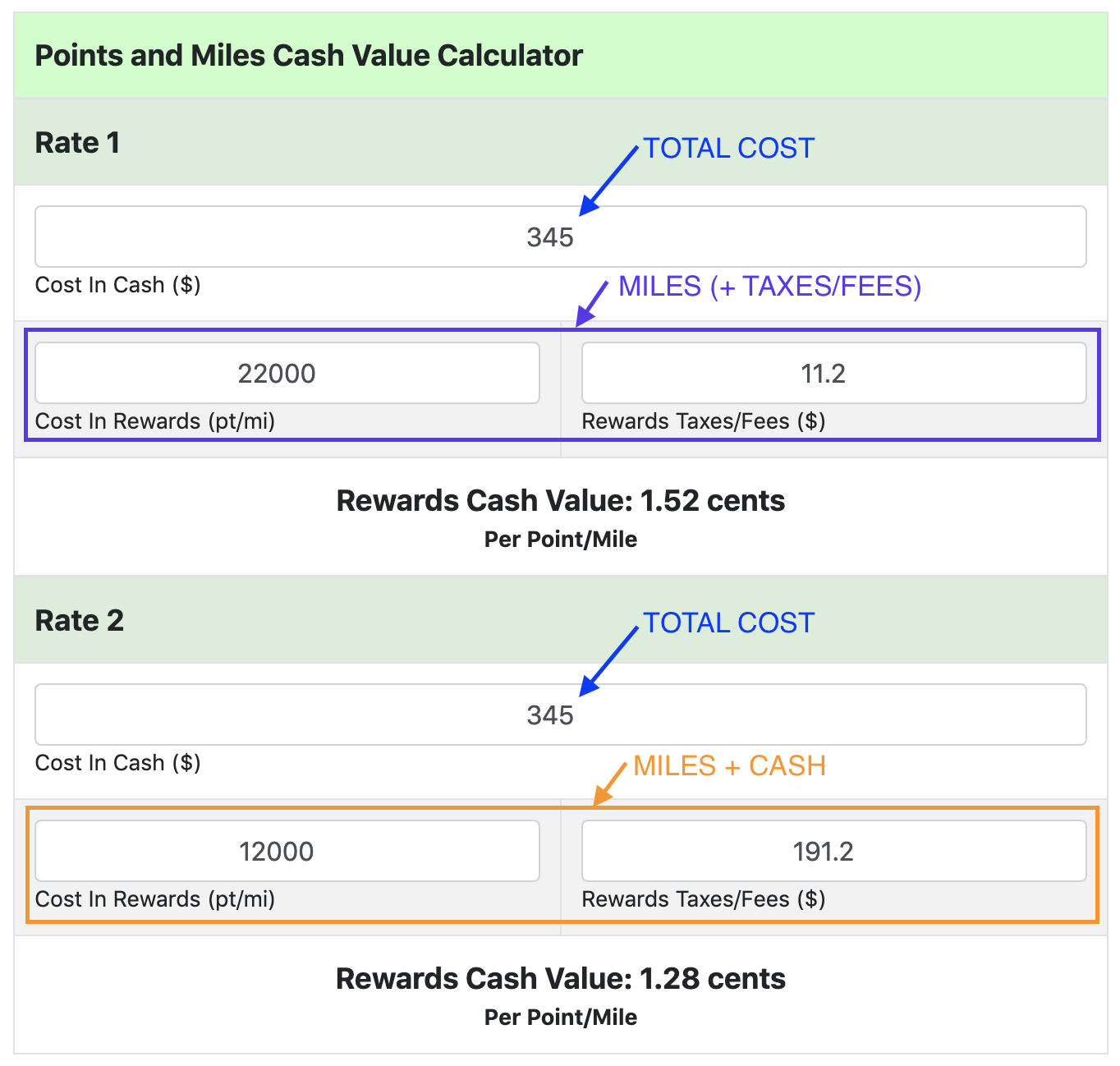 In this example, using all miles will give your Skymiles a value of 1.52 cents each while using the Miles+Cash option will give you a value of 1.28 cents. I peg Skymiles at around 1.2 cents each (USD) so both redemptions are good, but using all miles would give your Skymiles the better value.
Points and Miles Cash Value Calculator
Rate 1
Rewards Cash Value:

-

cents
Rate 2
Rewards Cash Value:

-

cents
Rate 3
Rewards Cash Value:

-

cents
The Point Calculator: Points & Miles Valuations
I cover a fair share of rewards programs across this site. I calculate the average value of points and miles by going to each loyalty program's website and running calculations based on the redemption options they have available. While it's possible to get an average value for most redemptions, there are some that change depending on different factors so you'll always want to double check yourself to see how much points and miles could be worth to you. There's also some redemptions that I just don't have access to either because I can't become a member of the program, it is unavailable to me due to not meeting some type of requirement, I'm not in a region in which I can join the program, and other various reasons. I try my best to keep the values listed below up to date and to not over-evaluate rewards by giving them high values that can be hard to obtain.
Remember that the values in the table below are my own average values and that these may be different depending on how you redeem your points. With some rewards points and miles, you can get a lot more in value with a little bit of research so most of these values aren't set in stone.
Where available, you can click on a program to learn more about earning, redeeming, and transferring rewards with that program. Values listed are in Canadian Dollars.