Allegiant Air At-A-Glance
Allegiant Air is a an American based discount airline. They fly to over 100 different destinations throughout the United States and mainly focus on non-hub regional airports. They usually provide flights to specific destinations a few times per week depending on costs and revenue.
| | |
| --- | --- |
| Allegiant Points Value | 1 Cent |
| Airline Alliance | No Alliance |
| Major Transfer Partners | None |
| Common Links | |
Calculators For Maximizing Earnings
Check out our top picks for Allegiant Air and use our rewards calculator to find out which credit cards will earn you the best return per $1 spent.
Allegiant Credit Card Value & Rewards Calculators
Use our credit card calculators to calculate how many Allegiant Air points you can earn and the cash value of the Allegiant credit cards. This is based on the spend amounts you enter, how much you value card benefits, and annual fees.
Allegiant World Mastercard® Credit Card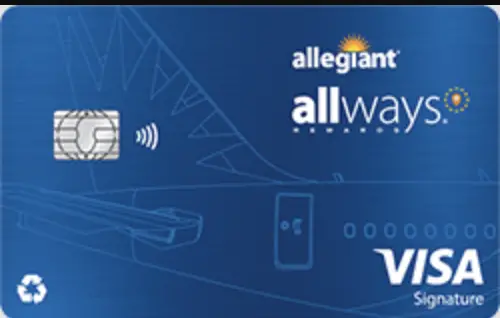 The Allegiant Air Credit Card earns bonus points purchases made with Allegiant Air and on dining purchases. It offers a "buy one get one" ticket when you book qualifying vacation packages through Allegiant.
Conversion & Transfer Calculators
Allegiant Air is not a direct transfer partner of any rewards program. The only way to earn Allegiant Air points is by using the Allegiant Mastercard.
If you're looking for flexible travel rewards that you can use with multiple airlines, hotels, and other travel, check out these top travel rewards programs:
Allegiant Air Points Value Calculators
Allegiant Air points are worth 1 cent each when redeemed for flights on Allegiant Air. This means that 10,000 points are equal to $100 in cash value.
Allegiant miles can be redeemed for flights and vacation packages booked through Allegiant Air. Get the details on redeeming points and calculate the value of your Allegiant Air points to dollars based one each redemption option.