Credit Card Rewards Calculators
Top Offers From Our Partners
Chase to JetBlue transfer ratio
Chase Ultimate Rewards points can be transferred to JetBlue TrueBlue at a 1:1 ratio. This means every 1,000 Chase points you transfer to JetBlue will give you 1,000 JetBlue points.
Here's how Chase Ultimate Rewards compares to JetBlue's other major credit card transfer partners:
The 1:1 ratio makes Chase Ultimate Rewards one of the best programs for earning JetBlue points on purchases—even better than JetBlue's own co-branded credit cards (exception being JetBlue airfare).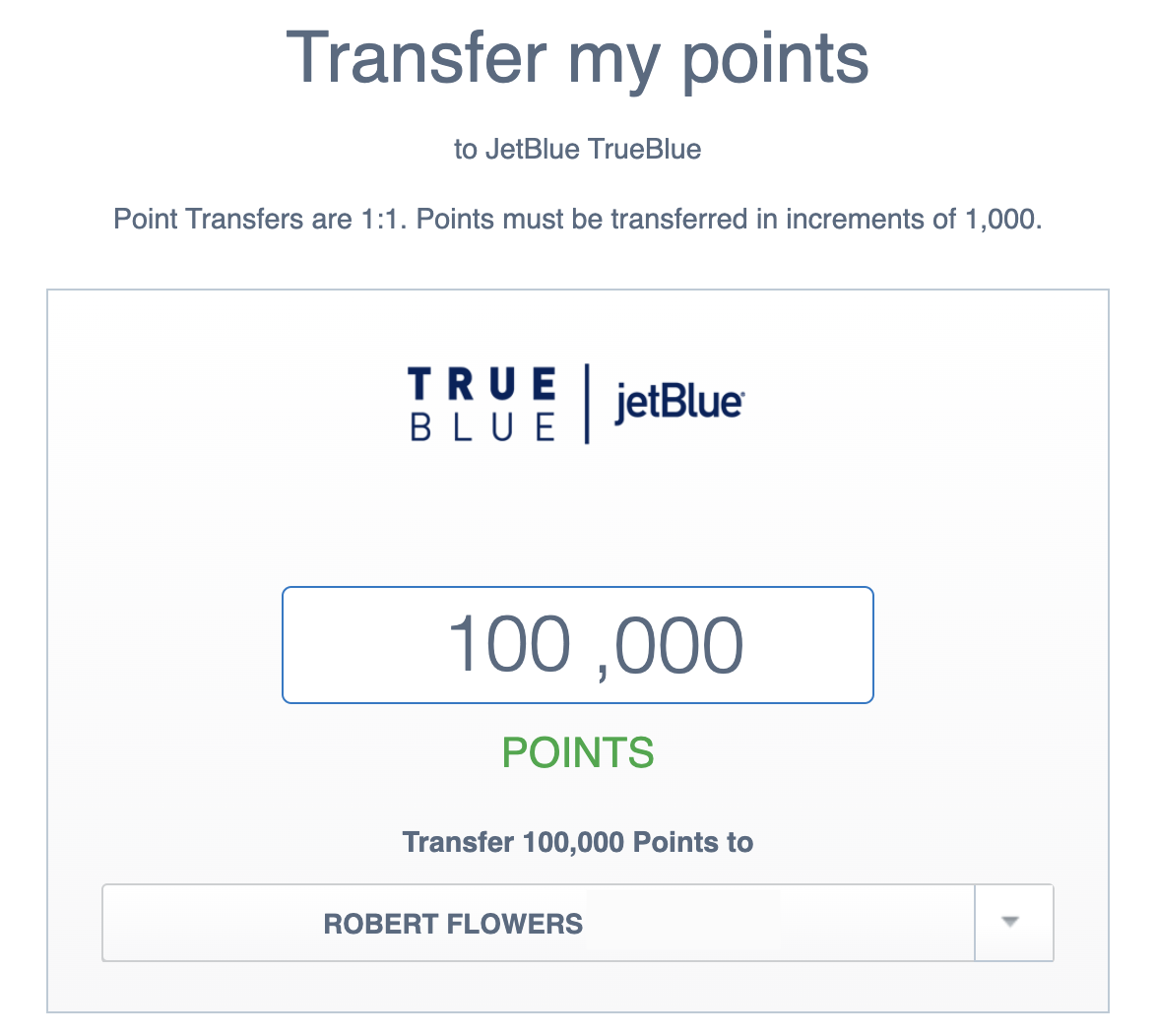 When transferring Chase points to JetBlue, you'll be able to do so in 1,000-point increments and you must have at least 1,000 points in your account to initiate a transfer.
Also, you must have the Chase Sapphire Reserve®, Chase Sapphire Preferred® Card, or Ink Business Preferred® Credit Card to transfer points to JetBlue and other partners. You will not be able to transfer points directly to JetBlue using other Chase branded credit cards without first transferring points to one of these three cards.
Conversion calculator
Use the Conversion Calculator to calculate the transfer of Chase Ultimate Rewards Points to JetBlue TrueBlue Points.
Transferring From Chase to JetBlue
Enter any amount of Ultimate Rewards points to calculate the transfer to JetBlue TrueBlue points.
How to transfer Chase points to JetBlue
Go to https://ultimaterewardspoints.chase.com/ and log into your Chase Ultimate Rewards account.
Click on the menu icon () and select Transfer to Travel Partners.
Find JetBlue TrueBlue under the Airlines section and click on Transfer Points.
Choose the recipient (whether it be yourself or an authorized user) and enter the JetBlue TrueBlue account number that corresponds to the selected recipient twice to confirm it.
Enter how many points you wish to transfer.
Confirm the transfer.
Ways to earn more JetBlue points
Along with Chase Ultimate Rewards, JetBlue TrueBlue is also a direct transfer partner of Citi ThankYou Rewards and American Express Membership Rewards. This opens up over 10 additional credit cards that you can use to earn tens of thousands of JetBlue points via intro bonuses as well as bonus points on everyday spending.
Learn More: Transfer Points To JetBlue Using These Credit Card Partners
FAQ
Can you transfer Chase Ultimate Rewards points to JetBlue?
Yes. Chase Ultimate Rewards points can be transferred to JetBlue TrueBlue at a 1:1 ratio.
What is the transfer rate for Chase points to JetBlue points?
Every 1,000 Ultimate Rewards points you transfer to JetBlue TrueBlue will give you 1,000 JetBlue points.
Is Chase Ultimate Rewards the best credit card transfer partner for JetBlue?
---
Looking for the best credit cards?
We've run the calculations for you and here are our top picks for best credit cards of 2023:
Find the perfect card for you
Our Credit Card Rewards calculator can help you find the perfect card and offers based on your monthly and yearly spending habits. Simply enter your spend amounts into our tool and let us do the work for you!
Calculate
Total Rewards & Card Value
Per $1 Spent For 200+ U.S. Credit Cards
Search Results Display Here