Credit Card Rewards Calculators
Top Offers From Our Partners
The JetBlue TrueBlue program was updated in early May. Check out the updated details on the New JetBlue TrueBlue Mosaic program by
clicking here
.
JetBlue has a 2-tier loyalty system which consists of member and Mosaic. There's no progressing through multiple ranks like other frequent flyer programs which makes it simple and easy to understand. Below is the breakdown of the benefits offered at both member and Mosaic status.
JetBlue Member Status
You will become a JetBlue TrueBlue member the moment you sign up for a free account through the JetBlue website. Signing up is pretty easy to do and requires you to progress through four steps:
Head to JetBlue.com.
Click Join at the top-right corner of the screen.
Enter your personal information.
Create your credentials.
Pick the closest (or favorite) departure airport.
Set up your security questions.
Click Sign Up.
Once you sign up, you'll be given a JetBlue TrueBlue membership number and be able to partake in everything the program as to offer. This includes earning points on flights, with transfer partners, and travel partners as well as redeeming points for free flights, vacation packages, and more.
Even if you plan on flying JetBlue only ONCE, you'll still want to sign up for an account.

JetBlue Mosaic Status
JetBlue Mosaic status is the only obtainable status in the JetBlue TrueBlue program. In order to obtain Mosaic status you will need to meet ONE of the following requirements:
15,000 Base Flight Points
30 Segments Plus 12,000 Base Flight Points
$50,000 in spend through the JetBlue Plus Card during the calendar year
$50,000 in spend through the JetBlue Business Card during the calendar year
Once you've hit one of those requirements, you will be given Mosaic status for the remainder of the calendar year in which you earned it as well as the entire next year. So the earlier you obtain status, the more time you have to bask in its glory.
JetBlue Mosaic status comes with a bunch of benefits which are listed below.
+3 TrueBlue Points
JetBlue Mosaic members will earn an additional 3 TrueBlue Points per $1 spent on JetBlue flights. Earning status is the key to being able to earn as many as 15 TrueBlue Points per $1 spent when flying JetBlue.
15,000 Bonus Points
In additional to earning bonus points, you will also earn a 15,000 point bonus upon qualifying for Mosaic status by meeting the flight requirements. You will not earn the 15,000 point bonus if you acquire Mosaic status through the $50,000 in credit card spend with the JetBlue Plus or JetBlue Business Card.
I value JetBlue Points at around 1.3 cents each so I would put this bonus at around $195 in cash value for JetBlue flights. This could be worth more or less depending on the redemption.
It's a nice bonus for those who are loyal to flying JetBlue.
Waived Fees
Need to change a flight or maybe cancel one altogether? Mosaic members and those listed on the same itinerary will be able to avoid the fees associated with flight cancellations, flight changes, same-day changes, and same-day standby.
Fees for these type of changes & cancellations will range between $75 and $200 per ticket based on the cost of the fare.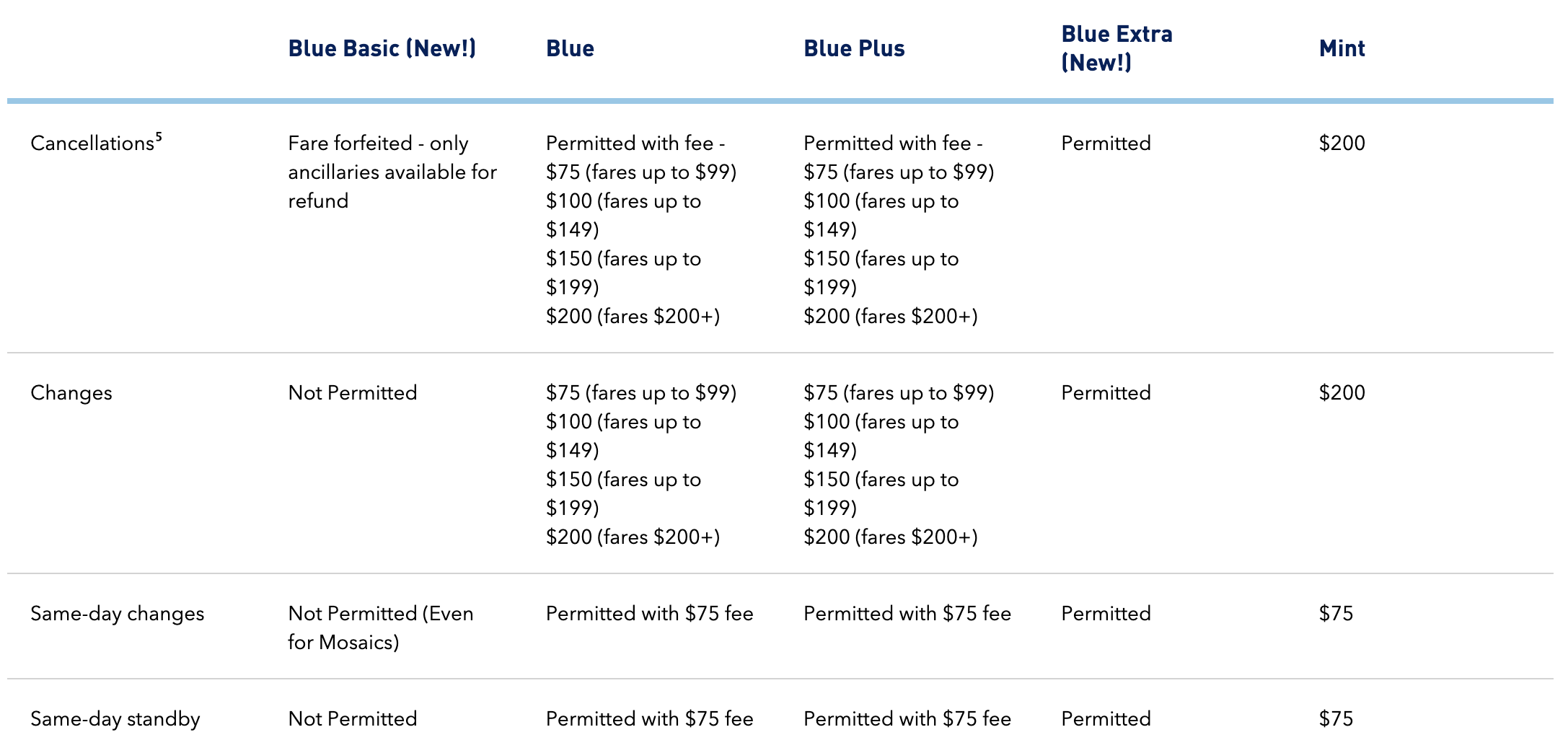 For Mosaic members, this benefit will only be applicable to certain fares. Blue Basic fares are not eligible for this perk since changes aren't permitted with this fare. Another thing to note is that the Blue Extra fare comes with waived fees.
This means if you have Mosaic status, there's no real reason to purchase a Blue Extra fare since you'll receive the majority of the perks this fare offers complimentary.
Overall, this benefit works best when you purchase a Blue, Blue Plus, or Mint fare. With these fares, the fees will be waived due to having Mosaic status.

Two Free Checked Bags
JetBlue Mosaic members and others listed on the same itinerary will be able to check their first and second bag for free. This is regardless of fare purchases.
This means you can purchase the Blue Basic fare and still receive 2 checked bags for free. This is a superb way to save money if you don't mind not being able to select your seat in advance and the lower earning rate on TrueBlue Points.
Do note that you can also obtain a free checked bag with the JetBlue Plus and JetBlue Business cards.
Discounted Even More Space Seats
JetBlue Mosaic members will be able to redeem JetBlue TrueBlue Points for Even More Space seats at discounted rates. This will apply to all fares except Blue Basic.
If you purchase a Blue Basic fare, you will not be able to redeem your points for an Even More Space seat. Also, Mint is the highest fare so you will not be able to use your points to upgrade to Even More Space Seats with the Mint fare.
Priority Services
JetBlue Mosaic members will receive several priority services.
As a Mosaic member, you will be able to get to your gate faster thanks to the ability to enter an expedited line to the security checkpoint. This can save you some time in the airports that feature this benefit.
This benefit applies to all booked fares. Those without Mosaic status can get access to this perk complimentary by purchasing Blue Extra or Mint fares.
You'll also be able to be among the first to board the plane. This will give you early access to overhead bin space. Early boarding is available for all booked fares.
Those without Mosaic can board early by paying for Blue Extra or Mint fares.
Free Beverage
JetBlue Mosaic members will be able to partake in complimentary alcoholic beverages onboard JetBlue flights. This will apply to flights that actually have in-flight service (flights of 340 miles or more).
This benefit will only apply to the Mosaic member on the flight and will not apply to other on the itinerary.
Those who hold any of the three JetBlue credit cards will receive 50% off in-flight purchases of cocktails and food.
Dedicated Phone Line
Per the usual with most programs that offer elite status, you will receive dedicated customer service. This line is available 24/7 for all your JetBlue TrueBlue needs.
Summary
JetBlue may only have a two-tier loyalty program, but that doesn't stop it from offering very useful benefits. Those who obtain Mosaic status will be able to earn more points as well as save a great deal of money with waived fees and complimentary services.
FAQ
Listed below are some of the most common questions when it comes to JetBlue Mosaic status.
How do you get Mosaic status on JetBlue?
You can obtain Mosaic status by earning 15,000 base flight points OR flying 30 segments plus earning 12,000 base flight points. You can also run $50,000 in spend through the JetBlue Plus or JetBlue Business cards.
Can you buy JetBlue Mosaic?
JetBlue typically allows you to purchase JetBlue Status at the end of the year if you're short. You can also run $50,000 in spend through the JetBlue Plus or JetBlue Business cards to earn status.
How long does JetBlue Mosaic status last?
JetBlue Mosaic status will last for the remainder of the calendar year you earned it in and the entire following year.
What is a Mosaic customer on JetBlue?
A Mosaic customer is JetBlue member that has earned elite status in their TrueBlue loyalty program.
---
Looking for the best credit cards?
We've run the calculations for you and here are our top picks for best credit cards of 2023:
Find the perfect card for you
Our Credit Card Rewards calculator can help you find the perfect card and offers based on your monthly and yearly spending habits. Simply enter your spend amounts into our tool and let us do the work for you!
Calculate
Total Rewards & Card Value
Per $1 Spent For 200+ U.S. Credit Cards
Search Results Display Here