Top Picks + Rewards Calculators
Find The Best Credit Cards For You
KrisFlyer Miles have an average value of 1.4 cents each when redeemed for award flights on Singapore Airlines, but it's easy to get over 2 cent in value booking upper class flights.
Miles can also be used for seat upgrades, to shave down the prices of flights with Miles + Cash, and for other forms of travel such as car rentals and hotels.
Singapore Flights
Singapore KrisFlyer Miles can be redeemed for award flights on Singapore Airlines, Star Alliance airlines, and several other partners.
If you're looking to fly specifically with Singapore Airlines (as in not through codeshares/partners), they fly to the following U.S. cities:
Houston
Los Angeles
New York (JFK)
New York (Newark)
San Francisco
Seattle
For standard economy flights, you'll easily be able to get an average value of around 1.4 cents per KrisFlyer Mile. You can improve on this value exponentially by booking First, Business, and Suite with Singapore Airlines and other airline partners which can give you 2 cents or more in value.
Listed below are a few of the most popular redemptions when it comes to using KrisFlyer Miles for award flights.
Fly Singapore Airlines Suites Class
Singapore Suites is one of the most sought after redemptions and the reason that many collect rewards that can easily be transferred to the KrisFlyer program.
These Suites are only on Singapore's A380 aircrafts so you'll want to make sure you double and triple check that before pulling the trigger on the bookings.
You can find these suites on flights to/from Singapore (SIN) with the following destinations:
Hong Kong (HKG) - SQ861, QS856
London-Heathrow (LHR) - SQ322 and SQ317
Sydney (SYD) - SQ232, SQ221
Shanghai (PVG) - SQ833, SQ830
Zurich (ZRH) - SQ345, SQ346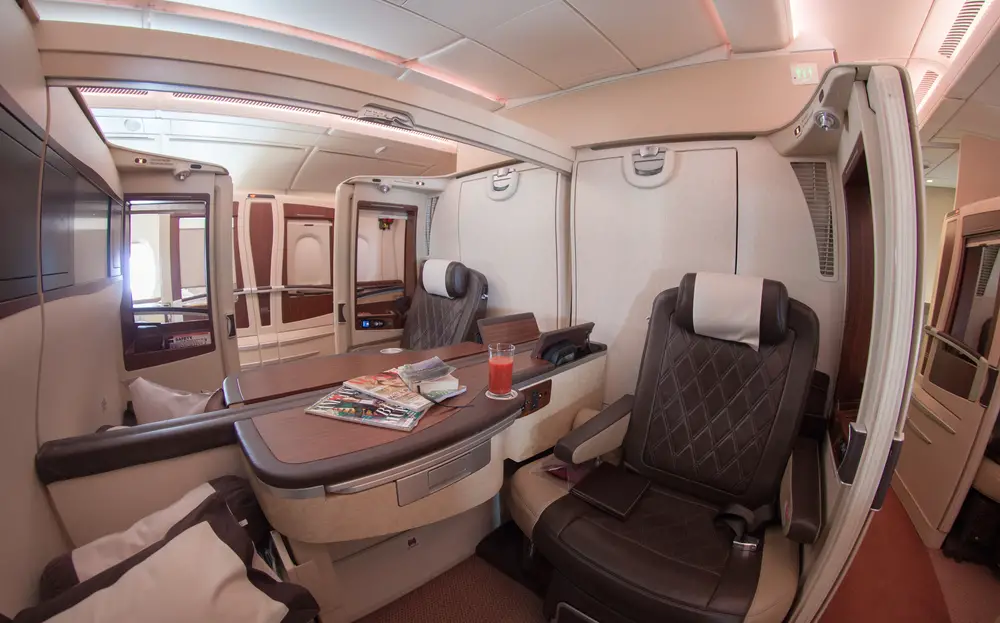 Fly Singapore Airlines First and Business Class
If you can't find award or waitlist space with Singapore Suites, you can still fly in utmost luxury and style in Singapore First Class and Business Class. You can book these flights through the six U.S. airports that Singapore flies to.
Fly From The U.S. To Europe On Singapore Airlines
Out of the handful of U.S. cities that Singapore Airlines flies to, you can get directly from the U.S. to Europe from both Houston and New York (JFK). This allows you to experience top-notch service that is significantly better than what you'll get flying U.S. carriers.
The two routes to experience such are:
New York (JFK) - Frankfurt (FRA)
Houston (IAH) - Manchester (MAN)
Redeem KrisFlyer Miles For Other Flight Services
KrisFlyer Miles can be used for seat upgrades and Miles and Cash redemptions.
Seat Upgrades
In addition to using KrisFlyer Miles for flights, they can also be used to upgrade to Premium Economy Class, Business Class, First Class, or Singapore Airlines Suites once you've confirmed your ticket. You can choose from Saver awards on SilkAir and Savor or Advantage Awards on Singapore Airlines.
Miles + Cash Redemptions
If you're short on KrisFlyer miles and still want to book an award ticket or use them for a flight upgrade, you can use a mixture of Miles and Cash. A minimum of 980 KrisFlyer Miles is required for a Singapore Airlines and SilkAir transactions. Whatever is left can be paid with a credit or debit card.
KrisFlyer Miles can also be used like cash on Flyscoot.com. Miles can be used to pay for airfare, taxes, and certain ancillaries for Scoot operated itineraries when booking through Flyscoot.com.
KrisFlyer vRooms
KrisFlyer members can use their KrisFlyer miles to pay for hotel rooms and rental cars through KrisFlyer vRooms. A minimum of 1,500 KrisFlyer miles will get you started to enjoying discounted prices on hotel stays at 300,000+ properties and car rentals.
Redemptions for hotels were all over the place with values as low as 0.2 cents and values as high as 0.7 cents. In some instances, I even found that the cash price in the cash + miles cost, was higher than the cash price of going to the actual hotel website to book.
The value of booking rental cars were a little better, with an average value of 0.4 cents per KrisFlyer Mile. I did find a few redemptions was Hertz that was around 0.9 to 1 cents each for week long rentals in bigger metropolitan areas.
KrisFlyer Krisshop
KrisFlyer members can use their KrisFlyer miles when shopping on KrisShop.com. You can pay with all miles or mix cash and miles to shop for over 1,000 different products. This will give your miles a value of 0.6 cents per KrisFlyer mile. You must use at least 1,000 KrisFlyer miles minimum which is equal to $6.
Convert KrisFlyer Miles To Dollars
Use the KrisFlyer Miles Value Calculator to determine the average cash value of KrisFlyer Miles based on redemption. This will give you an idea of how much your miles are worth.
Enter any amount of Singapore KrisFlyer Miles to calculate the dollar value.
Redemption
Average Dollar Value
Award Flights (Research)
$

0

+
Award Flights (Average)
$

0

KrisShop
$

0

Car Rentals
$

0

- $

0

Hotels
$

0

- $

0
Earn More KrisFlyer Miles
If you're looking to add some easy miles to your KrisFlyer account, Singapore airlines is a direct transfer partner of all major credit card rewards programs. This gives you over 20 credit cards you can use to earn tens of thousands of KrisFlyer miles via intro bonuses and additional miles on everyday spending.
Read More: Best Singapore KrisFlyer Credit Cards
If you're in need of miles for your next redemption, here are 10 of the best Singapore KrisFlyer credit card offers currently available from our partners. This table is updated automatically whenever our partner offers change, so you will always find the most up-to-date bonuses listed.
Loading Best Offers
FAQ
How much are KrisFlyer Miles worth?
The Point Calculator values KrisFlyer Miles to be worth 1.4 cents on average, but it's easy to get more than 2 cent in value for redemptions in First Class, Business Class, and Suites.
What can you redeem KrisFlyer Miles for?
KrisFlyer Miles can be used towards award flights, seat upgrades, hotel rooms, rental cars, and merchandise.
What redemption offers the best value for KrisFlyer Miles?
Award flights on Singapore Airlines in Business, First, and Suites will typically offer the highest value.
What is the best credit card for earning KrisFlyer Miles in the U.S.?
Singapore KrisFlyer is the direct transfer partner of all major programs, so there's several cards that are great for earning miles. Check out our best credit cards for Singapore KrisFlyer Miles and calculate which cards earn you the most miles based on spend.
---
Singapore KrisFlyer miles calculators
Check out all of our KrisFlyer miles calculators and calculate everything from point transfers to KrisFlyer to the cash value of your miles based on redemption!
These calculators and guides are all about maximizing your spending and earning the most SkyMiles per dollar spent.
Need more Singapore miles? KrisFlyer is a direct transfer partner of all major U.S. credit card rewards programs, so there's no shortage of ways to earn tens of thousands of additional miles! Check out our transfer calculators and guides!
Want to know how much your KrisFlyer miles are worth when redeemed for flights and more? Check out our point value calculators and guides!
Calculate
Total Rewards & Card Value
Per $1 Spent For 200+ U.S. Credit Cards
Search Results Display Here