Quick Details
Issuing Bank
Card Network
Rewards Earned
Annual Fee
Authorized User Fee
Foreign Transaction Fee
Rates & Fees
See Rates & Fees
Rewards Rate Details
The Free Spirit Travel More Mastercard has three bonus categories which are Spirit Airlines, dining, and grocery purchases. There's no limit to the amount of bonus Spirit Points you can earn spending in these categories and no limit to the amount of Spirit Points you can earn with the card overall.
3x Spirit Airlines
2x Dining
2x Grocery
1x Non-Category
Perks & Benefits
The Free Spirit Travel More Mastercard comes with a lot of great benefits for those dedicated to Spirit.
Companion Flight Voucher

Receive a $100 companion flight voucher each anniversary after you make at least $5,000 in purchases within the prior year.

Point Pooling

Access to the ability to combine your Spirit Points with up to 8 friends and family members.

Earn Status Qualifying Points

Earn 1 Status Qualifying Point for every $10 in net purchases made towards Free Spirit Status.

Pay No Redemption Fees
25% In-Flight Savings

Get a 25% rebate on all in-flight food and beverage purchases when you pay with the card.

Zone 2 Boarding
No Points Expiration
Rewards Calculator
You can use the rewards calculator to calculate how many points, miles, or cash back you can earn based on your spend per category. This calculator will also give you the dollar value of the card based on the value of the rewards earned and how much each benefit is worth to you, minus the annual fees. You can click the Compare A Card button to compare this card side by side any other card featured on the site within the same calculator.
All category spend entered in the primary card's column (first column when comparing cards) will carry over to all credit card calculators on the site. This means you will not have to re-enter the same information again and again when browsing during the session.
Free Spirit® Travel More World Elite Mastercard®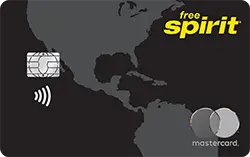 Intro Bonus
See Issuer's Website
Rewards Rate
3X
Earn 3 points per $1 spent on eligible Spirit purchases
2X
Earn 2 points per $1 spent on eligible dining and grocery store purchases
1X
Earn 1 point per $1 spent on all other purchases
Main Card Highlights
No redemption fees as a primary cardholder, no limit to the points you can earn, and no points expiration as long as your account is open
Earn 40,000 bonus points plus a $100 Companion Flight Voucher after making at least $1,000 in purchases within the first 90 days of account opening
Receive a $100 Companion Flight Voucher each anniversary after making at least $5,000 in purchases within the prior year
Zone 2 shortcut boarding on all flights, plus a 25% rebate on all inflight food and beverage purchases when you pay with your card
Reach Free Spirit Status by earning 1 SQP for each $10 in net purchases toward Free Spirit Status
Get a 25% rebate on all inflight food and beverage purchases when you pay with your card
Enjoy an Introductory annual fee of $0 for the first year; a $79 fee will apply to World Elite Mastercard® accounts thereafter
No foreign transaction fees
Annual Fee
$0 the first year, then $79 annually
Foreign Transaction Fee
0%