The Citi® Double Cash Card is currently one of the best no annual fee cash back credit cards available. It earns a total of 2% cash back in which you earn 1% back on your purchases and another 1% back when you pay of your purchases. Citi offers easy redemptions such as cash back, statement credits, and gift cards. You can also convert Citi cash back to ThankYou Rewards Points which can add significant value when paired with the Citi Premier® Card or Citi Prestige® Card as you'll be able to transfer your rewards to airline frequent flyer programs.
Quick Details
Issuing Bank
Card Network
Rewards Earned
Annual Fee
Authorized User Fee
Foreign Transaction Fee
Rewards Rate Details
The Citi Double Cash Card does not feature any bonus categories. It earns cash back at a flat rate of 1% back on purchases and 1% back when you pay off your purchases for a total of 2% cash back. There's no limit to the amount of cash back you can earn at the 1%/1% rate and no limit to the amount of cash back you can earn with the card overall.
2% All Purchases

1% on purchases; 1% when you pay off those purchases.
Perks & Benefits
The Citi Double Cash Card allows you to convert your earned cash back into ThankYou Rewards Points. Outside of that, the card features most standard Citi benefits.
Convert To ThankYou Points

Cash back can be converted to ThankYou Points at a 1 cent for 1 point ratio.
This benefit makes this card a must have if you're looking to earn ThankYou Points and want to maximize your miscellaneous spending.
ThankYou Points can be transferred to airline miles if you own the Citi Premier Card or Citi Prestige Card.

Citi Benefits:

Citi® Identity Theft Solutions
The Lost Wallet® Service
Citi Entertainment®
Rewards Calculator
You can use the rewards calculator to calculate how many points, miles, or cash back you can earn based on your spend per category. This calculator will also give you the dollar value of the card based on the value of the rewards earned and how much each benefit is worth to you, minus the annual fees. You can click the Compare A Card button to compare this card side by side any other card featured on the site within the same calculator.
All category spend entered in the primary card's column (first column when comparing cards) will carry over to all credit card calculators on the site. This means you will not have to re-enter the same information again and again when browsing during the session.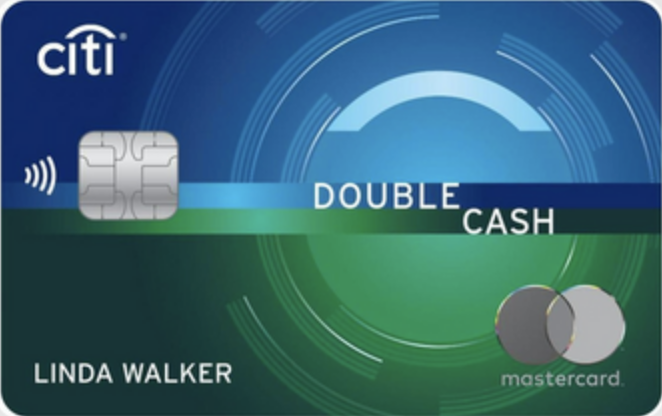 Intro Bonus
No current intro bonus
Rewards Rate
2%
Earn 2% on every purchase with unlimited 1% cash back when you buy, plus an additional 1% as you pay for those purchases.
Main Card Highlights
To earn cash back, pay at least the minimum due on time.
Cash back earned can be converted to the Citi ThankYou Rewards program
Foreign Transaction Fee
3%
FAQ
Is the Citibank Double Cash Card good?
Yes. It is one of the best no-annual fee credit cards currently available thanks to it's unlimited 2% return.
How does the Citibank Double Cash Card work?
When you use the card to make purchases, you'll earn 1% cash back. You'll then earn another 1% back when you pay off purchases made to the card. This gives you a total of 2% cash back.