Transfer Points To IHG Rewards Club
Earn IHG Points by transferring rewards from other programs directly to your IHG Rewards Club account. Full list, how to, and point transfer calculator.
---
IHG Points can be easily be earned by transferring rewards from partner programs directly to your IHG Rewards Club account. Those partner programs are:
Chase Ultimate Rewards
Diners Club International
Virgin Atlantic Airways
Points.com
This page covers how you can earn IHG Points transferring from these programs as well as the best options for maximizing your earnings with these programs.
Transfer To IHG Calculator
The Transfer To IHG Calculator will calculate the transfer of points from partnering programs to your IHG Rewards Club account. Enter any amount of IHG Points to see how many points or miles you would need to transfer from the partner programs to equal the amount you entered.
Chase Ultimate Rewards
The Chase Ultimate Reward Program is the top option for earning IHG Points outside of IHG spend thanks to the wonderful 1:1 transfer ratio and the seven Chase credit cards you can use to build those points.
In order to transfer Chase Ultimate Rewards Points, you'll need to own at least one of the following cards:
If you have at least one of those cards, you're able to transfer points to IHG by going through the Ultimate Rewards Portal when logged into your Chase account.
Diners Club
Diners Club points can be transferred to your IHG Rewards Club account at a 5:6 ratio. This is a solid option for anyone who want to easily boost their IHG Points balance. Unfortunately, Diners Club consumer credit card applications are not currently available for new users (and haven't been for some time)
Virgin Atlantic
Virgin Atlantic Airlines Virgin Points can be transferred to IHG at a 1:1 ratio. If you're a few IHG Points shy of a redemption, this could be worth looking into. Just be sure to note that Virgin Points can easily be redeemed for 1.2 to 1.4 cents per point meaning you'll want to make sure that the transfer is worth it.
Points.com
You can use Points.com to transfer rewards to your IHG Reward Club account. Do note that the rates within the Points.com portal are pretty bad, but it is an option that exists. You can transfer point to your IHG Rewards Club using the following in the Points.com portal:
Speedy Rewards (Speedway)
JetBlue TrueBlue Points
Aeroplan (Air Canada)
Amtrak Guest Rewards
KickBack Rewards System
Icelandair
The transfer ratios vary for each one and you'll have to have your account linked with the rewards program in order to see the transfer ratios. Points.com is free to sign up for and linking accounts is pretty easy to do.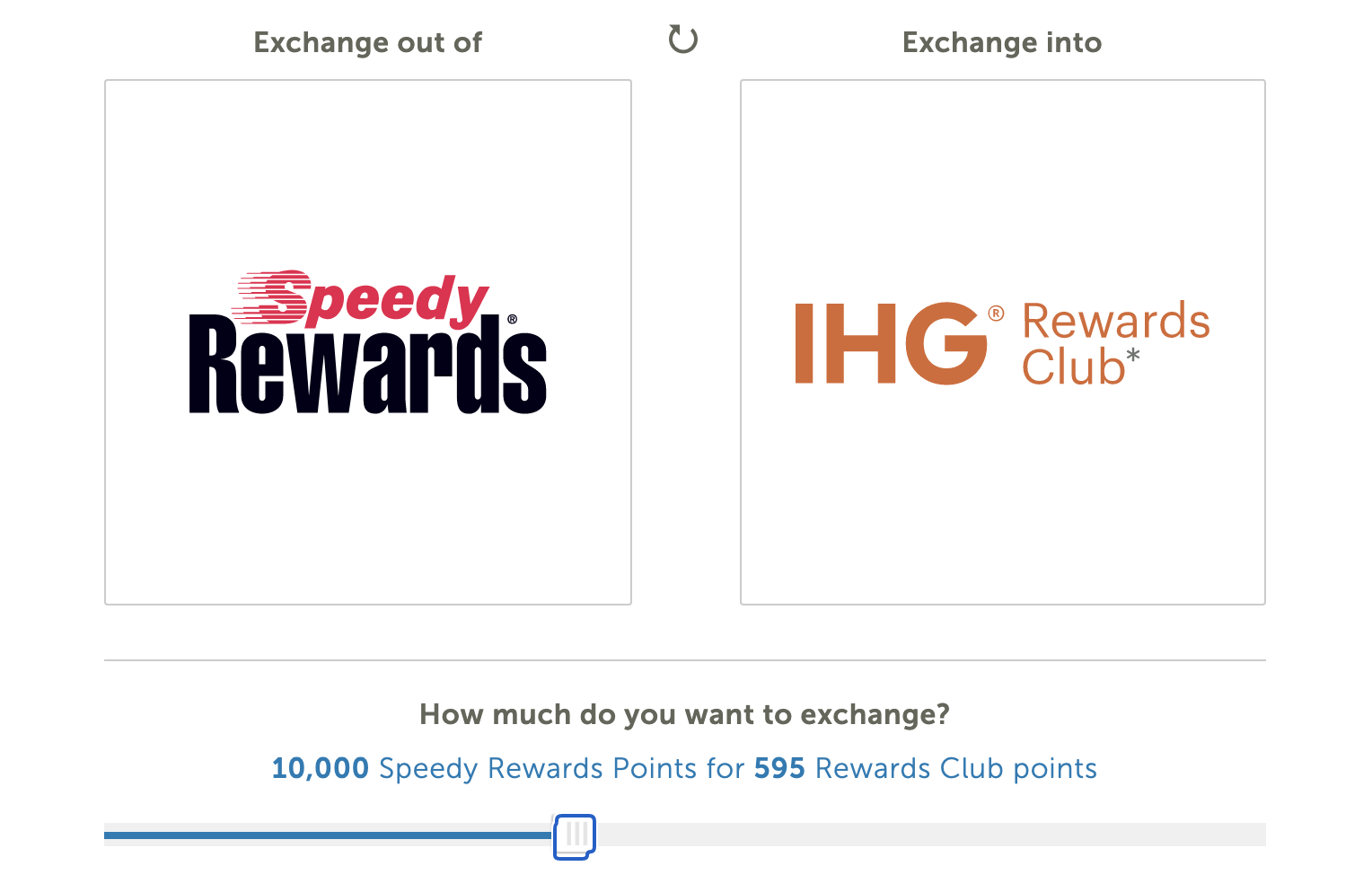 Earning With Partner Credit Cards
The plus to being able to transfer rewards to your IHG Rewards Club account is that you can use partner credit cards to build up your points on everyday spend. This can earn you more IHG Points per $1 spent across several categories when compared to IHG's own credit cards. The table below lists all partner credit cards that you can use to earn IHG Points. The earning rates listed for each partner credit cards is based on the transfer ratio.
If you want to know which credit cards in the list above will earn you the most IHG Points based on your spend, you can use the Best Credit Cards For IHG Points Calculator.
Summary
When compared to some of the other top rewards program, there's not lots of ways to boost your IHG Points balance when it comes to point transfers. Your best option for earning lots of points will usually come from the Chase Ultimate Rewards Program while the other programs are decent for topping off your account and aren't the best for producing a steady stream of points.
If you don't already have an IHG credit card, you should consider picking up one due to the value they offer for those staying at IHG properties. You can use the IHG Credit Card Calculators below to calculate how many IHG Points you can earn based on your spend and elite status as well as the cash value of the card based on points earned, the cash value of the benefits, and annual fees. You'll be able to compare the results side by side any credit cards featured on the website.
Get the details on transferring rewards to other hotel loyalty programs using partners and calculate the transfer of rewards.
FAQ
Can you transfer rewards to your IHG Rewards Club account?
Yes. IHG has a small handful of partners that allow you to transfer rewards to your account.
How many IHG Points can you earn transferring rewards to your account?
It depends on the partner. You can use the Transfer To IHG Points Calculator to see how many you'll earn with each partner.
What is the best transfer option for earning IHG Rewards Points.
For most, the Chase Ultimate Rewards Program will be the best option for earning and transferring points to your IHG Rewards Club account.
---