CLEAR gives you expedited aiport security through participating airports, stadiums, and other select venues by using biometrics. It's not an alternative to TSA PreCheck or Global Entry. CLEAR will either be very useful or not-at-all useful depending on if you frequent the places that support it.
Benefits of CLEAR
The true benefit of CLEAR is the extra layer of security it provides when checking into the airport. Biometrics is a significant step up in security beyond an agent glancing at your ID then back up to you to make sure you're the person you say you are.
While security is very important, the primary selling point for CLEAR at the moment is the fact that many don't have it. Glancing at an ID and looking into a biometric scanner takes about the same time, but the big difference is that very few people have CLEAR whereas very many people have TSA PreCheck and Global Entry.
This means the lines for CLEAR will be significantly shorter and thus it will be the fastest option at the airports that have it. So until it gets more popular and becomes more mainstream, having CLEAR membership is basically like paying for VIP to skip lines at airports, stadiums, and other venues.
How Does CLEAR Work?
Using CLEAR is pretty straightforward. If you're at an airport or venue that has CLEAR, you'll usually see signs directing you towards the CLEAR kiosks.
Once you're at the kiosks, one of the CLEAR agents will walk you up to it and get it started. You'll look into the retinal/face scanner, put your hand on the fingerprint reader (this may change due to COVID), and the machine will make sure that you are you.
If all goes well, a ticket prints out that is given to the TSA Agent (the one that checks your ID and boarding pass before screening) and you're sent to start the screening process. Assuming there's no line (which there never seems to be) the whole process takes like 5 minutes.
Do note that some airports may have more than one CLEAR station such as Detroit Metropolitan Airport (DTW) in which there's one CLEAR station for those with TSA PreCheck and one CLEAR station for those without it. This is mainly due to the fact that both lines are relatively far from each other.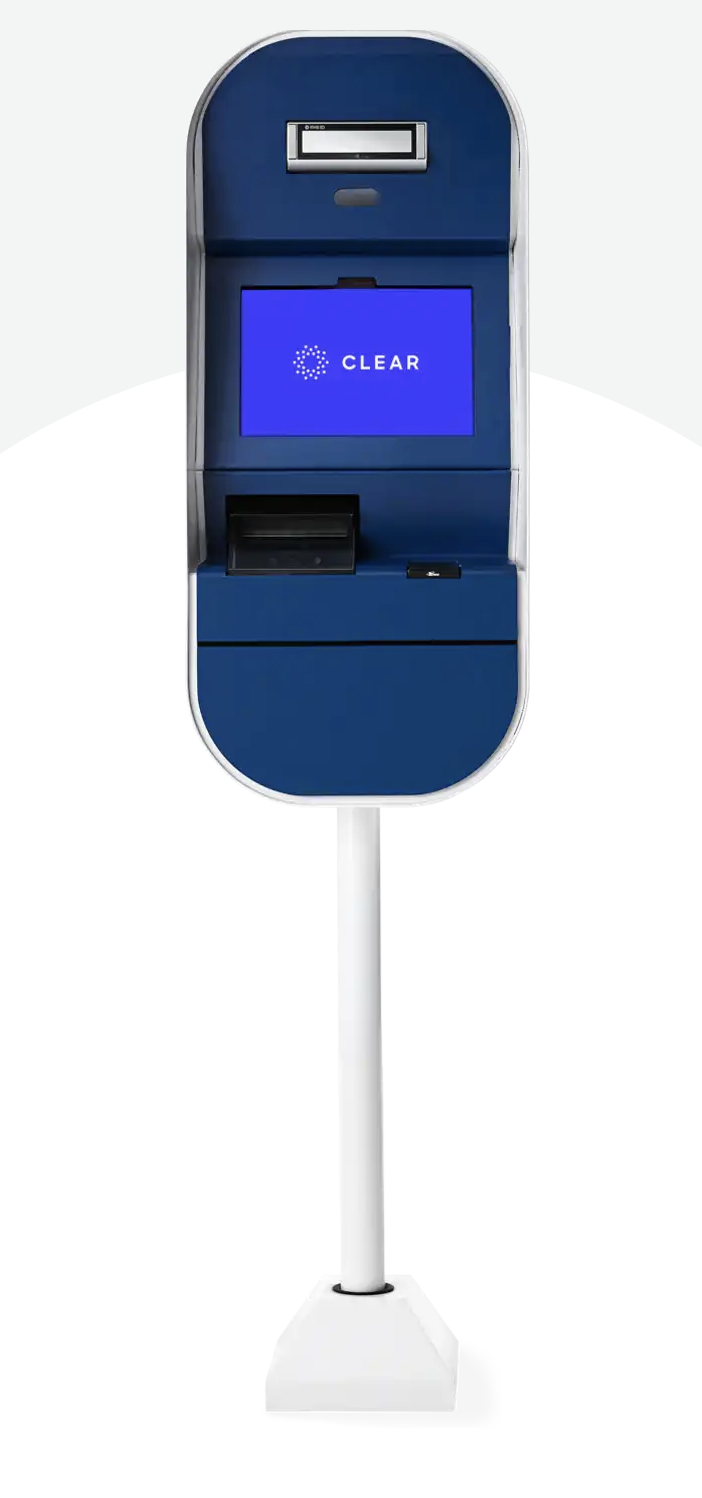 CLEAR & TSA PreCheck
The only impact that TSA PreCheck has on CLEAR is whether or not you'll be taken to the expedited TSA PreCheck screening or the basic screening.
The benefits of TSA PreCheck when you're at an airport that has CLEAR is limited to not having to take off your shoes, belt, and light jacket along with not having to take electronics or small liquids out of your bag(s).
It can still be worth it to have TSA PreCheck if that matters to your or if you frequent airports that do not have CLEAR.
Common Complaints
One complaint that I hear often is that CLEAR was created just to add on another way to pay for expedited access through the airport since TSA PreCheck already exists.
The thing is, TSA PreCheck is expedited due to the fact that you do not have to take off shoes and belts nor do you have to take stuff out of your bag and this is because you are labeled as a low-risk traveler.
This is what makes TSA PreCheck 'expedited' and faster than your normal screening line (most times at least).
Those who compare CLEAR to TSA PreCheck are comparing the wrong thing. CLEAR is to be compared to the TSA Agent that checks your ID and boarding pass before you enter the screening area.
The TSA Agent that you have to go through no matter if you're in the TSA PreCheck line or normal screening line. This is an up-to-date security approach to that process, not an update to how fast you can make it through the line.
CLEAR just doesn't have a large enough footprint yet and a lot of people do not have CLEAR membership, so it's going to be faster than TSA PreCheck for the airports that have it due to hardly ever having a line.
It's basically the equivalent of paying for a purchase with a paper check (TSA Agent) versus using a mobile wallet like Apple Pay or Samsung Pay (CLEAR). One option has a bit more security than the other.
At some point (far in the future I assume), the biometric option will become popular and the lines will not be so lopsided. Until then, CLEAR will be the fastest option the majority of the time.
Which Airports Have CLEAR?
CLEAR is available in 50+ airports, stadiums, and other venues nationwide. This includes a lot of the major airports such as:
Hartsfield-Jackson Atlanta International Airport
Baltimore/Washington International Thurgood Marshall Airport
Chicago O'Hare International Airport
Cleveland Hopkins International Airport
Detroit Metro Airport
Los Angeles International Airport
New York LaGuardia Airport
John F. Kennedy International Airport
Newark Liberty International Airport
Seattle-Tacoma International Airport
Ronald Regan Washington National Airport
There's a bunch more airports missing from that list as well as a number of stadiums and other venues. You can visit CLEAR - Where We Are to get the full list of locations. I recommend familiarizing yourself with the locations before you sign up to make sure that it's worth the cost.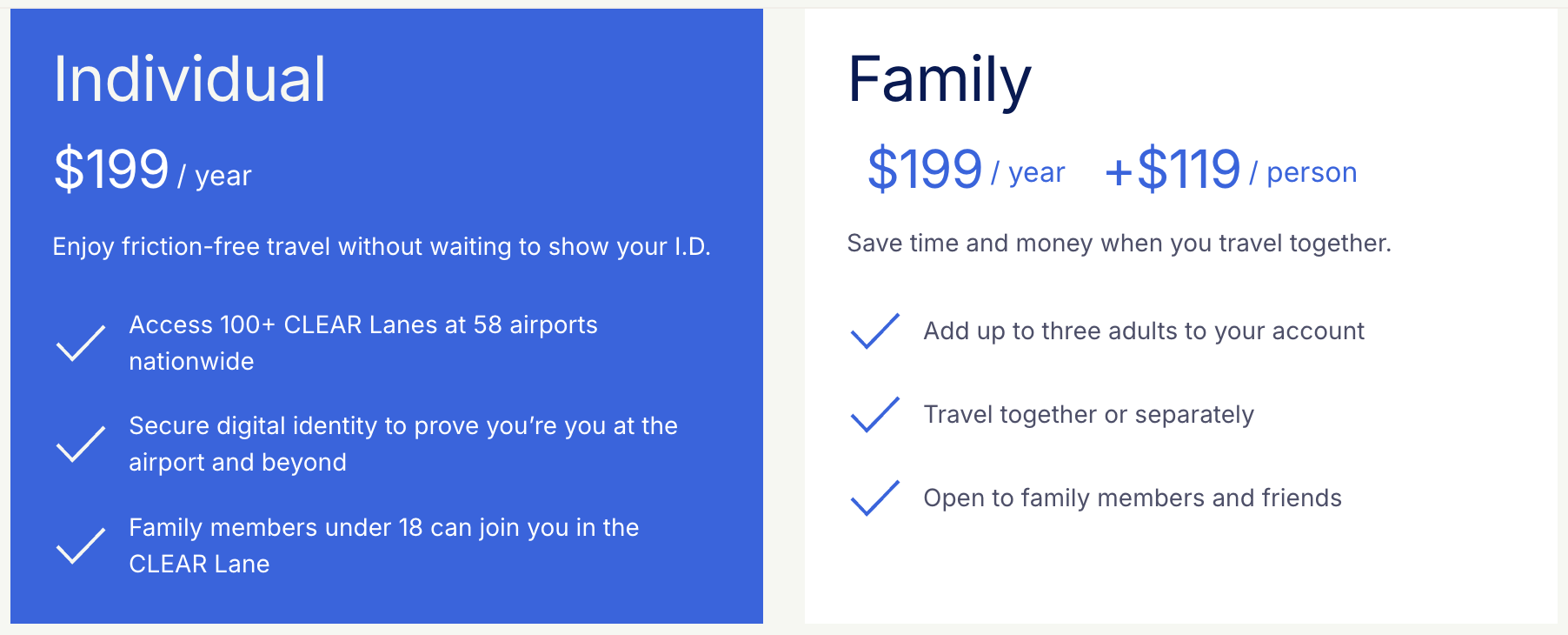 How Much Does CLEAR Cost?
The cost for CLEAR is $179 per year. You can add up to 3 additional family members for $50 per person, per year. Do note that children under the age of 18 who are traveling with you can jump into the CLEAR for free, so no need to add them to the bill.
There's several ways you can obtain discounts of free months with CLEAR.
Delta SkyMiles Member Discount
Delta has been partnered with CLEAR since they re-introduced themselves to the airport security market. The discount you receive with Delta will depend on your Delta Medallion Status or whether you're a Delta SkyMiles Credit Cardholder. The table below has the breakdown.
Delta SkyMiles Members - CLEAR Discount

| Status | Cost |
| --- | --- |
| Diamond Medallion Members | Free |
| Platinum, Gold, Silver Medallion Members | $109/year - $70 Discount |
| Delta SkyMiles AMEX Cardholders | $109/year - $70 Discount |
| General Members | $119/year - $60 Discount |
The good thing here is that those with a general Delta SkyMiles account still receive a $60 discount. You can sign up for a Delta SkyMiles account for free on delta.com.
United MileagePlus Member Discount
United is partnered with CLEAR the same way that Delta is. Discounts are based on United Premier Status or whether or not you have a United Credit Card. The table below breaks it down.
United Premier Members - CLEAR Discount

| Status | Cost |
| --- | --- |
| Premier 1K Members | Free |
| Premier Platinum, Gold, Silver Members | $109/year - $70 Discount |
| United U.S. Cardholders | $109/year - $70 Discount |
| MileagePlus Members | $119/year - $60 Discount |
Again, you can get an easy $60 discount for just being a MileagePlus member. You can sign up for a free United MileagePlus account on united.com.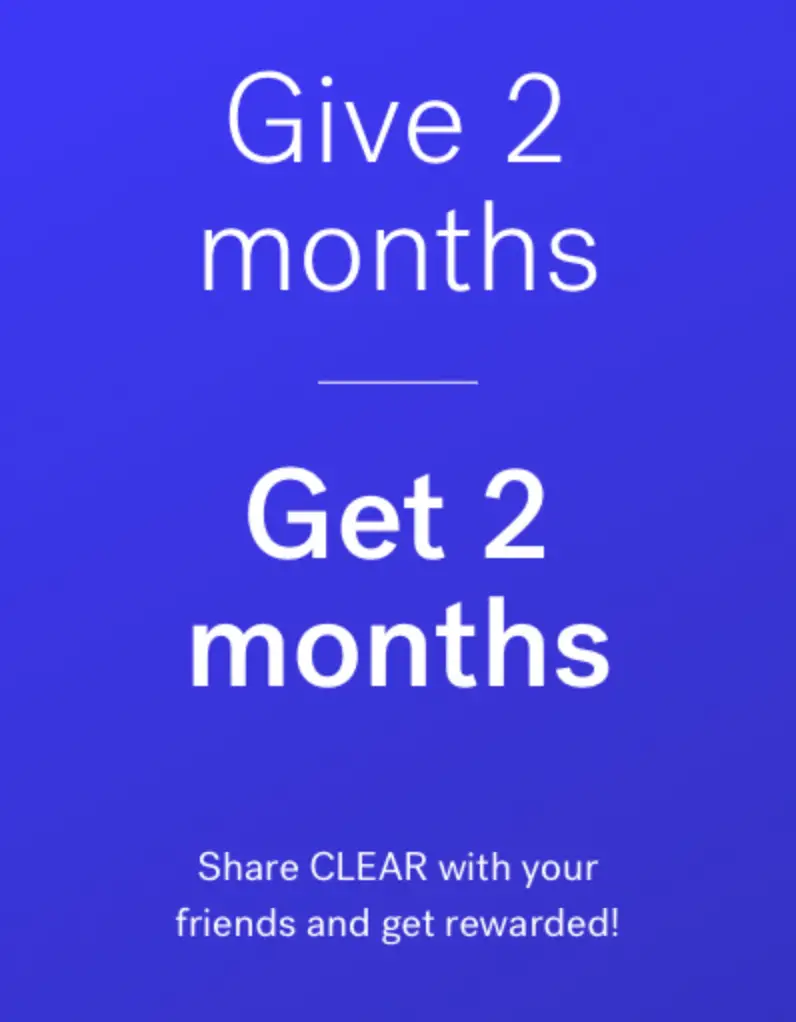 Refer-A-Friend 2-Month Trial
CLEAR has a refer-a-friend option. When a friend refers you, you'll get two months of free membership. Once the trial period is over and you pay for your membership, the friend that referred you will receive 2 free months of membership. Since you're using names and biometric screening, this only works one time. Making multiple accounts or referring yourself will not work here. If you go this route, I recommend signing up shortly before your trip so that you can use the membership to it's full extent.
This is a great way to experience CLEAR before you pay for it. After your trial, you can add your Delta SkyMiles or United MileagePlus membership number to your profile to get the reduced pricing. You have up to 60 days after you've been billed to add your membership number to get the reduced pricing, so be sure to set a reminder.
Don't have a friend to refer you? You can use my link to sign up and get two free months:
2-Month Free Trial
. CLEAR auto bills after the trial so be sure to set a reminder to cancel if you don't plan on keeping it!
Calculate
Total Rewards & Credit Card Value
For 200+ U.S. Credit Cards
Maximize your credit card rewards!
Our Credit Card Rewards calculator can help you find the credit cards that will earn you the most points, miles and cash back based on your monthly and yearly spending habits. Simply enter your spend amounts into our tool and let our tool do the work for you!