Marriott, IHG, and Hyatt are amongst the biggest and most popular hotel chains in the world. Each of these programs have co-branded credits cards that allows you to earn hotel points on everyday spend, receive complimentary status, and... most importantly... earn a free night annually.
The common question about credit cards that offer free night certificate is "is it worth keeping the card just for the free night?" in which my answer will always be "yes". The free night certificates offered on these cards are easily worth hundreds in value and can easily cover the cost annual fee. This page will break down the value of free night certificates and provide a list of credit cards that offer free nights.
Marriott Free Night Certificate
Marriott has went through lots of changes in the past few years since merging with Starwood Preferred Guest. With this merge came the merging of credit cards offered by both programs along with several new credit cards. Between SPG and Marriott, there's a total of seven credit cards that offer a free annual night in which more than half of these cards are no longer available to new applicants. For those who still have the now unavailable cards (such as myself), the annual free night is still offered.
The value of the free night will depend on the card. Listed below are Marriott credit cards that offered an annual free night and the point value of the night it comes with:
Next you'll want to consult the Marriott award chart. You'll need to understand which Marriott Hotel categories you can book based on the value of the free night.
A 25,000-point certificate caps out at Category 4, a 35,000-point certificate caps out at Category 5, and a 50,000-point certificate caps out at Category 7. Marriott has a hotel directory which lets you filter by brand, amenities, hotel type, and much more, but the most important part of the filter here is Marriott Bonvoy Category. You can use this to easily find Marriott hotels for any category, in any country, state, or city.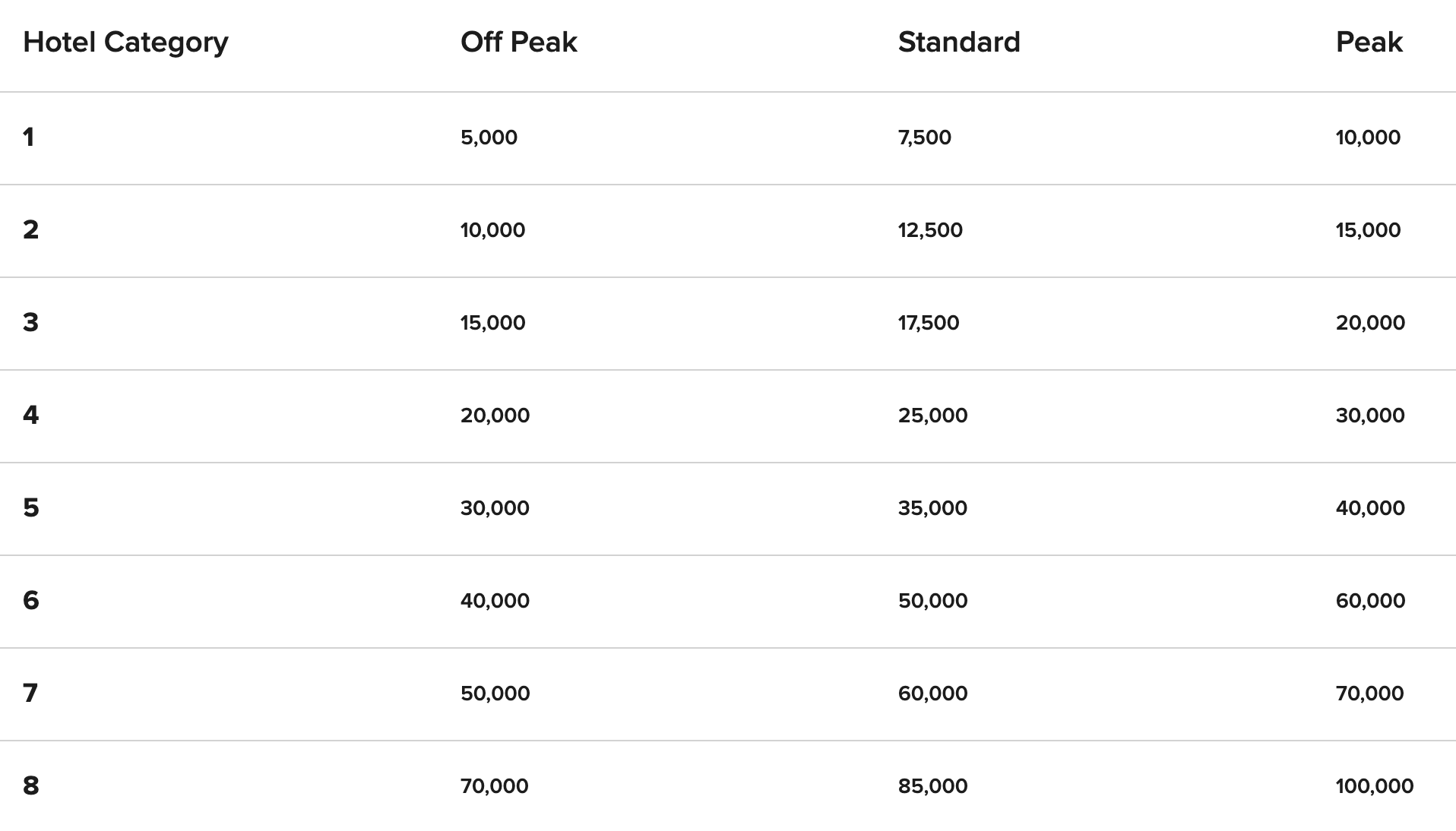 Marriott 25,000 Point Certificate
The Marriott 25,000 Point Certificate is offered on the Chase Marriott Premier Card which was one of the original Marriott credit cards before the merger. The card has an $85 annual fee. With that in mind, this certificate has a cap at Category 4 Marriott hotels.
Picking a random weekday in March and running a search for all hotels in Ohio, there's 168 hotels that are Category 4 and lower. Of those 168 hotels, 162 of them cost 25,000 Points or less. Of the six not available, there's one hotel that cost 30,000 points due to peak pricing, four hotels that has not opened yet, and one that has no availability. So technically, there's only one hotel that out of the point range.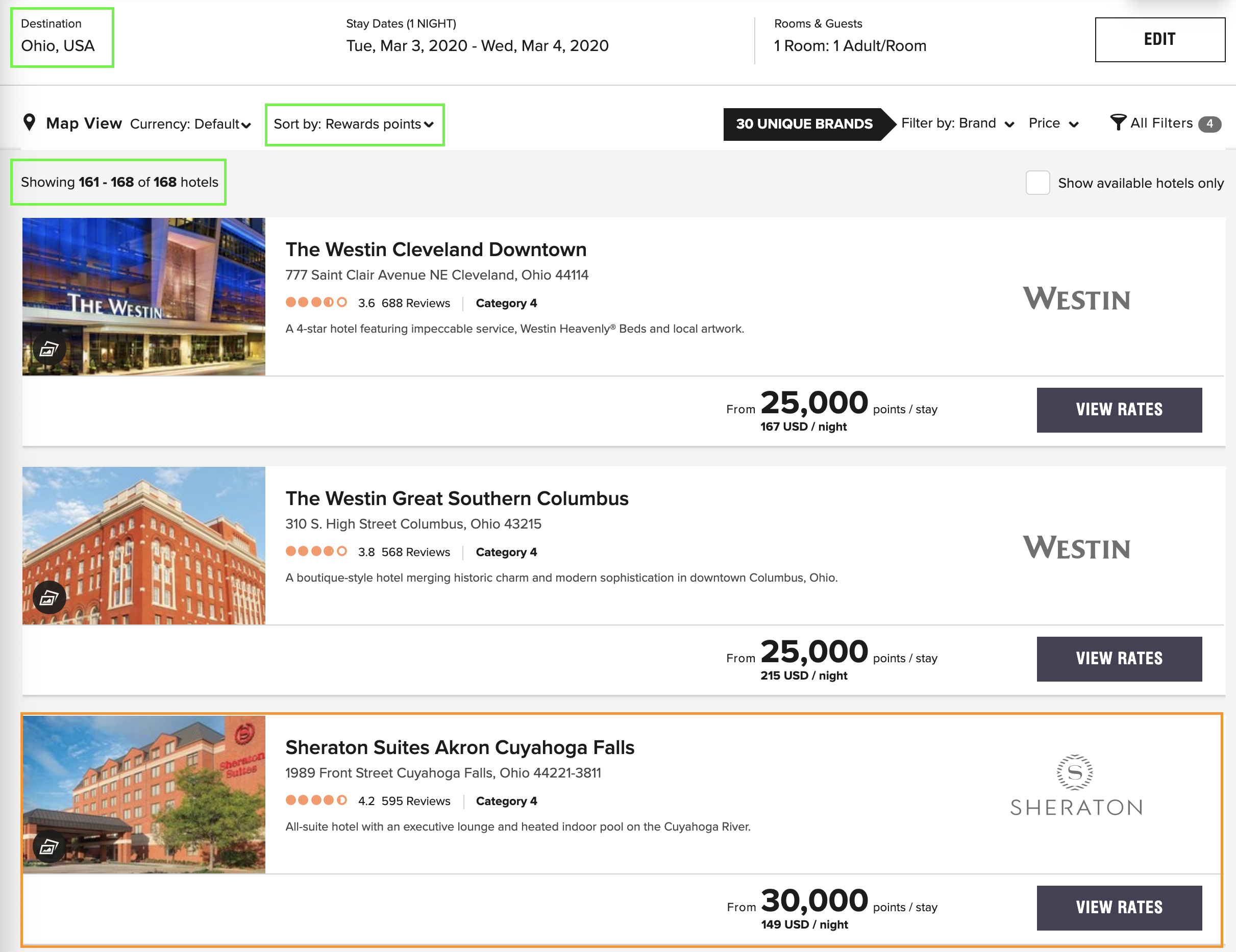 Looking at the cash price of the 162 Ohio hotels, there is only one hotel that costs less than $85 (the annual fee of the Marriott Premier Card) once taxes/fees are factored in.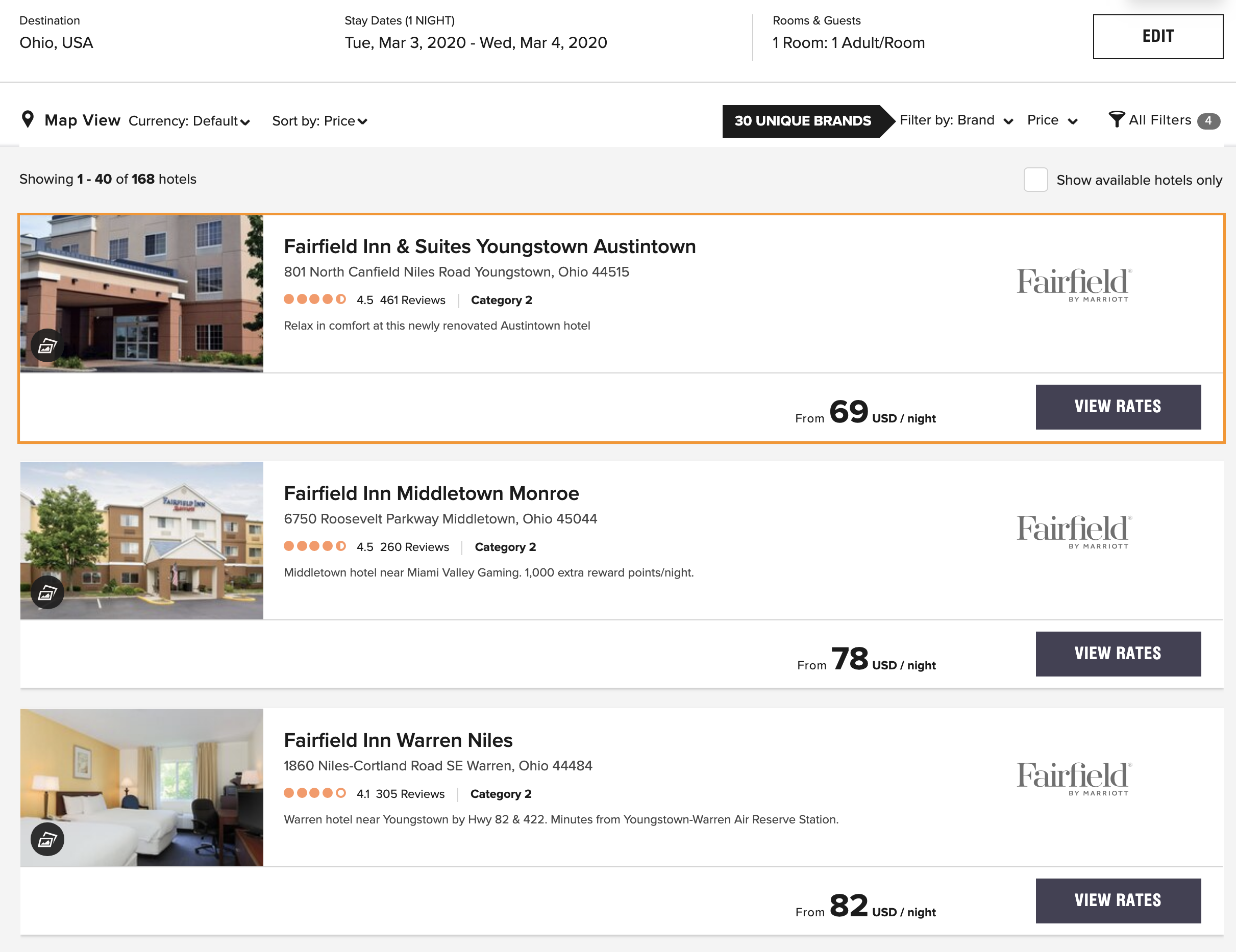 The Fairfield Inn & Suites Youngstown Austintown comes out to being $79.35 after taxes and fees are added. The actually nightly cost of the hotel is $85, but it happens to be on sale at the time of this article.

This means the other 161 Marriott hotels located in Ohio would cost more than $85 and would thus be worth the annual fee of the Marriott Premier Card. Using the filter option, there's 22 hotels that cost more than $200 per night that you can use this certificate for.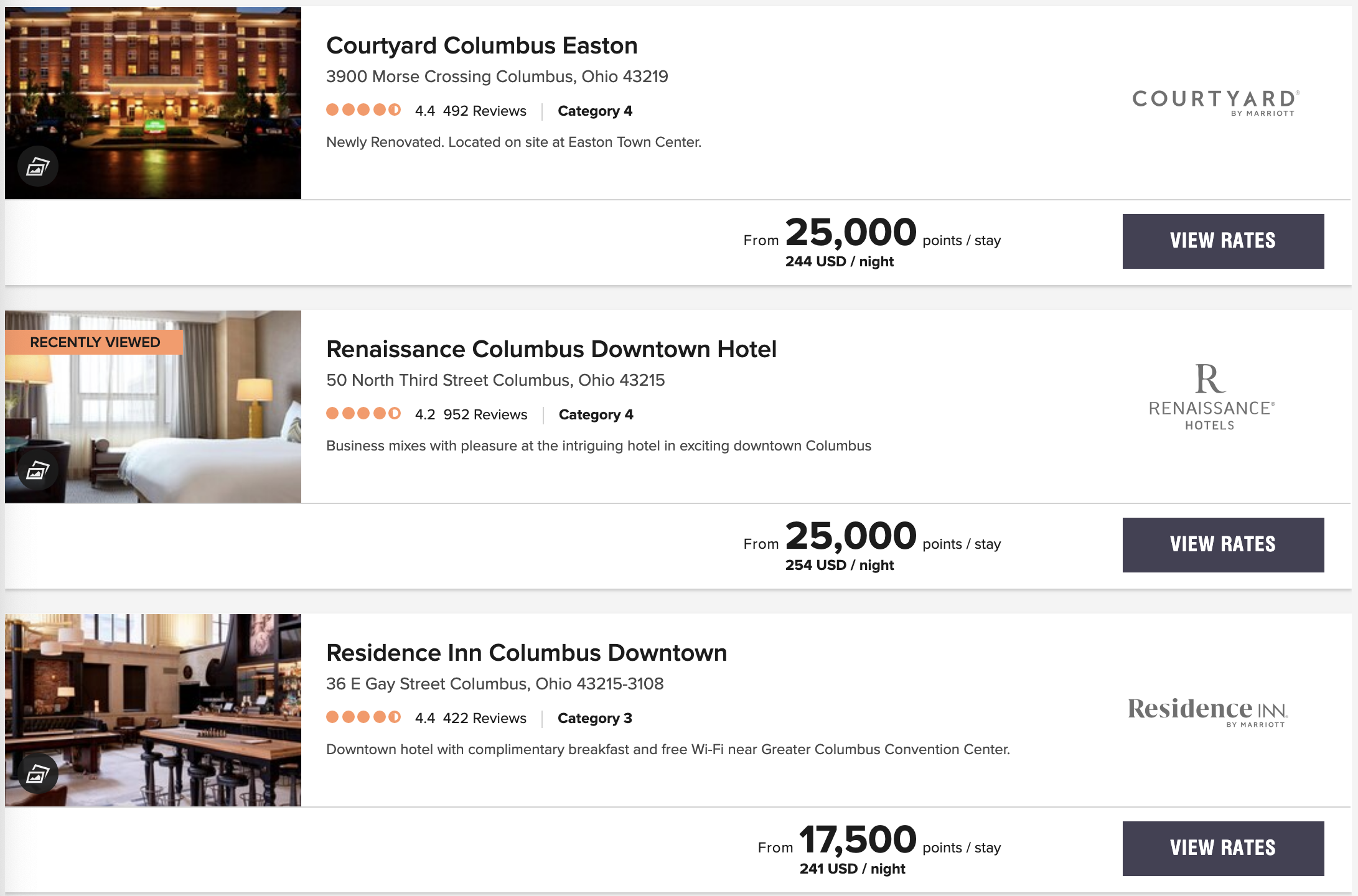 After taxes/fees, some of these hotels are even pushing $300 and can still be used with this 25,000 Point certificate such as the Renaissance Columbus Downtown Hotel.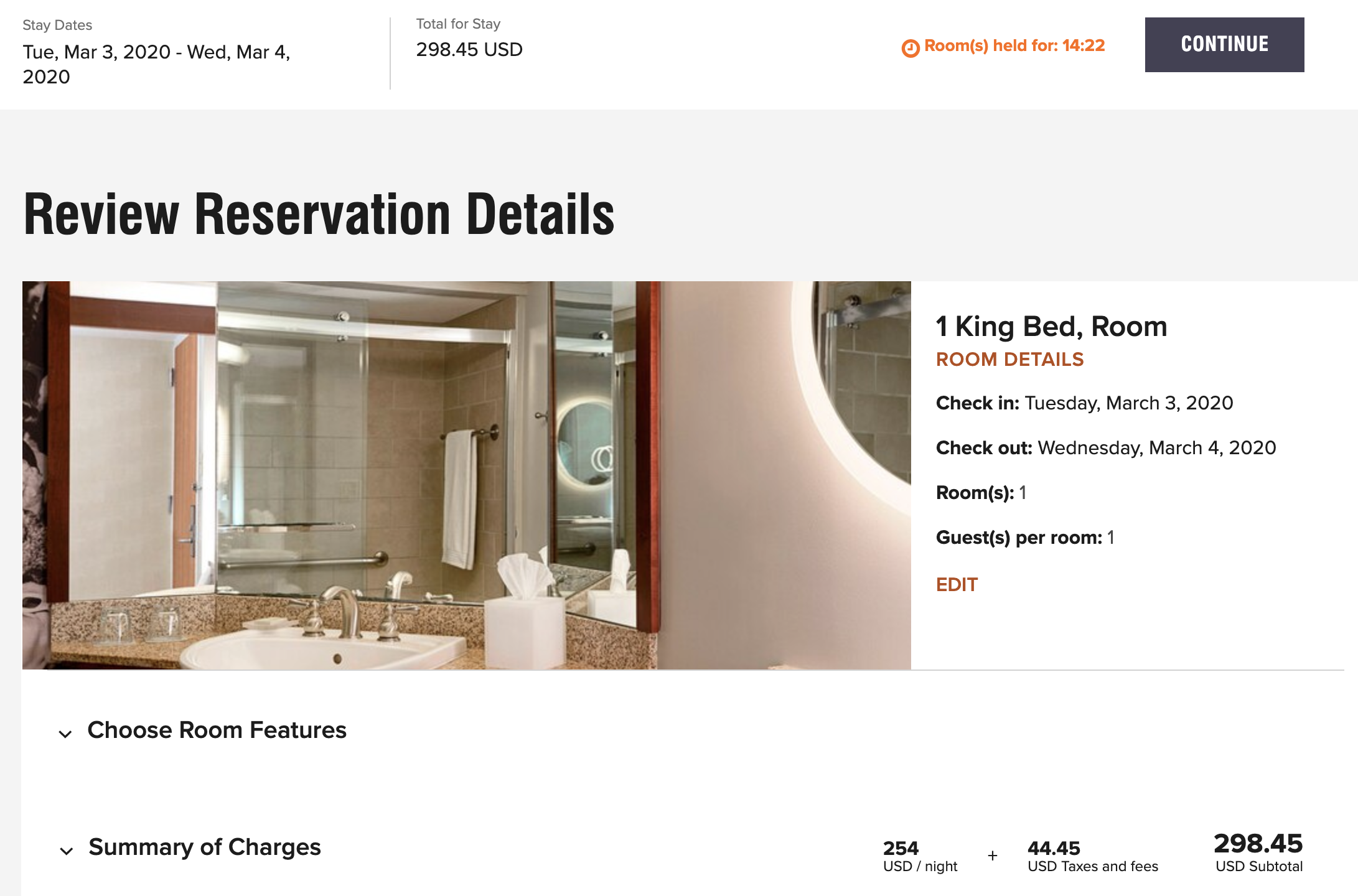 So with this certificate I could get up to almost $300 in value on a card that has an annual fee of $85.
Marriott 35,000 Point Certificate
The Marriott 35,000 Point Certificates is offered on the Chase Marriott Bonvoy Boundless and Marriott Bonvoy Business AMEX. This certificate is also offered on the Chase Marriott Bonvoy Premier Plus Business Card and Marriott Bonvoy AMEX which are both no longer available to new applicants. These cards have either a $95 or $99 annual fee. The 35,000 Point Certificate can earn you a free night as high as Category 5.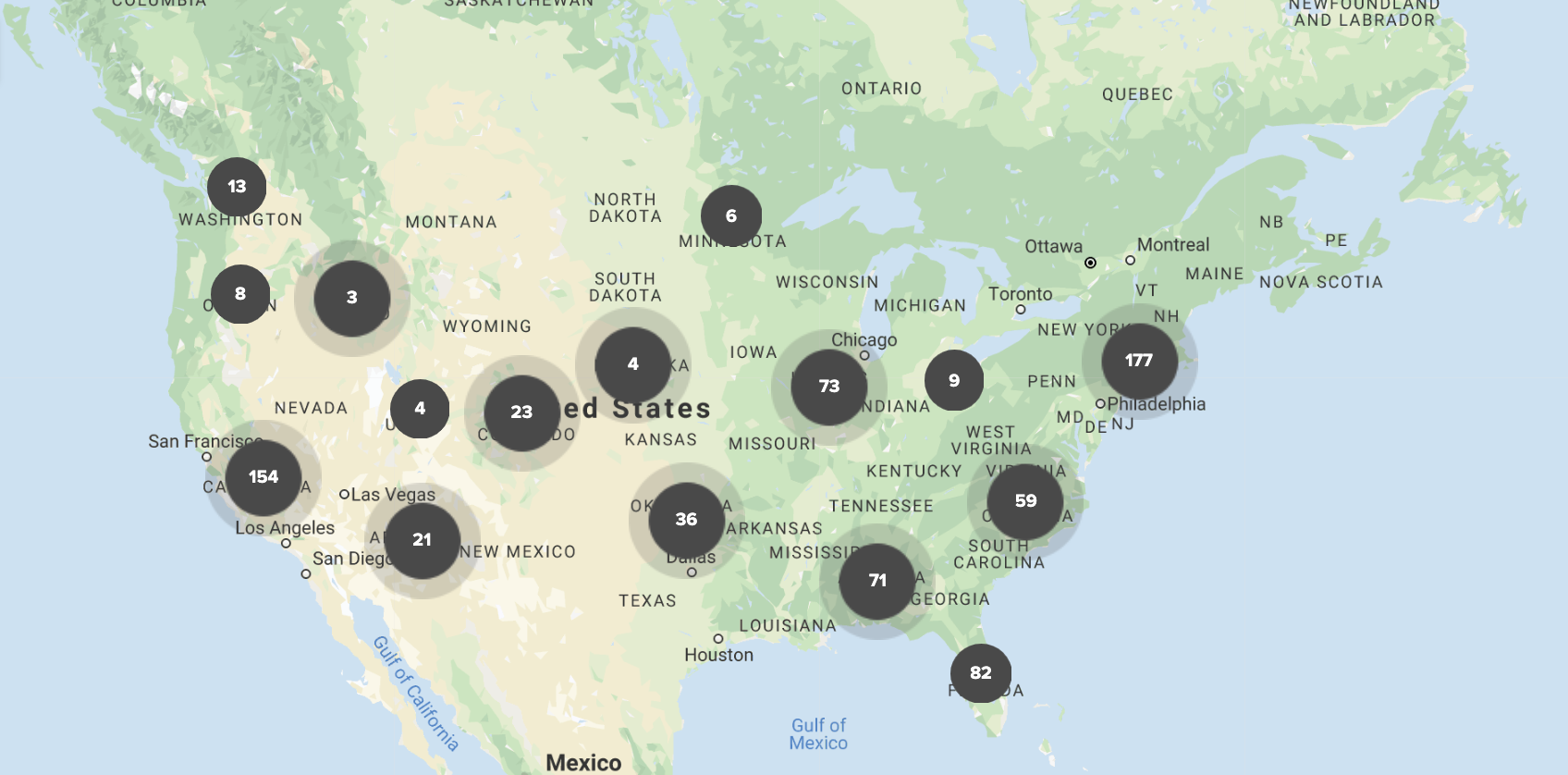 The previous example lets us know that we can easily get value out of a Marriott 25,000 Point Certificate for Category 4, so let's take a look at Category 5 hotels. We will take a glance at the 148 category 5 hotels that are located in California.
Looking at the same dates and just looking at Category 5 hotels, there are 40 hotels available that can be booked at the 35,000 Point Rate. The remaining hotels are at the Peak Pricing rate of 40,000 Marriott Bonvoy Points per night. For those 40 Category 5 Marriott hotels, the lowest cash price is $74 per night ($82 w/ tax) and the highest is $311 per night ($379 w/ tax).

The hotel that cost $74 per night is the only Category 5 hotel that comes out to be less than $99 after tax. The remaining 39 hotels will cost you $102 to $379 which can make the free night well worth the annual fee offered on each card.
The remaining 108 Category 5 Marriott Hotels in California are not always at the peak pricing of 40,000 points. When I bumped the booking date up by 1, a total of 61 hotels became bookable at 35,000 Points or less. Several hotels that were at peak pricing changed to normal or off-peak pricing and several hotels that were at normal pricing changed to peak pricing. So at some point and time, category 5 hotels are bookable at 35,000 Points or less. It just depends on the dates you select. If you like a particular hotel and you're flexible, I would check a few days. Standard and off-peak pricing are usually more common during the weekdays versus the weekend for destinations in the United States.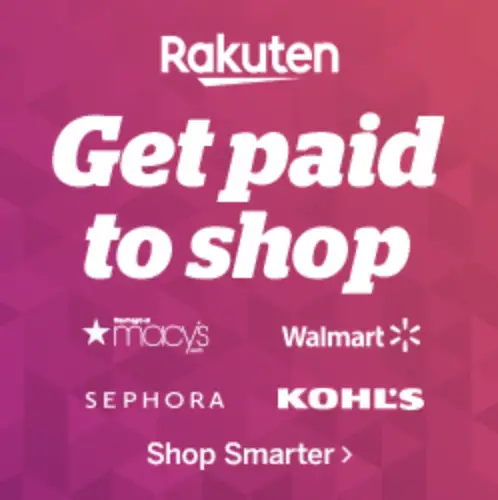 Marriott 50,000 Point Certificate
The highest free night certificate available is the Marriott 50,000 Point Certificate which is offered on the Marriott Brilliant Card and Ritz-Carlton Card. Both of these cards are luxury travel cards that have high annual fees, but they grant a bunch of benefits that can easily offset the fee. But for this review, we are looking strictly at holding the card just to hold it for the free night.
A 50,000 Point Certificate can earn you a stay at a Category 6 hotel at standard rate and a off-peak stay at a Category 7 hotel. In the previous examples, we have not ran across any Category 5 or lower Marriott hotels that have cost $450 per night. While I'm sure they exist, this certificate is best used for stays at high end properties. You wouldn't want to use this at a Category 2 hotel that normally costs $125 per night for example. With that in mind, lets look at Category 6 Marriott Hotels. We will take a look at Florida since they have a decent amount of Category 6 hotels and the fact that it's a great vacation spot.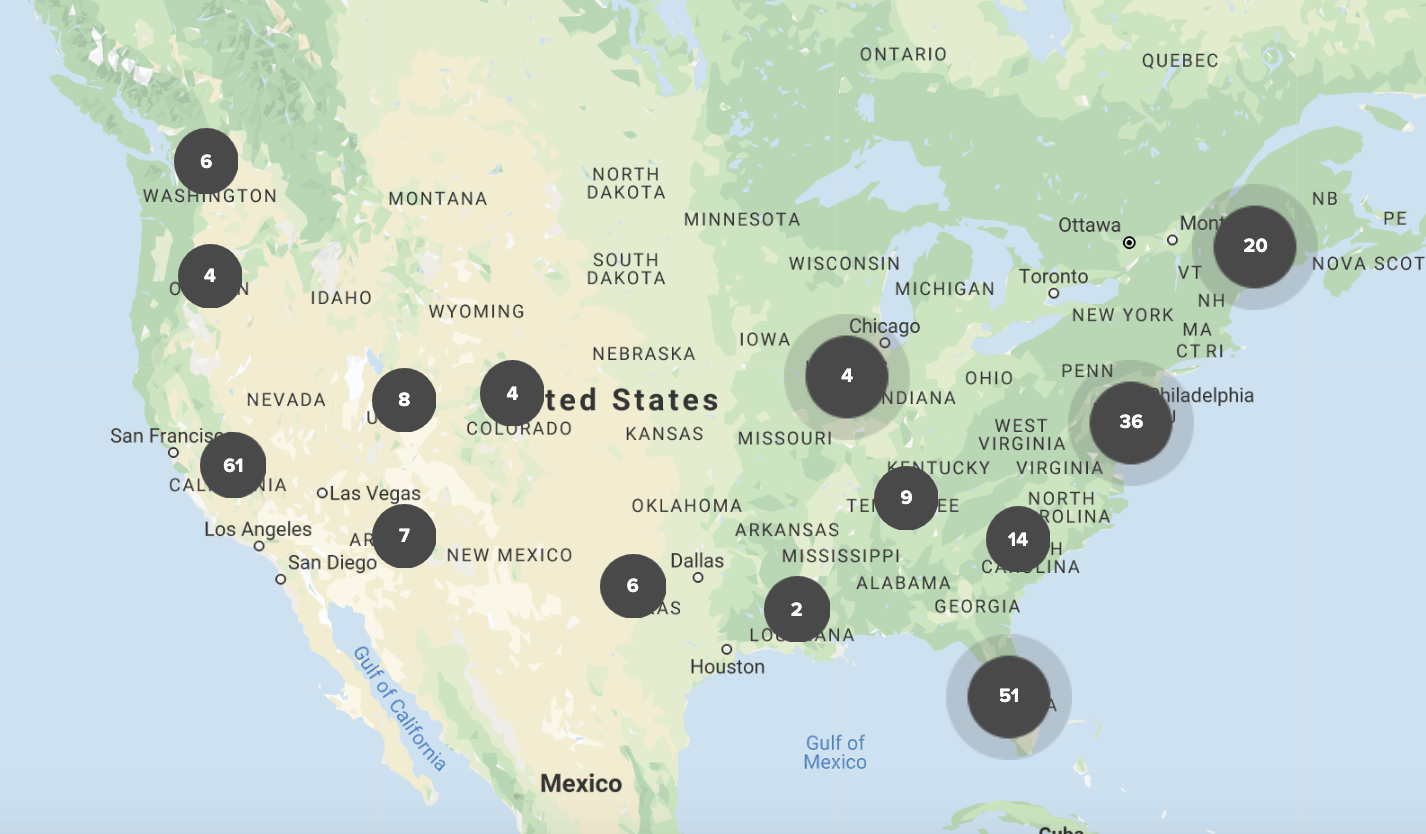 Category 6 hotels for Marriott is going to start including the high end brands such as Marriott, JW Marriott, and Ritz-Carlton. These hotels will usually cost a few hundred per night and will make the best use of your Marriott 50,000 Point Certificate. Of the 46 Category 6 Hotels, 12 of them are bookable for 50,000 Points (or less with PointSavers). Of those 12, the cheapest price is $120 per night ($140 w/ tax) and the most expensive is $665 per night ($784 w/ tax).

A total of 6 of those 12 hotels will cost you more than $450 per night. If you use your 50,000 Point Certificate at any of those hotels, you'll basically make up for the annual fee of either card in one go.
Another thing I feel worth bringing up is that both the Ritz-Carlton Card and Marriott Brilliant offer an annual $300 credit towards Marriott spend. This effectively brings the cost of both cards to $150 per year. So if you find a hotel that's worth it to you and it doesn't surpass $450 per night, it's nothing to feel bad about. Value wise, anything over $150 will cover the value, but I recommend you use it for something on the expensive side to get the best value out of it. And if you "don't count" the annual credit, you should because you're basically getting $300 of your money back. If you can't use the $300 credit, it's a high chance you shouldn't have either card.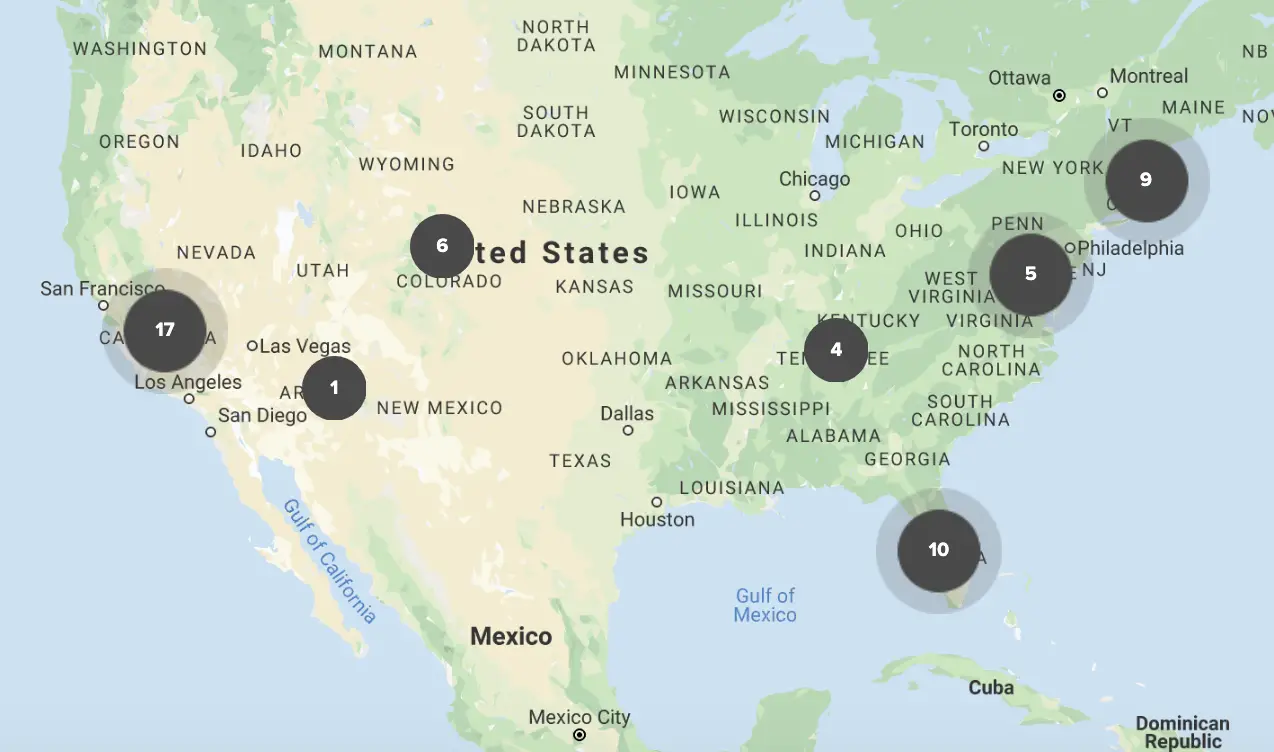 Next, lets look at Category 7 hotels. Since there's so few, Marriott will let you look at all the Category 7 hotels in the United States at the same time. Of the 63 Category 7 hotels, 9 of them are at the off-peak pricing of 50,000 Points per day. The cheapest of the 9 is $175 per day ($197 w/ tax) and the most expensive is $550 per day ($632 w/ tax).

Remember that the cost in hotels will change depending on off-peak, standard, and peak pricing. At some point during the year, a Category 7 hotel will be at off-peak pricing. It's just a matter of finding out when that time is.

IHG Free Night Certificate
IHG offers a free annual night for anyone that has the IHG One Rewards Premier Credit Card. The annual free night is good for any IHG hotel that costs up to 40,000 IHG Points per night. IHG doesn't have an award chart and easy hotel directory to use like Marriott, but it's still pretty simple to find hotels to use this certificate at. The card itself has an $89 annual fee and comes with few other nice benefits such as a $100 Global Entry/TSA PreCheck credit, complimentary IHG Platinum Elite status, and access to the 4th night free benefit when booking award stays. If you enjoy staying at IHG hotels, these perks alone can be worth the annual fee.
IHG 40,000 Point Certificate
As previously mentioned, IHG doesn't have an easy award chart to use or directory to search for 40,000-point hotels. You'll have to search a destination and sort by cost in order to find out which hotels you can use this at. If you have the free night available on your account, you can also click on it and it will take you to a search page to type in a destination. It will then show you everywhere you can use your free night.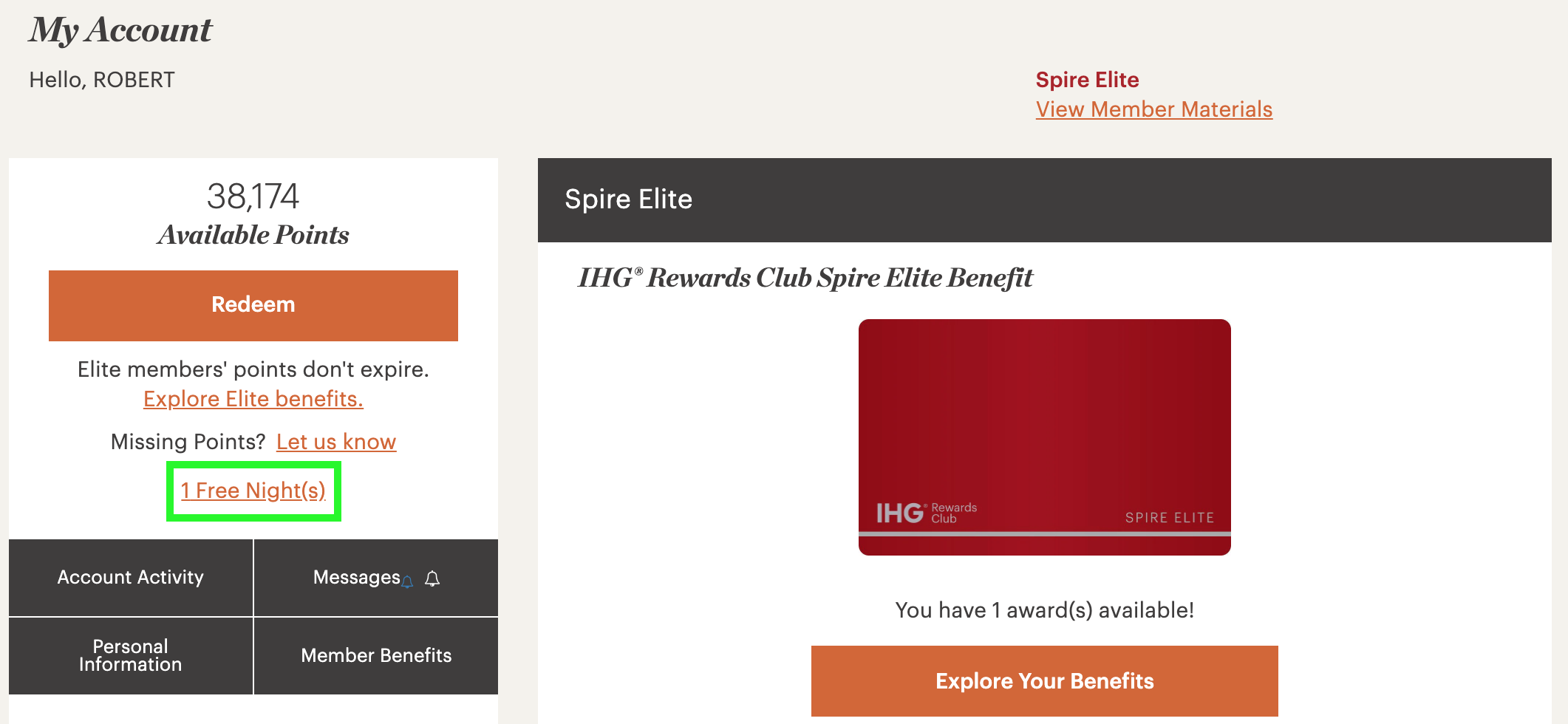 Searching hotels in the Columbus Ohio area, 28 of the 29 available hotels were bookable for 35,000 Points or less. The price range of these hotels are from $71 per night ($89 w/ tax) to $186 per night ($234 w/ tax). That means all of the hotels for the date I selected would give me equal or greater value when compared to the annual fee of the card.

You'll want to note that the cost in points for IHG Hotels will fluctuate. They are not set in stone for any property so a property may cost 20,000 Points today and when you check it tomorrow it could cost 25,000 Points. Basically, if you see a great award deal and you're more than sure you'll be staying there... book it.
The good thing about IHG is that the majority of there hotels are 40,000 Points and lower. The only hotels that will be 50,000 Points and higher will usually be the high-end resorts (i.e. InterContinental, Kimpton) or hotels in popular destinations (Maldives, Bora Bora, various top beaches).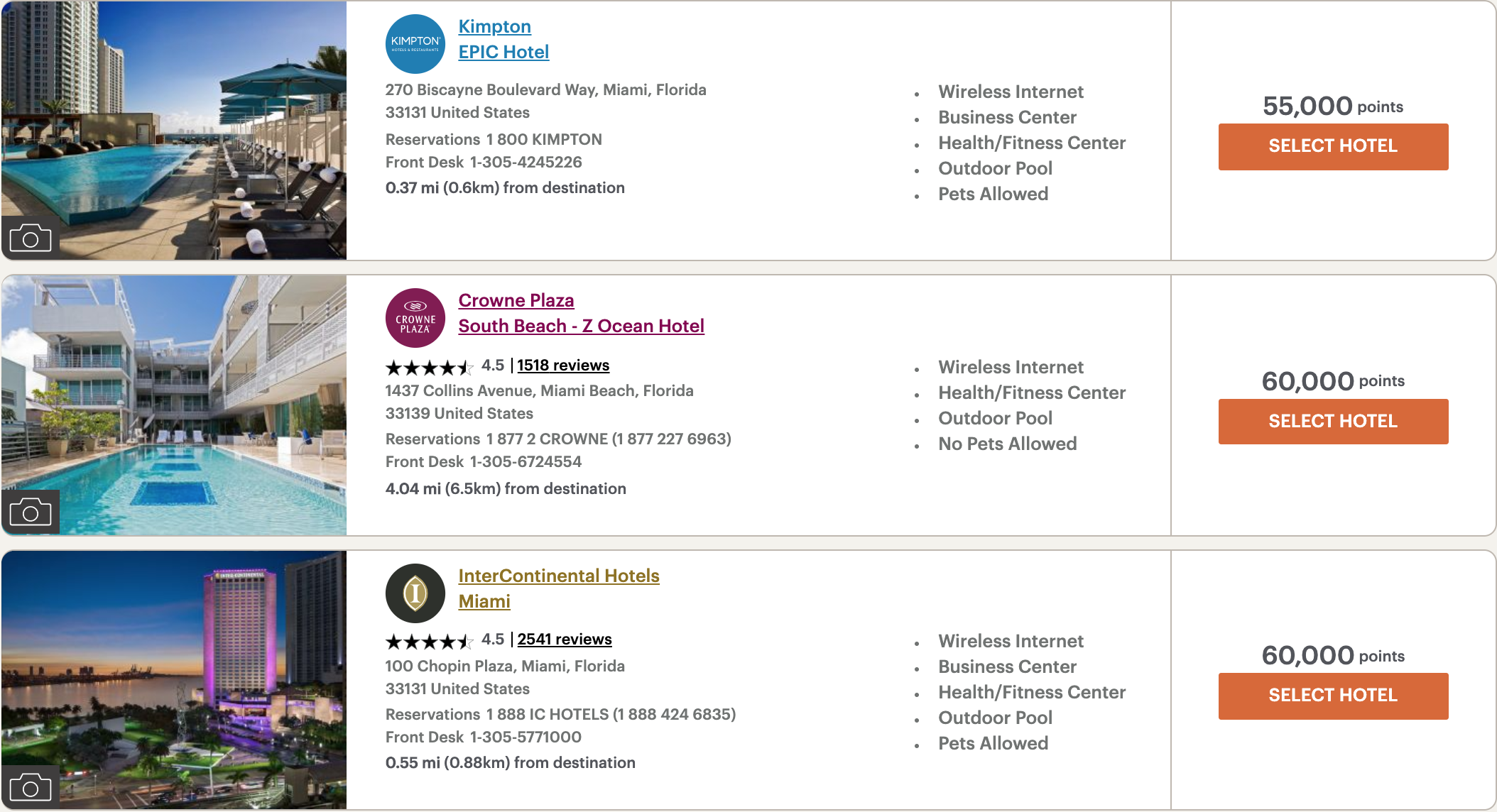 Hyatt Free Night Certificate
Hyatt only has one credit card and it's the World of Hyatt Credit Card offered by Chase Bank. This $95 annual fee card offers a free night at any Category 1 to Category 4 Hyatt hotel. Category 5 and higher as well as Miraval, Hyatt Zilara or Hyatt Ziva resorts, and Oasis homes are not bookable with this free night reward. Along with the free night award, the Hyatt credit card comes with other benefits such as complimentary Hyatt Discoverist status, five qualifying elite nights towards status, and the ability to earn more elite nights as well as more free annual nights with light to heavy spend on the card.
Hyatt's Category 1 to 4 Certificate
As with Marriott, Hyatt has a detailed and easy to understand award chart with their own hotel directory. Of there 1,346 hotels worldwide, 859 of them are Category 4 and lower. This means you'll be able to book a little over 63% of Hyatt's total available hotels with this free night certificate.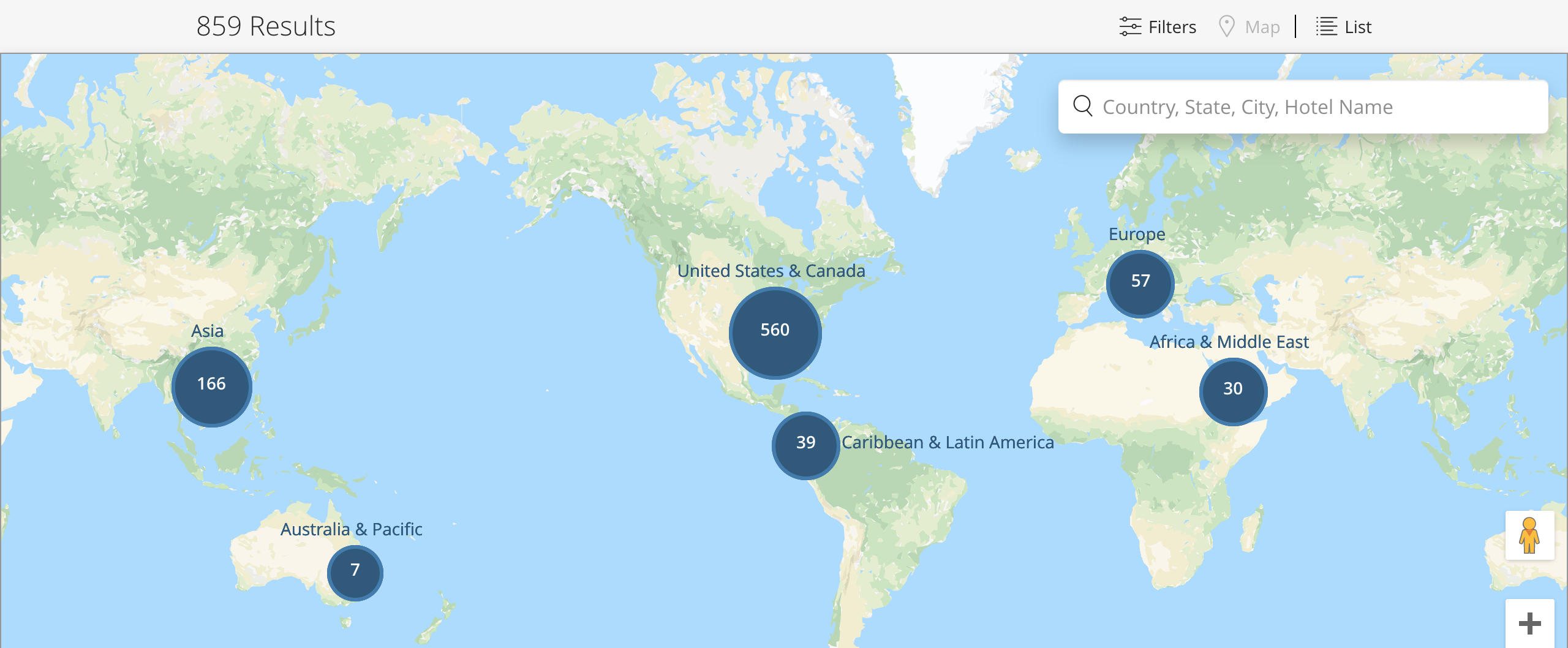 Since this certificate goes by category instead of points like Marriott and IHG, finding a hotel to use this at is as easy as making sure it fits the criteria of being a Category 4 or lower. And with Hyatt's hotel directory, that's simple to do. For this example, let's look at the Dallas-Fort Worth, Texas area.
The Dallas-Fort Worth area has 26 hotels and only one hotel is higher than Category 4. Of those 25 hotels that are Category 4 and lower, the lowest costing hotel is $93 per night ($104 w/ tax) and the highest costing hotel is $274 per night ($315 w/ tax).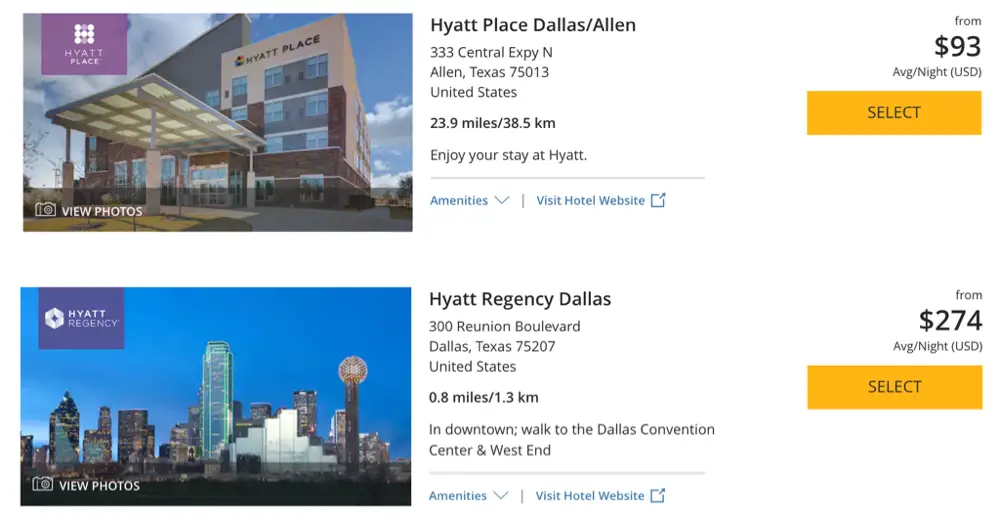 And that's just for one city. There's Category 1 to 4 hotels worldwide that you can use this free night at and earn hundreds in value for just paying an annual fee of $95 per year.
Summary
Regardless of whether you like a hotel chain or not, you can't argue that hotel credit cards that offer annual free nights aren't worth great value. You're essentially receiving what's equal to tens of thousands of points per year for just keeping a card in your wallet. For example, you're getting 353 to 368 Marriott Bonvoy Points per $1 of the annual fee paid for the cards that offer the 35,000 Point Certificate. I'd call that a great deal considering that's around $2.50 in value. And to make things even better, the free night certificate from all of these hotels are easy to use especially if you plan out your trips.
So if you're on the fence about keeping any of these cards or you're thinking about picking up one of these cards, I highly recommend doing a few hotel searches and seeing just how much value you can squeeze out of it. More than likely, you'll be able to easily make up for the fee and save some money as well.
Calculate
Total Rewards & Credit Card Value
For 200+ U.S. Credit Cards
Maximize your credit card rewards!
Our Credit Card Rewards calculator can help you find the credit cards that will earn you the most points, miles and cash back based on your monthly and yearly spending habits. Simply enter your spend amounts into our tool and let our tool do the work for you!