TSA PreCheck, stylized as TSA Pre✓, offers expedited traveler screening through TSA security checkpoints at select airports. Those with TSA PreCheck are directed to a different screening line versus those who do not have it.
Applying For TSA PreCheck
Applying for TSA is done through the tsa.gov website. Membership costs $85 and lasts for 5 years. It is open to US citizens, nationals, and lawful permanent residents (LPRs). You'll need to submit an online application and schedule an appointment at an enrollment center. During the appointment, you'll receive a background check and be fingerprinted. If approved, you'll receive a Known Traveler Number which is what you'll need to participate in TSA PreCheck.
If you have Global Entry or you're an eligible NEXUS or SENTRI member, you will not need to apply for TSA PreCheck.
How To Use TSA PreCheck
For TSA PreCheck, you will need to enter your Known Traveler Number when purchasing airline tickets. Failure to do so will make you ineligible for using the TSA PreCheck line regardless of whether or not you have it. Most airlines allows you to enter your Known Traveler Number when filling out the passenger information while booking your flight. For example, here's the Known Traveler Number spot when booking with Delta: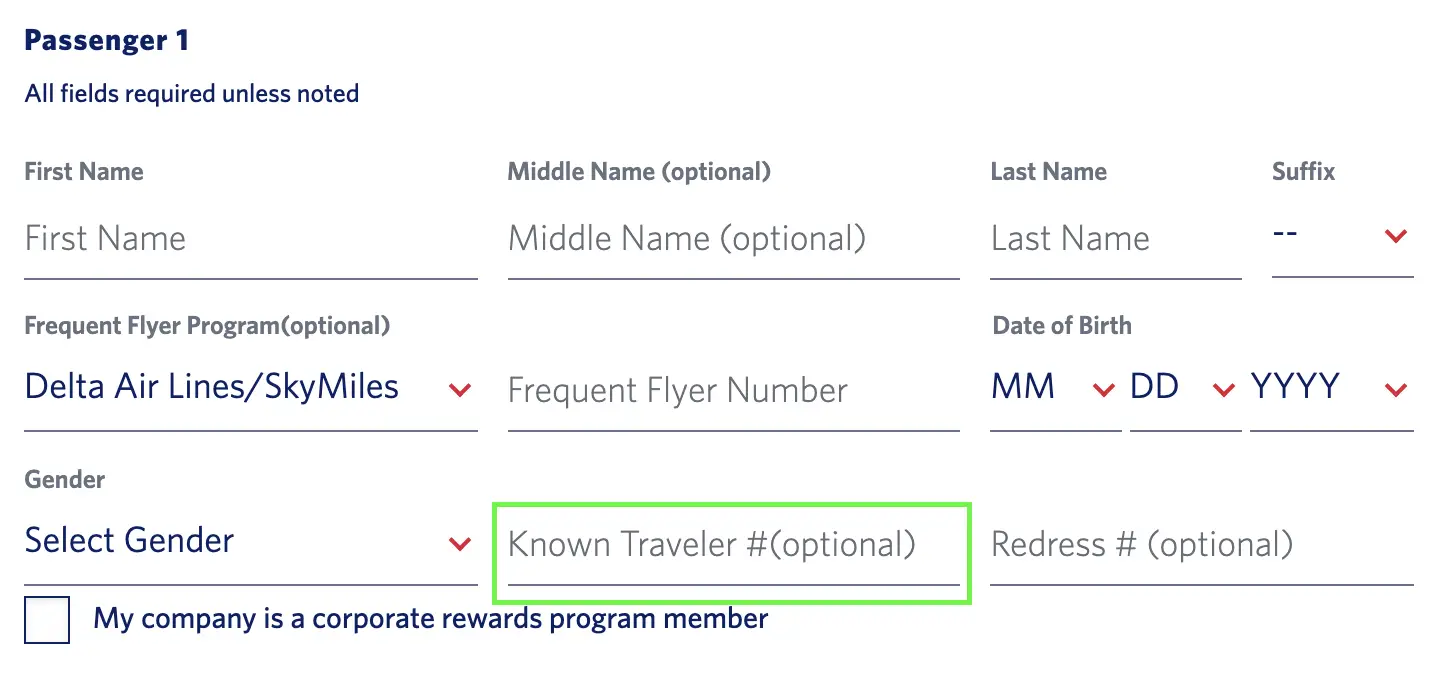 This field will be available for every passenger you're booking for the flight. Each passenger will need to use their own Known Traveler Number. This cannot be shared. If a passenger does not have TSA PreCheck, then leave the field blank.
Other Programs
If you have Global Entry or you're an eligible NEXUS or SENTRI member, you can enter your membership number (PASS ID) into the Known Traveler Number field. This will make you eligible for TSA PreCheck when you book your flight and have to go through screening.
Benefits of TSA PreCheck
The main draw to TSA PreCheck is that is provides expedited traveler screening through TSA security checkpoints. The other main draw to TSA PreCheck is that you do not need to remove the following when going through screening:
Shoes
Laptops
3-1-1 Liquids
Belts
Light Jackets

About The Word "Expedited"
There will be times in which the TSA PreCheck line is just as long or longer than the non-PreCheck line. This holds true at many airports when you're flying during peak times. TSA PreCheck will not always be "fast", so do not base your arrival time to the airport based on that unless you're visiting an airport known for short TSA PreCheck lines. Expedited more refers to the fact that you don't have to remove stuff from your body and bags. This will generally "expedite" the process and thus make the TSA PreCheck line move faster than the normal screening line.
Just because you have TSA PreCheck does not mean that you need to stand in the TSA PreCheck line. If you see better opportunity in the normal line, feel free to move to that line. Just know that they might not honor your TSA PreCheck meaning you'll have to remove your shoes, take your electronics out your bag, and etc.
Bring A Friend
If you have TSA PreCheck and you book travel for other persons accompanying you on the same reservation, it's a high chance that they will end up with TSA PreCheck on their ticket as well. This is not a guarantee, but it usually happens when there's equal or more people with TSA PreCheck in your reservation than people without it. Whenever I would book travel with my sister (before she got her own) she would automatically get TSA PreCheck because I had it and it was only the two of us. Now that she has her own, her significant other receives TSA PreCheck when she books flights even through he does not have it. You'll want to double check the tickets to see who has it and who doesn't. If they don't have the TSA PreCheck symbol on their boarding pass, they will have to use the standard security lanes.
Do note that children under the ages of 12 and younger can use TSA PreCheck when traveling with a parent or guardian who has the indicator on their boarding pass.
TSA PreCheck + CLEAR
CLEAR uses biometrics instead of the traditional ID and paperwork. You walk up to the kiosk, it scans your eyes and face to confirm it's you, and then you move on. The plus to CLEAR is that it shortcuts you directly to screening. This means if you have CLEAR and TSA PreCheck, you can basically shortcut to the front of the TSA PreCheck line. Even if you don't have TSA PreCheck, you can shortcut to the front of the basic screening line. This is another big time saver similar to Global Entry. The only drawback is that it's available in select airports and venues.
Global Entry vs TSA PreCheck vs CLEAR
As someone that has all three programs, each program has it's own pros. There's no program that is always better than another. Which program is best for you will depend on how often you travel and to/from which airports you travel to. If you travel outside of the U.S. twice or more per year, you'll want to consider Global Entry especially since it comes with TSA PreCheck. If never plan on leaving the country then you can go for just TSA PreCheck. If you fly through airports or visit venues that have CLEAR and consistently have long lines that you'd rather avoid, then that may be the program for you.
Calculate
Total Rewards & Credit Card Value
For 200+ U.S. Credit Cards
Maximize your credit card rewards!
Our Credit Card Rewards calculator can help you find the credit cards that will earn you the most points, miles and cash back based on your monthly and yearly spending habits. Simply enter your spend amounts into our tool and let our tool do the work for you!