The Speedway Speedy Rewards Program offers tons of great benefits and perks that can earn you lots of points and free stuff quite fast. This page will break down how to earn Speedy Rewards Points and list out the benefits of signing up for a free Speedy Rewards account.
Earning Speedy Points On Spend
The primary way of earning Speedy Rewards Points is by spending money at Speedway Gas Stations either at the pump or in-store. When you're at the pump you'll earn 10 Speedy Points per gallon of fuel and when you make purchases in-store you will earn 20 points per dollar spent on merchandise.
So if you're filling up your tank at Speedway or making purchases in-store on a consistent basis, you'll start to earning a decent amount of points pretty fast.

Monthly Perks
If you're looking to maximize your Speedy Rewards points, you can do so with Speedway's Monthly Perks program. Every month, you will be able to choose a perk that will be applied to your account which will automatically apply to your purchases.
These include benefits such as:
Double Fuel Points
Buy a certain amount of gallons and receive bonus points
Bonus points on merchandise purchases
You'll want to choose the perk that best aligns with how you spend your money at Speedway.
You can select your monthly offer either through Speedway.com or through the Speedway Mobile App. Speedway will generally allow you to choose your next Monthly Perk a few days before the next month starts and during that entire month as well.
Do note that this is not an automatic action, so you'll want to make a reminder to select your Monthly Perk every month.
Bonus Points
Speedway offers the chance to earn lots of bonus points purchasing various merchandise in-store. This includes snacks, candy, food, and gift cards. You can review the items that have listed under Bonus Points at any time from the Speedway website or mobile app.
Outside of scanning your Speedy Rewards Card before making the purchases, there's nothing that you need to do in order to active the bonus points for these purchases. It's all automatic!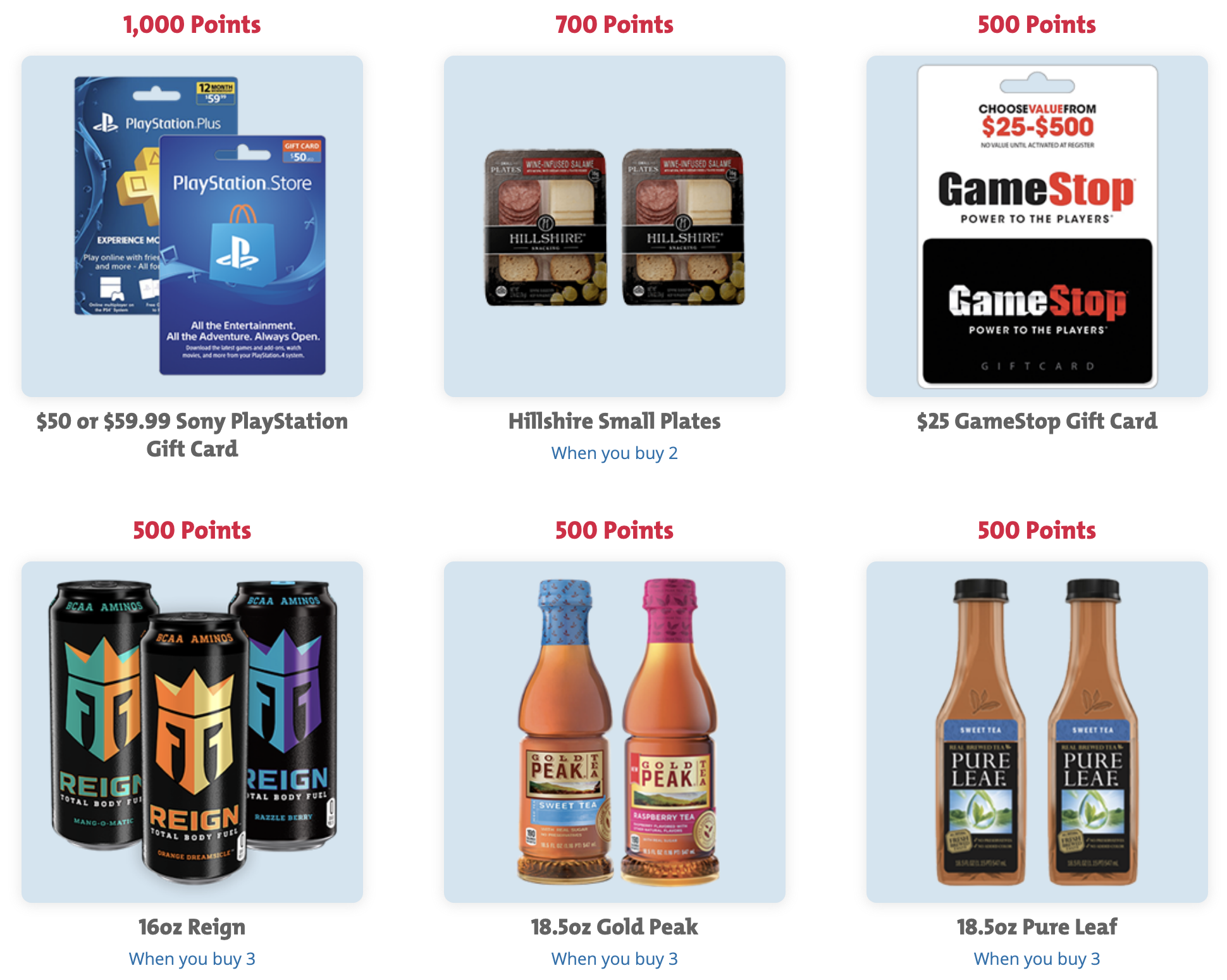 Speedy Rewards Mastercard
You can earn Speedy Rewards points on everyday spending using the Speedy Rewards Mastercard. It's the best credit card to have when making fuel and in-store purchases with Speedway as you'll earn bonus points on top of what you will already earn as a Speedy Rewards member!
Speedy Rewards® Mastercard®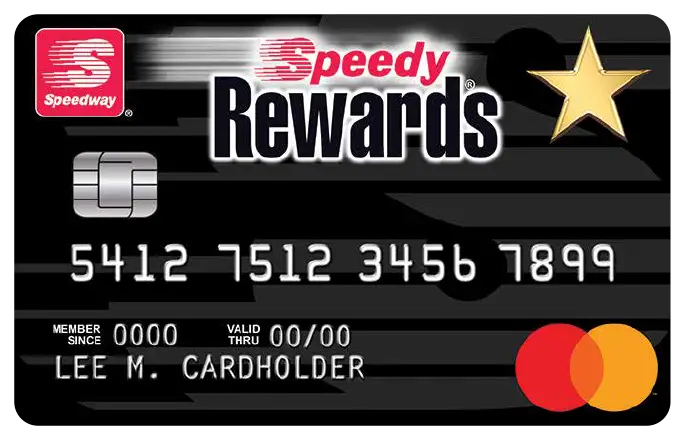 Earn

25,000 Bonus Points

when you spend at least $500 in the first 3 billing cycles after account opening.
Earn 50 points per $1 spent at Speedway on fuel and in-store and 10 points per $1 spent on other purchases anywhere Mastercard is accepted.
Redeem points in-store or on Speedway's online marketplace.
No annual fee.
Speedway Clubs
Speedway Clubs offer you free merchandise and food or bonus points on items you repeatedly purchase in-store at Speedway locations. They have over 20 different clubs that can earn you participate in and there's nothing you need to sign up for or do on your end outside of just making purchases.
Once you earn a Speedway Club coupon, it will be attached to your Speedy Rewards account. Most Speedways have a touch screen pad that shows you the total cost of your purchase when checking out.
If the clerk has scanned your Speedy Rewards Card, you will see the option to use your Speedway Coupon on the screen. You can also pull up your coupon on the mobile
Beverage Club
The Speedway Beverage Club is one of the first and most popular clubs. When you buy any 6 coffee, fountain, Speedy Freeze, tea or specialty drinks at Speedway you'll receive a reward of your choice. You can choose between:
10 Cents Off Fuel
1,000 Bonus Points
Free Beverage Coupon
All of these options have pretty similar value. The 10 cents off of fuel will save you a $1 off every 10 gallons you place in your vehicle, the 1,000 bonus points are worth about a $1 for most redemptions, and most beverage in Speedway range from $0.99 to $2.
So which one you choose is strictly based off your preference. I specifically go for the free beverage which is a nice treat every other week.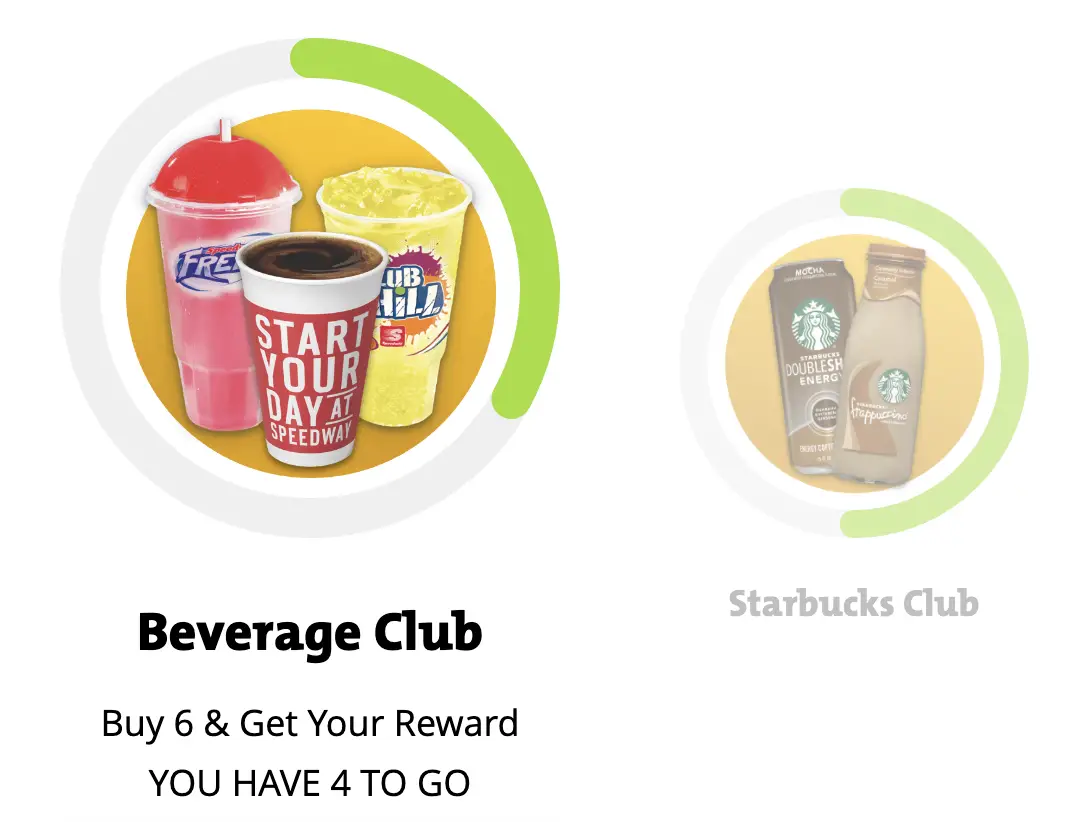 Other Clubs
All of the other Speedway Clubs are listed below. Each clubs requires you to buy 6 of a certain amount of merchandise to receive the 7th item free.
Body Armor Club (28oz)
Breakfast Taco Club
Car Wash Club
Coca-Cola Club (20oz)
Dr Pepper Club (20oz)
Energy Shot Club
Frito Lay Club (single serve bags)
Gaming and Music Club*
Lipton Brisk Club (1L)
Lipton Pure Leaf Club (18.5oz)
Monster Java Club (15oz)
Mountain Dew Club (200z)
NetSpend Reload Club**
Pizza Club
Starbucks Club
Speedway Fuel Savings
Speedway Speedy Rewards members can earn discounts on fuel at Speedway when shopping through other retailer's rewards programs. This can be done by linking your Speedy Rewards card with the retailer's rewards program and spending with that retailer as normal.
Once you hit a certain amount of spend with the retailer, you'll earn cents off per gallon on fuel at Speedway with your Speedy Rewards Card.
Do note that some rewards may vary and not all stores have their listed discounts available. Spend requirements either requires you to spend n-amount or more in a single transaction or offers a reward for every n-dollars spent at the store.
Here are Speedway's Fuel Partners:
Hollywood Markets
Food Town
Central Shop Rite
Lowes Foods
Buehler's
Remke Markets
VG's Grocery
Family Fare
D&W Fresh Market
Chief
Martin's
Tom's Food Center
Shenna's Marketplace
Tenuta's Food Lane
Neiman's Family Market
Redner's Markets
Earning Points With Partners
Speedway has one partner that can help you earn a few additional points and that is 1-800-Flowers.com.
1-800-Flowers.com
1-800-Flowers.com and Speedway are partnered up to earn you up to 30¢ off per gallon of gas when you shop through the 1-800-Flowers-Speedway promo link. You can also get special promotional offers during holidays and select special events.
Summary
The Speedway Rewards Program has a pretty good amount of different ways you can build your points and their program offers lots of opportunities for you to score free stuff. If you plan on redeeming Speedy Rewards Points for gas or food with Speedway, you can heavily benefit from signing up for this free program since these points provide great value for those types of redemptions.
If you a drive or constantly fill-up a vehicle with a medium to large tank (16-gal or more), you may want to even consider the no-annual fee Speedy Rewards Mastercard as you'll be able to earn a 5% or more return and make the Speedway Rewards program even more valuable.
FAQ
How do you earn Speedway Points?
You can earn Speedy Rewards Points on fuel and in-store purchases at Speedway gas stations. You can also earn points using the Speedy Rewards Mastercard.
Do Speedway Points expire?
Speedy Rewards Points will expire after nine months of account inactivity.
How do you activate a Speedy Rewards Card?
Your Speedy Rewards Card can be activated at a Speedy Rewards terminal in-store by scanning your card and following the prompts or you can activate it online.
Calculate
Total Rewards & Credit Card Value
For 200+ U.S. Credit Cards
Maximize your credit card rewards!
Our Credit Card Rewards calculator can help you find the credit cards that will earn you the most points, miles and cash back based on your monthly and yearly spending habits. Simply enter your spend amounts into our tool and let our tool do the work for you!