Credit Card Rewards Tools
Speedy Rewards Points are earned through fuel and merchandise purchases at Speedway Gas Stations. As you build up your points, you'll have a numerous amount of redemptions at your fingertips which includes food, drink, merchandise, fuel, and gift cards.
While Speedy Points are barely worth a tenth of a cent, you'll usually find yourself earning 10x, 20x, or 50x points per $1 spent at Speedway. So you'll have to heavily consider the overall picture and not just focus on the low values.
Speedy Points Value Calculator
Use the Speedy Points Value Calculator to calculate the average cash value of Speedway Speedy Rewards Points based on redemption. The table will update based on the number of Speedy Rewards Points you enter in the field below.
Fuel Discount Rewards
Speedy Rewards Points can be redeemed for fuel discounts rewards. This will give you either 10, 25, or 50 cent off per gallon. Which of the three options you choose will not matter, but what will matter is the size of your gas tank. The bigger your gas tank, the more value you will get out of this redemption which is why I've decided to dive into this first.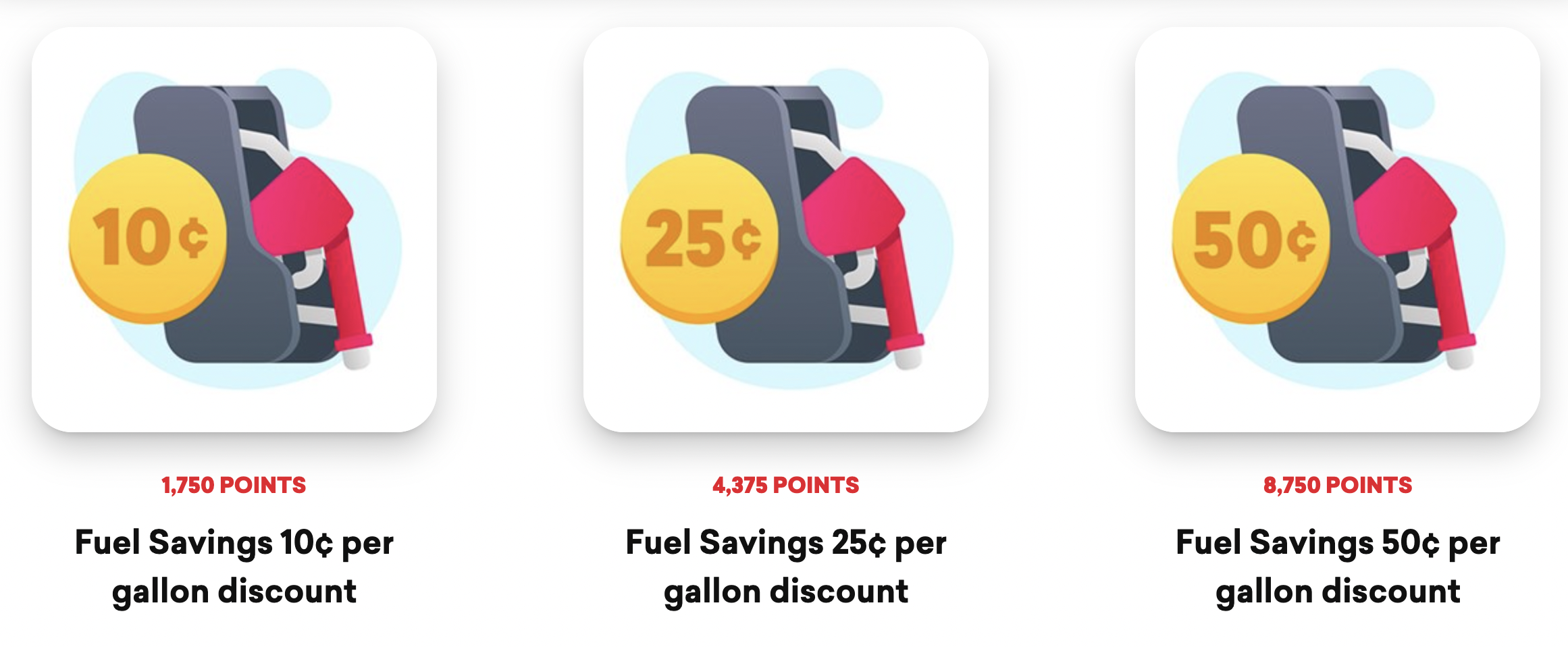 When compared to other redemptions, the amount of gas you pump into your vehicle will play a key role. If you're putting 13 gallons or less into your vehicle, this will be the worst redemption option giving you a Speedy Point value of 0.0742 cents and less. If you're putting 24 gallons or more into your vehicle, this will be the best redemption giving you a Speedy Point value of 0.137 cents and higher.
If you're trying to decide between using the Fuel Redemption option versus the Speedy Fuel Gift Card option, 16 gallons is the break point. If you're putting less than 16 gallons into your vehicle, you'll want to redeem your Speedy Points for a Speedy Fuel Gift Card. If you're putting 16 gallons or more into your vehicle, the Fuel Redemption option will be the best choice. Large tank vehicles (e.g. Ford Super Duty / F-150) will heavily benefit from this redemption option and may want to consider the Speedy Rewards Mastercard.
Speedy Fuel Discount Calculator
The Speedy Fuel Discount Calculator below will give you an idea of how much value you can get based on your tank size. It will also show you the return you will earn when using the Speedway Rewards Mastercard on fuel purchases.
Speedy Gift Cards
If you can't squeeze value out of the fuel redemption option, picking up Speedy Gift Cards is the next best thing. The value you can get out of Speedy Gift Cards will depend on the type of Speedy Gift Card and the redemption amount. The higher the redemption, the more value you will get when you use your Speedy Rewards for a Speedy Gift Card.
Food & Merchandise, Cafe, and Good To Go
Redeeming your points for Speedy Food & Merchandise gift cards, Speedy Café gift cards, and Speedy Good To Go gift cards will give you a value of 0.126 to 0.133 per Speedy Point. The $100 redemption option will give you the best bang for your buck while the $10 redemption will give you the lowest. You can use these gift cards to purchase food and merchandise within Speedway Gas Stations. You cannot use these cards to purchase gas or other gift cards.
| Gift Card Amount | Speedy Points |
| --- | --- |
| $10 | 7,900 Points |
| $25 | 19,500 Points |
| $50 | 38,500 Points |
| $100 | 75,000 Points |
Cash & Fuel
Redeeming your points for Speedy Cash gift cards and Speedy Fuel gift cards will give you a slightly lower value than the other Speedway gift card options listed above. If you plan on putting less than 16 gallons into your tank, this is the better option over the Fuel Redemption Option since you'll getting a minimum value of 0.091 cents per point. As with the other Speedy gift cards, the higher redemptions will give your Speedy Points a better value.
| Gift Card Amount | Speedy Points |
| --- | --- |
| $5 | 5,500 Points |
| $10 | 10,450 Points |
| $25 | 26,000 Points |
| $50 | 51,500 Points |
| $100 | 102,000 Points |
| $200 | 202,000 Points |
Vanilla Visa Gift Cards
Speedy Rewards Points can be used to pick up Vanilla Visa gift cards. This is basically equal to converting your Speedy Rewards Points into cash. When you redeem your points for a Vanilla Visa gift card, you will get a Speedy Point value of 0.078 which is the lowest redemption option (outside of small tank Fuel Redemptions).
This is the best option when it comes to using your Speedy Rewards Points just because of the low redemption value. Even if you factor in the high 50x per $1 rate of the Speedy Rewards Mastercard on gas purchases, you're looking 3.9 cents per $1 spent which can be beat by other no-annual fee cash back cards. If you're a non-cardholder, earning 10 points per gallon spent will not even give you a full cent back.

Other Gift Cards
Redeeming your Speedy Rewards Points for gift cards (excluding Vanilla Visa Gift Cards) will give your points a value of 0.0833 cents each. You will not receive any type of better value depending on the gift card denomination like Speedy gift cards.
| Gift Card Amount | Speedy Points |
| --- | --- |
| $10 | 12,000 Points |
| $15 | 18,000 Points |
| $20 | 24,000 Points |
| $25 | 30,000 Points |
| $50 | 60,000 Points |
| $60 | 72,000 Points |
Most of the available denominations consist of $10 or $25 gift cards. Listed below are the redemption options available.
Chick-fil-a
Google Play
Roblox
Sony PlayStation
Xbox
Dairy Queen
iTunes Gift Card
Netflix
Starbucks
Subway
Taco Bell
Wendy's
Nintendo eShop
Steam
Amazon.com
AMC
Applebee's
Auto Zone
Barnes & Noble
Bass Pro Shops
Bed Bath Beyond
Best Buy
Bob Evans
Buffalo Wild Wings
Cabela's
Cheesecake Factory
Chili's
Chipotle
Cracker Barrel
Darden
Dick's Sporting Goods
Domino's
DSW
eBay
GameStop
Harley Davidson
Home Depot
HomeGoods
Hooters
Hulu
JCPenney
Kohl's
Lowe's
Macy's
Nike
Outback
Panera Bread
Red Lobster
Ruby Tuesday
Sephora
Texas Roadhouse
Uber
Ulta
Wayfair
Audible
If you're looking to earn on rewards to use towards picking up gift cards, you would find better value using a simple cash back credit card.
Speedway Rewards Marketplace
Speedy Points can be redeemed in the Speedway Rewards Marketplace. The marketplace lists out a bunch of different merchandise which covers the categories of:
Electronics
Small House Appliances
Bed, Bath, and Home
Tools
Fitness, Sports, & Outdoor Recreation
Office Products
Luggage & Travel Accessories
Outdoor Living
Baby
Musical Instruments
Toys & Games
Automotive
Watches
Beauty
Jewelry & Fashion
Food & Drink
The redemption value of your Speedy Rewards Points will vary depending on what you're going for and how much it normally costs out in the real words. Most redemption I found averaged out to around 0.0005 cents per point. This makes the Speedway Rewards Marketplace the worst option when it comes to value.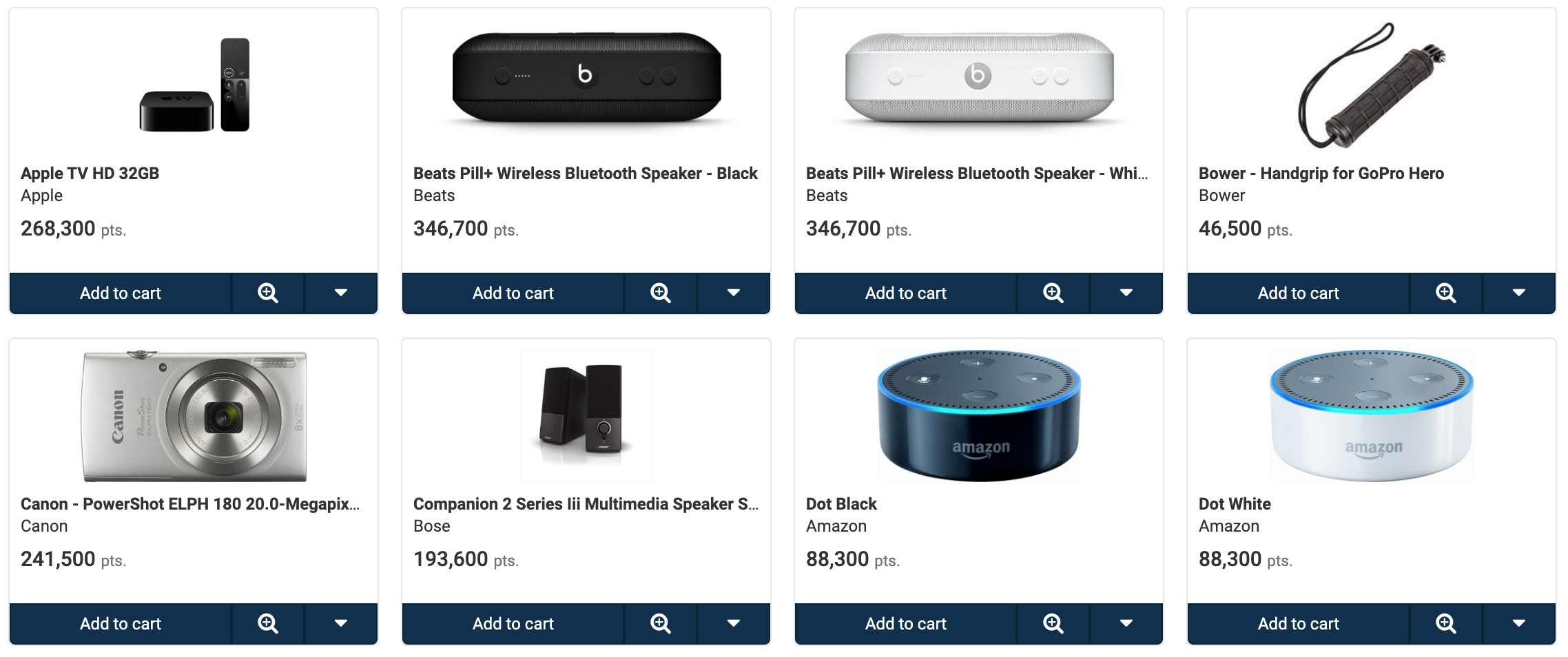 Now... even though it is the worst option, that's not to say that you cannot enjoy a redemption from the Marketplace. I know lots of people whom I interact with on a daily basis that has tens to hundreds of thousands of Speedway Points built up over the course of many years. Fuel and food redemptions with Speedy goes just as fast as you redeem them, but if you're looking for more of a permanent investment, the Speedway Rewards Marketplace is a good place to look. If you're looking to just burn some Speedy Points, this could be an option to consider.
Transfer Speedy Rewards
Speedy Rewards Points can be transferred to airline miles, hotel points, and other forms of currency using the Points.com website. Points.com allows you to keep track of more than 90 different loyalty programs in one spot.
You'll also be able to exchange points/miles between programs and redeem rewards for gift cards. Do note that redemptions through Points.com will usually give you a bad redemption value, but it can be an alternative option if you're really just not going to use certain rewards points and would rather transfer/redeem them at a bad rate than to let them expire.
Summary
If you've built up a good amount of Speedy Points or you plan on making Speedway your number 1 gas station, the Speedway Speedy Rewards Program offers superb options for those looking to get free or discounted gas as well as several alternative options that can offer decent value such as gift cards. If you have Speedy Points laying around that you won't end up using, you have the option to transfer them to another program.
If you're really looking to sweep up points in the Speedy Rewards I recommend reading up on the different ways you can earn Speedy Points as well as checking out the Speedy Rewards Mastercard which can earn you points on everyday spend.
FAQ
How do I redeem my Speedway Points?
Speedway Points can be redeem in-store at the Speedway Rewards terminal, at check-out, or via the Speedway mobile app.
How many Speedway Points do you need for gas?
Redemptions for fuel discounts start at 1,750 Speedy Points for 10 cents off. Speedway Cash & Fuel gift cards start at 5,500 Speedy Points for a $5 card.
Do Speedway Points expire?
Speedy Rewards Points will expire after nine months of account inactivity.
Can you transfer Speedway Points?
Speedway Rewards Points can be transferred to several different loyalty programs through the Points.com portal. You cannot transfer Speedy Points to other Speedy Rewards members.
Can you merge Speedway Rewards cards?
If you misplace your Speedy Rewards Card or it's worn out, you can replace the card by logging into your Speedway Rewards account online, going to My Profile and selecting Replace Card.
What can you use Speedway Points for?
Speedway Points can be used for fuel discounts, various types of Speedway Gift Cards, and to make purchases on the Speedway Rewards Marketplace.