Speedy Rewards At-A-Glance
Speedway is an American owned convenience store and gas station. They are controlled by parent company Marathon Petroleum. Speedway has almost 4,000 locations which are scattered across 32 different states, primarily in the Midwest and Eastern Coast parts of the United States.
Speedway's loyalty program is called Speedy Rewards. You can earn Speedy Rewards Points spending in-store and online with Speedway and redeem those points for fuel, gift cards, and in-store purchases.
Speedway Credit Card Points & Value Calculators
Use our credit card calculators to calculate how many Speedway credit card points you can earn and the cash value of Speedway credit cards based on the spend amounts you enter, how much you value card benefits, and annual fees.
Do note that this calculator does not factor in points earned per gallon spent at the pump.
Speedy Rewards® Mastercard®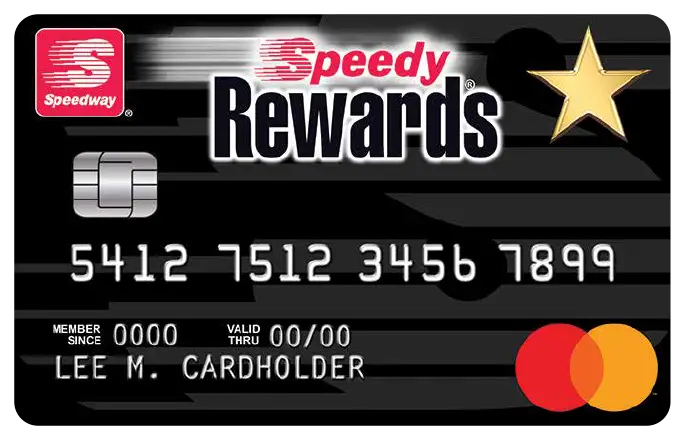 The Speedy Rewards Mastercard earns 50X points per $1 spent on fuel and in-store purchases made at Speedway. All other purchases will earn you 10X points per $1.
Speedy Rewards Value Calculators
Speedy Rewards points are worth about 0.1 cents each on average which means that 10,000 points is equal to about $10. While this seems low, remember that Speedway Points are earned in large amounts.
Speedy Rewards points can be redeemed for fuel, food, drink, merchandise, and more. Find out which redemptions offer the most value and calculate Speedway points to dollars for each.
Earning Speedy Rewards Points
Speedy Rewards points can be earned spending in-store and at the pump with Speedway. You can also earn points using the Speedway credit card.
Speedway offers a large amount of ways for you to earn points in-store, at the pump, and spending with partners. Find out how you can earn lots of Speedway points.