The Chase Freedom Flex℠ is a cash back credit card that features bonus categories that rotate quarterly. These categories offers 5% cash back on up to a combined spend of $1,500 per quarter which can earn you up to $75 in cash back. The card also has several non-rotating categories that earns bonus cash back which are Chase Travel, dining, and drugstore purchases. Overall, the Chase Freedom Flex is one of the best cash back credit cards on the market and I highly recommend picking up this no-annual fee credit card.
Quick Details
Issuing Bank
Card Network
Rewards Earned
Annual Fee
Authorized User Fee
Foreign Transaction Fee
Rates & Fees
See Rates & Fees
Rewards Rate Details
The Chase Freedom Flex Card features three static categories that earn bonus cash back all year long. The static categories are Chase Travel purchases, dining, and drugstore. There's no cap on the amount of cash back you can earn on these static categories and no limit to the amount of cash back you can earn on the card overall.
The Chase Freedom Flex also features quarterly rotating categories. These categories change according to the standard calendar quarters which are:
Quarter 1: January 1 - March 31
Quarter 2: April 1 - June 30
Quarter 3: July 1 - September 30
Quarter 4: October 1 - December 31
Chase typically reveals the bonus categories for an upcoming quarter on the 15th day of the month prior to it starting. For example, they'll update their website or send out an email on March 15th to let you know what the quarterly categories for the 2nd Quarter will be.
The rotating quarterly categories have a combined earning cap of $1,500 per quarter. After you've hit that cap, you'll earn 1% back on those categories for the remainder of the quarter.
5% Quarterly Rotating Categories

Combined spend cap of $1,500 across all featured categories for the quarter.
You'll earn at the non-category rate (1%) for the remainder of the quarter after hitting the cap.
You must activate your rotating quarterly category every quarter. This is not automatic.

5% Chase Travel

Travel must be purchased through the Chase Ultimate Rewards Portal.

5% Lyft

All Chase cash back and Ultimate Rewards credit cards feature Lyft as a bonus category.
Part of the Chase-Lyft partnership which lasts until March 2022.

3% Dining
3% Drugstore
1% Non-Category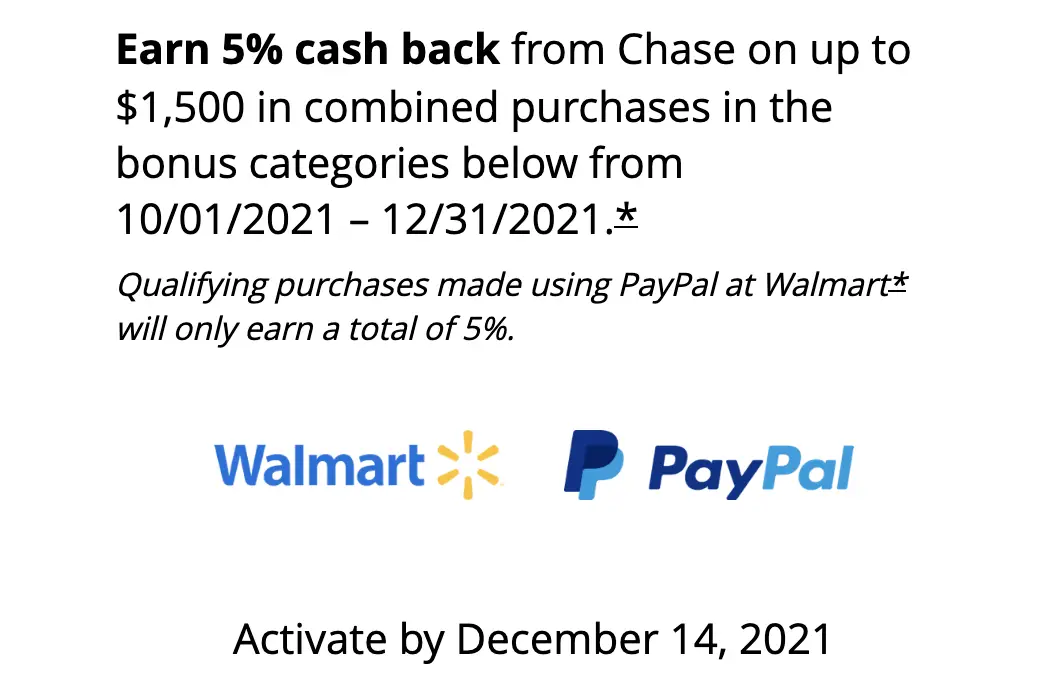 Chase Quarterly Rotating Category History
Below is the history of Chase's rotating categories over the past few years. This will give you an idea of what kind of categories Chase offers on a yearly basis since they do not display all of their categories for the year at once.
Chase Quarterly Rotating Category History
2021
Q2
Gas Stations, Home Improvement Stores
Q1
Wholesale Clubs, Cable, Internet, Phone Services, Select Streaming Services
2020
Q4
PayPal, Walmart
Q3
Amazon.com, Whole Foods Markets
Q2
Grocery, Fitness Club, Gym Memberships, Streaming Services
Q1
Gas Stations, Internet, Cable, Phone, Streaming Services
2019
Q4
Department Stores, PayPal, Chase Pay
Q3
Gas Station & Streaming Services
Q2
Grocery & Home Improvement Stores
Q1
Gas Stations, Tolls, Drugstores
2018
Q4
Department Stores, Wholesale Clubs, Chase Pay
Q3
Gas Stations, Walgreen's, Lyft
Q2
PayPal, Chase Pay, Grocery Stores
Q1
Gas Stations, Internet, Cable, Phone Service Providers, Mobile Wallets (e.g. Apple Pay, Chase Pay, Google Pay, Samsung Pay)
Perks & Benefits
The Chase Freedom Flex Card features standard Mastercard World Elite benefits as well DoorDash perks. It also comes with Chase's standard benefits which includes great travel insurance and coverage.
Mastercard World Elite Benefits
DoorDash Benefits

3 months of DashPass membership; 50% off DashPass after membership expires (auto enrolled).

Purchase Coverage

Travel and Emergency Assistance Services
Fraud Protection
Note About Calculator
Note: The calculator for the Chase Freedom Flex has four categories listed as 'Quarterly Category'. Since Chase does not release all of their categories for the entire year at once, you'll only be able to calculate cash back based on the quarter categories.
I recommend inputting spend by year if you only want to calculate rewards for a single quarter. For example, entering $1,500 per year for quarter 1 will show the max rewards for that quarter's categories (which will output $75 in cash rewards). Using per month or per quarter would include the 9 months in which the quarter bonus does not apply and thus will reflect 1% back for those extra months.
Rewards Calculator
You can use the rewards calculator to calculate how many points, miles, or cash back you can earn based on your spend per category. This calculator will also give you the dollar value of the card based on the value of the rewards earned and how much each benefit is worth to you, minus the annual fees. You can click the Compare A Card button to compare this card side by side any other card featured on the site within the same calculator.
Note! All category spend entered in the primary card's column (first column when comparing cards) will carry over to all credit card calculators on the site. This means you will not have to re-enter the same information again and again when browsing during the session.
Rewards Rate
5%
Earn 5% cash back on up to $1,500 in combined purchases in bonus categories each quarter you activate.
5%
Earn 5% on travel purchased through Chase.
3%
Earn 3% on dining at restaurants and drugstores.
1%
Earn 1% on all other purchases.
Intro Bonus
Earn a $200 Bonus after you spend $500 on purchases in your first 3 months from account opening.
Foreign Transaction Fee
3%
Main Card Highlights
Enjoy new 5% categories each quarter!
No minimum to redeem for cash back. Cash Back rewards do not expire as long as your account is open.
0% Intro APR for 15 months from account opening on purchases, then a variable APR of 14.99 - 23.74%.
No annual fee.
Looking to apply for a cash back credit card? Get a list of the best cards along with:
Current Sign-Up & Welcome Bonuses
Rates & Fees
Credit Score Recommendations
Features
Not sure what you're looking for? Use the
CardMatch™
tool and get matches with offers you're likely to qualify for!
FAQ
Is the Chase Freedom Flex a good card?
Yes. It's a great no-annual fee cash back credit card that earns 5% back across quarterly rotating categories along with a great return on Chase Travel, dining, and drugstore purchases.
How does Chase Freedom Flex Points work?
Cash back earned with the Chase Freedom Flex is recorded as Ultimate Rewards Points with each point being worth 1 cent each when redeemed for cash.
How much are Chase Freedom Flex points worth?