The Discover IT Cash Card is a great card if you don't mind keeping track of it's rotating quarterly categories. Similar to the Chase Freedom Card, the Discover IT's 5% categories change every quarter. This allows you to rake in a serious amount of cash back for everyday categories such as gas, restaurants, and more. The Discover IT usually cycles through some very useful categories. On top of earning a lot of cash back, this card offers double cash back the first year so you're looking at a marvelous return the first year of holding the Discover IT.
Quick Details
Issuing Bank
Card Network
Rewards Earned
Annual Fee
Authorized User Fee
Foreign Transaction Fee
Bonus Categories
The Discover IT Card features rotating categories that change every quarter. Quarters are defined as:
Quarter 1 (Q1) - January to March
Quarter 2 (Q2) - April to June
Quarter 3 (Q3) - July to September
Quarter 4 (Q4) - October to December
Every quarter has a combined spend cap of $1,500. Once you hit the cap, you will earn points at the non-category rate (1%) for the remainder of the quarter. Discover provides their list of rotating categories for the entire year annually.
5% Rotating Quarterly Categories

Combined spend cap of $1,500 across all featured categories; earn at non-category rate (1%) after hitting cap.
Must activate your rotating quarterly category every quarter. This is not automatic.
Q1 2021:

Grocery Stores
Walgreens
CVS

Q2 2021:

Gas Stations
Wholesale Clubs
Select Streaming Services

Q3 2021:
Q4 2021:

Amazon.com
Walmart.com
Target.com

1% Non Category

Previous Categories
Listed below are the categories that have been previously featured on the Discover Card. This can give you an idea of what to expect every year with Discover's rotating categories. While they do add/remove a few categories every year, they tend to repeat most of the common categories every year.
Discover IT Past Categories
2020
Q4
Amazon.com, Walmart.com, Target.com
Q3
Restaurants, PayPal
Q2
Gas Stations, Uber, Lyft, Wholesale Clubs
Q1
Grocery Stores, Walgreens, CVS
2019
Q4
Amazon.com
Q3
Restaurants
Q2
Gas Stations, Uber, Lyft
Q1
Grocery Stores
2018
Q4
Amazon.com, Wholesale Clubs
Q3
Restaurants
Q2
Grocery Stores
Q1
Gas Station, Wholesale Clubs
Perks & Benefits
The Discover IT Card features the popular Discover Cashback Match along with access to Discover Deals.
Discover Cashback Match

Discover will match your first 12 months of cash back, dollar-for-dollar.
Benefit gives you a total 10% return on rotating categories and 2% return on non-category purchases the first year.
Matched cash back is given to you at the end of your first year.
Example: You earn $500 in cash back your first year, Discover will give you an additional $500 at the end of your first year with the card.

Discover Deals

Access to deals/coupons that can earn you additional cash back and money off of everyday purchases.
Sign Up Bonus
The sign up bonus for the Discover IT Card, as well as all other Discover Cards, is a full year of matched cash back. This means any cash back you earn during the year will be doubled and deposited into your Discover Cash Rewards balance at the end of the first year.
Fees
Annual Fee
There is no annual fee for the Discover IT Card. You will always be earning the maximum amount of return when it comes to chasing the 5% rotating categories.
Authorized User Fee
There is no fee for adding additional users to the Discover IT Card. Discover sticks to similar categories every year, so if you have friends and family that spend in categories such as these, I'd recommend adding them to help reach the $1,500 quarterly cap easier and to maximize cash back.
Foreign Transaction Fee
The Discover IT Card does not have a foreign transaction fee. While you might run into some blockades when using Discover outside of the United States, it's nice to know that if you do you will not be penalized for using the card.
Note
Note: This calculator features four categories labeled as Q1, Q2, Q3, and Q4. The categories for the next year are unknown until Discover releases them which usually occurs in the second half of December. For this reason, set categories cannot be entered for future quarters.
Another thing to note is that these calculators calculate a full 12 months for each category as default. If you're only looking to calculate for three months, you'll want to set the calculator to do such for each category. You can do this by selecting three months under "By Month, Per Month" or selecting "By Month, Full Time" if you want to enter a total spend across all three months.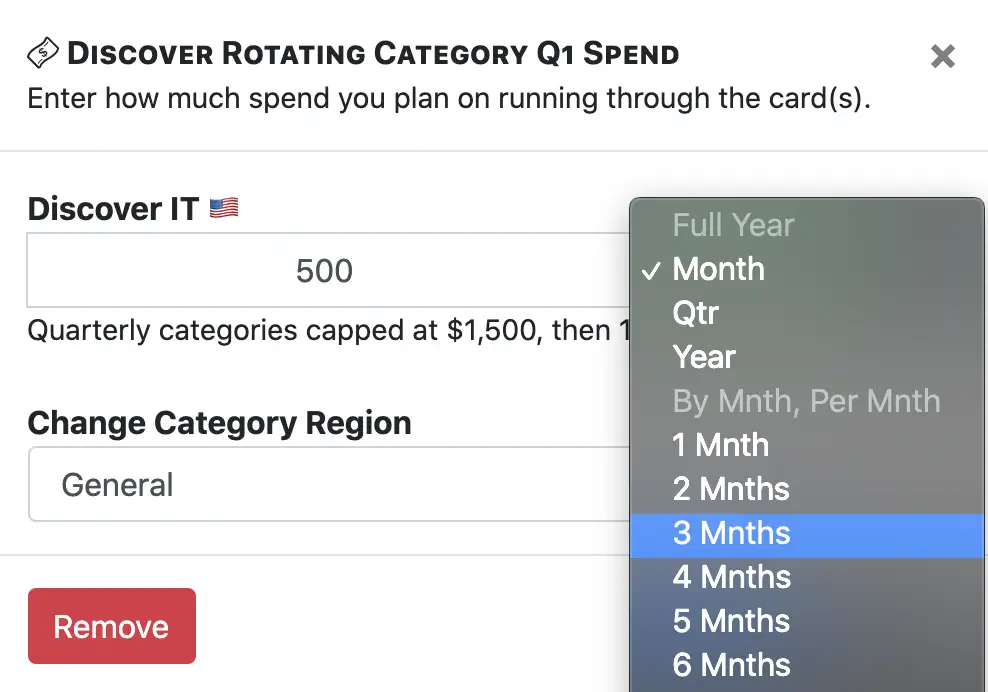 Rewards Calculator
You can use the rewards calculator to calculate how many points, miles, or cash back you can earn based on your spend per category. This calculator will also give you the dollar value of the card based on the value of the rewards earned and how much each benefit is worth to you, minus the annual fees. You can click the Compare A Card button to compare this card side by side any other card featured on the site within the same calculator.
Note! All category spend entered in the primary card's column (first column when comparing cards) will carry over to all credit card calculators on the site. This means you will not have to re-enter the same information again and again when browsing during the session.
Credit Card
This calculator will calculate the cash value of the selected credit card(s) based on spend, benefits, and fees. You can compare this card against any other rewards card side-by-side by clicking on the Compare A Card button.
Category Spending
Enter how much you spend in each category listed. You can click on the amount to edit the value, +/- Categories to add and remove categories from the list, and Options to copy spend between columns and clear all spend.
Total Earnings
The sum of all rewards earned from Category Spending and Reward Bonuses, along with the cash value of it all based on Currency Worth.
Cash Value
Cash value of Total Earnings based on Currency Worth.
Rakuten Rewards
$20 Bonus
Monetary Bonuses & Fees
Cash bonuses, annual fees, authorized user fees, and any other listed fees.
Grand Total
The total estimated value you can get out of this card and the amount of return for your spend.