Hilton Honors Points can be redeemed towards Amazon purchases at a rate of 500 points for $1 with Amazon. This gives Hilton Honors Points a cash value of 0.2 cents per point on the Amazon.com website.
Link Amazon and Hilton Account
If you want to use your Hilton Honors Points with Amazon's Shop With Points program, you will first need to link your Hilton Honors account with your Amazon account. This can easily be done using the following steps:
Start off by going to the Hilton-Amazon Link page.
Click enroll a new rewards account.
You'll be asked to log into your Hilton Honors account.
Follow the prompts and agree to the terms.
Link your account!
Now that your accounts are linked, you will be given the option to use your Hilton Honors Points when checking out at Amazon.com. You'll see Hilton under your list of enrolled rewards accounts when you go to the Amazon Shop with Points landing page. If you ever want to remove your Hilton Honors account, you can do that here as well.

Link Other Accounts
You can link several other rewards programs to your Amazon account. This includes:
If you have accounts with any of the programs listed above, you can link those accounts as well following similar steps. Start from the Amazon Shop with Points page and click on the program you're trying to link.

How To Redeem Hilton Points on Amazon.com
With your accounts linked, redeeming your Hilton Honors Points on Amazon.com is a breeze. In order to use your points, all you have to do is shop on Amazon.com like you normally would.
Once you're ready to check out, you'll see find the option to pay with Hilton Honors Points under the payment options. Select Hilton Points as the option and you'll be asked how many points you want to apply to your Amazon purchase.

When redeeming points, the rate is 500 Points for $1 with Amazon which gives you a point value of 0.2 cents each. Once you select the amount of points you want to use, it will take it off the total balance. You can use your Hilton Honors Points to cover your entire Amazon purchase or you can apply them for partial payment and pay the rest with a card. The choice is yours!
Hilton Points To Amazon Calculator
The Hilton Points To Amazon Calculator will calculate the cash value of Hilton Points to cash with Amazon. You can enter Hilton Honors Points to see how much cash it equals with Amazon or you can enter a cash amount for Amazon to see how many Hilton Honors Points you need.
TIP:
Don't forget to use a
Cash Back or Shopping Portal
when making purchases on Amazon to earn additional cash back, points, or miles on your purchases!
Is Redeeming Points On Amazon Good Value?
Normally, Hilton Honors Points can be worth up to 0.6 cents per point when applied towards free nights at Hilton Hotels and worth even more when you have Hilton Elite Status and use the 5th Night Free Benefit.
As an example, lets say that you have a total of 20,000 Hilton Honors Points. With Amazon this would be worth a total of $20, but using these points towards a free night at Hilton could easily give you $100 or more in value. Here's the rate for a random weekend at Hampton Inn & Suite Nashville Smyrna: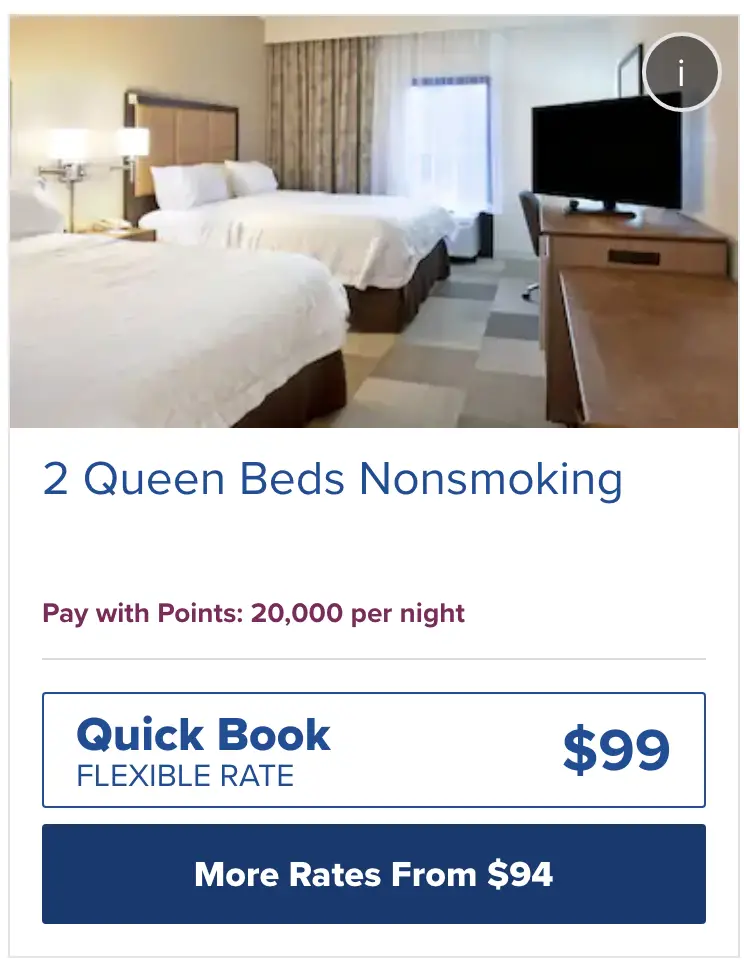 After taxes are factored in, you're looking at 1 night stay costing around $116 meaning your 20,000 Hilton Honors Points would be worth 0.58 cents each for this redemption which is close to the average value. That's $96 in additional value!
If you want to know all the redemption options and the cash value of each outside of redeeming for Amazon or Hilton Hotels, you can check out the Hilton Honors Points Value Calculator.
Summary
Using your Hilton Honors Points for purchases on Amazon is an easy way to shave down the cost. It will not give you the best value, but it's a great way to keep cash in your pocket.
If you're short on Hilton Honors Points you can easily earn more dining at local restaurants or using the Lyft rideshare service.
Hilton also has an excellent line up of credit cards that you can use to earn Hilton Honors Points at the speed of light on everyday purchases including dining, gas, and (of course) Hilton Hotels. You can calculate total Hilton Honors Points based on your spend, how much you value card benefits, and annual fees with the Hilton Honors Credit Card Calculators listed below. You can also use the Best Credit Cards For Hilton Points calculator to find the best cards based on your spend across up to 20 categories!
Lastly, you can always pick up any of Amazon's credit cards if you find yourself spending on their site often. Amazon has several cash back credit cards that can earn you 5% on Amazon.com and Whole Foods Market purchases. Calculate how much you can earn with the Amazon Cash Back Calculators to find the best cards based on your spend.
Hilton Amazon FAQs
Can you use Hilton Points on Amazon?
Yes. You can use as many Hilton Honors Points as you have in your account and combine it with another form of payment.
How much is a Hilton Point worth on Amazon?
500 Hilton Points is equal to $1 in worth on Amazon.
How much are Hilton Honors Points worth?
How do I add Hilton Points to Amazon?
Can you use other programs with the Amazon Shop with Points Program?
Yes. You can use AMEX Membership Rewards Points, Capital One Miles, Discover Miles, Citi ThankYou Points, and Chase Ultimate Rewards Points.