If you're a few Hyatt Points shy of a free night award or you've found an excellent redemption that offers superb value, you can buy them directly from Hyatt's website at a standard rate of 2.4 cents per point.
Cost To Buy Hyatt Points
Hyatt Points will cost you 2.4 cent per point at the standard rate. This will be the cost no matter how many points you buy in a single transaction.
Buying Hyatt Points

| Points Purchased | Cost Per Point |
| --- | --- |
| 1,000-55,000 Points | 2.4 Cents |
You can buy as little as 1,000 Hyatt Points for $24 or as many as 55,000 Hyatt Points for $1,320. You can buy a total of 55,000 Hyatt Points per calendar year, but this can change during promotions so be aware that it may be possible to buy more several times per year.
Details On Buying Hyatt Points

| | |
| --- | --- |
| Base Cost Per Points | 2.4 Cent |
| Taxes? | No. |
| Min Purchase Per Transaction | 1,000 Points |
| Max Purchase Per Transaction | 55,000 Points |
| Max Points Per Calendar Year | 55,000 Points |
| Purchase Increments | 1,000-point Increments |
Do note that buying Hyatt Points do not count towards Hyatt Elite status.
Buy Hyatt Points Calculator
If you plan on buying Hyatt Points at the standard rate, the calculator below will estimate how much it will cost you. Do note that the cost of buying points can change at any time, so you'll want to log into your World of Hyatt account and check their buy points page to see the actual cost.
When To Buy Hyatt Points
Hyatt Points are worth about 1.8 cents on average, but it's easy to find redemptions that give you more than 2 cents in value. Buying Hyatt Points at 2.4 cents each can be useful if you need to top off your account due to being a few points short of a redemption or if you've found a redemption that will give you significantly more than 2.4 cents in value meaning you're redeeming them for more than what you paid for them.

Hyatt Points are on sale several times per year which allows you to buy points for a great price and redeem them for great value. Hyatt is one of the few programs in which buying points can actually benefit you more often than it can hurt you.
For example, Hyatt Points have been on sale for as low as 1.8 cents per point. Keeping that price in mind, lets lookat a few popular Hyatt hotels.

The Hyatt House Fort Lauderdale is a popular Hyatt hotel close to the cruise ports for Miami. This hotel typically goes for around $300+ per night before taxes. You can save yourself over $100 per night purchasing points versus paying cash.

If you're trying to get away, Hawaii has a fair handful of properties that will give you great value when redeeming points. The Grand Hyatt Kauai Resort and Spa runs between $600-$800 depending on the dates. The hotel itself costs 25,000 points per night which will run you $450. In this instance, buying points can easily save you a couple hundred dollars.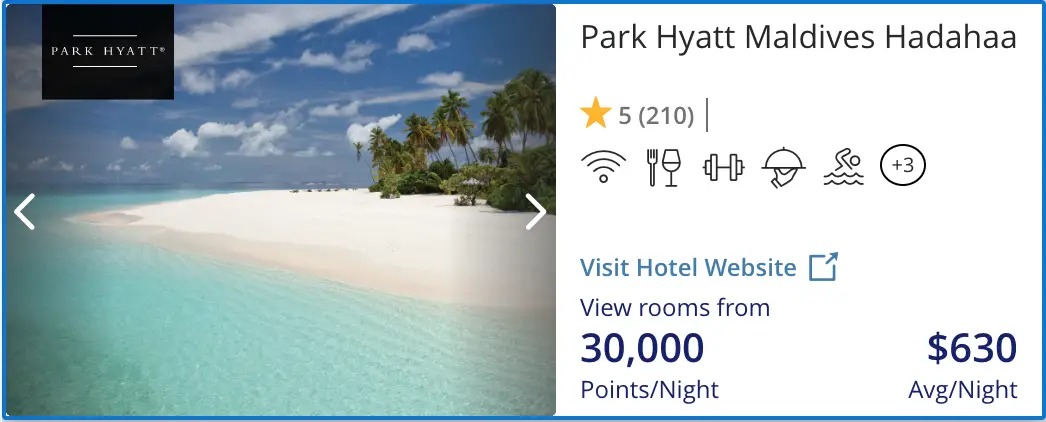 If you want to experience the Maldives, the Park Hyatt Maldives will cost you 30,000 points per night. You will not be able to buy enough points for 2 nights, but you can top off your account by transferring Chase Ultimate Rewards Points to your Hyatt account or grabbing up sign up bonuses from either the World of Hyatt Credit Card or any of the Chase Ultimate Rewards credit cards. Remember that Ultimate Rewards Points can be converted to World of Hyatt Points at a 1:1 ratio.

The best value will come from some of the lower cost hotels as you can save a good amount of money across multiple days. For example, the Hyatt Regency Atlanta is a 8,000-point per night hotel that will typically run you around $270 per night. A 5-night stay will run you $1,601 after taxes.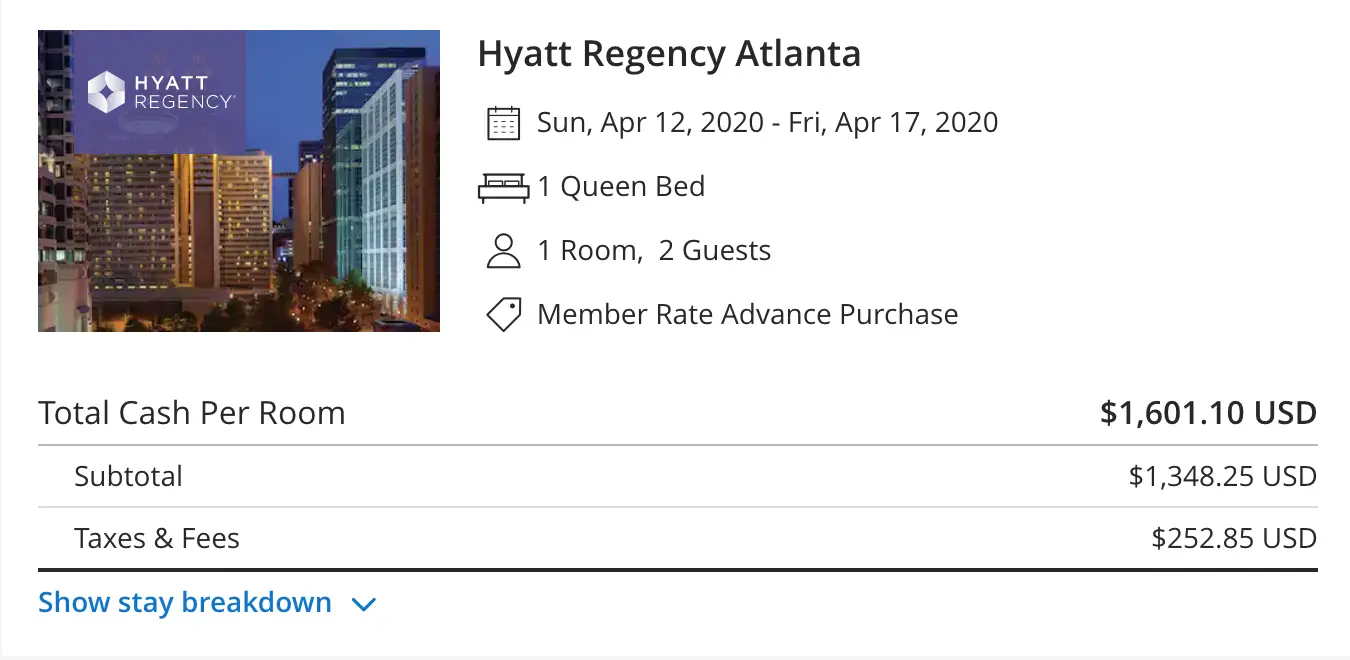 Instead of dishing out that large amount, you can buy 40,000 Hyatt Points through this promotion for $720 and save a whopping $881.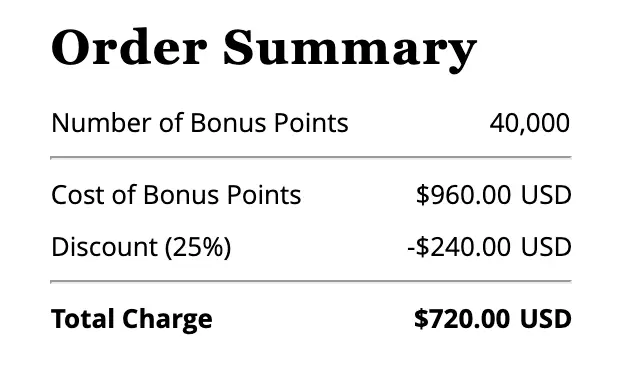 There's lots of great value to be had when Hyatt Points are on sale. Just remember that you can only buy 55,000 Hyatt Points per year. Also, be sure to run the numbers to make sure you're getting a great deal on your purchases.
How To Buy Hyatt Points
If you've found an excellent redemption and you're ready to purchase some Hyatt Points or you need to top off your World of Hyatt account, you can do so in a few short steps. Do note that you will need your World of Hyatt number and email address associated with your World of Hyatt account.
You can buy Hyatt Points by following these steps:
Head to Hyatt's Buy Points page.
Select how many Hyatt Points you wish to buy.
Log into your name, Hyatt account number, and email.
Enter your payment details.
Review your order and agree to the terms and conditions.
Click Purchase Bonus Points.
That's all there is to it. Purchased points should post to your account immediately, but you should allow up to 48 hours.
Best Card To Use To Buy Points
Points are purchased through the Points.com storefront on the Hyatt website, so this will not be labeled as a "Hyatt" purchase. This will not trigger the Hyatt category on the World of Hyatt Credit Card and will not trigger hotel or travel categories featured on other travel cards. This means you can use any credit card that earns points or miles that are valuable to you or you can use a 1.5% or higher cash back credit card if you have one.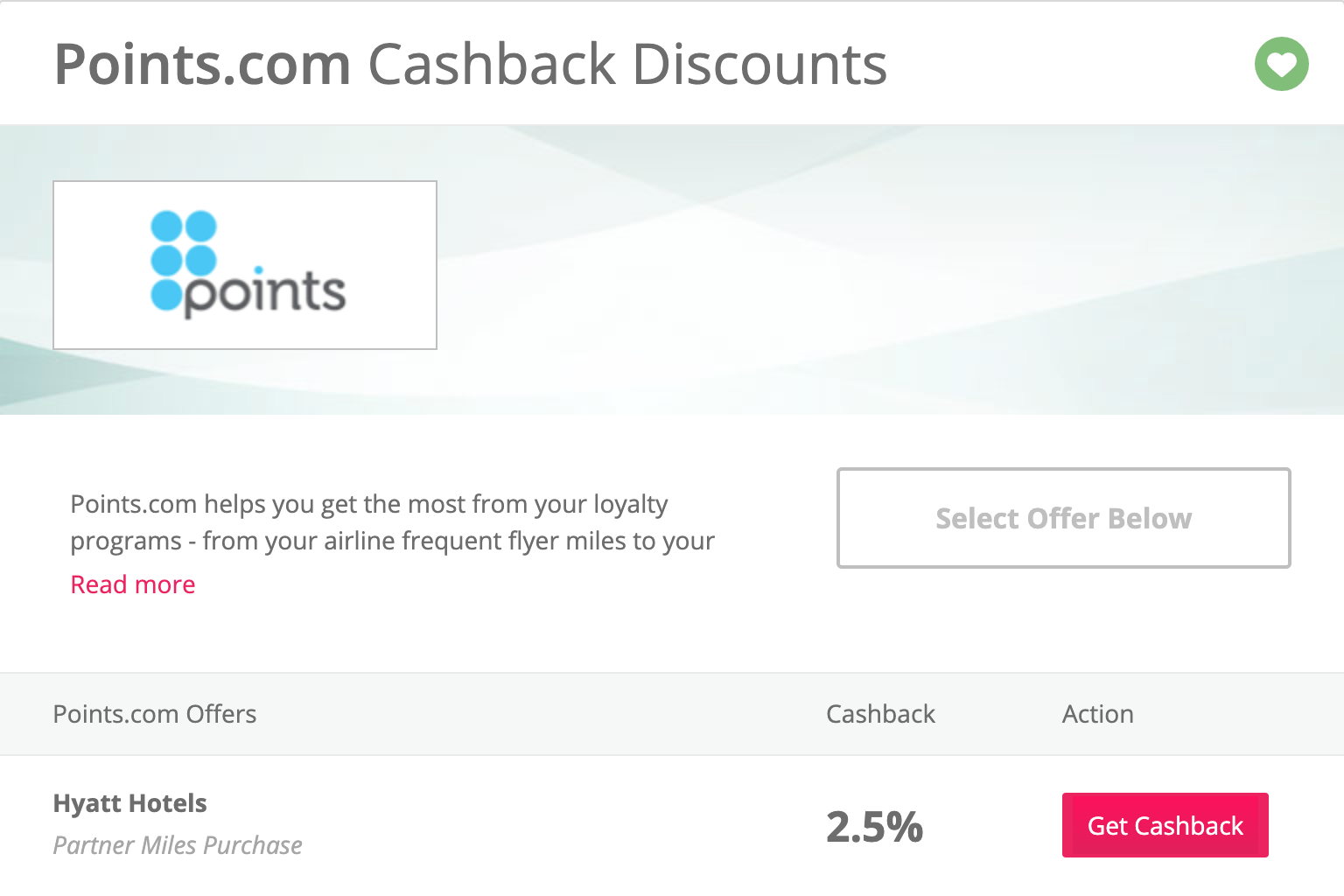 Use TopCashback For Bonus Rewards
Points.com is featured on the TopCashback portal. This allows you to earn cash back on top off the points you're purchasing and the rewards your rewards credit card will earn you. Altogether you would earn:
The amount of Hyatt Points you purchase
Cash back through TopCashback (standard is 2.5% cash back)
The Rewards from the credit card you used to pay
I recommend reading up on booking travel with cash back portals and checking out our TopCashback Review. You can sign up for a free TopCashback account through The Point Calculator and earn some bonus cash back!