Buying Marriott Bonvoy Points
Learn the cost to buy Marriott Bonvoy Points. Calculate total cost to buy based on standard price and during promotions. Details on how to benefit.
---
If you're in need of Marriott Bonvoy Points and transferring points to your account is not an option, you can buy Marriott Points. This page covers the details of buying Marriott Points at both the standard price and during active promotions, when to buy them, and how to buy them.
Cost To Buy Marriott Points
Marriott Bonvoy Points will cost you 1.25 cents per point at the standard price. This means that 1,000 Marriott Bonvoy Points would cost you $12.50. You can buy up to 50,000 Marriott Bonvoy Points per year which would cost you a total of $625.
Buying Marriott Points: Standard
Marriott Points Cost
1,000 - 50,000 Points
1.25 Cents
Do note that there are times in which Marriott will raise the amount of points you can buy per year (mostly during promotions), so that amount is not set in stone.
Buying Marriott Points Calculator: Standard Rate
The Marriott Bonvoy Calculator Below will calculate how much it will cost you to buy Marriott Bonvoy Points at the standard rate. If there's no promotion going on, these points will cost you 1.25 cents each. Marriott Bonvoy Points must be purchased in 1,000-point increments starting at 1,000 points.
Buying Marriott Points On Promotion
Marriott Bonvoy Points are sold at reduced costs several times per year during their Buy Points promotions. These promos can offer discounts as high as 60% off which is a superb value if you know how to redeem your points.
Previous Sales
Ended 10/22/20 - 0.83 cents each
Are Buying Marriott Points Worth It?
When Marriott Bonvoy Points are on sale, there's several instances in which you might want to earn points. Those instances are:
You're close to a redemption and need to top off your account
Buying points and redeeming them is cheaper than paying cash
You're aiming to stay at a very high-end resort that gives you great value per point
Top Off Your Marriott Account
The most common reason for buying Marriott Bonvoy Points (or any rewards really) is to top off your account. If you have 78,000 Marriott Bonvoy Points and you're 2,000 points away from that 5-day stay at a your favorite hotel, then buying those few Marriott Points can definitely be worth it.
Before you top off your account by purchasing Marriott Points, you'll first want to check Marriott's Transfer Partners. There's several programs that allow you to transfer points directly to your Marriott Bonvoy account. The most popular transfer partners are:
Transferring rewards to your Marriott Bonvoy account will save you money since transferring from these programs will cost you $0. You can use check out the Marriott Transfer Partners Calculators to get the full list of transfer partners and calculate the transfer of points to and from the Marriott Bonvoy Program.
When Buying Points Are Cheaper
In some instances, buying Marriott Bonvoy Points can be the cheaper option over paying cash for your stay. This is usually the case when Marriott has one of their really good sales. For example, if Marriott Bonvoy Points cost 0.83 cents per point, here are the cash values of standard awards at Marriott hotels based on that cost.
Marriott Standard Awards @ 0.83 Cents

| | |
| --- | --- |
| Category 1 | $63 |
| Category 2 | $104 |
| Category 3 | $145 |
| Category 4 | $208 |
| Category 5 | $291 |
| Category 6 | $415 |
| Category 7 | $498 |
| Category 8 | $706 |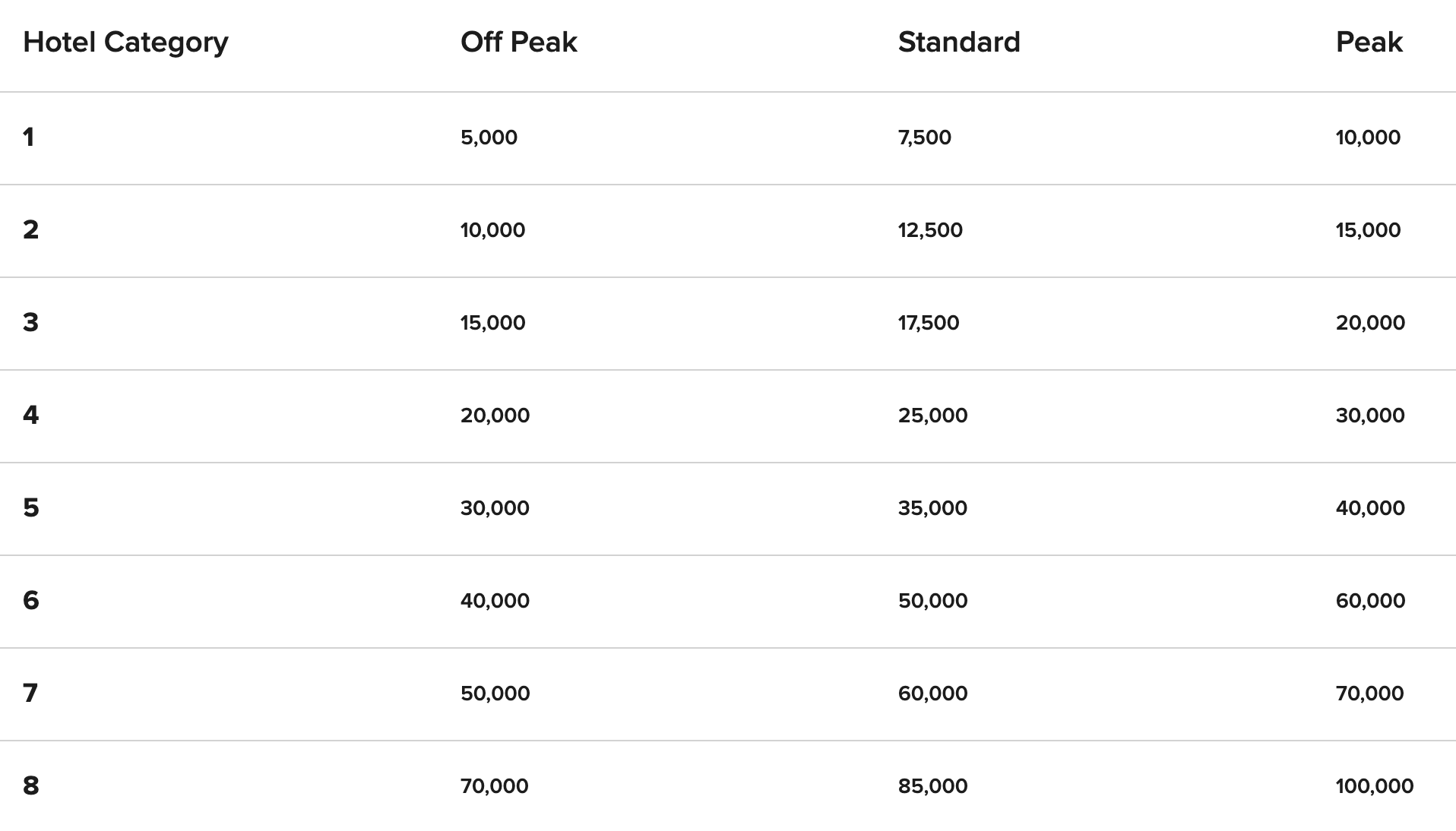 So if you found a Category 4 hotel that was $250 per night, you could actually save money by buying 25,000 Marriott Bonvoy Points for $208 and then redeeming those points for your stay. Just be sure to factor in how many points you would have earn earned if you would have paid cash for the stay altogether because that counts as well. The savings on some redemptions are generally higher even with the points that you would have earned factored in. This method holds true mostly with Category 1-3 hotels. It works for high category hotels as well, but you can only buy so many Marriott Points per year so it's not as useful.
Another example is the Fairfield Inn & Suite Chillicothe (which is a nice hotel). A five night stay would cost either $179 per night or 47,500 for the entire stay. The cash cost of a five night stay would be $895 total. Buying 47,500 points at 0.83 cents each and then redeeming those points for a five night stay would only cost you about $395. That is a $500 difference. Since you're not going to earn $500 worth of Marriott Bonvoy Points for this booking, the better route in this case would be to buy points
Again, this is not a common occurrence but there are times in which buying points is the better option. It's worth checking the cash value and cost in points of your hotel, especially when Marriott Bonvoy Points are on sale.
Large Redemptions
The last reason that most people buy Marriott Bonvoy Points is because they're trying to build their balance for a high-cost redemption. This falls between both of the previous mentioned methods as you're technically topping off your account, but you're buying a lot more than a 'few' points.
These redemptions will usually apply to category 7 and category 8 hotels in which the goal is to aim for the 5th night free benefit. Depending on the pricing, a 5-night stay at these categories will cost you anywhere between 200,000 to 400,000 Marriott Bonvoy Points. Yeah... it's a lot.
Building up 200,000 to 400,000 Marriott Bonvoy Points isn't the hardest thing to do, but it does take effort. People build up points for these kind of redemptions by:
Earning large sign up bonuses and running spend through Marriott and partner credit cards
Staying at Marriott brand hotels
Buying Marriott Points (typically when on sale)
A big chunk of earning that many points will stem from earning sign up bonuses. Sign up bonuses are earned when you meet a certain spend requirement on a new credit card you've obtained. Usually you'll have 3 months to complete the goal and once you do, you'll receive the points that sign up bonus offered.
Sign up bonuses are the easiest way to build up tens of thousands of points and is the primary method of reaching these types of redemptions. Sign up bonuses can be earned with Marriott's line up of credit cards or you can earn sign up bonuses with partner credit cards from programs like American Express Membership Rewards or Chase Ultimate Rewards and transfer those earned points to your Marriott Bonvoy account.
On top of sign up bonuses, you'll also earn points running spend through credit cards which you'll need to do anyway to reach the goal for the sign up bonus. Running spend through cards will generally not earn you as much as a sign up bonus, but every point counts.
Assuming you've build up a bunch of points via credit card usage and sign up bonuses, any gap between you and your redemption can then be covered purchasing points. This is where Marriott's buy point promotions come in handy. Not only can you top off your account for cheaper than the standard rate, but you can typically but more than the standard cap of 50,000 points.
Before you know it, you'll have enough points to enjoy a luxury vacation at a Category 7 or Category 8 hotel all for the price of a couple annual fees and the purchase of points to top off your account which is a fraction of the price it would cost you if you were to pay cash.
Using TopCashback Buying Points
When you purchase points for your Marriott Bonvoy account, you'll be buying points from Points.com. Points.com is featured on the TopCashback portal which can earn you an additional 2.5% cash back or more on top of your Marriott Bonvoy Points purchase.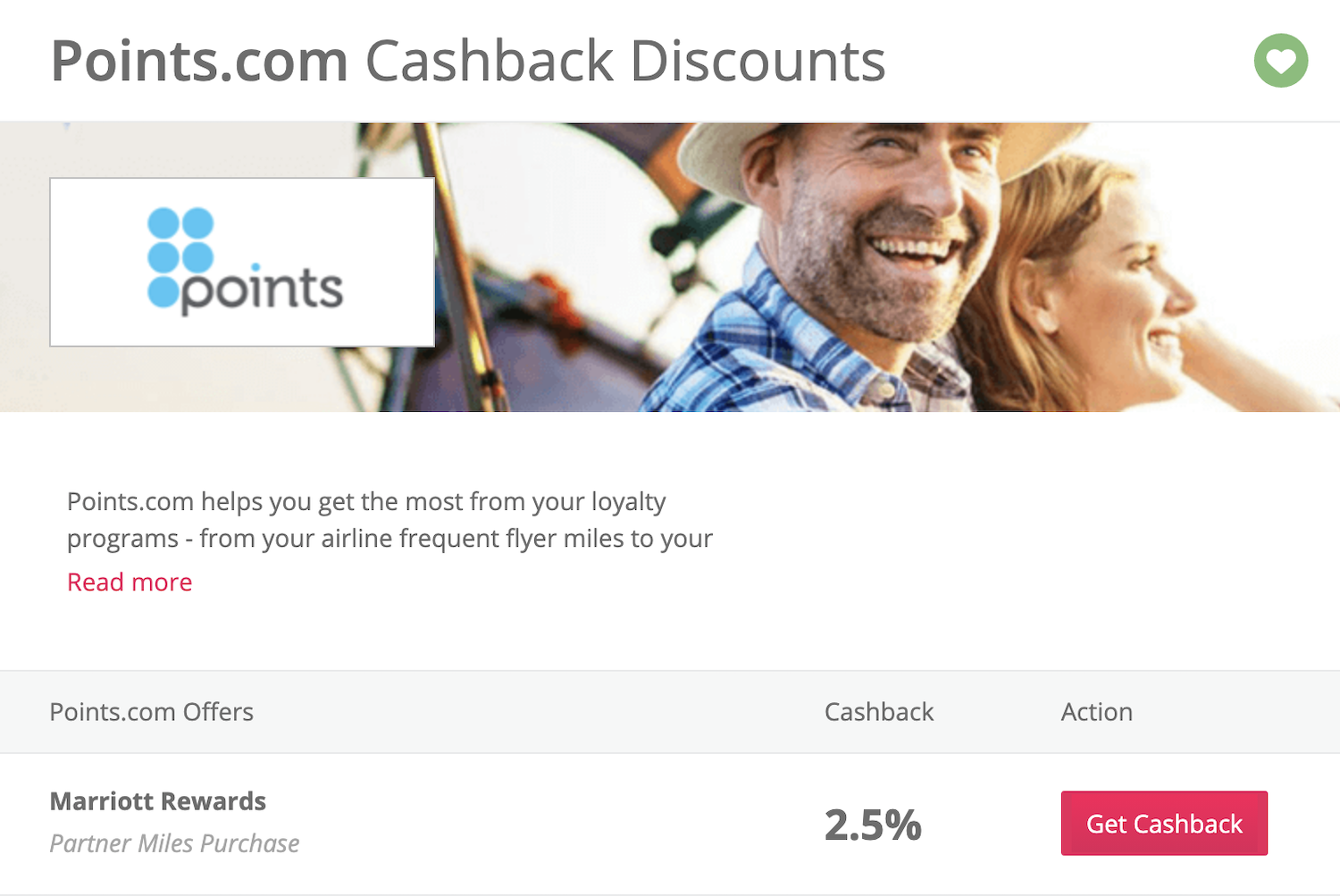 The steps involved for earning additional cash back is easy:
Sign into your TopCashback account.
Search for Points.com on the TopCashback website.
Look for the Marriott Rewards option and click Get Cashback.
You'll be dropped off on the Marriott.com home page.
Go to the buy Marriott Points page and proceed as normal.
After your purchases TopCashback will be notified and cash back will be added to your account. You can learn more about the program by reading our TopCashback Review & Breakdown. If you don't have a TopCashback account, you can sign up through The Point Calculator for free and earn bonus cash back on your first purchase.
How To Buy Marriott Bonvoy Points
If you've made up your mind and you're ready to purchase some Marriott Bonvoy Points, it's fairly easy to do.
How To Buy Marriott Bonvoy Points
Jump over to the Marriott Buy Points page.
Select how many points you want to buy.
Enter your payment information.
Agree to the terms and conditions.
Click Pay Now.
And that's all their is to it! You can buy Marriott Bonvoy Points with all major credit cards which includes:
Marriott Bonvoy Chase Card
Marriott Bonvoy Mastercard
Marriott Bonvoy American Express Card
Ritz-Carlton Chase Card
VISA
Mastercard
American Express
Diners Club
Discover
Carte Blanche
Notice that using a Marriott Bonvoy credit card would only earn you 1 point per $1 spent. If you have the AMEX Blue Business Plus Card you can earn 2 Membership Rewards Points per $1 spent and then transfer those earned points over to your Marriott Bonvoy account at a 1:1 ratio.
Summary
As a reminder, I do not recommend buying points just to buy them because they're on sale. I also do not recommend you buying them just because it seems like a good deal. Be sure to come up with a plan and have a redemption in mind before you buy points. Run the calculations and make sure that buying points will benefit you!
Buying Marriott Points FAQ
Can you purchase Marriott Bonvoy Points?
How much does it cost to buy Marriott points?
The standard cost of is 1.25 cents each. The best time to buy is during promotions in which you can earn 50%-60% bonus points.
How much does it cost to buy 2,000 Marriott Points?
At the standard rate it would cost you $25, but it can be cheaper during promotions. You can use the Buy Marriott Points Calculator on this page to calculate based on standard cost and promotional cost.
What's the lowest amount of Marriott Points you can buy?
You can buy as low as 2,000 Marriott Bonvoy Points and as many as 50,000 per year. Promotions typically allow you to purchase more.
How do I buy Marriott Bonvoy Points?
---