Amazon Rewards Points are earned using Amazon credit cards. The redemption options will vary depending on which cards you have, but the value will always be 1 cent per point.
Rewards points earned with several other travel rewards programs are also redeemable at checkout with Amazon.com through the Amazon Shop with Points program.
Convert Amazon Points To Dollars
Use the Amazon Points Value Calculator to determine the cash value of Amazon Rewards Points. This will let you know how much your points are worth.
Enter any amount of Amazon Points to see the average cash value.
Redemption
Average Dollar Value
All Redemptions
$

0
Your options for redeeming your Amazon Points will vary depending on the card you have.
Synchrony Redemptions
Cash back earned with the Amazon Prime Store Card can only be applied to your purchases at checkout or directly to your statement when signed into your account. Both options have the same effect of shaving the cost off your overall charges with Amazon.
Chase Bank Redemptions
Cash back earned with Amazon Visa and Prime Visa are displayed as points in which one points is equal to 1 cent in value. Points can be used to redeem purchases made at Amazon.com.
Points can also be redeemed for cash (starting at 2,000 points which is equal to $20), through an account statement credit, or electronic deposit into an eligible checking or savings account held by a financial institution located in the United States.
Other redemption options include travel (flights, hotels, cruises, car rentals), gift cards, and more. Points earned with the Amazon Credit Card will not expire as long as the account is opened.
American Express Redemptions
Cash back earned with the Amazon Business American Express credit card and Amazon Business Prime American Express credit card are earned under the Amazon Rewards Program.
Cash back rewards are tracked as points and every 100 points earned in cash back rewards will equal $1. This means that one points is equal to 1 cent.
You can redeem points for eligible purchases at Amazon.com, Amazon.com/business or towards a charge on your statement.
Shop with Points on Amazon.com
The Amazon Shop with Points program allows you to redeem points earned with several popular rewards programs at checkout. Those programs include:
When you attach credit cards from any of the above programs to your Amazon Rewards account, the option to pay with points or miles will be available at checkout.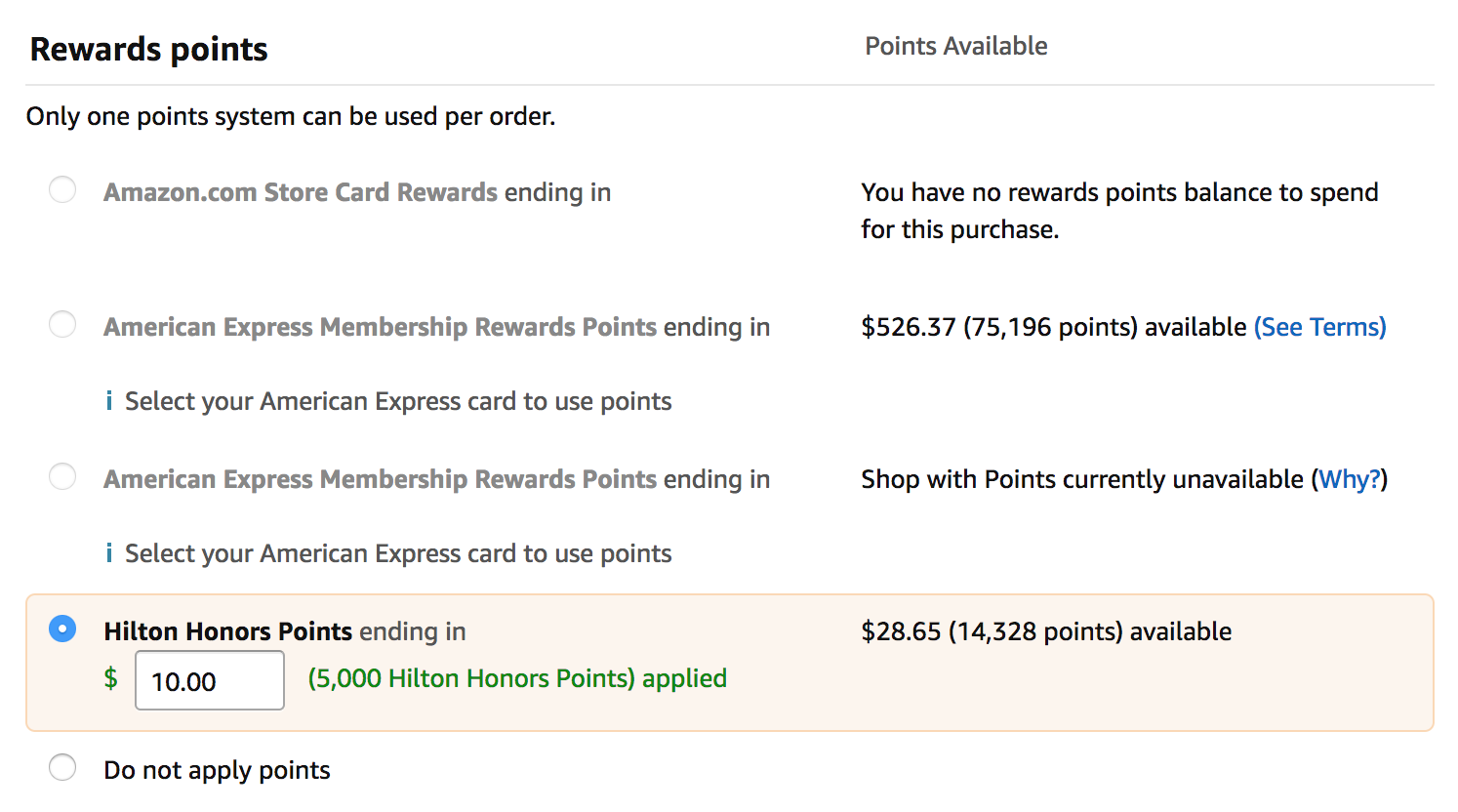 For most of these programs, Shop with Points will give your rewards a value that is equal to or lower than the average redemption value of the rewards being redeemed.
So why would you use Shop with Points through most of these programs? Because of the occasional discounts that Amazon.com offers.
From time to time, Amazon will offer a discount when you use points or miles towards your purchase such as $20 off a $50 purchase. These discounts typically have no minimum redemption amount, meaning that you can use 1 point or mile to trigger the discount.
Using 1 point or mile for a $20 or more discount is exceptional value. For this reason alone, I recommend linking your rewards cards to your account for when these discounts come around.
FAQ
How much are Amazon Points worth?
Amazon Points are worth 1 cents each meaning that 1,000 points have a cash value of $10.
How much are 500 Amazon Points worth?
500 Amazon Points are worth $5 in value through Amazon.com.
How many Amazon Points do you need for $1?
100 Amazon Points is equal to $1 in value through Amazon.com.
How do you earn Amazon Rewards Points?
Amazon Points are earned using Amazon credit cards from Synchrony, Chase, and American Express.
Calculate
Total Rewards & Credit Card Value
For 200+ U.S. Credit Cards
Maximize your credit card rewards!
Our Credit Card Rewards calculator can help you find the credit cards that will earn you the most points, miles and cash back based on your monthly and yearly spending habits. Simply enter your spend amounts into our tool and let our tool do the work for you!