JCPenney is an American department store chain headquartered in Plano, Texas. They have more than 850 locations across the United States including Puerto Rico. JCPenney stores are commonly found in shopping malls and generally house other retailers within their stores such as Sephora, Seattle's Best Coffee, and more.
JCPenney Rewards benefits
The JCPenney Rewards program comes with a great amount of benefits for anyone that enjoys shopping at JCPenney stores.
The program features a 4-tier rewards structure in which 3 of the 4 tiers are only obtainable to those who own the JCPenney Credit Card. Advancing to higher tiers will require you to run spend through their branded credit card.
Regardless of whether you own the JCPenney Credit Card or not, you'll still be able to earn JCPenney Points in the program.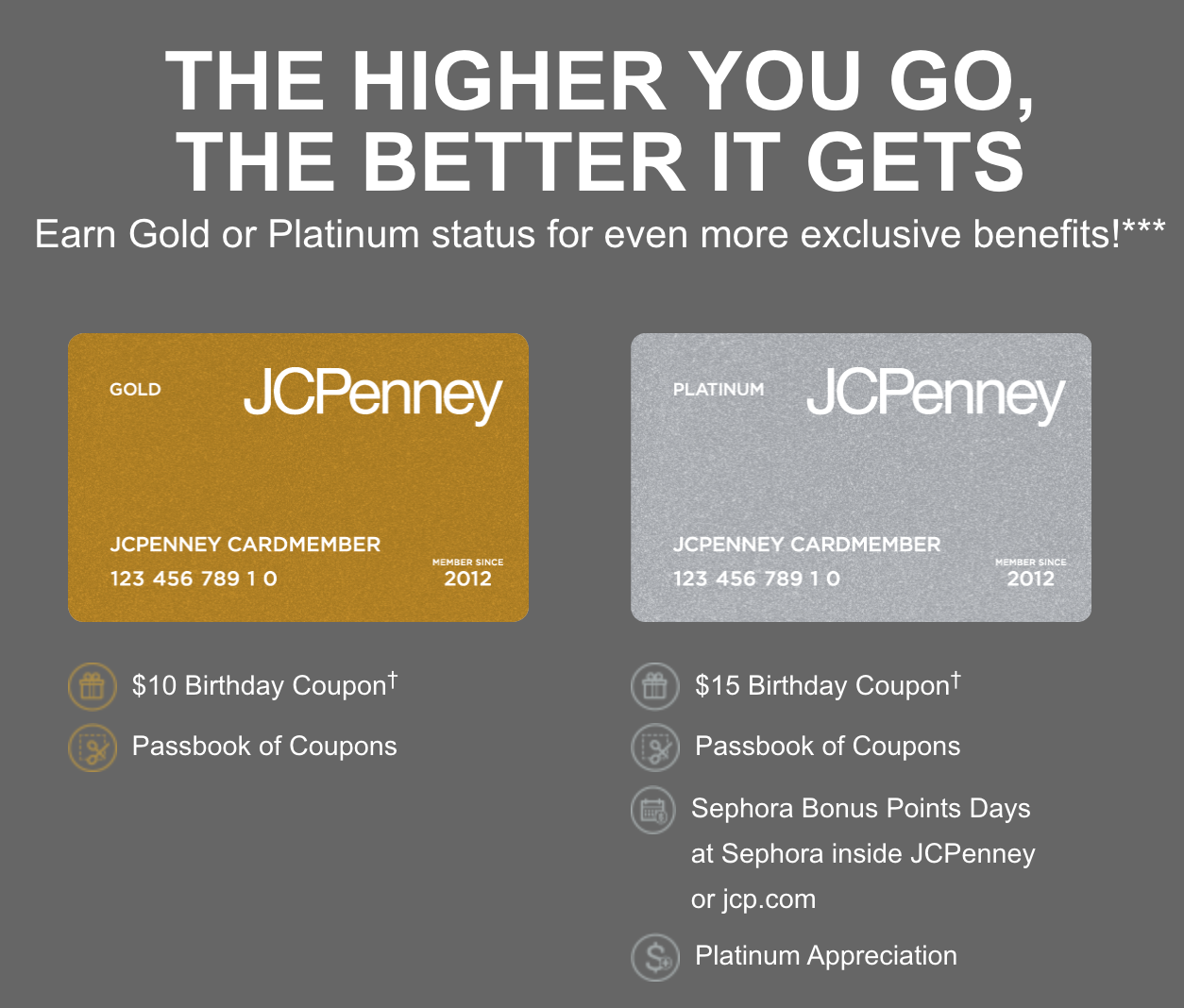 Each tier of the JCPenney Rewards Program unlocks new benefits. When you sign up for a free JCPenney Rewards account, you'll either start at the first tier or the second tier depending on whether or not you own the JCPenney Credit Card.
JCPenney Gold and Platinum status must be re-earned every year. Card level status lasts for the remainder of the year it is earned and the entire following year.
Listed below are the benefits that comes with each tier in the program.
JCPenney Rewards Member
You'll become a JCPenney Rewards Member if you sign up for an account without owning the JCPenney credit card. This level grants you the ability to earn JCPenney Points at the rate of 1 JCP Point per $2 spent meaning every $400 you spend will earn you a $10 reward.
As a member you'll receive a birthday gift annually on your birthday as long as you've earned points in the JCPenney Program within the last 12 months. You'll also receive access to bonus events which can net you some extra JCPenney Points.
JCPenney Red (Cardholder)
JCPenney Red is obtained once you become a JCPenney Credit Cardholder. Non-cardholders will not be able to reach this status, Gold or Platinum without having their credit card.
JCPenney Red offers exclusive benefits and 150+ credit savings days. This all equates to a lot of percent-off and dollar-off coupons, special events that can earn you bonus points, and various promotions that non-cardholders will not have access to.
You'll also be able to partake in special financing when making purchases at JCPenney with the JCPenney Credit Card.
JCPenney Gold
JCPenney Gold is obtained by spending $500 or more with JCPenney on the JCPenney Credit Card during the calendar year. This card level comes with all the benefits of the JCPenney Red level along with one addition benefit which involves receiving a passbook of coupons.
Within this passbook, you'll also find a 'Pick Your Own Sale Day' coupon which can be very useful if you plan on making a big purchase in-store or online with JCPenney.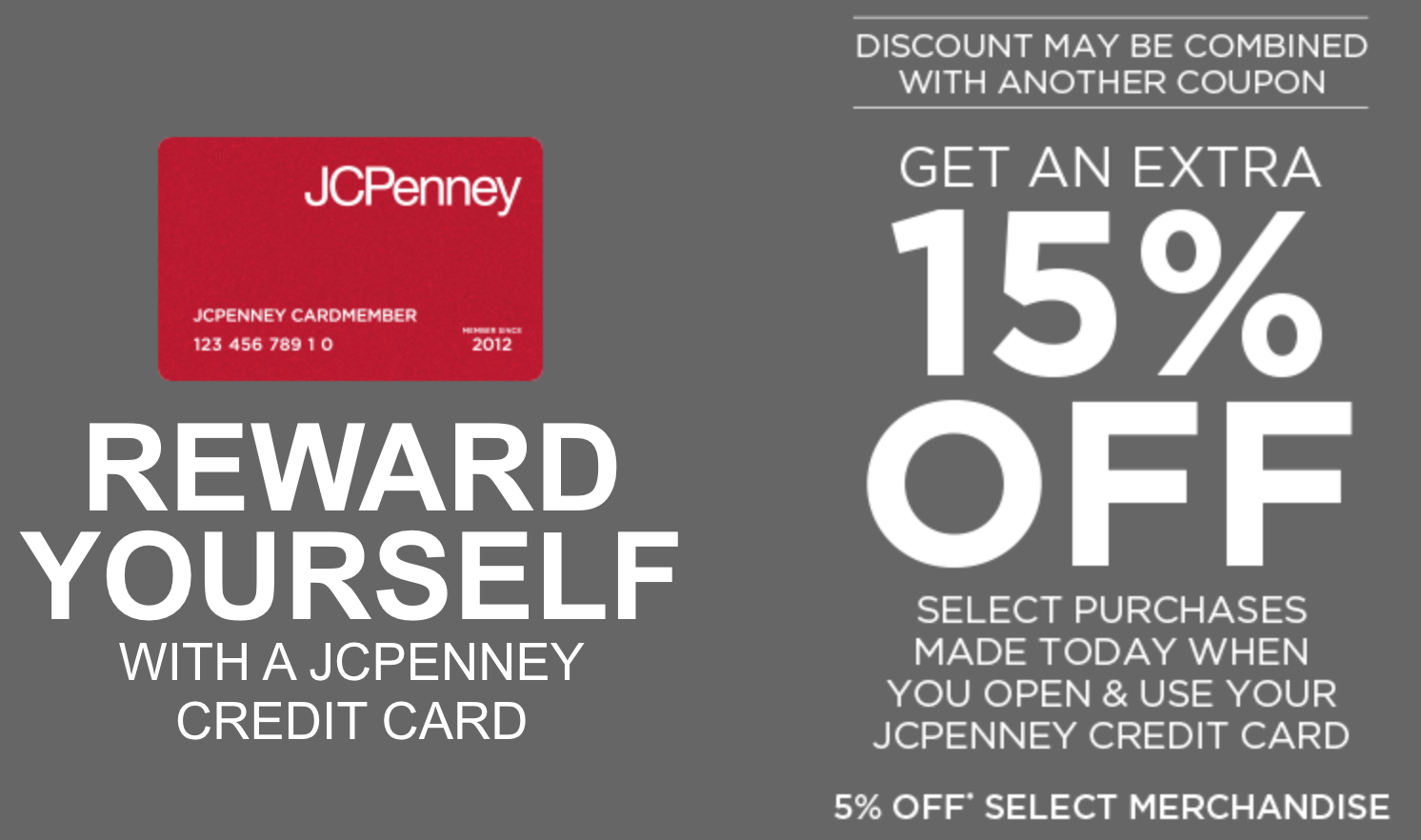 JCPenney Platinum
JCPenney Platinum is the highest card status in the program and it is earned by spending $1,000 or more with JCPenney using the JCPenney Credit Card.
With this level, you'll receive the benefits offered at all other tiers along with Sephora Bonus Points Days which earns you bonus JCPenney Points shopping at Sephora's inside JCPenney or on JCP.com and Platinum Appreciation which gives Platinum members exclusive to sales/promotions.
JCPenney credit cards
JCPenney offers one co-branded credit card that allows you to earn JCPenney points at 2X the speed of non-Cardmembers. The card also grants access to the full JCPenney Rewards program. Without it, you will not be able to obtain JCPenney Gold or JCPenney Platinum status.
Earn 1 point per $1 spent at in-store and online with JCPenney, and at retailers within JCPenney stores.
Special Financing Offers: Receive between 6 to 30 months on large JCPenney purchases.
JCPenney Rewards Full Access: You'll be able to obtain JCPenney Gold and JCPenney Platinum status as a cardholder.
How much are JCPenney points worth?
Every 200 JCPenney Points you earn will be redeemable for a $10 reward with JCPenney. This makes points in the JCPenney Rewards Program worth 5 cents each which is pretty high compared to most store rewards programs.
Convert JCPenney points to dollars
Use the JCPenney Points Value Calculator to determine the cash value of JCPenney Points and how many $10 rewards certificate you can earn.
Enter any amount of JCPenney points to see the average cash value.
Redemption
Average Dollar Value
# of $10 Rewards

0

Reward Certificates
Points Value
$

0
FAQ
How much are JCPenney Rewards Points worth?
JCPenney Points are worth 5 cents each. You can redeem 200 points for a $10 rewards certificate.
How do you earn JCPenney Rewards Points?
JCPenney Rewards members who use their JCPenney credit card to pay for purchases will earn 1 point per $1 spent. Non-cardmembers will receive 1 point per $1 spent.
Can you earn JCPenney Rewards shopping at Sephora?
You can earn JCPenney Rewards spending at Sephora locations that are within JCPenney stores.
Calculate
Total Rewards & Credit Card Value
For 200+ U.S. Credit Cards
Maximize your credit card rewards!
Our Credit Card Rewards calculator can help you find the credit cards that will earn you the most points, miles and cash back based on your monthly and yearly spending habits. Simply enter your spend amounts into our tool and let our tool do the work for you!