Walgreens is the second-largest pharmacy store chain in the United States and is based out of Deerfield, Illinois. They have over 9,000 locations throughout the United States and are part of the Walgreens Boots Alliance which also consists of Duane Reade (found mostly in New York) and Boots which is a British health and beauty retailer in the United Kingdom and other countries.
The myWalgreens Rewards program offers lots of great benefits for anyone that frequently shops at Walgreens. This includes the ability to earn and redeem Walgreens Cash on purchases made in-store and online with Walgreens, free shipping, free ship to store, order pickup, and more. The program is available to those in the United States.
---
Walgreens Credit Cards
Walgreens does not have a co-branded credit card that earns Walgreens Cash or Walgreens Points, but it is a featured category on the Goldman Sachs Apple Card. The card features Walgreens and Duane Reade as a 3% bonus category if you pay for your order using Apple Pay. If you don't use Apple Pay, you'll only earn 1% back. If you frequently shop at Walgreens and/or Duane Reade, it could be worth picking up the card to earn some easy rewards in addition to the Walgreens Cash you'll already be earning.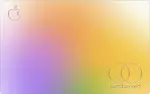 Earns 3% back on Apple purchases and with select partners (including Walgreens and Duane Reade) when you use Apple Pay, 2% back on other Apple Pay purchases, and 1% back when you make non-Apple Pay purchases or use the physical card to pay for a purchase. No annual fee.
---
Earning Walgreens Cash
When you join the myWalgreens Rewards Program, you'll be able to earn and redeem Walgreens Cash. The easiest and most common way to earn Walgreens Cash will be by shopping in-store and online with Walgreens, but they also provide a few other ways to earn some easy bonus points.
Earning Walgreens Cash On Spend
The best way to earn Walgreens Cash is by making purchases in-store or online with Walgreens. You'll earn 1% Walgreens Cash on every eligible purchases and 5% Walgreens Cash on Walgreens branded products. This makes it very easy to earn lots of cash back with Walgreens.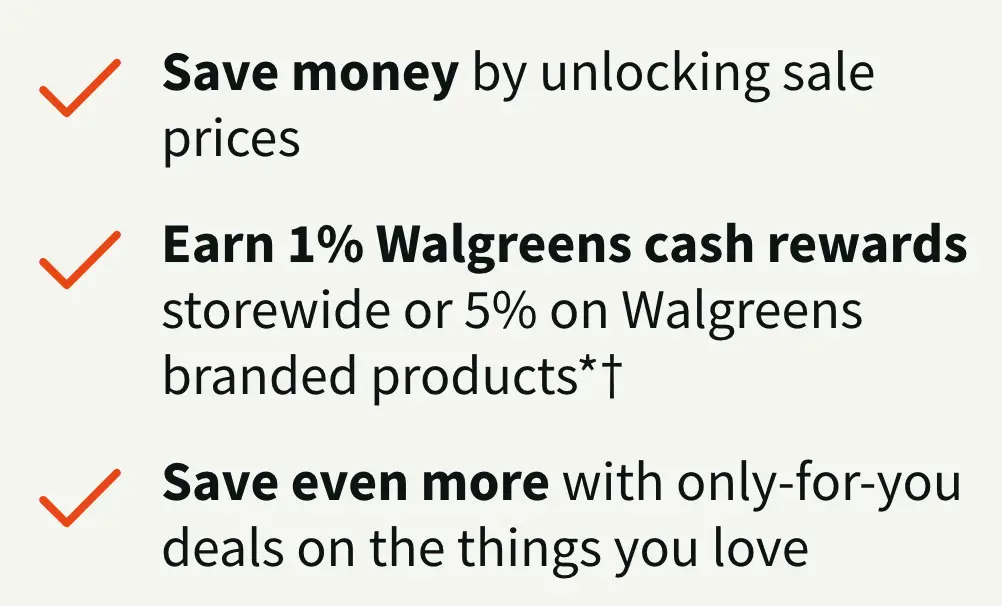 Walgreens Cash Calculator
Use the Walgreens Cash Calculator to calculate how much cash back you can earn when shopping at Walgreens. You can input how much you spend on Walgreens branded items and how much you spend on non-branded items to get an estimate of how much cash back you would be earning when spending in-store or online with Walgreens.
Walgreens Cash Earning Restrictions
Do note that not all purchases in-store or online with Walgreens will earn you cash rewards. You will not be able to earn rewards on the following purchases:
Photo Orders not picked up in store
Alcohol
Dairy
Tobacco
Gift Cards
Sales Tax and Shipping
Items or Services sold by Third-Party Partners
You will also not be able to earn Walgreens Cash on prescriptions and other pharmacy items and services in:
Arkansas
New Jersey
New York
If you're not picking up in the states above, you can earn rewards on your pharmacy purchases as long as you pick them up in-store.
myWalgreens Health Goals
Walgreens offers the ability to earn Walgreens Cash by completing health challenges. This is done by linking the myWalgreens App to your smartphone, watch, or health app. You'll earn Walgreens Cash for every challenge week you complete, plus you'll be given the chance to spin a prize wheel when you complete all 4 weeks. The challenges begin on Monday and expire in 7 days.
With these challenges, you'll be able to earn $0.25 Walgreens Cash for every week you successfully complete a challenge. If you're able to complete all 4 weeks of challenges, you'll have a chance to get up to $2 bonus Walgreens Cash rewards. This isn't a large amount of rewards, but if you're already working out on a consistent basis, linking your health app to the myWalgreens app could be worth it in the long run since it will still be adding to your rewards.
There's more than 60 different apps and devices you can link your myWalgreens account to. This include the Apple HealthKit App, Google Fit, Fitbit devices, and much more. You can go to the 'myWalgreens Health Goals' section of the myWalgreens app to get the full list.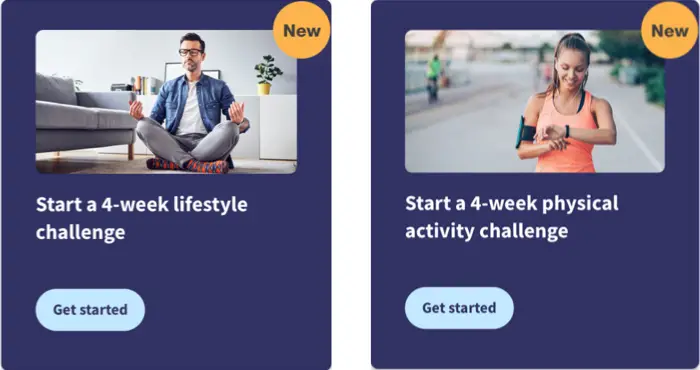 ---
Redeeming Walgreens Cash Rewards
Walgreens Cash Rewards that you earn can be applied towards transactions made at Walgreens. While there is no limit to how much you can earn, the most you can redeem in a single transaction is $50 Walgreens Cash rewards with a $100 Walgreen Cash rewards redemption limit per day. Redemptions can be made online at Walgreens.com during checkout or you can use them at the register when in-store. You'll be prompted to scan your mobile Walgreens card or you can enter your phone number at the POS terminal when prompted to redeem (and earn) rewards.
Do note that you will need to have an email attached to your myWalgreens profile online or with the Walgreens App to redeem your Walgreens Cash rewards.
Walgreens Cash Expiration
Walgreens Cash will expired 12 months after they are originally earned. On top of that, if your Walgreens Cash rewards account is inactive for six consecutive calendar months, then your membership will be marked inactive and all accumulated Walgreens Cash rewards will be forfeited. This is pretty extreme, so you'll want to make sure to at least make a purchase at Walgreens occasionally if you want to keep your rewards going.
---
Other myWalgreens Benefits
Outside of earning Walgreens Cash, you'll have access to a bunch of other useful benefits as a myWalgreens member. This includes pickup, free shopping, free ship to store, and on demand delivery with DoorDash or Postmates.
Pickup
As a myWalgreens member, you'll be able to pickup orders for free in as little as 30 minutes when you order online.
Order online or use the Walgreens App
You'll be notified by Walgreens when your order is ready (as little as 30 minutes)
Get your order curbside, at the drive thru, or in-store.
You'll also be able to get both your Pickup order and your prescriptions at the pharmacy.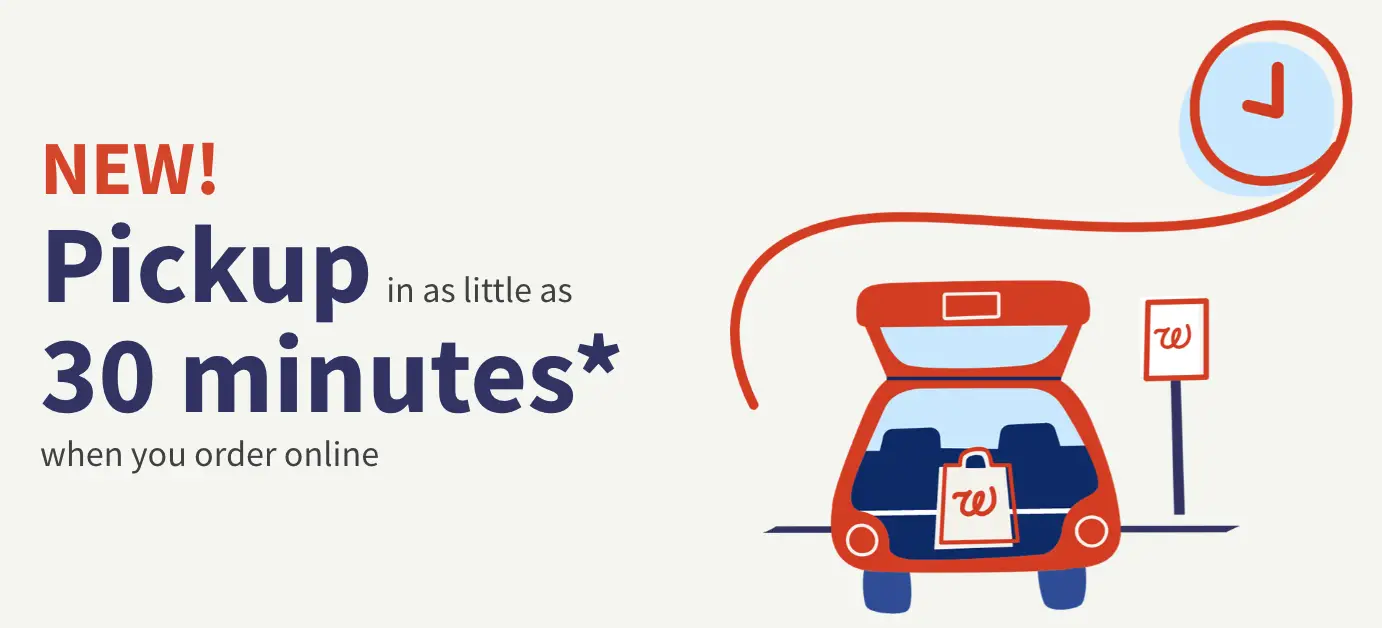 Free Shipping
Walgreens offers free shipping to myWalgreens members. There's several ways you can get free shipping:
Ship To Store: There's no minimum purchase requirement for the Ship To Store option. You'll be able to select the store of your choice for your items to be shipped to for free and emailed when it's ready to be picked up.
Ship To Home: If you want free shipping on items sent to your home address, you'll need to reach an order subtotal of $35 or more. This excludes sales tax and/or applicable shipping charges.
Contact/Prescription: If your order contains contact lenses or a prescription, you'll receive free shipping. Do note that flat fee products for contact lenses and prescriptions do not apply.
Orders are subject to a $0.049 shipping fee for each 1/10 of a pound over 20 pounds. This fee will apply regardless of whether or not all your items are free-shipping eligible and/or the $35 minimum has been achieved.
Do note that gift cards do ship for free, but they do not contribute towards the subtotal for the $35 minimum for other items that may be in your order. Photo orders and Prescription Savings Club cards are also not eligible for free shipping.
Ship To Store
When you place and order on Walgreens.com, you'll have the option to have it delivered to your local store for free. This is a great option if you're unable to accept a delivery at your home or workplace and would rather pick it up from the store. There's no minimum order amount of Ship to Store meaning this is a completely free service. You can use Ship To Store with most Walgreens and Duane Reade locations.
DoorDash & Postmates
Need your order now, but can't get out to your local Walgreens to pick it up? You can use DoorDash or Postmates to bring you your Walgreens order on demand. Do note that fees may vary and may apply as they usually do with product and food delivery services.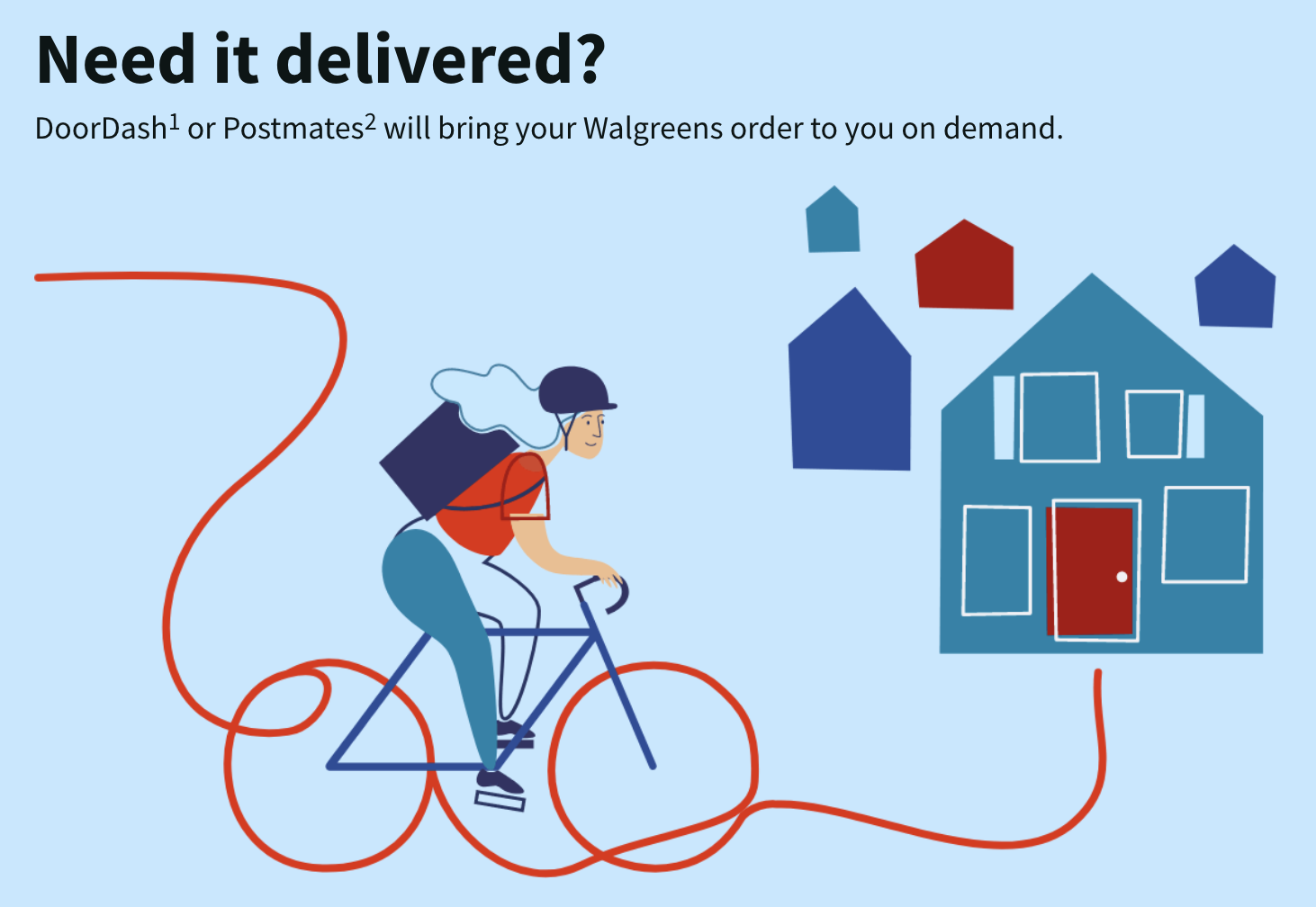 Prescription Services
If you frequently pick up prescriptions from Walgreens, one of the best perks of having a myWalgreens account is how easy it is to manage them all with the app and online. You'll be able to easily add previous prescriptions to your Rx cart, toggle on Auto Refill and even see the history of all medications including last fill date, how many refills you've had of any given prescription, pill quantity, and more. You'll also be able to check the status of any prescription orders you have with a store and will have the option to start a refill as well.
Through the myWalgreens app or via the website you'll also be able to:
Transfer Rx
Print Rx Records
Request New Rx
Change Instruction (Label) Text Size
Change Label Language
Change Cap Preference (Easy or Child Safety Cap)
Sign Up For ExpressPay
If you find yourself in the drive-up window often, I recommend signing up for ExpressPay. This allows you to put a debit or credit card on file with Walgreens for your prescriptions. Speaking from experience, this saves a lot of time when picking up prescriptions.
---
Walgreens Balance Rewards Points
The myWalgreens Rewards Program is taking place of the Walgreens Balance Rewards program. The Balance Rewards program earns Walgreen Points at a rate of 10 points per $1 spent on all purchases with points being worth 0.1 cents each. This means that the program basically earned 1% cash back on all purchases.
Balance Rewards vs myWalgreens
The new myWalgreens Program takes the benefits of the Balance Rewards program and makes it more rewarding and easier to understand. There's no loss of benefits moving from Balance Rewards to myWalgreens. You pretty much earn a bunch of additional benefits that the old program didn't have and you get the ability to earn more rewards thanks to the 5% earnings on Walgreens branded products.
The biggest change to adapt to will be the change from earning points to earning Cash rewards. Instead of earning 10 points per $1 spent and then calculating the cash value of those points, you'll now just see the actual value of your rewards since you'll be earning Walgreens Cash which is worth face value. This means that $5 in Walgreens Cash will be equal to $5 that you can use at Walgreens.

Walgreens Points Calculator
Use the Walgreens Points Calculator to calculate the cash value of points earned in the Walgreens Balance Rewards program. Points are valued at 0.1 cent each meaning that 1,000 Walgreens Points is equal to $1 in rewards.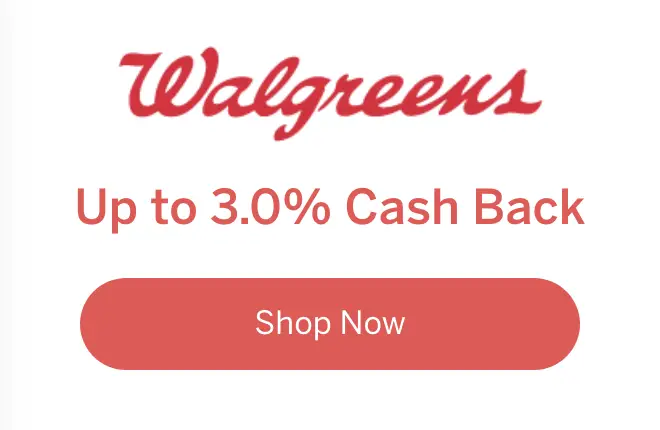 ---
Useful Resources & Links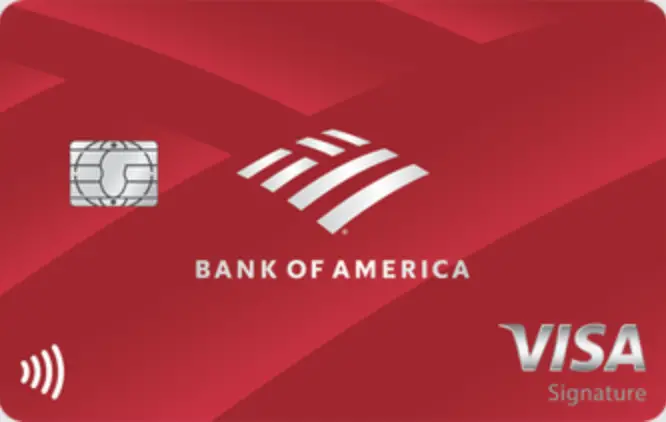 Bank of America® Customized Cash Rewards Credit Card
The Bank of America Customized Cash Rewards credit card is one of the best no-annual fee credit cards for online shopping. Earn 3% cash back on up to $2,500 in spending per quarter when you choose Online Shopping as your custom category. No Expiration on rewards!
Check out all the top picks for best rewards cards from our partners along with current intro bonuses for signing up!
Remove the guess work and find out which cards have a chance to offer you the best return based on your monthly or yearly spend across up to 20 different categories.

Unsure of what type of rewards card you're looking for? Use CardMatch™ to get matched with offers, which may include special and/or qualified offers, on cards you're more likely to qualify for. You never know what great offers you might receive!
Love shopping online? If so, did you know that you can earn additional cash back and other rewards using cash back portals? Don't leave easy money on the table!
FAQ
How do Walgreens rewards work?
Every $1 you spend on Walgreens branded products will earn you 5% back and every $1 spent on all other Walgreens purchases will earn you 1% back. Earned Walgreens Cash can then be applied towards purchases in-store or online at walgreens.com.
Does Walgreens Cash expire?
Yes. Walgreens Cash will expire 12 months after it is originally earned. If your myWalgreen Rewards account is inactive for 6 months, your account will be marked inactive and you'll lose all earned rewards.
Is myWalgreens Rewards free?
Yes. The myWalgreens Rewards program is free to sign up for. If you already have a Walgreens Balance Rewards account, you can convert it to a myWalgreens account for free.
How much Walgreens Cash can you redeem at Walgreens?
You can redeem up to a max of $50 Walgreens Cash in a single transaction and up to a limit of $100 Walgreens Cash per day.
What are some benefits of the myWalgreens program?
Benefits of the program include the ability to earn and redeem Walgreens Cash, store pickup, free shipping, free ship to store, on demand delivery with DoorDash and Postmates, and prescription services.
What is Walgreens Balance Rewards?
Walgreens Balance Rewards is the rewards program of Walgreens. It is being converted to myWalgreens in 2021. The Balance Rewards program will be no more on April 16th, 2021 so be sure to log in and move your rewards to the new myWalgreens program.
Does Walgreens Cash and Walgreens Balance Rewards Points have the same value?
Yes. Spending a $1 under the Balance Rewards program earned you 10 Walgreens Points which had a value of 1 cent or 1% back. In the myWalgreens program, you'll earn the same 1% back on most purchases but also be able to earn 5% back on Walgreen brand products making it a better program overall.