Credit Card Rewards Calculators
Top Offers From Our Partners
How much are Choice Hotels Points worth? The answer: about 0.6 cents each on average. This means that 10,000 points would be worth about $60 when redeemed for free nights at Choice brand hotels.
Here is The Point Calculator's valuations for Choice Hotels Points:
| Redemption options | Redemption value in cents |
| --- | --- |
| Award Nights | 0.6 |
| Gift Cards | 0.31 |
| Cruises | 0.31 |
Free night awards: 0.6 cents per point.
You will get the best value out of your Choice Hotels points when you redeem them for free nights at Choice brand hotels. This will give you around 0.6 cents per point meaning that 10,000 points is worth roughly $60 in cash value.
Like most other rewards programs now-a-days, Choice does not have an award chart. This means that you will not know the value of your points until you start booking your travel.

As an example, let's look at the first 10 hotels that pop up when searching Orlando, FL by distance for a stay during late summer.
The best value was Econo Lodge which gave a value of 0.77 cents per point while the worst value was Clarion Inn & Suites Across From Universal Orlando Resort which gave 0.4 cents per point. The average value for all 10 hotels is 0.61 cents per point which is right on par.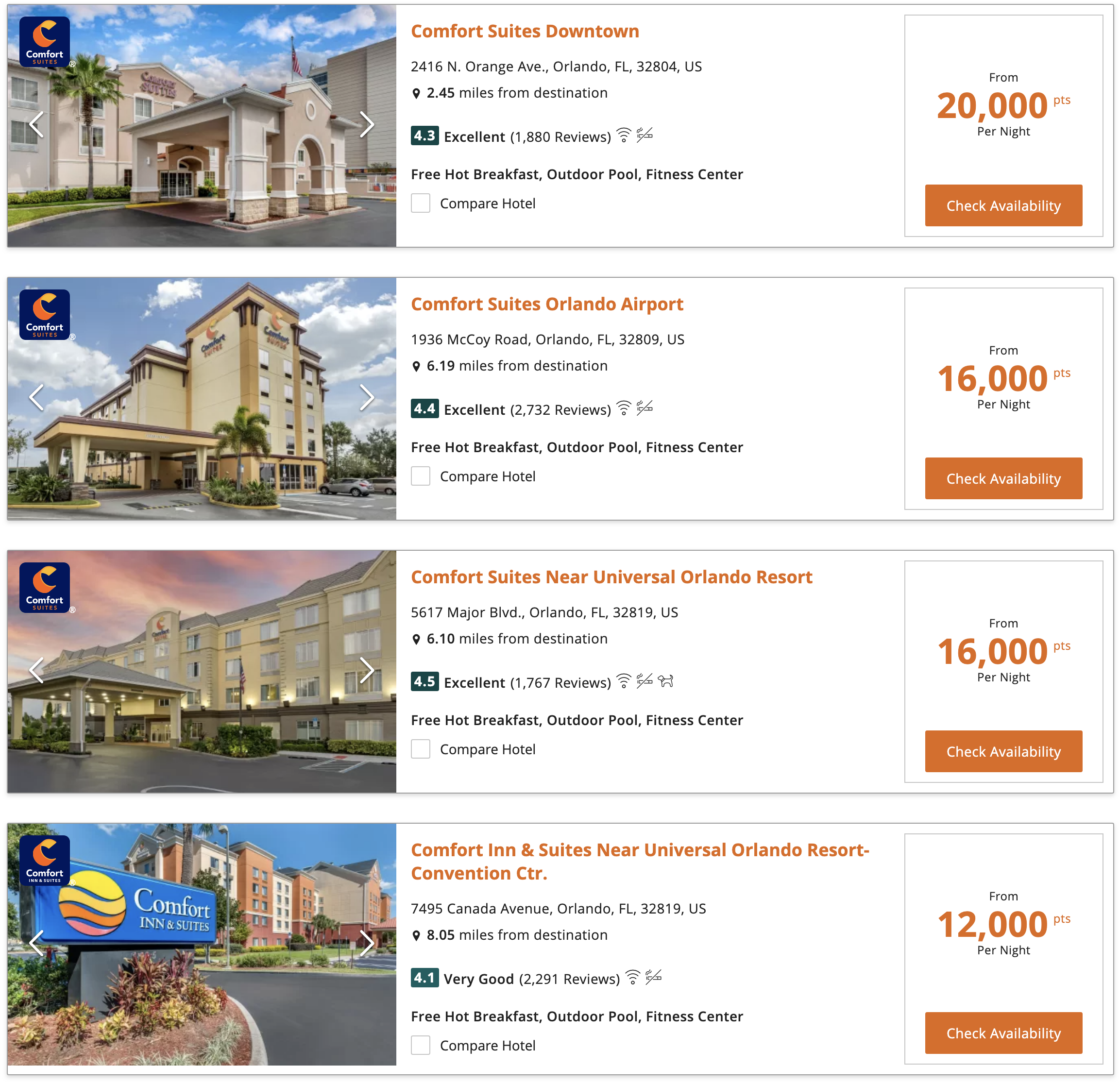 You'll need to run the calculations for each hotel to find out how much value you'll get. You can use the Pay Points or Cash calculator to help run the calculations.
Point transfers to partners: 0.2 to 0.4 cents per point
Choice Hotels Points can be transferred to 10 travel partners. The transfer ratio will depend on the partner, but the most common ratio is 5:1 meaning that 5,000 Choice Points will give you 1,000 points or miles.
Transferring Choice Points to partners isn't the best redemption option due to the very low ratio, but it can be a solid option if you're looking to top off one of your frequent flyer accounts.
Conversion Calculator: Choice Transfer Partners
Redeeming points for gift cards: 0.31 cents per point.
Choice Hotels points can be redeemed for gift cards starting at 8,000 points for a $25 gift card which give your points a value of 0.31 cents per point. Gift card categories include entertainment, travel, restaurants, shopping, and more.
You can also donate Choice Hotels Points through the same page starting at 1,000 points for a $5 donation.
Booking cruises: 0.31 cents per point.
Choice Hotels Points can be redeemed for discounts on cruises booked through the Choice Privileges Cruises portal. You'll also earn 5 Choice Points per $1 spent on the remaining amount, if any, that you pay in cash.
Redeeming your points for cruises will give your points a value of about 0.31 cents per point, but that can vary depending on the cruise and if any active promotions are present when booking.
Convert Choice points to dollars
Use the Choice Points Value Calculator to determine the dollar value of your points when redeemed for free nights, gift cards, and cruise discounts. This will give you an idea of how much your points are worth on average.
Enter any amount of Choice Hotels points to calculate the dollar value.
Redemption
Average Dollar Value
Redeeming points for award nights
$

0

Gift cards
$

0

Cruise discounts
$

0
Average value for free nights
These are the average cash values for Choice Privileges Points when used for free nights based on our value of 0.6 cents per point.
| Choice Hotels points | Cash value |
| --- | --- |
| 10,000 points | $60 |
| 20,000 points | $120 |
| 30,000 points | $180 |
| 50,000 points | $300 |
| 75,000 points | $450 |
| 100,000 points | $600 |
Earn more Choice points
The easiest way to earn Choice Hotels points is through intro bonuses and everyday spending across partner credit cards. Choice is a direct transfer partner of the following credit card rewards programs:
This gives you over 15 credit cards that you can use to earn Choice Privileges points via intro bonuses and everyday spending.
Here's a few of our top credit card picks for Choice Hotels:
FAQ
How much are Choice Points worth?
Based on our analysis, we value Choice Points at 0.6 cents each meaning that 10,000 Choice Points is worth about $60 in cash value towards free nights.
How many Choice Points do you need for a free night?
Redemptions for free nights at Choice hotels start at 8,000 points per night.
How many points do you get per stay at Choice hotels?
You can earn up to 20 points per night staying at Choice brand hotels when factoring in base points, elite status points, and Choice credit card points.
Do Choice Points expire?
Yes. Choice Points will expire if there is no qualifying activity at least once every 18 months. You can stay active by earning points, redeeming points, and using the Choice Privileges Visa credit card.
---
Looking for the best credit cards?
We've run the calculations for you and here are our top picks for best credit cards of 2023:
Find the perfect card for you
Our Credit Card Rewards calculator can help you find the perfect card and offers based on your monthly and yearly spending habits. Simply enter your spend amounts into our tool and let us do the work for you!
Calculate
Total Rewards & Card Value
Per $1 Spent For 200+ U.S. Credit Cards
Search Results Display Here