Red Lion Hotels is an American hospitality company headquartered out of Denver Colorado with over 1,400 properties in North America. There rewards program is called Hello Rewards.
Red Lion Hotel Brands
Red Lion has 10 brands that range from lower-economy to upscale. Those brands are:
Hotel RL (Upscale)
Red Lion Hotels (Upper Midscale)
Red Lion Inn & Suites (Midscale Select Service)
Settle Inn Extended Stay (Midscale Extended Stay)
Signature (Affordable Boutique)
Guest House Inn and Suites (Upper Economy)
Americas Best Value Inn (Economy)
Canadas Best Value Inn (Economy)
Country Hearth Inn & Suites (Lower Economy)
Knights Inn (Lower Economy)
Booking with any of the above Red Lion Hotels Corporation hotel brands will earn you Hello Bucks within the Hello Rewards program.
Earning Red Lion Hello Bucks
All Red Lion Hello Rewards members will earn 10 Hello Bucks for every eligible stay at Red Lion brand hotels. This is regardless of how many days you stay at the hotel. Staying 1 day will earn you 10 Hello Bucks and staying 7 days will earn you the same 10 Hello Bucks.
Hello Bucks earned for a stay at a Red Lion Hotel brand will be deposited into your account after check-out, but you'll usually have to wait up to 10 days before you're able to redeem them.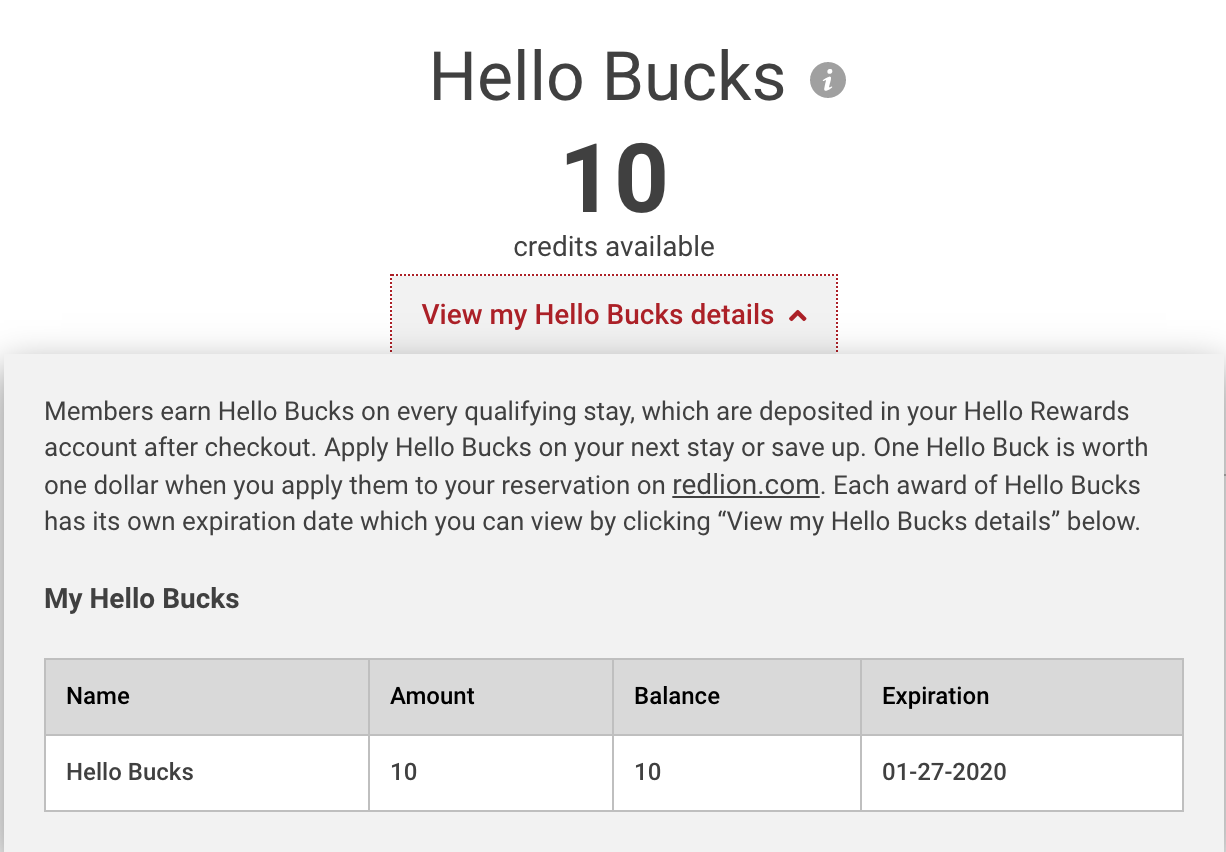 Hello Bucks earned from qualifying stays will be good for six months from the date of issuance, so you do not want to sit on these rewards too long.
Do note that you will only earn Hello Bucks when booking through a participating online travel website, directly with the Hotel, or with RLH. Also note that you can earn Hello Bucks on a reservation in which you applied Hello Bucks to.
Hello Rewards Benefits
Outside of the ability to earn and burn Hello Bucks with Red Lion brand hotels, you'll get a few additional benefits when you sign up for a Hello Rewards account.
Hello Rewards Member Rate
Hello Rewards members will be able to book Red Lion Hotels at the member rate and reserve a room using the Hello Rewards rate code. There doesn't seem to be any set percentage and this will vary depending on what hotel you book.
Room Upgrades
Hello Rewards members will be given complimentary room upgrades based on availability during check-in. This applies only to the room in which the Member is staying in. Your upgrade is granted for at least one room level category higher than the room reserved.
Exclusive Rewards
As a Hello Rewards member, you will occasionally be emailed various offers. This includes discounts, ways to earn bonus Hello Bucks, and more. This could be beneficial if you plan on staying at Red Lion hotels often.
Mobile/Web Check-In
If you have the Hello Rewards mobile app or access to a computer/phone with internet, you'll be able to do a mobile check-in via your mobile device or online on the day of check-in beginning at 1 A.M. local time.
Redeeming Red Lion Hello Bucks
Hello Bucks earned within the Hello Rewards program are pretty straightforward and easy to use. Hello Bucks are earned in multiples of $10 and are worth valued at face value when redeemed towards bookings made at Red Lion Brand Hotels. You can apply your earned Hello Bucks at checkout to cover part or all of the reservation cost.

You'll only be able to apply Hello Bucks to reservations made through redlion.com and through the Hello Rewards mobile app. Hello Bucks applied to your reservation will be rounded up to the nearest dollar amount. So if you were to use $50 Hello Bucks on a reservation that cost $47.51, you would consume $48 Hello Bucks. The remaining $2 will be placed back into your account.
If you cancel a reservation that had Hello Bucks applied to it, those Hello Bucks will be added back to your account with the original expiration date.
That's pretty much all there is to using Hello Bucks. Each Hello Buck is worth... a buck!
Red Lion & GrubHub
Hello Rewards members can earn 10 Hello Bucks ordering food with GrubHub Within the GrubHub app, you can use the promo code HELLOGRUBHUB at checkout to get 10 Hello Bucks with your order. If you're new to GrubHub, you can use code HELLODELIVERY to also get free delivery with your first order.
In order to participate in these promotion offers, the email address you have on file with your Hello Rewards account must match the email address you have on file with GrubHub You can earn up to 10 Hello Bucks per user, per month on GrubHub orders of $10 or more.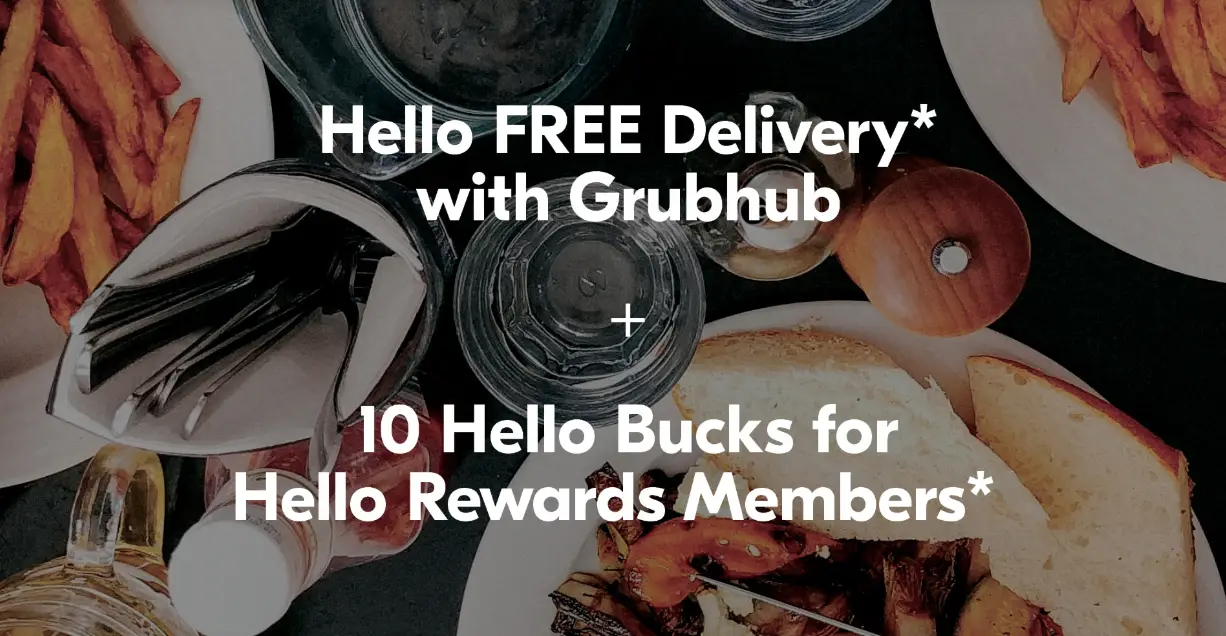 Red Lion Car Rental Partners
If you're looking to save money on rentals, you can book a rental with Alamo, Enterprise, or National through the Red Lion partner link. You will not earn Hello Bucks for these rentals, but you will save up to 20% off the base rate.
Summary
Overall, Red Lion offers a decent rewards program that rewards those who have short visits at their properties by offering the equivalent of $10 off a future stay. Since the program doesn't offer any kind of elite status, there's no real benefit for those super loyal to the chain.
Capital One Venture Rewards Credit Card
Rewards Rates
Earn an unlimited 2X miles per $1 spent on every purchase, every day.
Intro Bonus
Limited Time Offer: Earn 100,000 bonus miles when you spend $20,000 on purchases in the first 12 months from account opening, or still earn 50,000 miles if you spend $3,000 on purchases in the first 3 months
Foreign Transaction Fee
0%
Main Card Highlights
Miles won't expire for the life of the account and there's no limit to how many you can earn.
Receive up to $100 application fee credit for Global Entry or TSA Pre✓®
Use your miles to fly any airline, stay at any hotel, anytime.
Rewards Rate
Earn 3X points per $1 spent at Restaurants and Supermarkets
Earn 3X points per $1 spent at Gas Stations, Air Travel, and Hotels
Earn 1X points per $1 spent on all other purchases
Intro Bonus
Earn 60,000 bonus ThankYou® Points after you spend $4,000 in purchases within the first 3 months of account opening
Foreign Transaction Fee
0%
Main Card Highlights
Annual $100 Hotel Savings Benefit
No expiration and no limit to the amount of points you can earn with this card
No Foreign Transaction Fees on purchases
Travel Rewards Credit Cards
Looking for the best travel credit cards? Get all available offers along with:
Current Sign-Up & Welcome Bonuses
Rates & Fees
Credit Score Recommendations
Card Features
Not sure what you're looking for? Use the
CardMatch™
tool and get matches with offers you're likely to qualify for!