Top Offers From Our Partners
Find The Best Credit Cards For You
Red Lion Hotels is an American hospitality company headquartered out of Denver Colorado with over 1,400 properties in North America. There rewards program is called Hello Rewards.
Red Lion Hotel brands
Red Lion has 10 brands that range from lower-economy to upscale. Those brands are:
Hotel RL (Upscale)
Red Lion Hotels (Upper Midscale)
Red Lion Inn & Suites (Midscale Select Service)
Settle Inn Extended Stay (Midscale Extended Stay)
Signature (Affordable Boutique)
Guest House Inn and Suites (Upper Economy)
Americas Best Value Inn (Economy)
Canadas Best Value Inn (Economy)
Country Hearth Inn & Suites (Lower Economy)
Knights Inn (Lower Economy)
Booking with any of the above Red Lion Hotels Corporation hotel brands will earn you Hello Bucks within the Hello Rewards program.
How to earn Hello Bucks
All Red Lion Hello Rewards members will earn 10 Hello Bucks for every eligible stay at Red Lion brand hotels regardless of how many days you stay at the hotel. So staying 1 day will earn you 10 Hello Bucks and staying 7 days will earn you the same 10 Hello Bucks.
Hello Bucks earned for a stay at a Red Lion Hotel brand will be deposited into your account after check-out, but you'll usually have to wait up to 10 days before you're able to redeem them.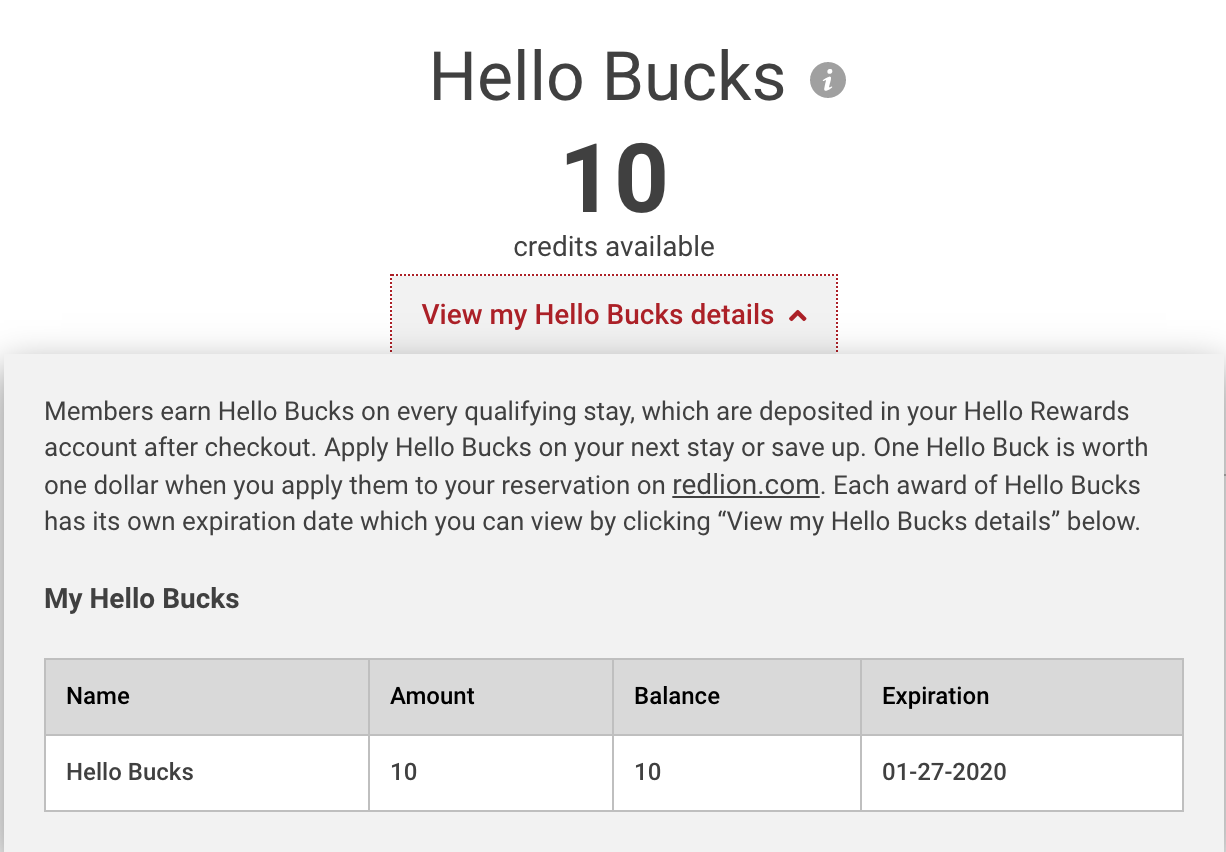 Hello Bucks earned from qualifying stays will be good for six months from the date of issuance, so you do not want to sit on these rewards too long.
Do note that you will only earn Hello Bucks when booking through a participating online travel website, directly with the Hotel, or with RLH. Also note that you can earn Hello Bucks on a reservation in which you applied Hello Bucks to.
Red Lion Hello Rewards benefits
Outside of the ability to earn and burn Hello Bucks with Red Lion brand hotels, you'll get a few additional benefits when you sign up for a Hello Rewards account.
Hello Rewards Member Rate
Hello Rewards members will be able to book Red Lion Hotels at the member rate and reserve a room using the Hello Rewards rate code. There doesn't seem to be any set percentage and this will vary depending on what hotel you book.
Room Upgrades
Hello Rewards members will be given complimentary room upgrades based on availability during check-in. This applies only to the room in which the Member is staying in. Your upgrade is granted for at least one room level category higher than the room reserved.
Exclusive Rewards
As a Hello Rewards member, you will occasionally be emailed various offers. This includes discounts, ways to earn bonus Hello Bucks, and more. This could be beneficial if you plan on staying at Red Lion hotels often.
Mobile/Web Check-In
If you have the Hello Rewards mobile app or access to a computer/phone with internet, you'll be able to do a mobile check-in via your mobile device or online on the day of check-in beginning at 1 A.M. local time.
How to use Red Lion Hello Bucks
Hello Bucks earned within the Hello Rewards program are pretty straightforward and easy to use. Hello Bucks are earned in multiples of $10 and are worth valued at face value when redeemed towards bookings made at Red Lion Brand Hotels. You can apply your earned Hello Bucks at checkout to cover part or all of the reservation cost.

You'll only be able to apply Hello Bucks to reservations made through redlion.com and through the Hello Rewards mobile app. Hello Bucks applied to your reservation will be rounded up to the nearest dollar amount. So if you were to use $50 Hello Bucks on a reservation that cost $47.51, you would consume $48 Hello Bucks. The remaining $2 will be placed back into your account.
If you cancel a reservation that had Hello Bucks applied to it, those Hello Bucks will be added back to your account with the original expiration date.
That's pretty much all there is to using Hello Bucks. Each Hello Buck is worth... a buck!
Red Lion & GrubHub
Hello Rewards members can earn 10 Hello Bucks ordering food with GrubHub Within the GrubHub app, you can use the promo code HELLOGRUBHUB at checkout to get 10 Hello Bucks with your order. If you're new to GrubHub, you can use code HELLODELIVERY to also get free delivery with your first order.
In order to participate in these promotion offers, the email address you have on file with your Hello Rewards account must match the email address you have on file with GrubHub You can earn up to 10 Hello Bucks per user, per month on GrubHub orders of $10 or more.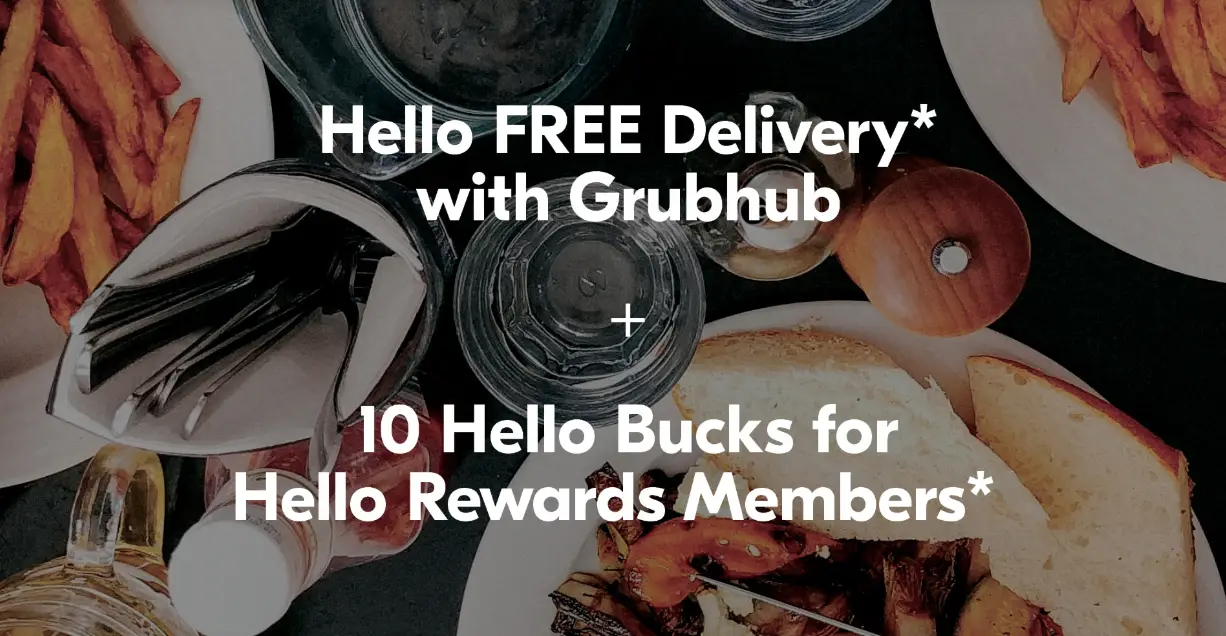 Red Lion Car Rental Partners
If you're looking to save money on rentals, you can book a rental with Alamo, Enterprise, or National through the Red Lion partner link. You will not earn Hello Bucks for these rentals, but you will save up to 20% off the base rate.
Best credit cards for Red Lion Hotels
Red Lion Hotels does not offer any co-branded credit cards that can earn you hello rewards on your spending, so you'll want to use a credit card that earns rewards that you can put towards free hotel nights.
The Capital One Venture Rewards Credit Card is the best travel rewards card if you're looking for flexible rewards that you can put towards just about any kind of travel purchase including free nights at Red Lion Hotels.
The card earns 5 miles per $1 spent on hotels and rental cars booked through Capital One Travel and an unlimited 2 miles per $1 spent on all other purchases. These miles can be redeemed for 1 cent in value towards travel purchases made to the card or they can be transferred directly to airline and hotel partners.
With Venture Miles being able to be applied towards travel purchases, there's no blackout dates to worry about. It's as simple as using your card to pay for travel and erasing those travel purchases from your card using your miles once they post.
Intro Bonus: Earn 75,000 bonus miles when you spend $4,000 on purchases in the first 3 months from account opening, equal to $750 in travel.
Learn More about the Capital One Venture Rewards Credit Card.
The Citi Custom Cash℠ Card is top-notch if you're looking to earn a high amount of cash back in a single category.
The card earns 5% cash back on the eligible you spend the most in during each billing cycle on up to $500 (then 1%). Eligible categories include: restaurants, gas stations, select travel, select transit, select streaming services, drugstores, home improvement stores, fitness clubs, and live entertainment.
If you select travel, you can earn 5% back on Red Lion Hotel spending as well as other types of travel including airfare, car rentals, and more.
On top of that, cash back earned with the Citi Custom Cash℠ Card can be converted to ThankYou Rewards Points that can be transferred to Citi's airline partners (such as JetBlue Airways) if you own the Citi Premier® Card or Citi Prestige® Card.
If you're able to dedicate this card to a single eligible category and hit the 5% cap every cycle, you'll sweep up an easy $300 in cash back every year which is great for a card with no annual fee.
Intro Bonus: Earn $200 cash back after you spend $1,500 on purchases in the first 6 months of account opening. This bonus offer will be fulfilled as 20,000 ThankYou® Points, which can be redeemed for $200 cash back.
Learn More about the Citi Custom Cash Card.
Calculate
Total Rewards & Card Value
Per $1 Spent For 200+ U.S. Credit Cards
Search Results Display Here